Artistic Sips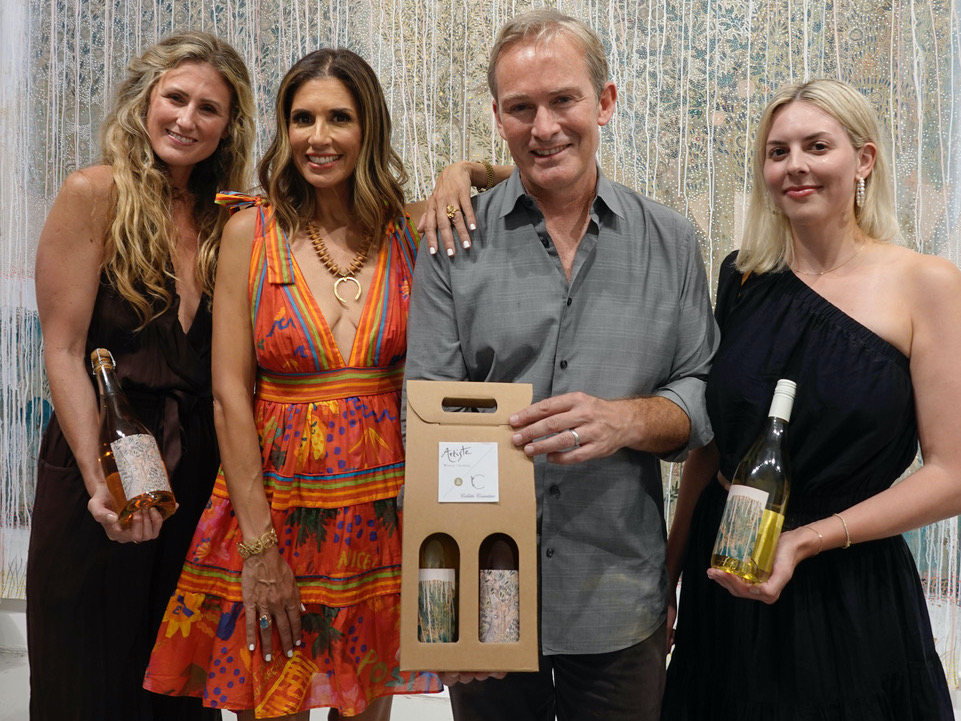 Social gridlock reigned at artist Colette Cosentino's Atelier and Gallery on West Anapamu when she opened her latest exhibition in collaboration with former Sunstone Winey vintner Anna Rice, who is using Colette's artwork for her labels on her wine, including the Brut Rosé and Chardonnay.
"It's the perfect melding," says Anna, now owner of the Artiste Winery in Los Olivos. "Good art and good wine!"
Among those sweating it out during the opening bash were Belle and Lily Hahn, Mike and Nati Smith, Mary Firestone, Elizabeth Messina, Caren Rager, Gretchen Lieff, James-Paul Brown, Pamela Dillman, and Xorin Balbes and Truman Davies.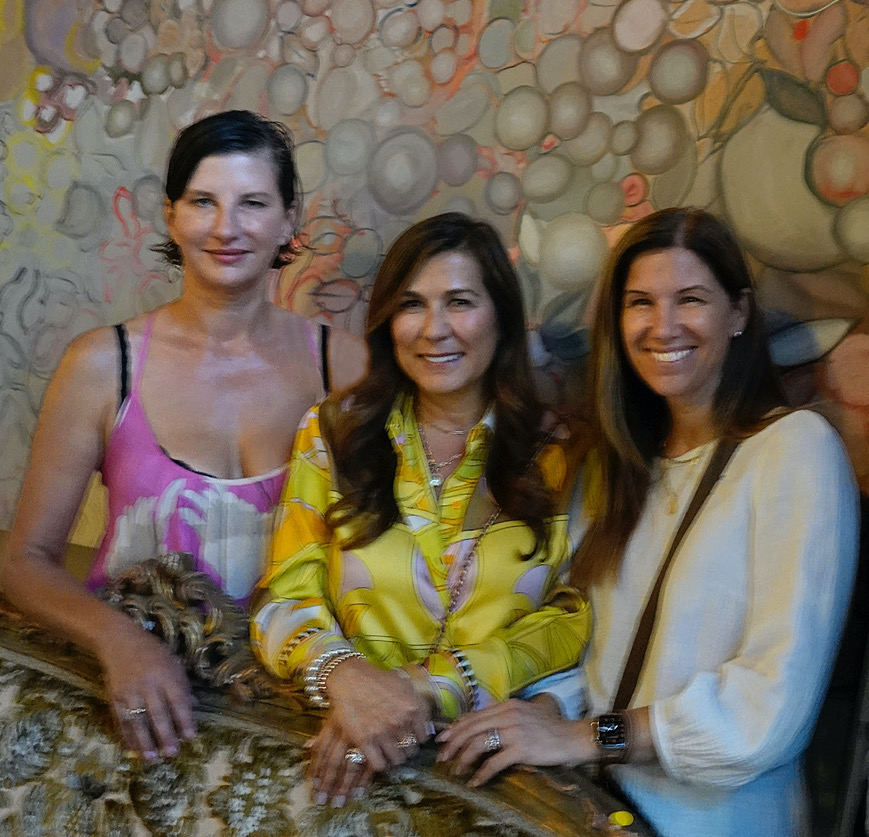 Staying on the Beach
Actor Chris Pratt and wife Katherine Schwarzenegger, who lease a home near Montecito's Riven Rock, have splashed out $70,000 for a 2,500 square-foot, six-bedroom, six-bath beach house in Carpinteria.
The tony twosome have rented the
luxurious oceanfront home until mid-October, according to London's Daily Mail, for which I used to scribe…
Friends with the New Neighbor
Friends actress Jennifer Aniston is Montecito's latest celebrity resident. The 53-year-old star, who also owns a $21 million Bel Air mansion, just purchased a four-bedroom farmhouse owned by former TV talk show titan Oprah Winfrey on a one-acre plot with 4,320 square feet of living space for $14.8 million. Oprah bought the 1998 property last year for $10.5 million.
Signing Off and On
TV Hill is saying goodbye to Joe Buttita, its longtime KEYT-TV morning anchor, and his wife, chief meteorologist Kelsey Gerckens.
Joe, who joined the ABC affiliate in 2012, starts work as the new public information officer for the Ventura County District Attorney's Office.
Kelsey has worked at the station since 2011 as a reporter and chief meteorologist after taking over from Alan Rose, who moved to KOAA-TV in Colorado.
She is the new communications manager-public information officer for Santa Barbara County starting in November.
The dynamic duo are also known for winning $1 million as victors of the CBS TV show The Amazing Race in 2015.
I wish them both well…
Tomson on Board
Former world champion surfer Shaun Tomson has joined the board of directors at the Santa Barbara Maritime Museum.
The Montecito-based South African has been involved with the museum for several years and is committed to its youth education program.
"We are excited to have Shaun on board," says Executive Director Greg Gorga. "He brings his inspirational passion for surfing, empathy, and creativity to our museum, and has already demonstrated a commitment for furthering our mission and strategic plans goals."
Shaun has been described as one of the greatest surfers of all time and one of the most influential surfers of the century. He is an inductee in the U.S., Jewish, and South African Sports Halls of Fame and is a world-renowned leadership mentor, entrepreneur, environmentalist, and best-selling author.
He holds a bachelor's degree in business administration from the University of Natal, and master's degree in leadership from Northeastern University.
Sightings
Grammy-winning rocker Adam Levine and supermodel wife Behati Prinsloo noshing at Field + Fort in Summerland… Actor Chris Pratt, wife Katherine Schwarzenegger, and mother Maria Shriver shopping at Montecito Country Mart… Writer T.C. Boyle lunching at the Natural Cafe on Hitchcock Way.
Pip! Pip! Be safe, wear a mask when necessary, and get vaccinated.
You might also be interested in...