AMA Sushi: Seasoned chefs bring centuries-old Japanese traditions to Rosewood Miramar in Montecito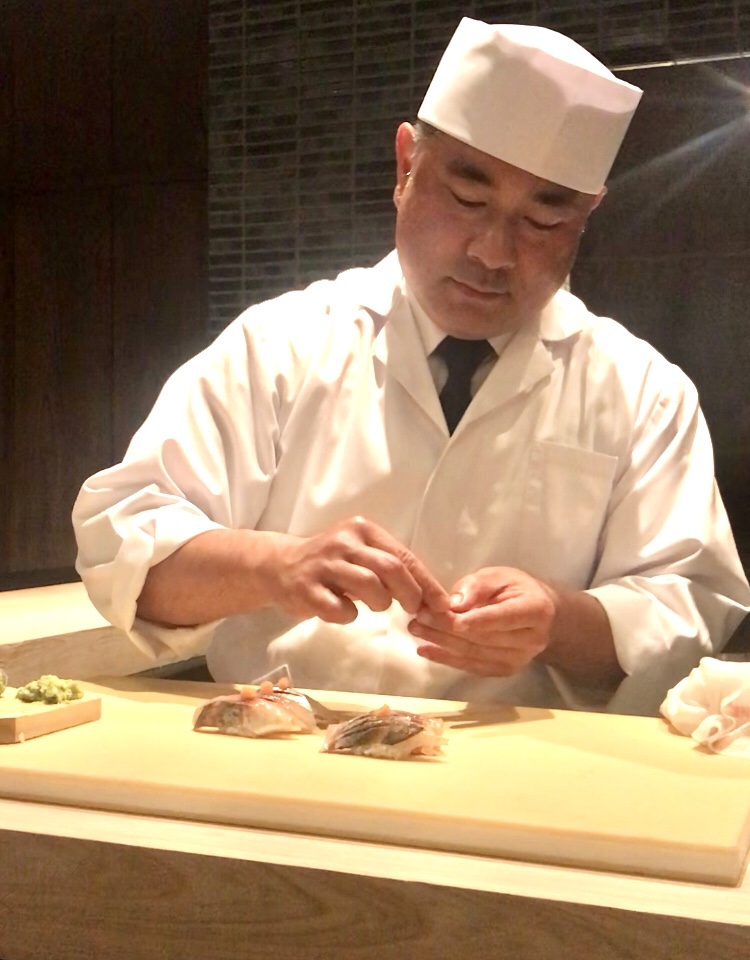 Step inside AMA Sushi, Rosewood Miramar's new upscale dining room, and experience an homage to Edomae – a centuries-old Japanese culinary tradition that has resurfaced in recent years. Named for women who ventured into the ocean to collect seafood for their village, "ama" means "women of the sea." 
The team at this beachside resort is led by Osaka-born executive chef Kentaro Ikuta, who spent more than a decade at Michelin-starred omakase restaurants before landing at the Rosewood Miramar. Ikuta helms the kitchen with chef de cuisine Scott Yonamine, who previously worked in Tokyo at Musashi Sushi, and sushi chef Wendy Ramos, formerly of Nobu Malibu.
In this perfect setting, the restaurant seamlessly blends Japanese minimalism with Southern California coastal touches – from the blue ombre plaster ceiling evoking rippling seawater to the American oak-paneled walls reminiscent of Japanese fishing huts. Perch at a scalloped 13-seat sushi bar or alongside the restaurant's koi pond, with both indoor and outdoor options available.
AMA Sushi offers both à la carte sushi and an omakase meal, the Japanese style of a master chef serving his choice of sushi to guests, which was popularized in the 1990s. It's a fun and easy way to expand your appreciation of the nuanced flavors of these dishes.
Here, the menu features a selection of zensai (appetizers) such as Namagaki Oysters and Tamago Tofu with Local Uni; salads and usuzukuri (thinly sliced sashimi); along with agemono (fried foods) including a variety of tempura and chicken karaage; and yakimono courses grilled over Binchotan charcoal, ranging from Hokkaido Scallops to Miyazaki A5 Wagyu Ribeye.
On a recent hot and humid evening, not too different from the weather these days in Japan, Chef Yonamine prepared omakase for a small audience that watched carefully as they sipped specialty cocktails and novelty sakes. Yonamine made clear that Edomae is more than a traditional presentation of sushi; it is to enhance the nuanced flavors of seafood.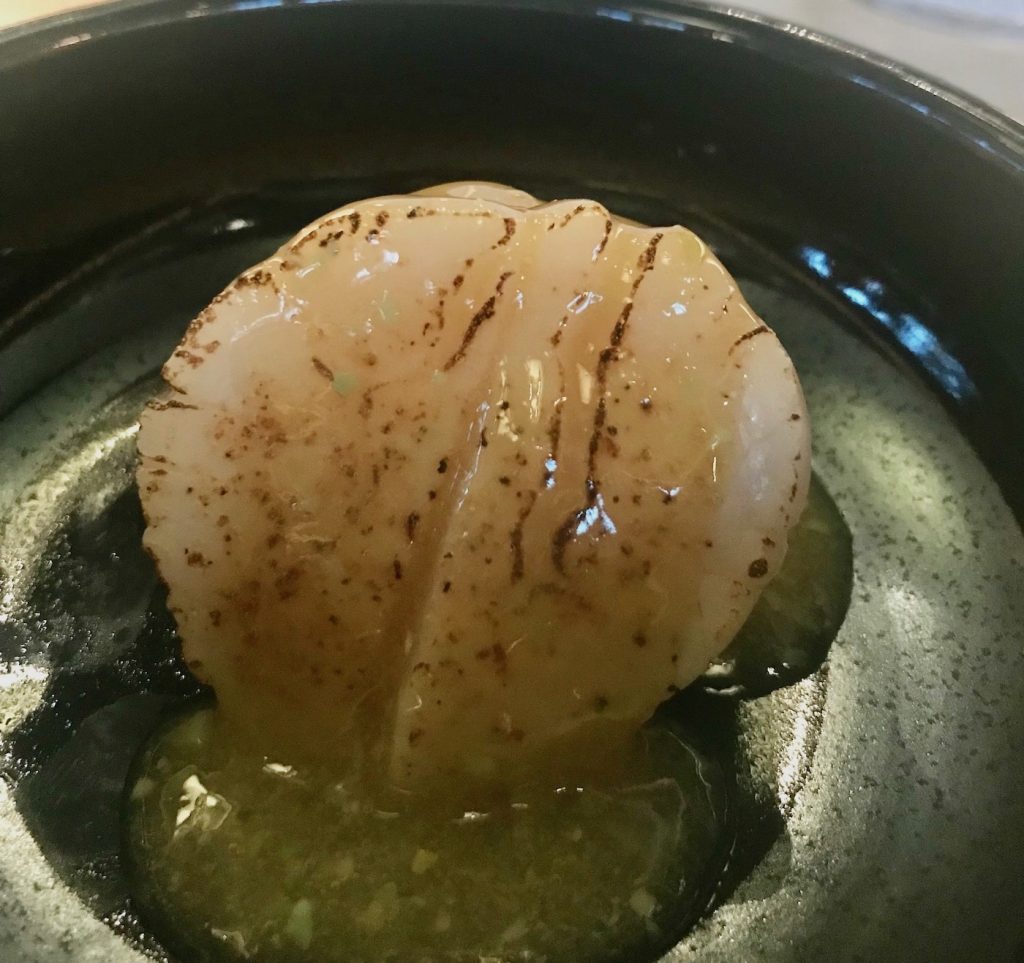 "Taking the time and care to bring out the umami flavors, we are bringing out hidden flavors that you can't have if you simply just cut and serve fish," he said. 
Yonamine, who grew up in Orange County, California, moved overseas to immerse himself in Japanese culture. He's knowledgeable and well-acquainted with Japanese customs such as Edomae, which highlight traditional methods of preserving fish – like marinating it in salt and vinegar, curing it in salt, cooking it with soy sauce, or placing it in a pot with rice.
"Aging the fish is not the only consideration for Edomae sushi," Yonamine explained, taking a sip of beer ordered for him by an appreciative diner. "Edomae was put into practice because there was no refrigeration and certain fish were cured in salt and vinegar to extend the shelf life."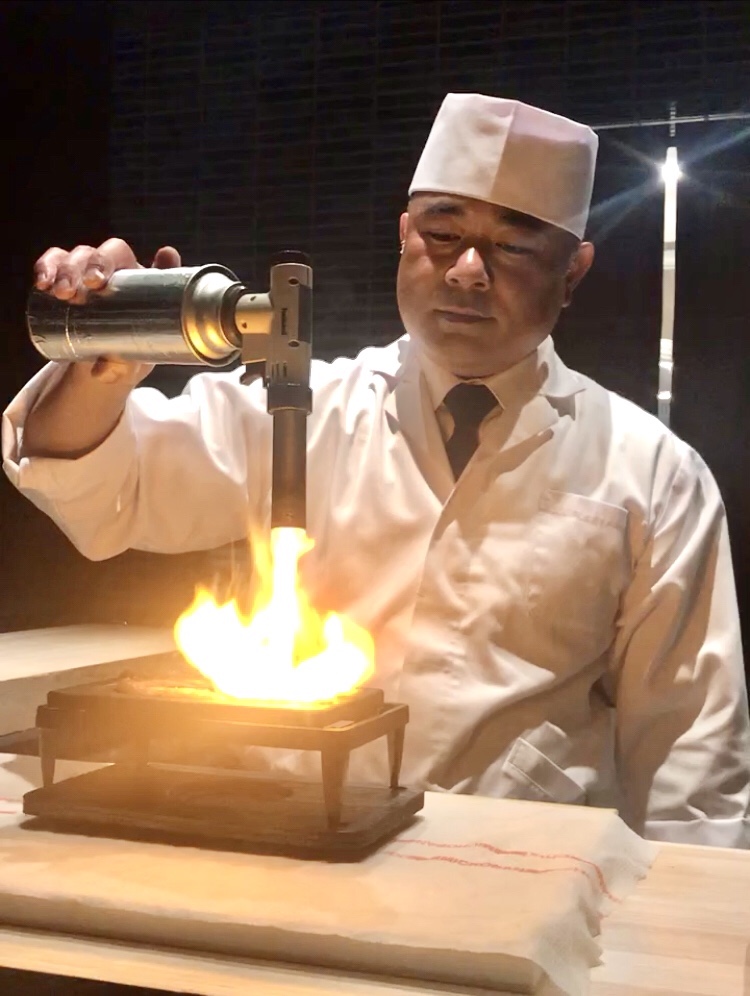 Every few days, several pounds of fish are shipped to the eatery from Tokyo. The selections will rotate seasonally, Yonamine said. The menu consists of abalone, chū-toro (tuna belly from Spain), shime saba (marinated mackerel), buri yellowtail, and uni from Hokkaido, as well as from local purveyors.
More for umami flavor than for preservation, the culinary team lightly salts the aji (horse mackerel) and kamasu (Japanese barracuda) to extract unwanted moisture and flavor, and sear the skin of the kamasu and kinmedai (goldeneye red snapper) to bring out the oils under the skin, Yonamine said. The A5 Miyazaki wagyu is lightly scored and marinated in house-made nikiri shoyu (a Japanese-style soy sauce made from fermented soybeans, wheat, salt, and water) and then seared for a charred shoyu flavor, he added.
One of many highlights included the sake pairing, designed by the resort's Director of Wine, Daniel Fish. AMA Sushi's wine list champions both California producers and emerging European vintners, alongside a remarkably extensive sake selection listing Japan's most renowned and highly prized brewers. Menu highlights include Kojima Sohonten Brewery, one of the oldest in Japan, as well as two highly sought-after selections from Niizawa Brewery in Miyagi: Reikyo "Absolute 0" Junmai Daiginjo and Zankyo "Super 7" Junmai Daiginjo.
The cocktail list is impressive. Rosewood Miramar's new director of bars, Nils Schabert, hand-picked more than 30 varieties of Japanese whiskies. The Hinode – served Tokyo Kaikan style with a king cube in a coupe composed of mezcal joven, pineapple liqueur, acidified dry vermouth, black lemon bitters, sparkling sake, and kinome – and Tsumiki, a coconut-infused sake-based cocktail, seem to be popular choices. For diners who are abstaining from alcoholic beverages, there's also a selection of zero-proof cocktails, including the Kaizen, which combines a carbonated cold brew genmaicha with pandan lime reduction and strawberry.
For dessert, Yonamine served a duo of stylish fruit gelatin buttons; one was a gelée chardonnay with crème anglaise and mixed berries. The other a rice pudding wrapped in gelée mango with a berry coulis.
By the end of a satisfying sushi and sake pairing, one can joyfully brave summer's heat and humidity.
AMA Sushi: Open Sunday through Thursday from 5:30 to 9:30 pm, and Friday and Saturday from 5:30 to 10 pm. Omakase seatings can be reserved at 5:30 and 8:30 pm.
Q+A with Daniel Fish, Rosewood Miramar Director of Wine
Q. What are your favorite sakes from the sake list at AMA Sushi?
A. When selecting sakes to complement the menu at AMA and the Omakase experience, I was really looking for unique selections that offer flavors to highlight and enhance the beauty and simplicity of the ingredients put together by Chef Kentaro Ikuta.
Fukucho Junmai 'Seaside' Sparkling Sake from Hiroshima is crafted by Miho Imada, one of only 30 female brewmasters out of over 1,000 breweries in Japan. It has crisp notes of lemon-lime and apple aromas with a soft, lightly textured finish. Sparkling sake is wildly growing in popularity. This is a fantastic sparkling sake which pairs beautifully with sushi, sashimi, oysters, and shellfish. Representing a small, female producer from Japan and with a name like 'Seaside,' this was a perfect fit for the program at AMA Sushi.
Sumikawa Shoten Junmai Daiginjo 'Asian Beauty' Ichiban Matoi is from Yamaguchi prefecture. A beautiful sake crafted from the prized Yamada Nishiki rice, the Ichiban Matoi is vibrant and incredibly aromatic, containing notes of fresh tropical fruits and strawberry, a smooth texture and a pleasant off-dry flavor, but balanced by a light acidity. I selected this sake to offer as our premium Junmai Daiginjo by the glass as it offers guests who don't often enjoy or drink sake a beautiful and approachable style to enjoy with sushi.
Hot sake versus cold sake, what's the difference?
Sake was traditionally served warm until approximately 40 years ago. Sake was not made in the refined, elegant styles that we are more familiar with today. The umami, earthy flavors of traditional sake were better suited to being served warm. With the revolution of sake production and style, most modern sakes are best served lightly chilled. I prefer serving them in a white wine glass as opposed to a traditional sake cup as this allows for all of the beautiful aromas of the sakes to leap out of the glass.
What is your preference and why: filtered or unfiltered?
While there are great examples of both filtered and unfiltered sake, I prefer the filtered sakes for their vibrant, clean textures and flavors. Although, it depends on flavor and stylistic preference in addition to what it is being served with.
What excited you about creating the sake pairing menu for AMA Sushi?
Creating the sake program and pairing for AMA Sushi was an exciting new opportunity to explore the world of Japanese sakes. I tasted more than a hundred sakes in the course of seven weeks to curate the sake selection at AMA. While there are many similarities between sake and wine, I really appreciated the chance to learn and understand the different styles of sake being made and to learn the stories and history behind the production and the multitude of producers making it.
You might also be interested in...