Alcazar's Concise Community-centric Comedy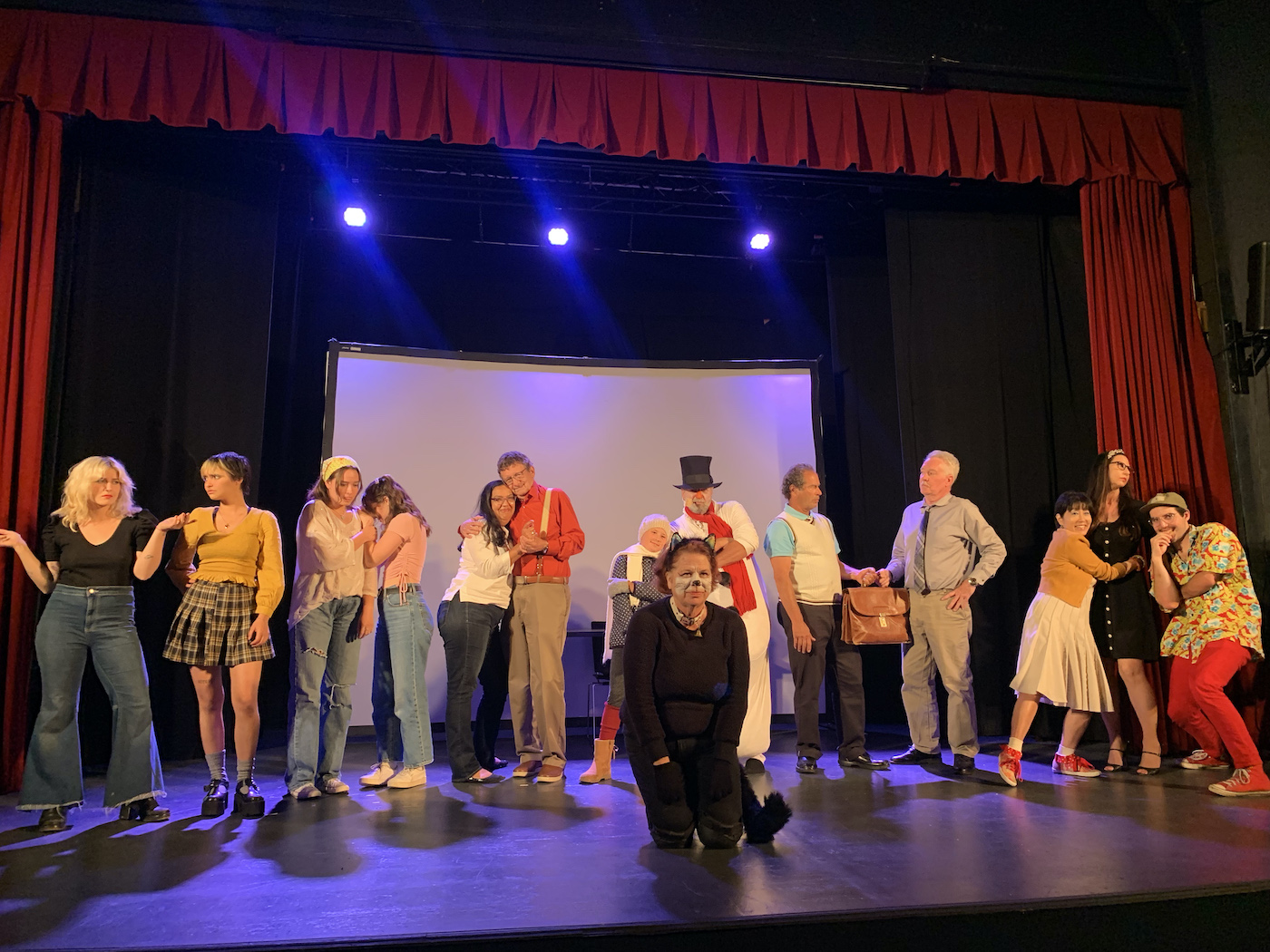 Last summer, the community theater company at Carpinteria's Alcazar Theatre launched Laugh Out Loud, a one-weekend summer series of several short comedic plays, both to keep its actors and the community engaged, and to test the waters of producing live theater during the pandemic.
Audiences responded, filling up more than half of the seats at each of the shows at the 94-year-old Art Deco theater.
"People were just so happy to be able to get together and do something fun and laugh a lot," said actress-director Asa Olsson, who co-founded the series and directed all of the plays last year, and whose connection to the community includes 17 years building a drama program and performance center at Girls Inc.
Now, the fest has become an annual event and expanded for year two, which boasts seven new 10-minute comedies ranging from spoofs on Hansel and Gretel (Open to Interpretation) and two different ones on the famous comedy skit "Who's on First" (Abbott and Costello and I Like Art) to a graveyard debacle with a man and his two wives (Marriage After Death), a fracas over fruit (Fruit Skins), a war over weight (My Scale is Lying), and what to do with a dead body in the trunk (3 AM Wake-Up Call).
Olsson and the Alcazar Ensemble board enlisted three other directors for this year's series, which presents all seven plays for seven shows August 4-8. DramaDogs' Ken Gilbert, longtime improv performer/director Tom Mueller, and veteran Ventura director, Leslie Vitanza will helm five works between them, while the cast includes a number of local amateurs alongside more familiar professional actors Kathy Martin and Philip Moreno, among others.
"It's a big mix," said Olsson, who adapted and directed both A Christmas Carol and Miracle on 34th Street for holiday season productions at the Alcazar. "It's heartening to be able to support people who might have done theater coming back again, as well as younger actors early in their careers."
Picking the plays out of the 50 under consideration was a challenge.
"It was really hard to choose because they are all so funny," said Olsson. "All I did was smile and laugh because they're so fast and sharp. Every time I spend a moment with the two that I'm directing (Marriage and Scale), I just laugh my little head off."
Visit thealcazar.org for more information and tickets.
Downtown Guffaws
For comedy on a more commercial scale, catch Tom Segura, the stand-up comedian, best-selling author, actor, and podcaster whose topics include musings on porn, parking lot power struggles, parenthood and plenty of other topics, when he headlines at the Arlington Theatre on August 6.
Blast On, Again
The great rockabilly-based L.A. band The Blasters are back out on the road for their two-year delayed 40th anniversary tour, which is good news for fans of their simultaneously retro and modern sound that can be both gritty and tender. Formed by brothers Phil and Dave Alvin, with their buddies John Bazz on bass and Bill Bateman on drums, the Downey band was influenced by such blues greats as Big Joe Turner and T-Bone Walker, but honed their sound through gigs mostly in the L.A. cow-punk scene where they interacted with X and Los Lobos, and later exchanged band members. Indeed, they called their first record American Music.
There were a lot of great songs in those early days – "Marie Marie," "Long White Cadillac," "I'm Shakin'," "So Long Baby Goodbye" – but the Blasters found only limited mainstream success and the seminal band is still more of a critical and cult favorite. The last new record came out a decade ago.
Dave Alvin departed by the mid-1980s for a solo career that has made him a constant presence on the club and theater circuit – including dozens of appearances at our local venues, only returning once in a while and not in the last 25 years. Keith Wyatt has held down the guitar slot since the late '90s, while Bazz and Bateman are still Blaster-ing away. What makes their August 6 date at the Lobero Theatre especially exciting is that Dave has been announced as special guest, and we're told that means he'll be playing with them, a rare thing indeed.
Sounds at SOhO
New Zealand indie pop band The Beths kick off a wildly divergent week at the upstairs music club on August 4, followed the next night by Venice, the harmony happy quartet composed of two brothers and their two cousins, all related to the '50s founded female singing group The Lennons. On August 7, Jeff "Skunk" Baxter, the Rock and Roll Hall of Fame guitarist who was a part of Steely Dan, The Doobie Brothers, and Spirit, who's also done sessions or concerts for many more rock and pop legends, settles into SOhO promoting a brand new solo album. Completing the throwback threesome and battle of the brethren, the Zmed Brothers offer The Everly Brothers Experience, a cover act we haven't caught before, on August 10. Details at sohosb.com. 
You might also be interested in...