Building Context and Style with Jessie Montgomery
Composer-violinist Jessie Montgomery is no stranger to Santa Barbara, having performed several times in the intimate Mary Craig Auditorium at the downtown Museum of Art with the Catalyst Quartet, the Grammy Award-winning string foursome from the Sphinx Organization she spearheaded from 2012-20. But that was before George Floyd, and the Black Lives Matter-spurred reckoning with racism and a lack of inclusivity that led to a huge upswell in commissions and performing opportunities for Montgomery. Her ability to compose and play music that incorporates influences from Black musical culture to incisive social consciousness to opportunities for improvisation made her one of the more highly sought-after classical musicians of our time, one whose orchestral works alone were programmed in 2021, including many major ensembles, at a rate 20 times higher than it had been a few years earlier. 
Her versatility as a composer and dedication to maintaining her commitment to teaching even as her schedule forced her to resign from the Catalyst also put her squarely in the forefront of the Music Academy's own awakening and reckoning about being more inclusive regarding artists of color, which just two years later finds Montgomery as the most fascinating of the 2022 Mosher Guests Artists.
Montgomery will be at the Academy for a week coaching and rehearsing with select fellows for a concert on August 4 in a program comprised of five of her works – "Prelude for Solo Cello," "Rhapsody No. 1, Duo for Violin and Cello," "Voodoo Dolls," and "Source Code" – plus piece by colleagues Paul Wiancko ("American Haiku") and Inti Figgis-Vizueta ("Placing Ceremony"). She'll also lead the chamber music master class on August 1, which will focus on some of the recital works. Montgomery, who grew up on the Lower East Side and still lives in Manhattan 40 years later, shared some thoughts over the phone from home.
Q. It seems there must be a lot of pressure on you having been chosen as a representative of Black classical music, with even TheNew York Times feature saying "The Changing American Canon Sounds Like Jessie Montgomery" in a headline. Is all of that a blessing or a burden, gratifying or a bit grating?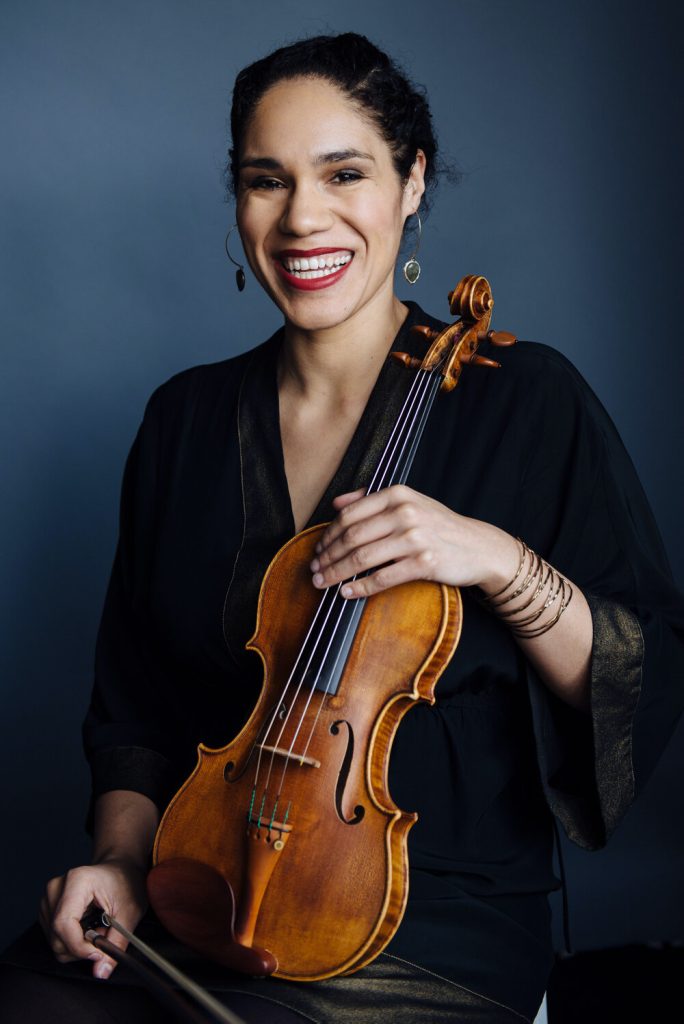 A. It's sort of a double-edged sword, a situation where a major tragedy wakes everybody up to the issue and has white organizations very obviously operating out of guilt in asking Black artists to create new work during a time when they're still in mourning, which was pretty insensitive… even though there were colleagues who were reaching out wanting to make their own statements. It was complicated and confusing with each scenario and having to take into account where you were in your artistic needs and personal needs and wants, and finding a path. And at the same time, I benefited with [a big increase in] performances and commissions. I had to pause to think about what my responsibility is as an artist and as a Black person and a woman – all of those identifiers that had [previously] put me in an underdog position. I hadn't foreseen my career being as big and as rich as it's become, and I needed to get clear on my priorities and my real goals and what it would look like for me to have a long career.
Outside of the realm of servicing a political agenda or statement, if I want to continue to be impactful, it's about finding ways to create those environments.
You've talked about smashing together styles and influences in your work to be something beyond fusion. How is that currently playing out?
Being around a lot of different styles of music is an important value for me, partly so I don't get stuck in one zone, but also to learn about other aspects and approaches. It's a process. Each time I write a piece I'm wanting to build on what I've worked out in previous ones, coming up with poly stylistic works that represent my influences, whether it's deliberate or evokes a more nuanced version. It changes based on the context of instrumentation and ensemble or just where I want it to go. The possibilities seem endless.
I'm imagining things like both teaching and playing with fellows here meet some of those desires of increasing impact, especially your commitment to pedagogy and passing it on. Can you talk about the repertoire?
We're focusing on string pieces to fit the instrumentation available. As performers, we always want to know what the composer is thinking and their approach to the piece. So having the opportunity to play with the fellows offers time to explore that relationship and uncover how it can be a fluid process. It reinforces the concept that it's always evolving from one rehearsal and performance to the next, which is a big benefit for everyone. The environment of learning is important to humanity. Both my mom and my aunt are teachers and I just have it in my blood.
Upcoming@MA
July 29, August 3 & 5: This year's fellows-driven Picnic Concerts are proving so popular, there's three within a single week! July 29's event, dubbed "Summer Music" after the breezy work by Samuel Barber, also features pieces from Chopin and Ravel, including two that are piano duos. A pop-up on August 3 titled "Souvenir de Florence" for Tchaikovsky's string piece, covers a stylistic range with a tango by Piazzola for harp and flute and Copland's Clarinet Concerto, before the series concludes August 5 with more of Copland's concerto flanked by pieces from Kodály and Hurel. (7:30 pm; Hahn Hall; free-$40)
Saturday, July 30: After a three-week hiatus, the Academy Festival Orchestra returns to action with the penultimate concert of the season featuring Stéphane Denève conducting a masterpiece from one of his countrymen in Ravel's "Daphnis et Chloé Suite No. 2" plus Rachmaninoff's Symphony No. 3. It's the Academy debut for Denève, the Music Director of the St. Louis Symphony Orchestra and the Brussels Philharmonic, and Principal Guest Conductor of The Philadelphia Orchestra, who should give the fellows, and us, a good workout. (7:30 pm; Granada; free-$100)
Monday, August 1: The finals of the annualDuo Competition bring five pairs of instrumentalists – each including a collaborative pianist – performing sonatas, duos, or concerto movements in competition for a prize package that includes a commissioned world premiere they'll get to play next year back at Hahn Hall. The panel of judges boasts the great Jennifer Koh, the prolific violinist-composer who knows a thing or two about collaborating. (7:30 pm; Hahn Hall; free-$55)
Tuesday, August 2: The final X2 concert of the year features guest composer Christopher Cerrone's Don't Look Down – the solo faculty-only piece on a program rounded out by rarely-heard works by Oskar Böhme and Adolphus Hailstork plus a string quintet by Schubert. (7:30 pm; Lobero; free-$55)
Wednesday, August 3: Contests come to a close with the most venerable one, the Marilyn Horne Vocal Competition, back to a weekday afternoon for the first time in years. Each of the singers and vocal pianist fellows on campus this summer gets a chance at the grand prize of premiering a commissioned piece next year, although there's something of a reward just being evaluated by and receiving feedback from a panel boasting Grammy winning singers Sasha Cooke and Ana María Martínez along with Martin Katz, the 1964 MA alum and 1999 Distinguished Alumni Award winner who will teach a legacy vocal master class on August 5. (12-5:30 pm with a 30-minute break at 2:30 pm; Hahn Hall; free-$55)
You might also be interested in...