Summer Splendor at Local Eateries The Sweetness and Spiciness of the Season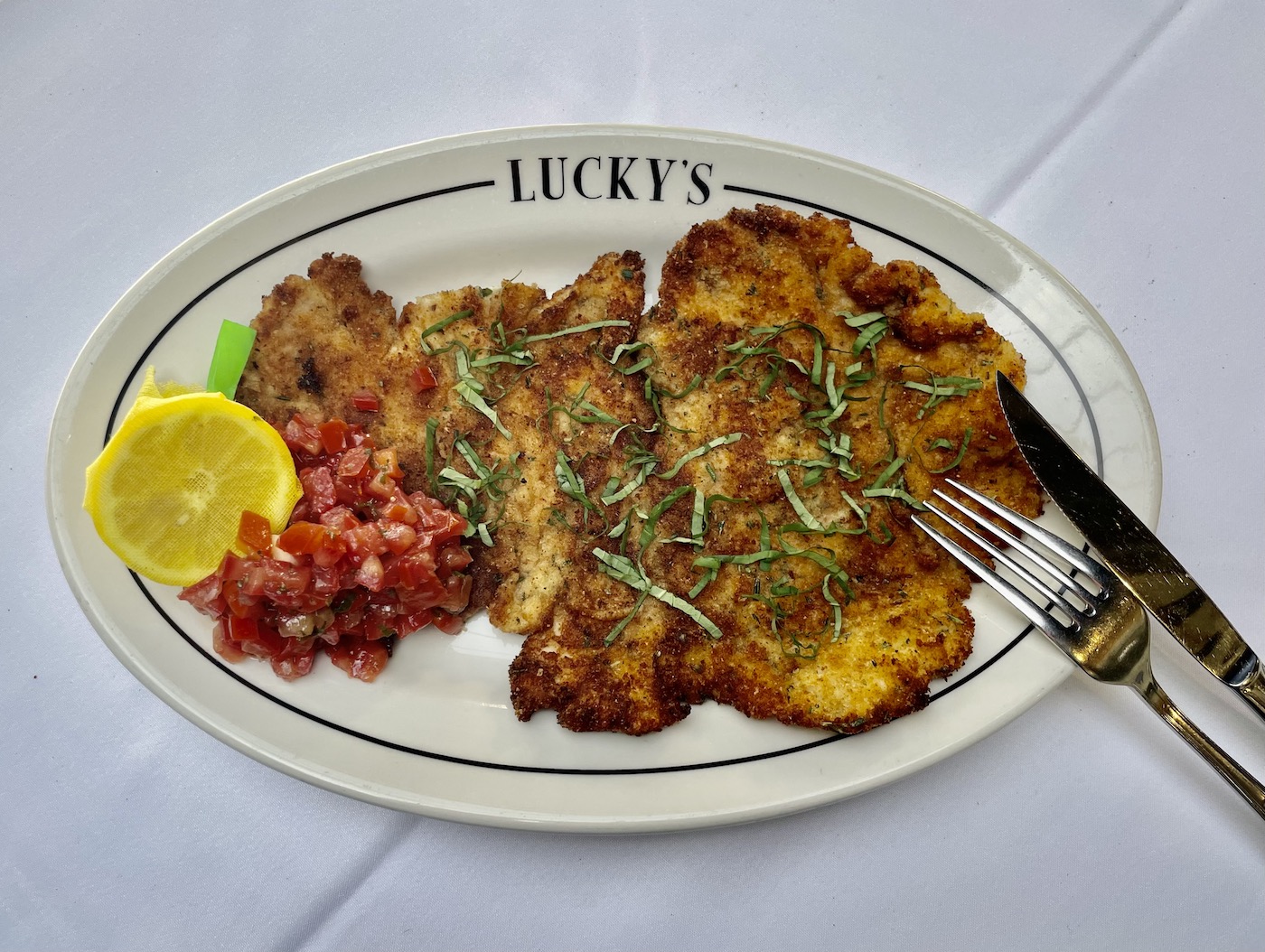 Warm summer breezes and longer days beckon diners outdoors to explore the city's diverse culinary landscape. Although there has been a recent uptick in virus cases, restaurant owners and chefs tempt diners with their summer creations. Several local eateries continue to exercise the same safety protocols at the height of the pandemic. "Our doors to the back and front of the restaurant are always open to promote airflow, and our staff continues our usual sanitizing procedures that we did during COVID," said Rachel Greenspan, owner of Bettina at the Montecito Country Mart.
Bettina added a plethora of summer menu items that are available for lunch and dinner and are popular throughout the day, according to owner Greenspan. "Our peach pizza is specifically a seasonal crowd favorite; guests were asking about it back in April as soon as the weather started to warm up."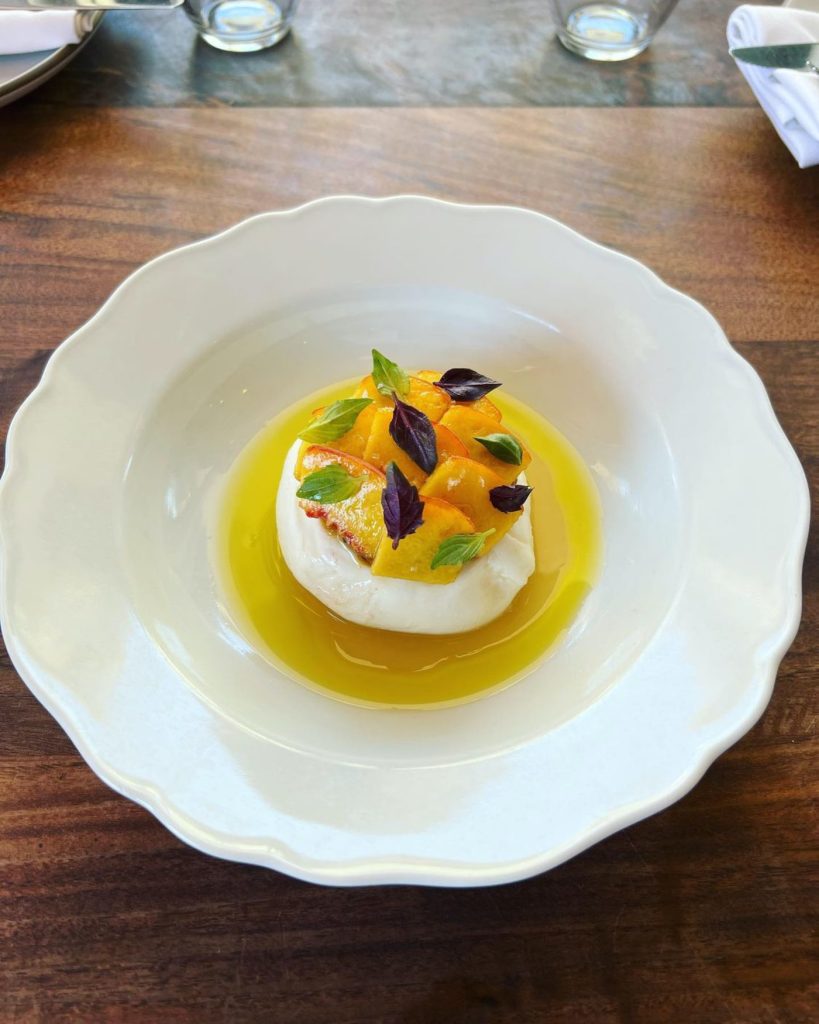 Greenspan is finding ways to be spontaneous and creative with her summer menu. The bulk of her ingredients are sourced from local farmers markets and regional farms such as Roots Organic Farm in Ballard.
Among summer dishes at Bettina: a corn pizza with Walla Walla onions and 'nduja ($23); Creamy burrata with Regier peaches, peach mostarda (a sweet and tangy condiment), and opal basil ($19); Regier peach pizza with Boxcarr campo cheese and sweet Italian frying peppers ($24). For dessert, Greenspan serves a strawberry Pavlova with pastry cream and olive oil ($8), among other delectable items.
"For the pavlova, Bettina head chef, Josh Pressman, was trying to find a way to use the excess egg whites from making our chocolate chip cookies to avoid wasting them. That's when he created the pavlova, which features whatever fruit is abundant at the Santa Barbara Farmers Market. During the winter, we had it with sweet and tart local passion fruit."
With summer officially underway, local chefs have introduced a wide selection of new seasonal ingredients. The fare isn't just inspired by the traditional flavors we associate with summer – tangy fruits and grilled seafood, meats, and vegetables – but also the bounty of the Central Coast's area farms, which are in peak growing season.
Adding a little bit of chutzpah to his summer mindset is Lucky's Steakhouse Executive Chef Leonard Schwartz, whose thinly sliced veal rib chop is breaded and pan fried in butter and then served with chopped locally-grown tomatoes, EVOO, garlic, and basil strands ($65). "Veal Milanese (for me) evokes favorite memories of late-night suppers on a piazza in Italy," Schwartz said.
Another dish takes a cue from the Baja Peninsula. The Cóctel de Camarones (prawn cocktail-style) soup is served chilled with tomatoes, avocado, onion, cilantro, and jalapeño ($22). "It's refreshing and filling, with very few carbs," Schwartz said.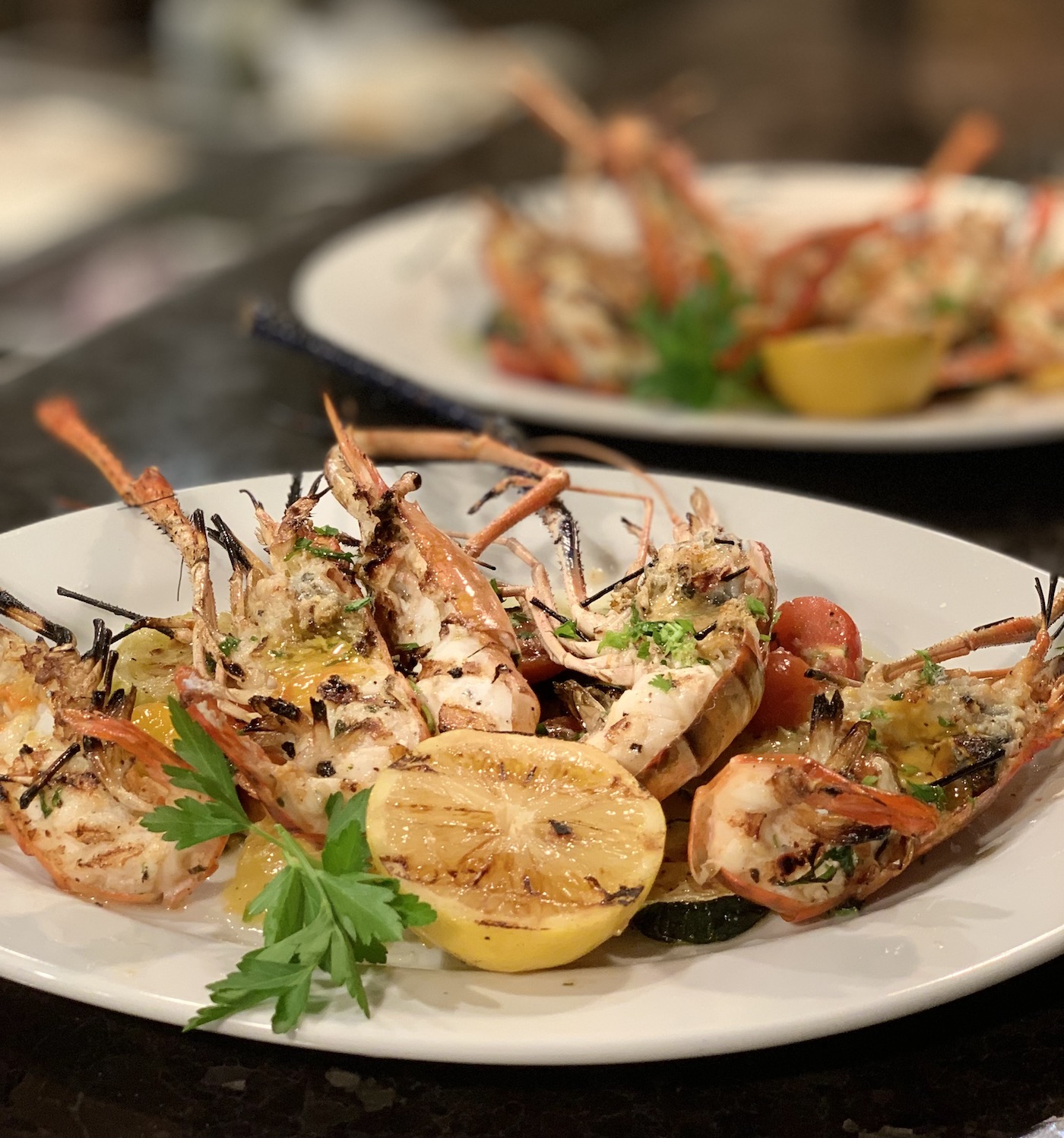 Several chefs in town began experimenting with seasonal ingredients, including Oat Bakery husband and wife duo Lou Fontana and Louise Ulrich, who together produce 'hygge' bread at their downtown bakery. The base for the Oat Bakery's organic bread is seeds and oats, considered 'superfood' ingredients, and many of the options are gluten-free. "Organic farm corn has always been a [summer] favorite at the bakery, so it felt like a perfect match to create a bread using that," Ulrich said.
The pair unveiled two farmers market-style breads for summer: a corn and jalapeño bun topped with sesame seeds, flaky salt, and black pepper ($8) and a rosemary tomato focaccia, made daily with freshly picked tomatoes, shallots, rosemary, and olive oil ($8 for a large piece and $5 for a small piece). The corn and jalapeño buns are available Tuesday and Saturday during the Farmers Market.
At indoor-outdoor Ca'Dario, chef/owner Dario Furlati has also introduced summer menu items. Furlati, who hails from a small town in Northern Italy, is steeped in Old World, rustic cuisine. But Ca'Dario's summer dishes, Furlati notes, also "rely heavily" on seasonal California produce, such as grilled local figs with Parma prosciutto wrapped burrata cheese, crumbled pistachio, and aged balsamic ($20).
Among other new summer dishes at Ca'Dario: grilled blue Hawaiian freshwater shrimp on a bed of roasted vegetables ($38); baked shell sea scallops, garlic, breadcrumbs, and fine herbs ($24); and tuna tartare with English cucumber, avocado, fresh tomatoes, capers, and pesto ($24).
The Tavern at Zaca Creek in Buellton welcomed Executive Chef Anthony Minniti in January. His summer menu includes a white grape, cucumber, scallion, dill, and crème gazpacho soup garnished with serrano chilis and shaved almond, as well as a seared watermelon and heirloom tomato salad dusted with crushed pistachios and drizzled with balsamic reduction ($14).
A Tale of Two Rivieras
This summer, the Rosewood Miramar's oceanfront oasis, Miramar Beach Bar, has partnered with Mexican Riviera restaurant Aquí Me Quedo at Rosewood Mayakoba in Playa del Carmen. The culinary concept, Tale of Two Rivieras, was designed to transport diners to the laidback paradise of Mexico's Caribbean coast with authentic Mexican delicacies and cocktails. The tacos are as intricate as they are exquisite. Shrimp or duck birria – which is marinated or soft-braised for hours, respectively – is tucked into grilled homemade corn tortillas with melted golden-brown cheese, crisp around the edges, gobernador-style ($24 and $26, respectively). The zesty and spicy ceviche is assembled with lime-marinated house fish (on this day, halibut), chunky tomatoes, avocados, and jicama and served with fire-grilled flour chips ($24).
"It's a tale of two Rivieras, but really, with Santa Barbara's cultural heritage so closely intertwined, it's an homage to Mexico's culinary influence," said Miramar Beach Cafe's new general manager, David Moorman.
Meanwhile, Kimpton Canary's Finch & Fork is featuring new dishes that reflect the season's image of "comfort food, a sense of warmth, and family time," says seasoned Executive Chef Craig Riker. Riker was tapped to lead Finch & Fork's culinary team a year ago. Among several notable chef spots, he most recently produced award-winning, plant-based cuisine as the Executive Chef of Oliver's in Montecito.
Here, you'll find Ora King Salmon served with Spanish gigante beans, piquillo peppers, and smoked peewee potatoes ($37); local white sea bass accompanied by roasted cauliflower, caper golden raisin purée, and pine nuts ($39); and a ricotta gnocchi with pancetta, grilled king trumpet mushrooms (which adds a touch of umami), and parmesan cream ($18). For the deviled eggs, Riker said he recently upgraded his eggs and added pork belly for Southern flair ($14).
For dessert, the fire-roasted caramelized banana milkshake with graham cracker crumble and toasted meringue is a cross between s'mores and a banana split ($13). Trying it for the first time is reminiscent of the profound agreement between Uma Thurman and John Travolta's characters and the $5 milkshake in Pulp Fiction. Riker's version (at $13) is nothing short of spectacular. When asked about the inspiration behind his mighty milkshake, Riker said: "When I was a kid I used to walk to Fosters Freeze after school and order a banana milkshake."
You might also be interested in...