Fashion Forward: Endless Summer Style Struts the City of Lights
by Sofia Fouroohi-Martin
Montecito and Paris collided on June 23 when fashion designer and Central Coast native Doni Nahmias unveiled his Spring-Summer 2023 collection at Paris Fashion Week. The collection was inspired by Montecito's Butterfly Beach. Twenty-nine-year-old Doni grew up in Summerland, often frequenting Butterfly Beach. He describes it as his favorite beach, where he loves watching the sunset. On his website, Doni lists himself as a "self-taught designer" and cites Summerland as the inspiration for his brand, which launched in Los Angeles in 2018.
NAHMIAS made its Paris Fashion Week debut just months earlier, in January. The debut show marked the first time that Grammy-winning record producer Boi-1da and rapper J. Cole allowed a fashion show to use their music. Celebrities such as Hailey and Justin Bieber, Megan Thee Stallion, Jack Harlow, and Jennifer Lopez have been photographed wearing NAHMIAS wares.
The new summer show took place at the Palais de Tokyo, the largest center for contemporary art in Europe. Inside the building, attendees mingled, eventually sitting down as the room quieted and bright lights switched on. "Doin' Time" by Sublime played as the show opened and the first model walked down the runway in sunglasses, white shorts, and an orange NAHMIAS lifejacket. The collection oozed California vibes, with its male models draped in loose-fitting silhouettes. While many wore oversized sweaters and shirts, some wore tight mock-neck long-sleeve shirts, reminiscent of rash guard swim shirts.
Some of the tops had "SUMMERLAND" emblazoned on the front. This wasn't the first time that NAHMIAS invoked California dreams – jackets, hoodies, and hats in previous collections had also been emblazoned with "SUMMERLAND." Each outfit was complete with low-top NAHMIAS sneakers in a range of colors. Green, blue, and orange dominated the collection's color palette. The Red Hot Chili Peppers' "Californication" drifted through the speakers as the show closed.
Many of the show's attendees were familiar with Santa Barbara, including NBA player Josh Richardson. Seated directly in front of me was an attendee in a black NAHMIAS tee shirt with "SUMMERLAND" on the back accompanied by a bedazzled illustration of palm trees against the sky. 
Twenty-four-year-old Ryan Northrop – who works for Axiom Agency, an L.A.-based sales agency that works with young, upcomingdesigners in brand strategy as well as wholesale development – described working with Doni, saying it was an "amazing experience being able to see it go from the beginning, from casting to fittings, to seeing Doni's close friends and collaborators present at the show." Growing up in L.A., Ryan frequented Santa Barbara for basketball tournaments.
Backstage after the show, the excitement continued. Models dashed around, getting ready to head to their next fashion show, while attendees and friends of Doni congratulated him. Rappers Kodak Black and G-Eazy, who sat front row alongside Boi-1da and others, chatted with Doni after the show as photographers snapped photos. Others in attendance included fashion designer Mike Amiri and NFL player Donovan Peoples-Jones.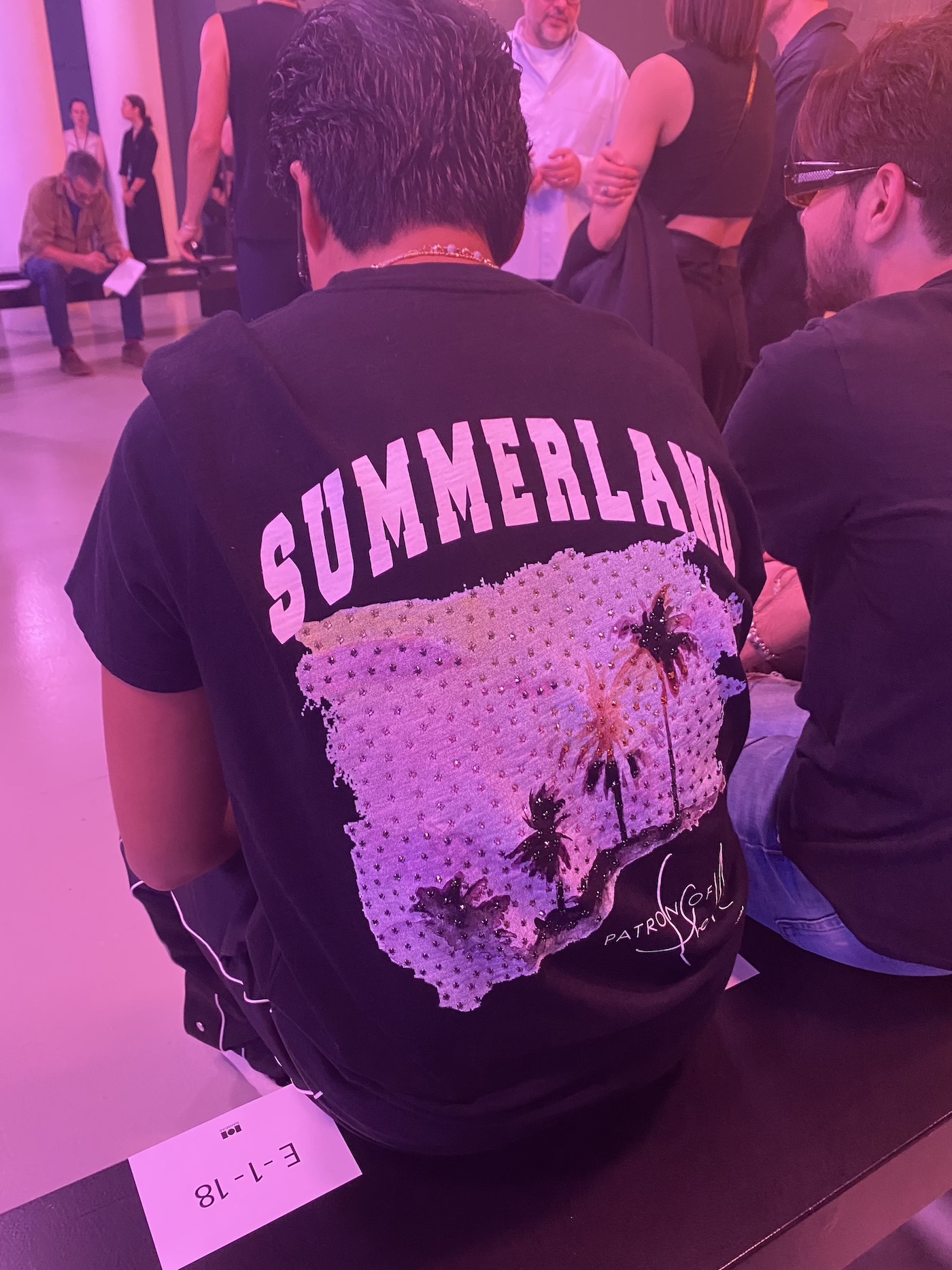 Kozy, a 22-year-old model from London, spoke highly of the event, stating that he loved walking in it. It was his first time strutting in a show at Paris Fashion Week and he buzzed with excitement describing his experience. On the runway, Kozy sported a green tie-dye knitted tank top, bright green straight-leg leather pants, and green NAHMIAS sneakers. The leather pants featured large pockets on the outside of each leg in a slightly lighter green and a circular patch on the inside of the lower thigh in the same green – forming the brand's "N" logo.
This summer, NAHMIAS has also collaborated with Boi-1da and Bacardi rum to create a Capsule Collection. Each item in the four-piece collection has a QR code embedded on the fabric that can be scanned, even with an iPhone camera. Scanning the QR code will lead to a curated Spotify playlist of up-and-coming artists. Bacardi and Boi-1da have been in collaboration since October 2021 as part of Bacardi's ongoing "Music Liberates Music" campaign, which began in 2017. In order to purchase any of these items, one must be over 21 years old. The net profits from this collaboration go towards supporting these emerging music artists. One jacket in this collaboration features a painting of two musicians sitting on the ledge above Butterfly Beach in between the words "Support Artists."
Locally, NAHMIAS is available for purchase at The Webster boutique at the Rosewood Miramar Beach. NAHMIAS is also available for purchase online at nahmias.com.
Sofia Fouroohi-Martin is currently earning her bachelor's in communications, as well as minoring in French. She spent her teen years living in Santa Barbara and graduated from Laguna Blanca School in 2019.
You might also be interested in...