Theater Talk: Launch Pad Already Firing Rockets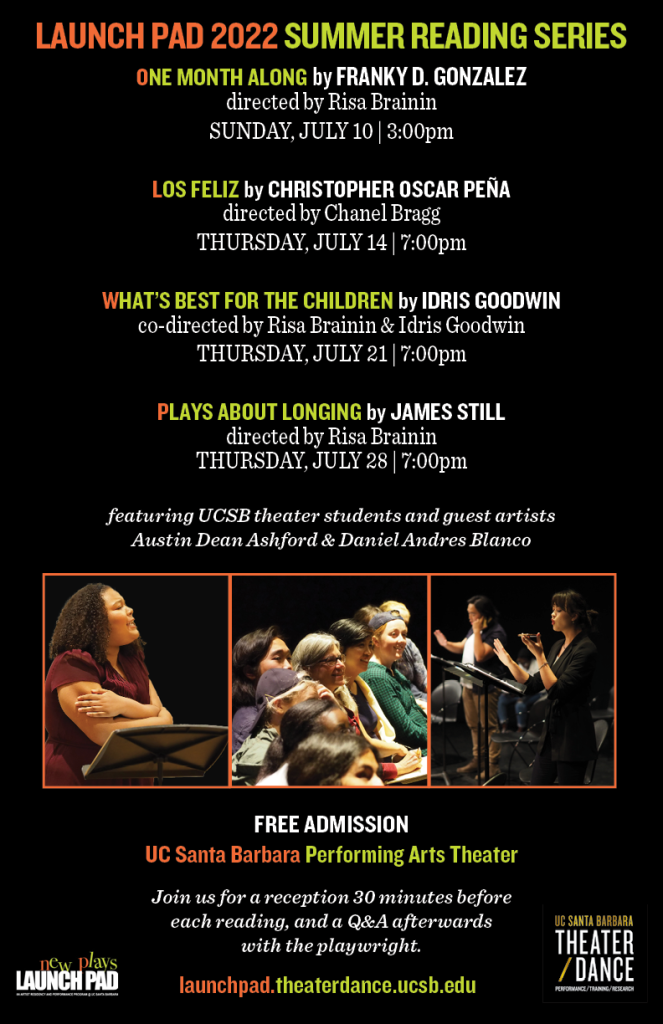 The summer reading series from UCSB's laudable Launch Pad program – which pairs playwrights' new or underproduced works with professional directors and student performers – is an enviable experiential environment for professionals and students to participate in the creative process as it takes shape. In addition to acting, students get to explore stage management and dramaturgy as well as lighting, costume, sound and scenic design, guided by the director and with the welcome opportunity to offer ideas to the playwright as the script evolves. The week-long collaborations each culminate in a public reading which lets the audience also benefit from experiencing the important developmental process for the works.
Last Sunday, Launch Pad sent up its first salvo of its four-play reading season – the first in-person series since 2019 – with Franky D. Gonzalez'sOne Month Along, directed by Launch Pad founder and Artistic Director Risa Brainin. But there are still three more works getting the whirlwind treatment on the three remaining Thursdays in July, including one from Idris Goodwin, a Launch Pad veteran and the multiple award-winning playwright, breakbeat poet, content creator, and arts champion.
Next up on July 14 is Los Feliz by Christopher Oscar Peña, featuring guest actors Shekinah Bryant and Vishay Singh and directed by Chanel Bragg, associate artistic director of the Arizona Theatre Company. Set in Hollywood, the piece is about a BIPOC showrunner of a new TV series who hasn't had good luck with dating as a queer Latino yet remains a wistful romantic, despite realizing that the pop culture he's a part of has influenced our perceptions of how relationships actually work.
On July 21, Goodwin and Brainin team up to co-direct the latest of Goodwin's 60-plus plays, What's Best For The Children, which stars guest actor Austin Dean Ashford as Whit Forsyth, who has just been elected the first Black chairman of the State Schoolboard Committee. As he is about to vote on critical measures in public education, several groups go to extreme measures to influence his decisions in what amounts to a zany exploration of ideology and the American education system. 
The season closes July 28 with Plays About Longing, James Still's collection of short and very short plays that collectively make meaning as a meditation and celebration of the power of longing. Brainin helms the readings while the student artists are curating the set of mini-works that share a tenderness and poignancy in revealing the ways life is both vivid and transitory.
Each reading starts at 7 pm at the Performing Arts Theater on the UCSB campus. Admission is free and visitors are invited to attend a reception 30 minutes before each event and the Q&A with the playwright afterward. Visit launchpad.theaterdance.ucsb.edu.
Nectar: The Intersection of Art & Performance
Yoga Soup is set to host the revival of NECTAR, created and curated by Cybil Gilbertson, in the first installment of the live, local, intentional art event in nearly three years. It's probably no coincidence that the current theme is "Choice," as artists and performers have been invited to reflect on the relevant social theme in the medium of their choice, including dance, spoken word, music, visual art, and more. The community not only witnesses the results but also shares in a process of inquiry. Tickets are $20 for the 7:30-9:30 pm event on Saturday, July 16. Visit yogasoup.com/events.
You might also be interested in...