An Adventure Made Up in Real Time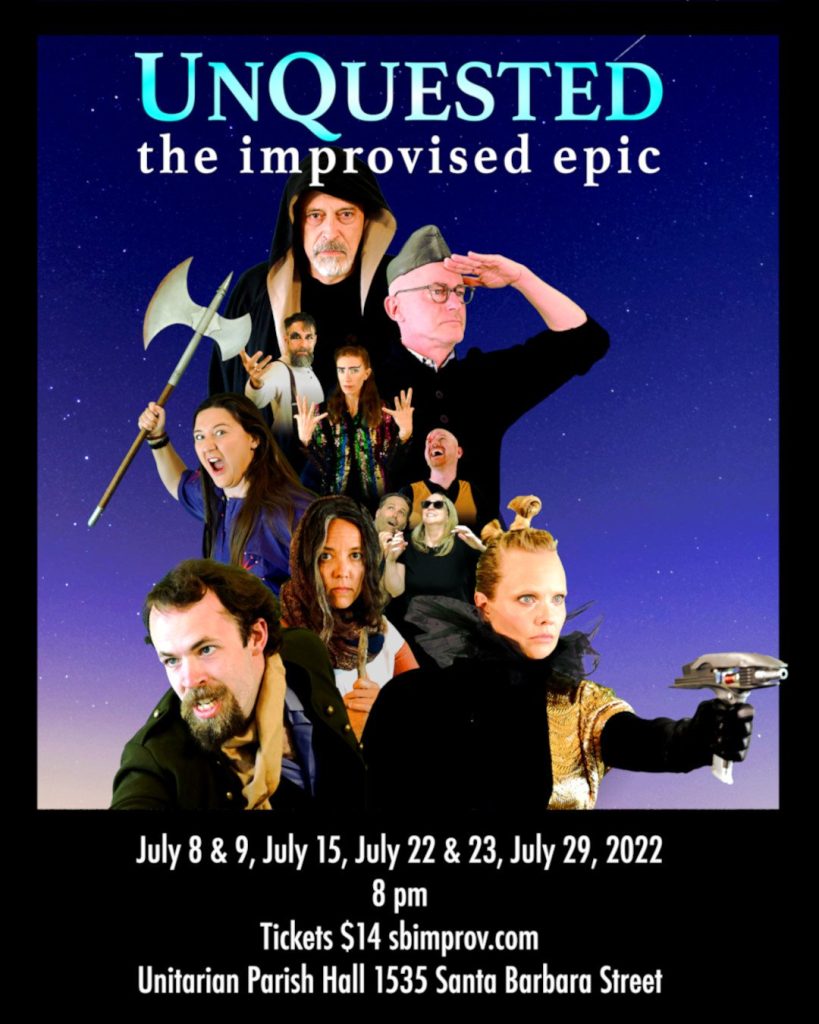 In recent years, Santa Barbara Improv (SBI) has added long-form format opportunities, in both workshops and performance, to its longstanding tradition of hosting weekly short-form classes and a monthly performance of the format most folks might be more familiar with via Whose Line Is It Anyway? 
Now, SBI is trying something brand new for the group – a long-form fully improvised theater piece called UnQuested: The Improvised Epic. Described as "a fabulous tale of improvised fantasy adventure, à la NeverEnding Story, Princess Bride, and Labyrinth, UnQuested features a cast of 11 improvisers – some of whom boast more than a quarter-century of experience in the genre – who have been eager to take on the challenge since former Portland resident Holly Mae Haddock first proposed the idea several months ago.
While the show each night truly is made up on the spot, it's not accomplished through smoke and mirrors, but rather built on a basic structure and, even more importantly, confidence and mutual trust in fellow actors.
"There's the storytelling concept of the hero's journey, a fantasy adventure of good and evil fighting each other," explained Alan Irwin, who has run SB Improv for decades. "We have a sense of the rhythm and where the beats are, and how we can accomplish that. But everything else comes out of suggestions from the audience, things we can improvise around because the story itself can go anywhere."
The action starts with the audience providing a "MacGuffin," an object or device that serves as a trigger for the plot in movies or books. Here, Irwin said, that might be "an element or profession or an old-time skill, something historic we can riff on for a little while to build up the world. Then we just go enact the whole piece, usually getting more suggestions about obstacles, or situations, along the way."
Practicing the show in private has been a fun challenge for the company, Irwin said. "We're learning the ability to create an epic hour-long adventure together just from a couple of suggestions and making it be completely different every time."
But it's also been an unmitigated thrill for the creators, especially Irwin, a devoted fantasy adventure fan who is in his element with UnQuested, which will be offered on Fridays, July 8-29, plus two Saturdays, July 9 & 23, at Unitarian Society's Parish Hall.
"Words cannot express how joyous this is for me," he said. Probably for you, too.
For details and tickets, or information on other SB Improv workshops and performances, visit sbimprov.com. 
A Flash of Theater
Elsewhere on stage, Out of the Box Theatre Company, which most recently brought Tick, Tick… BOOM! to its usual home of Center Stage Theater this spring, will perform pieces from the musical The Lightning Thief at the Santa Barbara Central Library's Faulkner Gallery from 2-5 pm on Saturday afternoon, July 9. The mini-concert performance of selected songs from the musical, adapted from the bestselling 2005 young adult American-fantasy-adventure novel based on Greek mythology by Rick Riordan, is suitable for all ages.
Women's Voices Festival at Namba Performing Arts Space in Ventura presents three award-winning one-woman shows straight from the Hollywood Fringe fest on July 9-10. Katierose Donohue Enriquez's Queen of Fishtown is a hope and profanity-filled character comedy about struggling to maintain one's authenticity while facing inevitable change in both body and environs. Teruko Nakajima's Made in America, which won the Fringe's 2022 Solo Award, is based on the first-generation Japanese artist's raw autobiography that touches on immigration issues, mental health, domestic violence, child abuse, and more. Jenna Wadsworth McCarty actually creates a new piece of visual art onstage, sharing her songs and poetry while telling her story of how she became an artist in Emergence: First Flight.
Streaming available. Visit nambaarts.com for details and tickets. 
You might also be interested in...