Beans BBQ: A BBQ Eatery Serves Reimagined Comfort Fare
Pitmaster Kristi Bean recently debuted her barbecue eatery, Beans BBQ, nestled on State Street, just steps away from Granada Theatre. 
Bean said the eatery is the love child of Beans BBQ catering business, which she started in 2014, the same year she migrated to Santa Barbara. At the core of the success story that is Beans BBQ is an award-winning recipe: Mama K's honey apricot chipotle BBQ sauce.
"The most crucial ingredient is our barbecue sauce," Bean said. "When diners come in for barbecue, we're judged first on the flavor of the sauce so it's imperative that it's made fresh, from scratch."
Offering an inspired menu of grilled meats and all-American side dishes, Beans BBQ, located at 1230 State Street, is operated by Bean, her daughter Jenniffer, and son Joee, whose intentionally unique name spellings reflect Bean's passion for playful creativity. That passion is clearly evident in Bean's cooking, which reimagines traditional barbecue fare into distinctively personalized creations.
A perfect example of Beans BBQ's creative comfort fare is the Smashburger egg roll, which consist of seasoned ground chuck, triple cheeses (pepper jack, Monterey jack, and cheddar), chopped pickles, and a tri-tip "sundae" topped with creamy mac `n cheese, spicy chili beans, sour cream, and salsa.
Other mouthwatering dishes include pulled pork sliders served on Hawaiian rolls and finished with BBQ crema drizzle ($14.99), a strawberry spinach salad (dubbed "Strawberry Fields") is tossed with blue cheese crumbles and candied walnuts then dressed in balsamic vinaigrette ($12.99) and a decadent "Neanderthal Platter" ($44.95) offering a variety of grilled chicken, pork, beef, baby back ribs, and hot links along with a trio of savory sides, salad, and toasty garlic bread.
"We cook with a lot of butter and love," Bean said, referring to the croissant-like buttermilk biscuits, five cheese mac 'n cheese, and twice baked potatoes. There are also tempting sides such as brown sugar baked beans and potato and macaroni salads ($8.99 per serving). Balancing out the heat are fresh lemonades and gourmet sodas ($3.50), perfect for pairing with anything spicy.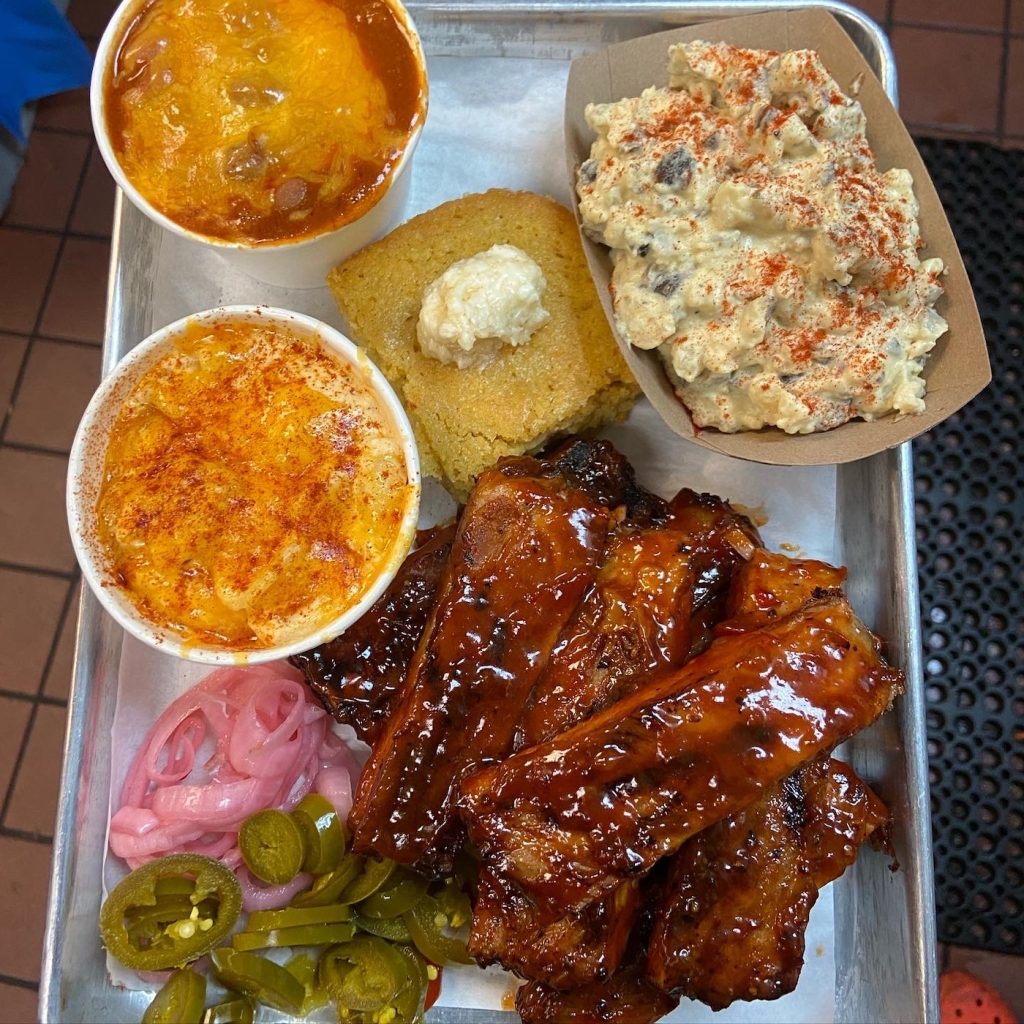 The spacious, naturally-lit interior was no small undertaking, Bean said. To save money, her family members went to work sanding and refinishing the hardwood floors and the 15 large circular wooden spools that were repurposed for dining tables. Bean chose to reupholster the dining chairs with 1950s retro pin-up cowgirl prints.
Such design elements are reminiscent of the agricultural city of Bakersfield, where Bean spent her youth and was raised by a single dad who worked long hours. Bean said she shared household responsibilities with her sister. Together they developed a sense of menu planning and did all the grocery shopping. On weekends, Bean's father showed them how to grill meat and vegetables.
Bean says she chose to barbecue because it's universally familiar and because it was the focal point of every family gathering. "BBQ represents bringing your family together and making them feel cared for," she said. That approach helped her get her start nearly a decade ago, when she moved to Santa Barbara to live closer to her sister and explore new career options.
Bean is not a trained chef. She's worked in Back of House positions at restaurants before a stint with a construction company. Prior to launching a catering business, she served as operations manager for a cannabis dispensary. When Bean saw the opportunity to enter her barbecue recipe in Santa Barbara Independent's 2014 Summer Sizzling BBQ Contest, she couldn't resist the temptation to share her own creation: an irresistibly spicy, fruity, and tangy sauce made with apricot, chipotle, honey, and a few other secret ingredients.
"I wanted our palates to engage with sweet in front and hot in back so that the heat comes at the last bite," she says.
Besides her signature sauce, marinades and rubs are crucial to Bean's menu. She uses fresh herbs and spices, fresh-squeezed citrus juices, and a splash of Dr. Pepper or root beer. The preparation process begins the night before serving time with marinating the meat. Grilling begins early the next morning. There is a break at 3 pm and then another round of meat is grilled. Beef and pork are cooked Santa Maria-style over an open grill with a crank, while chicken thighs and hot links are smoked.
On a recent afternoon, the thinly sliced garlic-infused teriyaki tri-tip piled onto a craft roll and smothered in mayonnaise and zesty barbecue sauce and strewn with cheddar cheese and fried onions was juicy perfection, as was the sweet and salty honey-braised pork sandwich ($16.99 each).
Green Hatch Chilis and candied jalapeños can be ordered as stand-alone sides ($1.25 each), adding fuel to the flavor.
Plans for brunch are in the works with visions of jalapeño cornbread waffles and fried chicken, cinnamon roll pancakes and honey dipped buttermilk biscuits, Bean said, noting that she applied for a beer and wine license to add bottomless mimosas to the mix.
Bean is always looking for ways to create an authentic hometown dining experience. When possible, she utilizes ingredients from local purveyors. She uses Wylde Works honey for her popular barbecue sauce, makes shakes with Rory's ice cream, and serves coffee from Dune Roasters. Bean is working with the latter to develop a coffee blend to pair with her brisket.
Equal parts innovative and comforting, Bean's homespun recipes enthrall diners with summer's finest pleasures.
You might also be interested in...