The Sound of Cipullo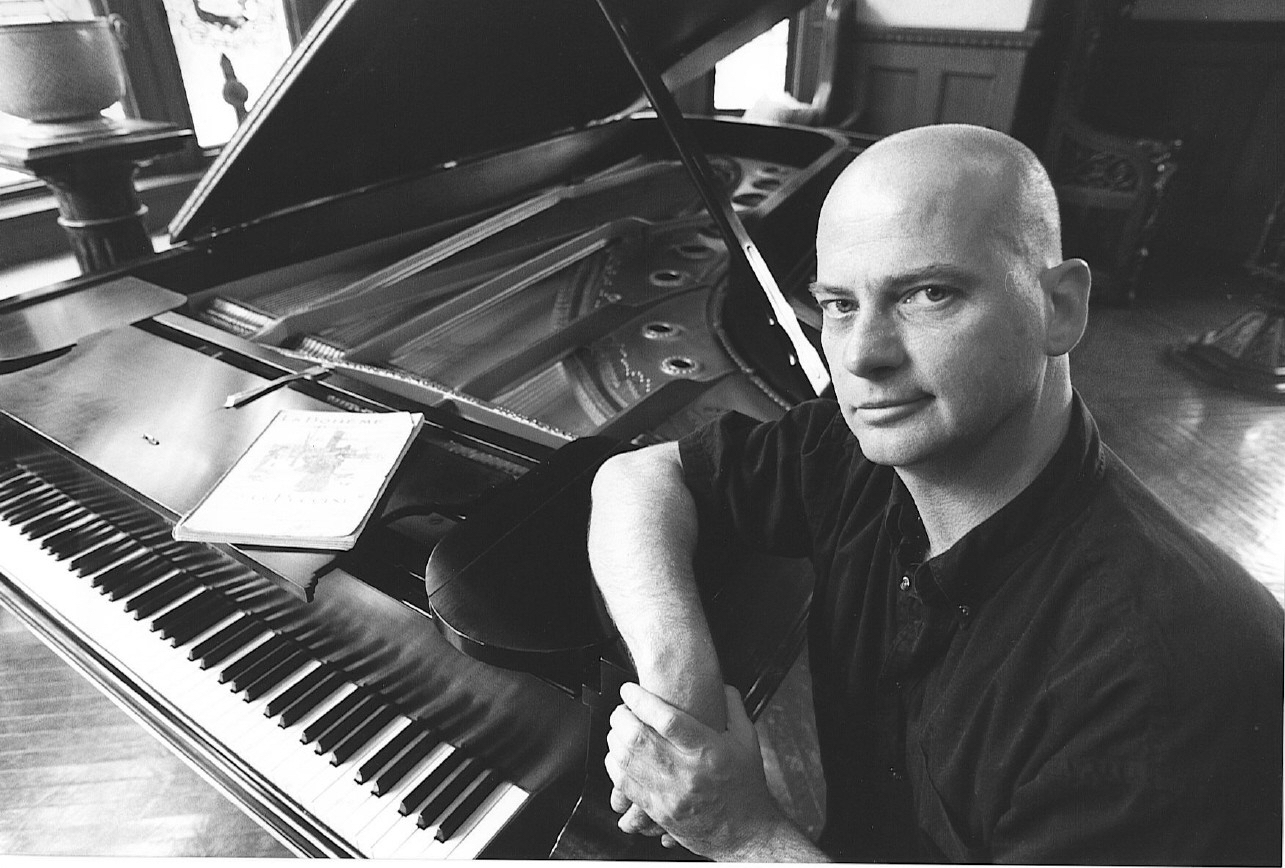 For Tom Cipullo, MAW's 2022 composer-in-residence, collaborating with two other faculty members in putting together an evening of his vocal works sung by the Academy's fellows has been both a challenge and a joy.
"There are 14 singers in all vocal ranges, and we have to give everybody an experience that fits them and also helps them grow. So it was like a jigsaw puzzle, putting together these pieces out of context," he said. "But it's such a thrill to do it as a composer, to have a whole evening of your music, like a retrospective for an artist. I'm very excited about it."
Cipullo has been a prolific composer known for lyrical works that also contain leaps in range, shifts in meter, and lengthy phrases that tax singers' breathwork. His work has been widely praised for "inexhaustible imagination, wit, expressive range, and originality," as the American Academy of Art and Letters put it when awarding him its highest honor in 2013. The July 1 concert at Hahn Hall features more than 20 of the composer's works, offering arias from two of his four operas, plus art songs including three from his A Visit with Family cantata based on texts by Emily Dickinson; three more from Another Reason Why I Don't Keep a Gun in the House, half of his cycle setting six Billy Collins poems, and a couple from Of a Certain Age, with words by Pulitzer-Prize winning poet Lisel Mueller, among others.
The idea was to create both variety and challenge for the singers and audience via a wide array of styles, emotions, tempo changes, and singing and acting challenges, Cipullo said. "Recitals often have too much slow music and not enough contrast. That won't happen here."
"Of a Certain Age" could also describe Cipullo himself, who turned 65 last November, and the self-confessed "control freak" said he's only recently learned how surrender in opera is not only required, but desired.
"You know how people say they love to collaborate. I don't," he said. "You spend years by yourself writing, and then hand it over to someone else… But really it doesn't begin to tell the story until a director and a group of singing actors make it into something. The only way something good happens is when people make this art about themselves, put themselves into it, take risks, and make it their own. I think composers learn late in life how much to enjoy that."
At MAW, Cipullo is working with vocal piano faculty head John Churchwell and director Sara E. Widzer, whose MAW debut in 2018 found her co-helming 2018's highly innovative OperaFest: Campus Takeover with James Darrah, and has recently worked with Opera Santa Barbara, including the Carmen In Your Car drive-in opera. The July 1 event will be semi-staged, adding an extra element, Cipullo said.
Risk-taking is not at all foreign to the composer, as his operas have delved into political, cultural, and historically intriguing if not controversial themes including the eugenics movement in early 20th century America (Mayo),America's longest-held prisoner of war against the backdrop of Vietnam (Glory Denied), an imagined post-mortem reunion of Pablo Picasso and Gertrude Stein (After Life),and the dichotomy of Josephine Baker's life and career (Josephine).
What all of the subjects of operas and art songs alike have in common is that they speak to Cipullo, which is the only way he said he knows how to write.
"For me, composing isn't about enhancing or illuminating the poetry. It's all about me liberating myself to react to the sound of the words, the emotion, the rhythm, the inherent pitch and what it does to me, and channeling that into what I write. That sounds egotistical, but it's more egotistical to think I'm somehow going to enhance Emily Dickinson or Walt Whitman."
Accordingly, Cipullo wants the vocalists and pianists to feel that same sense of freedom in performing his works on July 1.
"It's all about them," he said. "It's my notes and my rhythms, but it's their emotions and their feelings that have to come through."
Upcoming @ MAW
Friday, June 24
We met this summer's solo pianists just last Friday at the first Showcase Series concert of the season, and now suddenly here comes the annual solo piano competition a scant week later and just nine days into the festival. Welcome to MAW's new staggered scheduling smartly spacing out the fellows' work. The six ivory-ticklers vie to impress the three-judge panel to claim the prize that includes a cash award and the opportunity to present a world premiere commissioned just for them in a post-festival recital back at Hahn Hall. (4 pm; Hahn Hall; free-$55)
Saturday, June 25
We wrote extensively in last week's issue about MAW's epic celebration concert at the Santa Barbara Bowl to mark its 75th anniversary. So here's a subtle reminder: dah-dah-dah-DAH. Yes, the 100-something musicians of the Academy Festival Orchestra will tackle Beethoven's Fifth Symphony, the most famous piece of classical music in history, outdoors under the sun and stars in what is sure to be a memorable evening. (7:30 pm; free-$10)
Monday, June 27
The first Faculty Artists Concert of the summer, a series that features solely the professional regular artists and visiting faculty performing somewhat themed concerts including a focus on new music, and works by Shostakovich and Dohnányi as well as Tailleferre and Martino. In addition to MAW favorite superstars Eugene Izotov (oboe) and Glenn Dicterow (violin), the concert also marks the MAW debut of violinist Ida Bieler, who was one of Europe's first female concertmasters, a multiple award winner, and a highly sought-after teacher, chamber musician, and soloist. (7:30 pm; Hahn Hall; free-$40)
Tuesday, June 28
As if the X2 series concept of pairing faculty and fellows in recital wasn't already relatively new and exciting, now MAW is giving something utterly brand new in a world premiere of a new art song composed for MAW alumna mezzo-soprano Sasha Cooke by MAW 2022 composer-in-residence Tom Cipullo with words from the poem Bonfire Opera. "As soon as I read it, I knew this was what I wanted to write for Sasha," Cipullo said. "I wrote a lot of tempo and mood changes, and I had her voice in my head, and she can do anything, so it was a lot of fun. I have to share the first line: 'In those days, there was a woman in our circle who was known, not only for her beauty, but for taking off all her clothes and singing opera.' Now, don't you wanna hear more?" In a sumptuous program, Bonfire Opera is bookended by Debussy's "Sonata for Flute, Viola, and Harp," and Brahms' "Piano Trio No. 1 in B Major, Op. 8." (7:30 pm; Lobero Theatre; free-$55)
Wednesday, June 29
Today's vocal masterclasses is led not by a singer, but the renowned collaborative pianist Maureen Zoltek, whose diverse career has her working with leading vocalists, instrumentalists, orchestras, and opera companies across the United States. She currently serves as an assistant conductor, vocal coach, and orchestral keyboardist on the staff of San Francisco Opera, so her coaching for the lucky fellows performing today should be super helpful (1:30; Hahn; free-$10)… Tonight's debut of MAW Chamber Nights represents the closing chain in evening recital programming, complementing the FAS and X2 events by serving as a showcase solely for the fellows. What sets the series apart from Picnic Concerts is that the concerts are the result of a new chamber music curriculum that pairs the small fellow ensembles with Academy artists for intensive coaching for the curated program featuring performing many pieces in full. Also new: as a part of the intimate and casual experience, guests are invited to enjoy complimentary wine during the performance. The adventurous initial lineup: Andrew Norman's Gran Turismo, Mendelssohn's "String Quintet No. 2," and Wynton Marsalis' A Fiddler's Tale Suite. As suggested by its title, Gran Turismo explores the "similarities in speed and flamboyant machismo among Italian Futurist Art, Baroque Concerto Grosso, and the racecar video game… with a motoric, virtuoso piece for eight violins that sets off on a musical collision course of kinetic energy right from the first note." Vroom, vroom. (7:30 pm; Lehmann Hall; free-$40)
For more information and to purchase tickets, visit musicacademy.org
You might also be interested in...