Pursuing a Love, Talent for Opera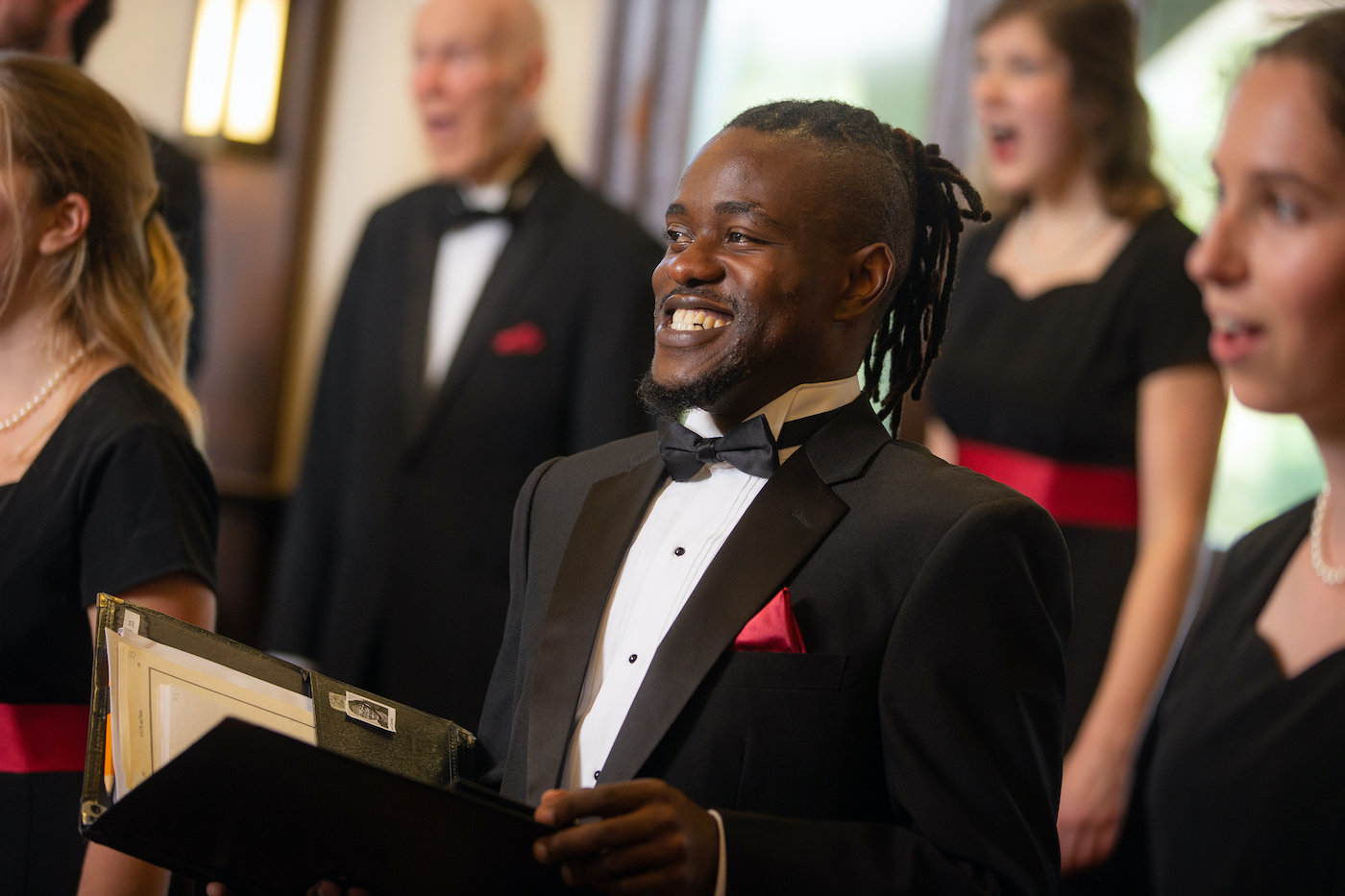 Westmont senior Sibongakonkhe ("Sibo") Msibi joins an elite group of 20 Fellows this summer at the Vocal Institute at the Music Academy in Santa Barbara. The first Westmont student to achieve this honor, he aspires to become "one of the best opera singers out there." Chosen from an international pool of talented applicants who seek careers in opera, the Fellows will pursue advanced study and performance under the guidance of internationally renowned faculty artists, soloists, and guest conductors.
Sibo's voice instructor at Westmont, Nichole Dechaine, encouraged him to apply to the institute. He submitted his resume, sent in videos of himself singing opera arias, and performed in a live virtual audition. "I'm excited and look forward to working with coaches, renowned artists, and guest conductors — and, most importantly, to be part of a family of great musicians," he says.
The Swaziland native has been singing his whole life. "My mother told me I used to love to sing along to famous songs that played on the radio and to television adverts," he says. "She hoped I would grow up loving music." Sibo began singing in choirs in elementary school and started competing nationally in high school. While he pursued an associate degree in graphic design, he won three national championships in the adults' solo section. At Westmont, he sings in the College Choir and Chamber Singers and performs in operas, most recently Aaron Copland's The Tender Land in January.
His music professors have supported his ambitious goals. "Professors Michael Shasberger, Steve Butler, and Sara Rockabrand have been there for me at my lowest moments, when I felt like giving up," he says. "They fill the void of not having my family close to me. They motivate me to be better every time, and that gives me a push to keep working hard and plan well for my career in opera."
After he graduates, Sibo intends to attend graduate school. "I had no professional training until I came to Westmont," he says. "I enjoy singing much more because it has more meaning to me now, and it always brings me joy and comfort to think I can touch a lot of souls through my singing every time I'm on stage. I'm really blessed and humbled to share my talent with the lovely Westmont community and beyond."
You might also be interested in...