Meanwhile, back to Rancho Valencia…
While the world was going to hell in a handbasket, I escaped to Rancho Santa Fe, a sort of Montecito for the horsey set, for a couple of glorious nights at lovely Rancho Valencia Resort & Spa, a Spanish-Colonial hacienda style resort set on 45 acres in north San Diego County that's a three-and-a-half-hour drive south of our town.
As much as I hate to admit it (or maybe I should be proud?), I was here for the opening of this gorgeous, luxe tennis resort in 1989. Not only was I here for the grand reveal, but I was escorted into the indoor dining room (not being used during my visit this past spring due to COVID) on the arm of none other than debonair dancer-actor-choreographer Gene Kelly. If you don't know who Gene Kelly was (as some of the darling youthful staff admitted, when a girlfriend and I checked in for a little gals' spa getaway), Mr. Kelly is most well-known for his "Singin' in the Rain" number in the 1952 movie of the same title. At least these youth had heard of Fred Astaire!
This five-star Relais & Châteaux property is right up there in the stratosphere with a handful of other five-star California escapes, including our very own San Ysidro Ranch in the foothills of Montecito.
Both resorts have won top honors from different organizations. Travel + Leisure names San Ysidro Ranch and Rancho Valencia top spots; Forbes awarded both resorts, as well as Rosewood Miramar, five-star ratings. Each delivers relaxed luxury, however room rates of approximately $1,000 a night at Rancho Valencia are considerably less than Montecito's resorts, which are double that… and more.
From the moment you drive through the entrance's guarded gate (where the friendly attendant remembers your name when coming and going) to the relaxing drive through the property to check-in, you can feel your blood pressure lower.
The look of the resort is Spanish hacienda. The 49 spacious cottage suites/casitas are a tasteful mix of materials that include wood floors and high beamed ceilings, Spanish tiles, super comfy beds, and soft furnishings. More poshness in the ultra-luxurious resort's suites: spacious private outdoor patios large enough for six with an outdoor fireplace and private outdoor jacuzzi, plus three TVs (a tiny one in the bathroom); a stationary box with paper and postcards; Frette linens and robes; full-size Natura Bissé bath products in the spacious bathrooms. The pièce de résistance? The heated toilet seat/bidet "opens sesame" like a mind reader when you walk toward it! Yet, this is another fine resort with no full-length mirrors; why is this?
Dinner at The Pony Room – a favorite of locals as well as guests – was sublime. The outdoor patio and the bar were bustling on a Sunday night. Our meal began with lovely, small Washington state Kumamoto oysters served with a mignonette; Chilean sea bass prepared Asian style with lettuce wrap was terrific, as was a truffle risotto topped with fresh black truffle slices. Ogling a couple of birthday celebrations at other tables – dessert served with a lit sparkler! – we splurged on churros with a butterscotch and chocolate dipping sauce, and a superb Grand Marnier Soufflé that arrived in less than 10 minutes.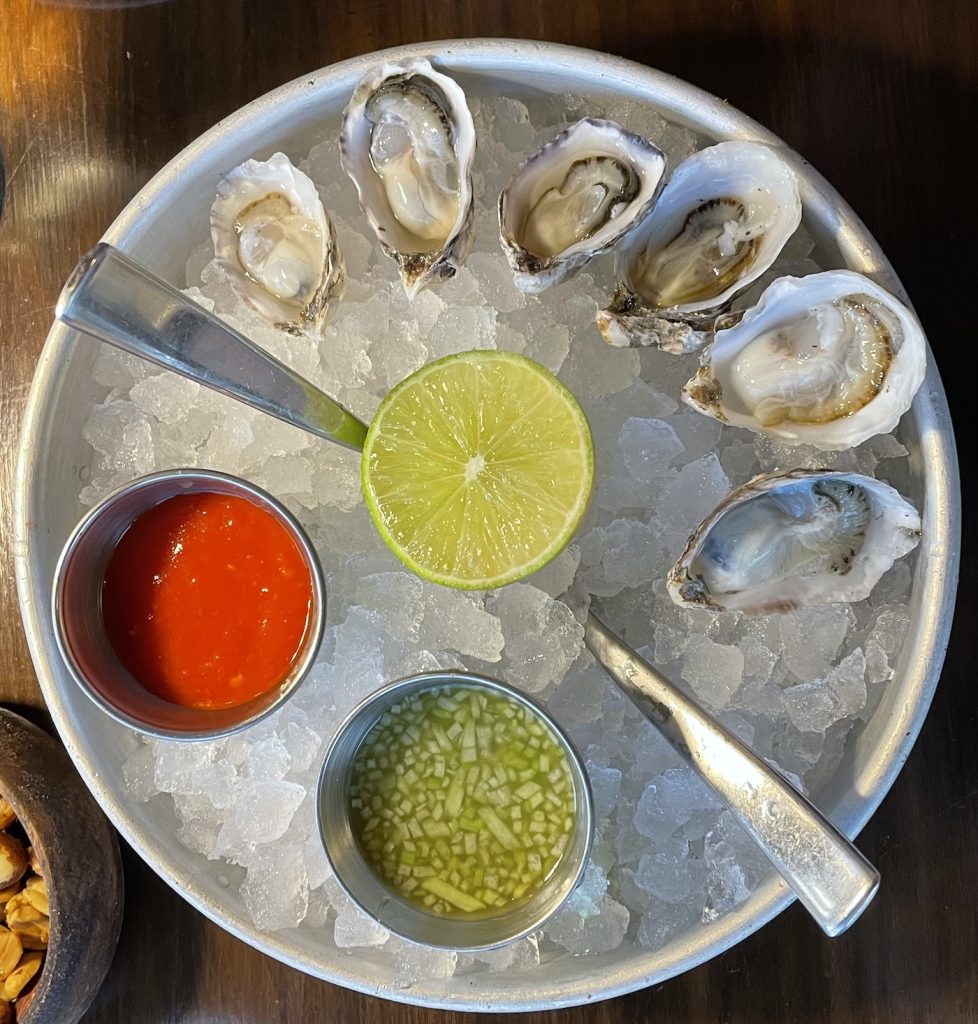 What a luxury to come back to our double-bedded suite after a magnificent dinner to turned-down beds, chocolates (delicious bonbons from Dallmann Confections), slippers, and bedside mats. A sweet handwritten note from Bertha, the room maid, read: "Have a good night!" on a card printed with a peaceful little anonymous haiku "inspired by Rancho Valencia":
Amongst the olives
Bees visit fragrant white blooms
Honey to be made
Sweet dreams ensued and the next day we hit the newly redone spa, which I found sumptuous, in a rustic-elegant way. A tranquil pond reminded me of Bali; a stunning adult-only pool, three Jacuzzis, sauna, steam, and relaxation rooms rounded out the retreat. After a terrific massage, my spa robe was returned all warm and cozy after being "heated." There's also a salon for hair/nails/toes pampering. Lunch around the adjacent pool made for a perfect spa day before afternoon activities. There are private villas for small groups, friends or family, including the new 4,500 square foot, four-bedroom Spa house which I hoped to see when I was there, but it was booked.
Rancho Valencia has long been known as a tennis resort (local kids take lessons here and it's fun to watch them hit balls) and there's a pickleball court located a lovely stroll down a wooded path within the resort's verdant 45-acre grounds filled with olive and orange trees. Neither my friend nor I had played pickleball, so we hit the courts, soon realizing this is a sport best played with a foursome.
All in all, it was a relaxing retreat in a heavenly setting. Still, I couldn't help but feel guilty considering the state of the world. My first fiancé and I used to call this "drinking champagne while the roof's on fire." But sometimes you just have to turn off the news, unplug, refresh, and enjoy a glass of champagne (offered complimentary at check in). Work and world realities reappear soon enough.
Rancho Valencia Resort & Spa, 5921 Valencia Circle, Rancho Santa Fe, CA 92067;
Phone: (858) 756-1123; ranchovalencia.com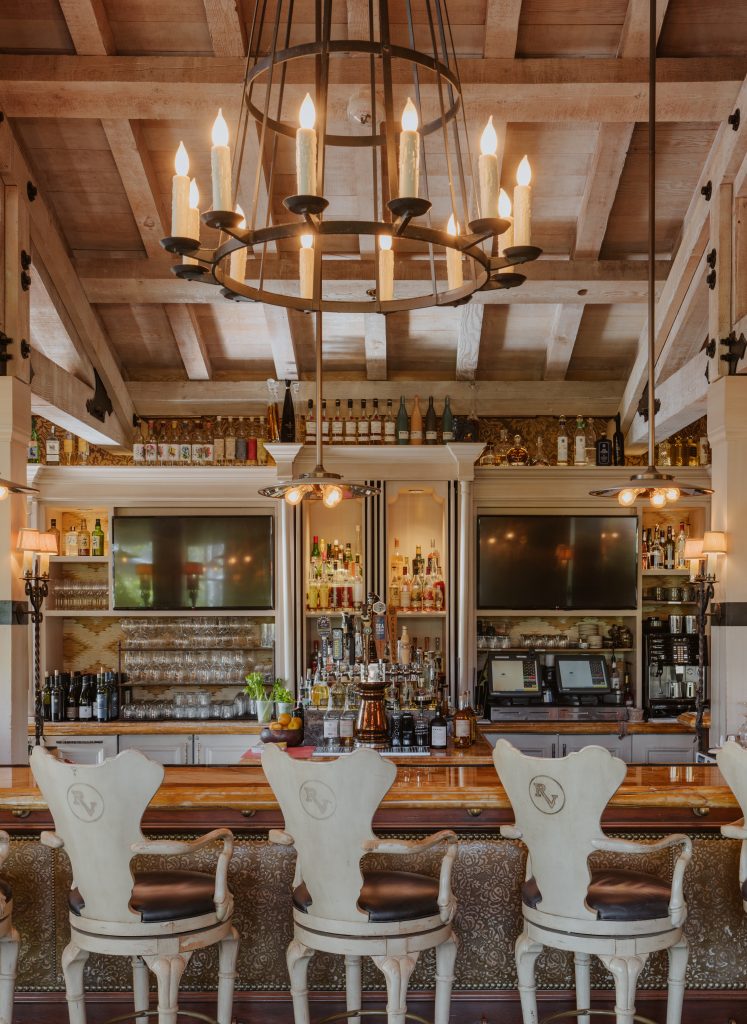 Croatia Bound?
Sometimes you go to a country and sometimes, it comes to you. My Croatian/American friend and neighbor Ana Stork called me and asked me if I'd like to meet her friends, Bozidar Jukic and his wife, Ines Tričković, who were visiting from Dubrovnik, Croatia.
Croatia is a "hot" travel destination and Bozidar has been guiding visitors on wine and food tours for the past 10 years. He is charming, knowledgeable, and puts one at ease. His wife, a talented jazz singer/lyricist (she sings in ten languages!) and actress, is equally charming.
Bozidar developed his passion for wine while managing a restaurant from the ground up, bringing it to Michelin Guide Recommended status. As sommelier, he created the wine list and helped develop and perfect food and wine pairings. In 2015, he launched Insider Holidays (Insiderholidays.eu), a boutique tour company, and shortly after obtaining his WSET Level 3 certificate (the highest level given for wine evaluation) in 2018, he created a wine blog (Wineloverscroatia.com) with the sole intention of promoting the Croatian wine scene outside the national borders.
Three group tours (up to 12 people) are planned for fall 2022 and spring 2023, but Bozidar also offers guided daytrips to individuals and couples, as well as small group tours.
I asked him to recommend a favorite spot for readers who may be heading to Croatia in the near future.
"Don't miss taking the ferry from Dubrovnik to Lokrum Island. I love to walk through the gardens barefoot, swim, and warm in the sun," he replied.
Croatia has been on my wishlist of places to visit for many years. Now, I have my favorite reason to visit a country: to hang out with people who I really enjoy being with. "Cheers!" or as they say in Croatian, "živjeli!"
You might also be interested in...