Music Academy Celebrates 75th in Community Concert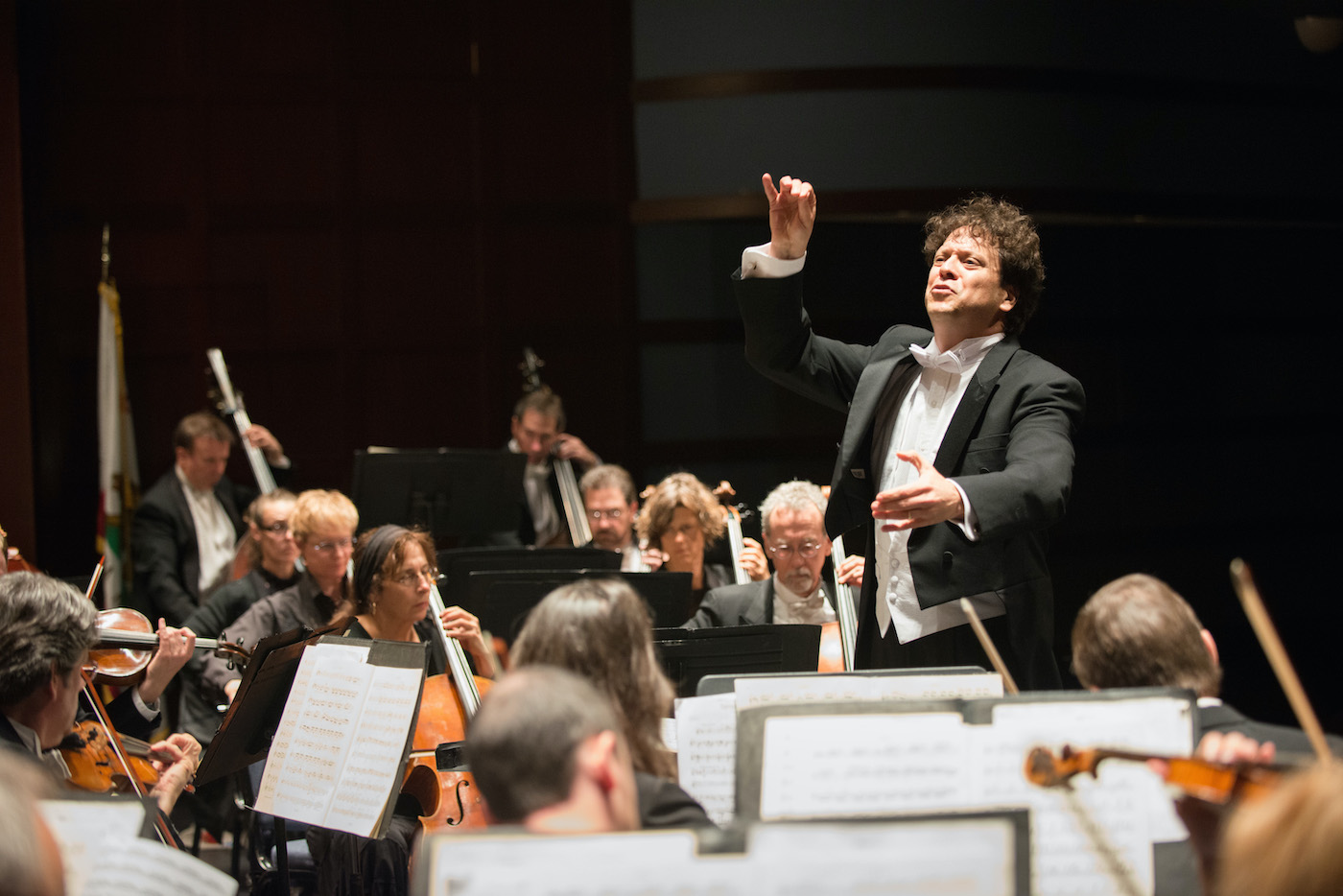 Conductor Donato Cabrera and Music Academy of the West (MAW) vocal pianist John Churchwell met in 2003, the first of two summers Donato spent at MAW as assistant conductor for the annual opera. The two, who live near each other in the Bay Area, became fast friends and visit each other frequently.
In fact, Cabrera was at Churchwell's house for dinner about two weeks ago when the latter received notice that Larry Rachleff, who has conducted every season-opening MAW orchestra concert for more than a decade, needed to withdraw from leading the fellows for the epic Community Concert celebrating MAW's 75th anniversary at the Santa Barbara Bowl.
"He turned to me and said, 'What are you doing between June 20th and June 25th?'" Cabrera recalled.
A day or two and a couple of email exchanges with managers and MAW is all it took to secure Cabrera's return to MAW for the first time in 18 years. (Or rather, his formal return, as the conductor said he's come virtually every summer to visit Churchwell and check out a concert or two. "Summer in Santa Barbara? Yes please," he said.)
Working with younger, often pre-professional musicians is a familiar territory for Cabrera, who served as the Resident Conductor of the San Francisco Symphony and the Music Director of the San Francisco Symphony Youth Orchestra from 2009-2016. Filling Rachleff's shoes is a bigger challenge.
"I've seen him in action often, and he is truly gifted at working with high level students, and getting them to sound great and work together in a wonderfully cohesive way," Cabrera said. "My game plan is to do my best to get these talented people not only to play this music, but actually to inspire them and get them ready for what they're going to be doing for the rest of the summer."
The goal, Cabrera said, is to get the instrumental fellows listening to one another right away, which is a hallmark of great orchestras. The trick is to actually not conduct from the stage after a few moments.
"I'll go out in [the rehearsal space of Hahn] Hall and watch them make music with one another without my baton, so that they're forced to really get to know each other through their ears and looking at one another. That way they're not relying on me, the conductor, to establish that relationship."
Hopefully it works, because the Bowl show, of course, is plenty substantial as it features Beethoven's "Fifth Symphony," the most famous piece of classical music in history. But even though Cabrera recently conducted the work as director of the Las Vegas Symphony, he plans on bringing a fresh perspective.
"Whether it's Beethoven, or the Mona Lisa, or a favorite Hemingway story, it's about who you are and how you approach it," he said. "Part of what makes a work a deep, immortal piece is that it reveals itself to you differently depending on where you are in your life. I am a different person than the last time I opened that score."
Cabrera is also excited to revisit "Danzón No. 2" by Arturo Márquez, who he compared to Aaron Copland "as one of those composers who has been able to unlock his cultural background and be able to share it with the world [through classical music]."
The conductor has also long been familiar with Prokofiev's "Suite from Romeo and Juliet" dating back to his graduate school years, which he called perfect for an outdoor concert.
"It's so cinematic in scope, from incredibly soft and still music, to some of the most overwhelmingly epic sounds that can come from an orchestra. And he's such an inveterate tunesmith, there is always a beautiful melody."
Building Bridges
One of the more exciting initiatives launched by Scott Reed after he took over as president of the Music Academy was to build a bigger bridge to the local community. Chief among that effort was creation of the Community Access program which – in addition to making every ticket available for $10 for next week's big Community Concert at the Santa Barbara Bowl (plus three previous Bowl concerts, two at the Granada, and the huge event at SBCC's La Playa Stadium) – the academy also sets aside a percentage of seats at every MAW event for reduced admission of $10, as well as free tickets for 7-17 year olds who attend with adults.
The impetus for launching the program was to enhance the MAW Summer Festival from more than one perspective, Reed said.
"It's one of our inventive solutions to develop future audiences," he said. "Research tells us that the people who attend performances as adults do so [because] either they regularly attended concerts with their parents as children, or they studied an instrument or voice, or both. It's important for us to welcome people of all ages to build traditions of attending cultural events in our community."
But growing audiences among those who might also not normally attend a classical music event also has benefits for the performers, especially the fellows who form the backbone of the MAW institute and the reason for its existence.
"We want to build a nurturing environment for our exceptional Academy artists," Reed said. "When our fellows walk out to perform for a receptive and communicative audience, it elevates their experience."
The outcomes have all been positive, Reed said, noting that local seniors and families take advantage of the Community Access program for multiple events during the Summer Festival, including many parents bringing children for the first time, as well as large groups attending together as both a cultural and social experience.
"We're pushing the boundaries for classical music to be accessible, welcoming, and fun," Reed explained. "There are no better people to lean on that agenda than these exceptionally talented fellows who descend on Santa Barbara for the summer. It's our job to unleash their creativity to ensure that this great music embraces diversity and lasts for many more generations. When you believe in something passionately, you can inspire others, and that's precisely what we aim to accomplish."
This Week@MAW
Thursday, June 16
Last night the Takács Quartet opened the MAW festival's public programs with their annual performance at Hahn Hall. Today, we also get to sit in for the flip side from the fabulous foursome as the members coach the very first masterclass of the summer. First, listening to the fellows in string quartets and other chamber music ensembles, and then offering their coaching tips and suggestions in both technique and the art of performance. (3:30 pm; Lehmann Hall; free-$10)… The newly-renamed Lehrer Vocal Institute makes its 2022 debut, with its annual evening introduction of the fellows performing their favorite songs and arias. The young soprano, mezzo-soprano, tenor and baritone-bass singers, along with the five vocal pianists, deliver works by composers from Donizetti, Mozart, and Strauss to Salvatore Cardillo and Giacomo Meyerbeer in one of the most highly-anticipated events of the early summer. (7:30 pm; Hahn Hall; free-$55)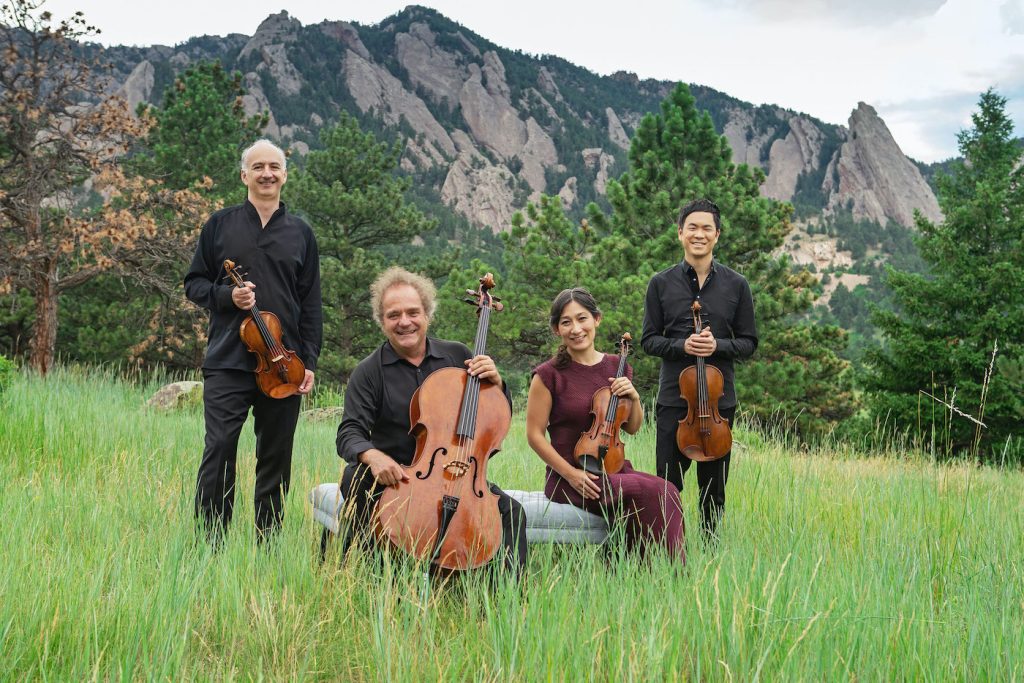 Friday, June 17
The singers had their turn last night, now the six solo piano fellows get their chance to showcase the stuff that earned them a slot in the fiercely-competitive summer program. Expect both fireworks and subtleties from the Steinway on stage. (7:30 pm; Hahn Hall; free-$40)
Saturday, June 18
Just in case you've missed all the other mentions, MAW's first-ever in-season signature benefit event celebrates the academy's 75th anniversary with a special strolling cocktail hour followed by an outdoor dining and concert experience that features Academy alumnae Met Opera star Isabel Leonard collaborating with L.A. Opera's Nino Sanikidze before being presented with MAW's highest artistic honor, the Distinguished Alumni Award. (5 pm; call for details)
Monday, June 20
The Showcase Series continues with performances from participants in the String Quartet Seminar as the fellows – who have been preparing feverishly for this concert – present a special program of six quartets split evenly between Beethoven and Bartók. A concert to contrast, compare, and savor. (7:30 pm; Hahn Hall; free-$40)
Thursday, June 23
The Takács Quartet – whose most recent member, violist Richard O'Neill, is also a MAW alumnus and part of the faculty – winds up its 2022 residency in the anchor position of the summer's first concert in the innovative X2 series, pairing Academy artists with fellows on each piece. Faculty clarinetist Richie Hawley does double duty, collaborating with faculty pianist Natasha Kislenko and viola fellow Nicholas Gallitano for Mozart's "Kegelstatt Trio," and faculty pianist Jonathan Feldman and fellow cellist Patrick Baek for Beethoven's "Piano Trio (Gassenhauer)." Closing the concert, the Takács Quartet is joined by fellow violinists Chaewon Kim and Tiffany Kang, violist Leslie Ashworth, and cellist Jiaxun Yao for Mendelssohn's "Octet in E-flat Major." (7:30 pm; Lobero Theatre; free-$55)
Moving On, Muñoz Says Mucho Gracias Santa Barbara 
Costa Rican-born composer and multi-instrumentalist Luis Muñoz came to Santa Barbara in 1974 to complete his degree in music composition at UCSB and ended up living here for nearly half a century. Muñoz, who composes on keyboards and also frequently plays percussion, has earned acclaim locally, back home in Costa Rica, and around the world with a collection of albums that launched when he signed with CBS Records back in 1988. The catalog has careened between instrumental albums and more song-oriented vocal projects, moved from deep into Latin jazz to decidedly mood-inducing works, and veered between entirely solo projects and multi-artist/composer collaborations.
But it was the pandemic that produced his most prolific time of his career, as Muñoz not only wrote and arranged three decidedly different albums of new music, he also worked with his band and guests to record and mix all of them.
"It's weird to say this, because many people suffered so much, but to a large degree, my life got better if it changed at all," he said. "As a composer, I spend a lot of time by myself. I'm not really a sociable person. I don't hang out with a lot of people, I just spend time in my studio in front of my piano, thinking about music and sounds and things. So I just immersed myself in my studio."
One of the albums extends his previous project, The Infinite Dream, a collaboration with Santa Barbara-based Guyanese singer Lois Mahalia that forged new, subtle sounds and intimate directions for the composer with nuanced imagery and mystical messages. "It's mostly neo-soul, but there's some gospel, jazz, and even things that sound country-western with pedal steel guitar," Muñoz said.
A second album, Songs of Transformation and Hope with on-and-off again collaborator, Brazilian-born Santa Barbara singer-guitarist Téka, features songs sung only in Spanish, while the third, descriptively titled, "3/4," features instrumental work with a trio and a quartet.
Each represents different sides of Muñoz's musical expression, but with largely the same impetus, he said.
"They all come from examining the human experience, what it is to be alive and an artist in the 21st century."
That's an equation that changed a bit during the pandemic, as Muñoz was diagnosed with throat cancer, which has since gone into full remission, but served as a bookend to having open heart surgery as a five-year-old.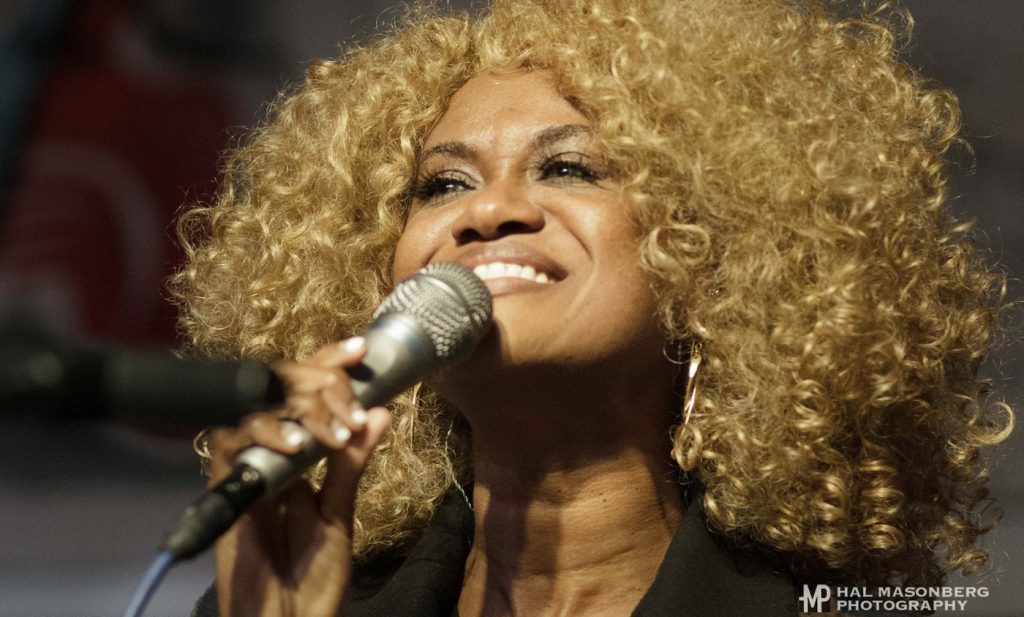 "I got in touch with my mortality again," he explained. "It was quite a catalyst for that pouring out of creativity. Life is a short ride. When you come to terms with the end you lose all inhibitions and get more in touch with what you consider of value in life: Health, love, friends, and family."
It's that latter priority that is causing Muñoz – who moved to Oxnard three years ago because of increasing rent in town – to finally leave the area for good, relocating to Arizona to be near his wife Holly's family, who he's known for 53 years as he and Holly began dating when he was 16.
"It's that circle of life," he explained. "They took care of us when we were little and now it's time for us to take care of them, gladly and with an open heart, although leaving California is difficult."
But first, there's one final pair of concerts in the area, including Sunday, June 19, at SOhO, one of Muñoz's longtime stomping grounds. The two-hour set features his current trio of guitarist Daniel Zimmerman and bassist Randy Tico – who he first played with 40 years ago and has returned to replace Brendan Statom – in the first half, before Mahalia joins for the vocal material. Muñoz said the show will encompass his entire career with music dating back decades up through selections from the as-yet unreleased trio of albums.
How he feels about one last Santa Barbara show as a resident should be readily apparent.
"I'm extremely grateful to have that vehicle of music to express myself as an artist and share it with all the friends I've made here over the years," he said. "Imagine that, being able to live your life, doing what you love the most."
You might also be interested in...