A Bear's Conversation
Carlos, The Bear, was grieving the loss of his sister, Carla Bear, as he lumbered up the animal trail that runs from East Valley Road to Summerland, when he ran into Connie, The Cougar. 
"Hey there Bear, I haven't seen you for quite a while, Carlos. You look sad. What's up?" said Connie.
Carlos gave Connie the news. "My sister, Carla, was killed by a hit and run human on Ladera Lane, her cub is alone, and I fear for its survival."
Connie, The Cougar, straightened her tail and wide eyed said, "I am so sorry to hear this. They drive those cars too darn fast for their headlights, and before they know it one of us gets clobbered. I hope she didn't suffer too much, and her cub gets help, soon."
"Me too," said Carlos. Then he asked, "What brings you down this way Connie?"
"The drought," said Connie. "All of us are coming down farther than usual, for food and water."
"Pressure for survival?" suggested Carlos.
"Yeah…it's been so dry," said Connie. Then frowning, she said, "I hope the humans understand that it isn't by choice, but necessity we are seen more often, and we aren't hunting them, we don't want to hurt them. We've been on this land since before they came, and we need to share the space, because of the drought."
And with that they exchanged paw bumps and continued through the night.
Michael Edwards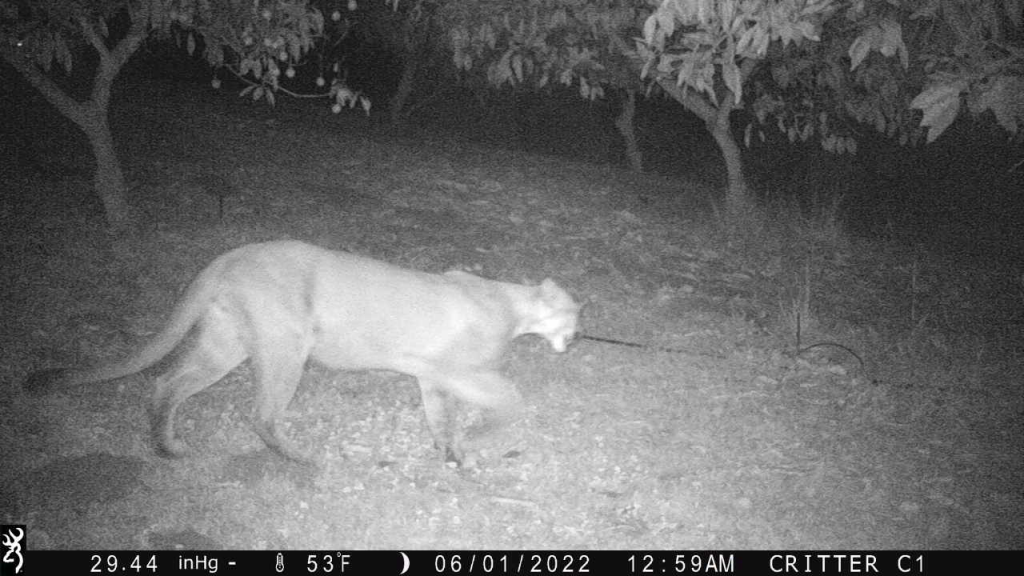 Time for Price Controls
As usual, the response to inflation is to raise interest rates and kill consumer demand. This archaic tool is not the last resort that we should be considering. Inflation is primarily caused by private interests raising their prices in response to a shortage of some kind. After a disastrous pandemic with all its implications for supply chain issues including production in China, the price pressures are in a death spiral. "I must raise my prices because, well, the other guys raised their prices," cry the merchants and oil companies. This process can go unabated except if demand is crushed, or supply is increased. Raising interest rates will crush the demand without regard to the human toll exacted to the least fortunate in our society. You can't lower your demand for food and medicine very easily, and this will impact the well-being of the whole society.
Biden can freeze prices and enact rationing if that is required for fuel and essential commodities. Nixon froze prices in just such a situation and he was not by far a "socialist" president. We are in a war by proxy, and we are not immune from repercussions or world markets where we trade our food stuffs. This has happened with oil already and the extension to food is a no brainer. Why do you think Putin wants Ukraine? He desires its fertile farmland and nitrate deposits used for fertilizer synthesis. This is a lever of Power beyond his energy strangle hold on Europe and taking the fields of Eastern Ukraine is key to his power grab.
Price controls would force companies to produce more goods to increase their profits. The Republican way is to make the average consumer suffer with the built-in inequities of wealth disparity. The rich will not suffer unless we have rationing of essential commodities like fuel and food. This was used in World War II to spread the suffering equally and prevent hoarding. We are in uncharted waters, and we need to look to the past for solutions other than plunging us into a recession with no end in sight of price pressures. Please don't tell me the market will solve it, this is what got us here, and it is not a divine concept that cannot be challenged. It does not require an assiduous study of economic history to look at the continual failure of unbridled capitalism.
Christopher Keate
In Ukraine Fields
A few days before Memorial Day I was curiously drawn to the well-known poem "In Flanders Fields," written by John McCrae, a Canadian army surgeon during World War I. I cried when I read it, realizing it could be titled "In Ukraine Fields."
In Ukraine Fields
In Ukraine fields the poppies blow
Between the crosses, row on row,
That mark our place; and in the sky
The larks, still bravely singing, fly.
Scarce heard amid the guns below.
We are the Dead. Short days ago
We lived, felt dawn, saw sunset glow, 
Loved and were loved, and now we lie
In Ukraine fields.
Take up our quarrel with the foe:
To you from failing hands we throw
The torch; be yours to hold it high.
If ye break faith with us who die 
We shall not sleep, though poppies grow
In Ukraine fields.
Jeff Farrell
Where the Foodie Walks
I am a foodie. The Public Market on Victoria Street is tailor-made for foodies. Shalhoob's has taken over the beer garden. Talk about a great burger and great beer. Corazon Cocina is some of the best Mexican food. If you closed your eyes you can imagine being in Mexico. Empty Bowl Noodle Bar is amazing. The Fala Bar has one of the best falafel sandwiches around. Ca'Dario is not too shabby for a quick bite. The downside of all this amazing food is that I like to walk off some of the calories. Not too long ago walking on State Street was a treat. Now I am sickened to take that same walk. We all know the many factors on why this is. But sad is the best way to describe it.
Steven Marko
Protecting Blue Whales from Ship Strikes
Los Angeles and Long Beach are home to two of the busiest ports in the world, with over 6,500 vessels arriving and departing each year. Many of these ships pass through the Santa Barbara Channel, and when they do, pose a collision threat to species of large whales. Blue whales are the largest animal on earth, weighing as much as 200 tons. Their hearts are about the size of a VW beetle and their stomachs can hold one ton of krill; of which, they need to eat about four tons each day. Blue whales are also the loudest animals on earth with levels reaching 188 decibels (a jet engine reaches 140 decibels). Their low frequency whistle can be heard for hundreds of miles by other blues. Their lifespan is similar to humans, 80 to 90 years, unless they become victims of Ship Strike! We are blessed to have these magnificent blue whales at our doorstep in the Santa Barbara Channel. Some have called our channel the "Galapagos of the northern hemisphere." The topographical configuration of the "California Bight," fortunately gives us the benefit of a large krill population. This "honey pot" of whale food usually occurs with the upwelling of cold ocean currents near the northwestern end of San Miguel Island and is the natural starting and ending point for maritime shipping. Every year about 200 blue whales come to our channel and spend four to six months feeding on the krill which commonly congregate beneath the maritime shipping lanes. With 'Ship Strikes' and the sinking of most whale bodies the total KILLS could be as high as 80 Blue Whales per year!
The huge international maritime shipping companies don't want you to read about the gruesome details of ship strikes as reported by Jesse Ryan, USC Story Space: "A 45-foot dead female fin whale was draped across the ship's bow. A necropsy revealed that the impact with the ship had broken her back, ruptured her organs and caused severe internal bleeding."
Professor Douglas McCauley (Marine biologist and Director of Benioff Ocean Initiative, UCSB) has tracked the speed of maritime shipping entering our channel near San Miguel Island. "About 25% of ships were traveling at speeds of at least 16 knots. That's a lot of ships blasting through the channel right over the blue whales." A collaborative effort with the Benioff Ocean Initiative has yielded a huge positive advancement in protective whale technology in the 'Whale Safe' program, which identifies and projects whale movement within our Santa Barbara Channel.
Santa Barbara and Ventura counties are engaged in a 'perpetual-motion dance,' with respect to maritime shipping within our S.B. Channel. As protectors of our unique Santa Barbara Channel, we should all attempt to understand the big picture and the 50-year 'Rope-A-Dope' success in delaying the closing of our S.B. Channel! A 2017 study used NOAA data to conclude that "ship strike mortality is thought to be the number one killer of blue and fin whales and the second greatest cause of death for humpback whales along the U.S. West Coast." Data from the NOAA shows that at least 15 whales were killed by ship strikes in California in 2018, the highest annual total ever observed. In all U.S. waters, 31 whales were killed in 2018. Experts such as John Calmnokidis say likely one in three of the whales struck are endangered. In the case of blue whales, he said even three per year could threaten the survival of the species! The death of most whales is never discovered or reported upon because their Ship Struck bodies sink to the ocean floor, rather that floating to the shore of a populated beach!
After reading thousands of pages published by hundreds of commissions, agencies, and nonprofits, I have come to better understand why our Santa Barbara Channel problems remain: Maritime shipping air pollution (rarely discussed because we don't have a strong advocate interested in changing from the status quo!).
Issue #1 has been met with proposals and counterproposals by our land-based attorneys speaking on behalf of NOAA, APCD, and many other research and educational organizations. The other side of the 'dance' is occupied by the off-shore attorneys, representing International Maritime Shipping. Both sides are obviously seeking positive public relations opinions, which result in various forms of voluntary Speed Reduction Zones and the S.B. Channel Traffic Separation Scheme Amendment, among many others.
At this point it should be pointed out that the ultimate goal of the attorneys for the International Maritime Shipping industry is to keep our S.B. Channel open for Maritime Shipping, thereby saving approximately 15 miles when going outside of our channel. All the while, both sides blissfully repose under the feel-good umbrella of fewer whale ship strikes!
Issue # 2 — Maritime Shipping accounted for over 78% of smog forming nitrogen oxide emissions generated within Santa Barbara County in 2016 (APCD). In order for S.B. and Ventura counties to comply with state of California Air Resources Board we have a compliance shortfall of the air pollution levels. The counties are then required by our APCD to adhere to tighter and tighter emission controls. We might then say that our land-based businesses are subsidizing the maritime shipping emissions!
ANSWER: Close our S.B. Channel to Maritime Shipping. What's not to like about fewer kills of an endangered whale species AND cleaner air? It is a slam dunk solution, RIGHT?
NO! — The waters behind the islands are part of the Navy's 36,000 square mile Point Mugu Sea Range. The Navy is resistant to funneling ships through the area that they use for missile tests and training exercises. However, all is not lost because the Navy doesn't use that facility 24/7/365. Unlike past negotiations, we now have a successful 'Whale Safe' information system in place. With some creative problem-solving representatives at the table, it is possible to work out a maritime shipping 'communications stop light system' at both ends of our channel.
Please help with your support (not monetary), but in accelerating opinions of others in saving more lives of these massive mammals! I am convinced that only by public outcry and awareness, will TPTB consider changing from the 'killing status quo'!
Fred Hayward
You might also be interested in...