The Grand Return of Opera SB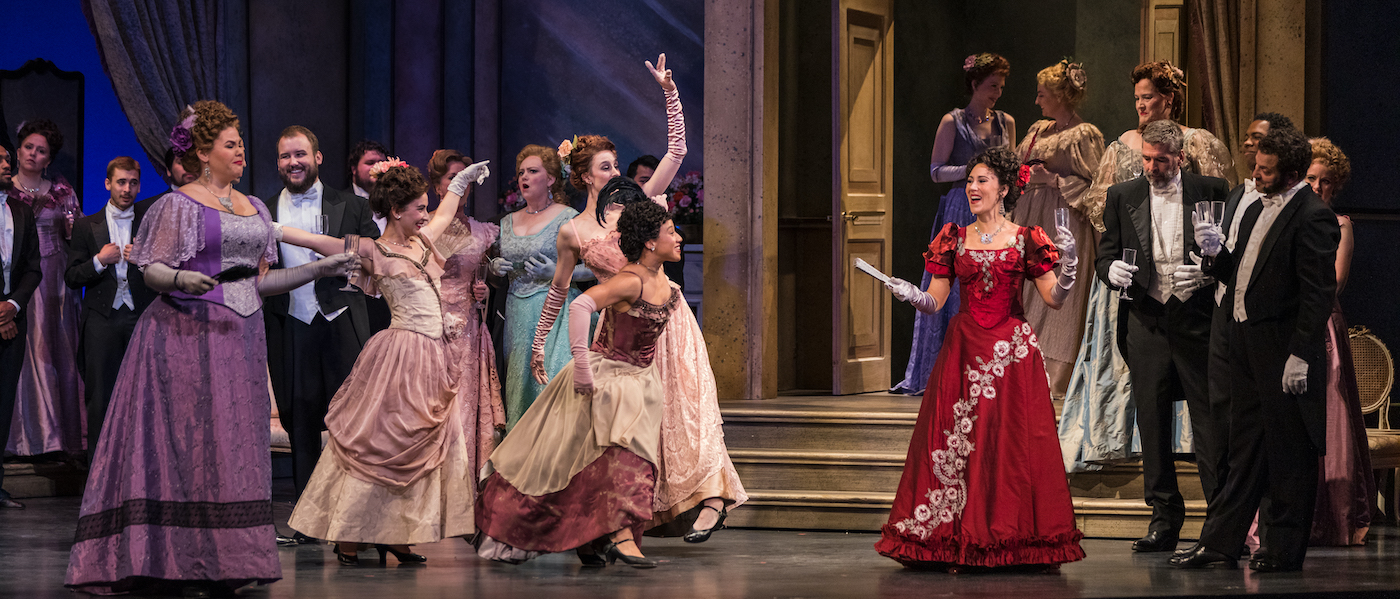 Grand opera is returning to the Granada Theatre. After Opera Santa Barbara's (OSB) two-plus years filled with ways to creatively cope with the COVID pandemic that ranged from virtual performances, to two Concerts in Your Car outdoor staged adaptations (that included, appropriately, a version of Carmen) and a season of smaller, shorter one-acts, reworkings, and newer pieces, the company is about to unveil its first undertaking in 11 years of Verdi's La Traviata, one of the veritable classics of the genre.
The oft-performed work tells the story of Violetta, the courtesan who is adored and then betrayed by the Parisian demi-monde and her suitor Alfredo, in a musical wonder based on the semi-autobiographical hit novel and play by Alexandre Dumas' La Dame aux Camelias. OSB's sumptuous production features two OSB favorites in soprano Anya Matanovic (Abigail Williams in The Crucible and Freia in Das Rheingold) as Violetta, the opera's tragic protagonist, with tenor Nathan Granner (OSB's La Bohème) as her lover Alfredo, with Alfredo's father Giorgio played by baritone Joel Balzun in his company debut after claiming first prize in the 2021 Fulham Opera Verdi Prize.
Tara Faircloth, who directed OSB's La Rondine in 2017, helms La Traviata's single performance on Sunday, June 12, which also features scenic design created by LA-based Francois-Pierre Couture, who also set the scene for OSB's recent production of Wagner's Das Rheingold. The production also boasts the full company chorus for the first time since 2020, as well as the 35-member OSB Orchestra conducted by OSB Artistic and General Director Kostis Protopapas, and will be sung in Italian with the English translation projected above the stage.
Opera Santa Barbara will also present a free open rehearsal of La Traviata outdoors on the lawn of the Santa Barbara County Courthouse on June 5 that features the orchestra, cast, and some chorus members, with the run-through offering more of a concert version in a relaxed environment with lots of fresh air. Visit operasb.org for details and tickets.
Protopapas talked about La Traviata and the travails of the past two years over Memorial Day weekend.
Q. What's your level of anticipation just a couple of weeks away from the first grand opera production in 30 months?
A. It feels wonderful, just the energy of all the people in the room. This is the first time we will have a full chorus and everyone is excited to be back. It's like a homecoming there. And it's what we've been building towards and a chance to take stock of what happened this past year, which was a great season of opportunity and exploration. It's almost like we traveled around the world and now we've come home.
Speaking of that, what did you learn from the performances during the pandemic that you might be bringing forward? What's different from three years ago?
The main thing is we're not going back to what it was. This is about creating a new future. There was a lot of experimentation, a lot of learning about what it takes to get people excited about a show, almost like rediscovering the entire industry in a way. We found that the audience was willing to accept and embrace things that were a little bit off the beaten path. Show after show, patrons would tell me "I had no idea what to expect, and I loved it!" That consistent reaction was my main gratification from this past season. People are excited to have an old favorite back but they're also ready to embrace new repertoire. What's also changed is that the set for every single show that we produced was built here with an approach that the physical productions reflect the company's aesthetic more directly than they did before – rather than trucking in sets from other companies. There will be a lot of projections for La Traviata, very streamlined and cinematic, which lets us be more innovative.
Why did you pick La Traviata for the grand return?
It's one of my favorite operas for a variety of reasons. The music is very expressive. It's very elegant, but it is essentially classical music with rich orchestration that is restrained in the composition style so it's not overwhelming. It's always very much focused on the voice… Verdi is an incredible dramaturg, sort of like the Shakespeare of opera. Every detail is perfect. He writes in a way that [indicates] he has compassion for every single character, even the people who do bad things. They're portrayed in a way that you can find some understanding and some empathy, which is an extremely important lesson and one of the greatest opportunities that the theater offers… It's also his most realistic opera, disarmingly so. It's not about Egyptian princesses or pirates or ancient gods. It's a story of his time, a contemporary drama that continues to be relevant because it's about human relations told in a very simple, direct way. We're not as liberated as we think we are, or so much more advanced than folks in the 1850s from how we feel about our reputations, or how we judge others based on what they do. We still have those misunderstandings and fail to see people as they really are. So it's inspiring. It's moving. It's uncomfortable. It's the perfect opera for me.
Visit operasb.org for tickets and more information
Classical Corner: MAW Moves Closer
This issue went to press just two weeks in advance of the Music Academy of the West launching its 75th Anniversary Season, its first full eight-week in-person, in-public festival since 2019. The highlights for the huge milestone year are numerous, including a return to the Santa Barbara Bowl on June 25, and a whole host of superstar faculty, conductors, directors, and guest artists on hand in service of training young musicians from around the world in furthering their professional careers. See next week's season for our preview but suffice it to say it will be a season for the ages, and as single tickets go on sale as we hit newsstands on June 2, now is the time to act. Visit musicacademy.org.
Live in HD Lingers On
In the meantime, Hahn Hall hosts two final encore screenings of the Met Live in HD opera series before the summer festival takes over the venue. On Sunday, June 5, MAW alumna soprano Nadine Sierra takes on the haunted heroine in the title role of Lucia di Lammermoor opposite tenor Javier Camarena as her beloved Edgardo in a new staging of the bel canto favorite by Australian theater and film director Simon Stone. Then on Monday, June 13, with the fellows already on campus but the festival still two days away, Australian composer Brett Dean's Hamlet gets the Live in HD treatment in the revival of its world premiere at the Glyndebourne Festival in 2017 with original director Neil Armfield reprising his staging. Two MAW alumni have featured roles in soprano Brenda Rae as Ophelia and baritone Rod Gilfry as Claudius, with tenor Allan Clayton in the title role.
Entrance to the Club: SBMC Award-winners Perform
Representing aspiring musicians even younger than those headed to MAW this month, 41 students ranging in age from 9 to 25 and playing instruments from piano and violin to cello, oboe, and even classical guitar, auditioned for Santa Barbara Music Club scholarships this spring. Thirty-three were given grants from the volunteer organization that typically presents free concerts from professional and talented amateur musicians in town every other Saturday afternoon. Awards ranged from $200-$300 "Encouragement Awards" to a single $1,250 award that went to Sofia Malvinni, a 17-year-old violinist whose 14-year-old brother Joseph, the aforementioned guitarist, also received a scholarship. Twenty-two of the students will be performing in SBMC's final two concerts of the season, June 4 and 11, at First United Methodist Church downtown.
The scholarships are a decades-long tradition from SBMC, meant to offer support and a vote of confidence in potential future soloists, orchestral musicians, opera singers, and other music professionals in the formative stages of their careers. Who knows? Maybe one day we'll see one or more former scholarship winners at the Music Academy. Visit sbmusicclub.org.
Garrido Grabs Her Passion for Flamenco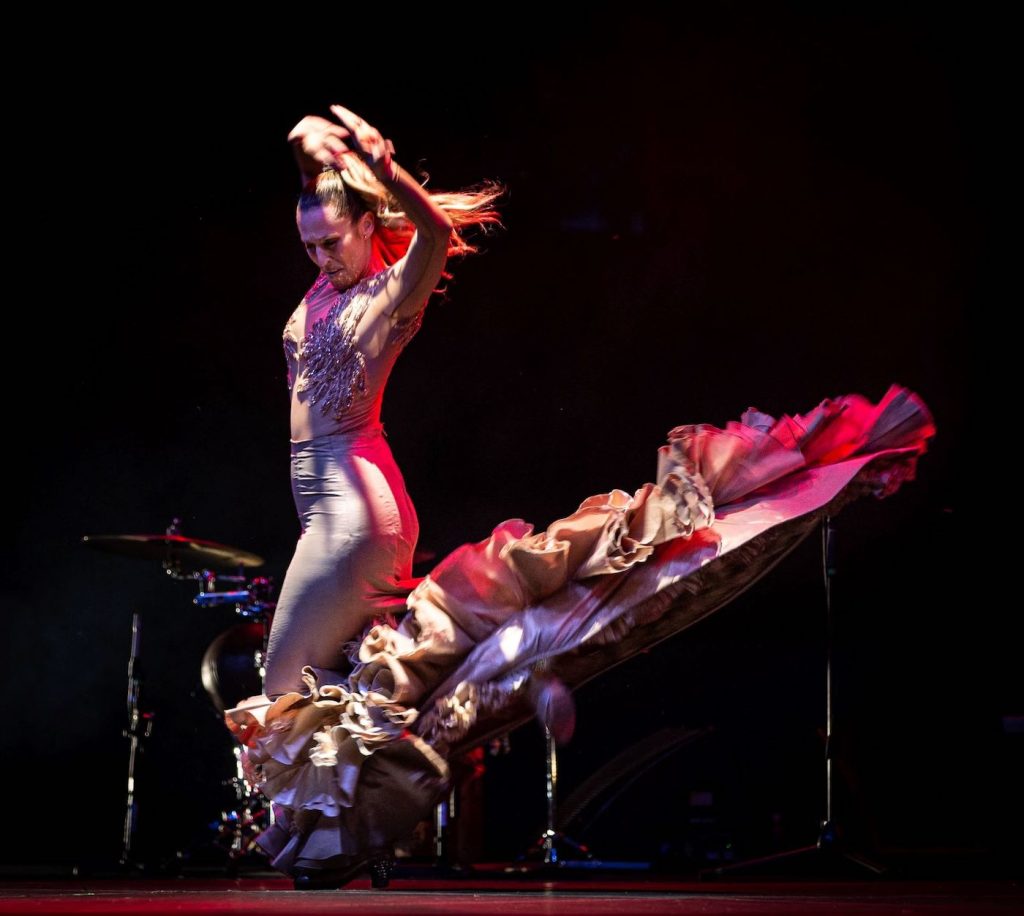 Flamenco has been a revered Spanish art form in both music and dance for more than two centuries, and originalists don't always take kindly to others outside of its Andalusian roots putting their own stamp on the art. Here in Santa Barbara, our longstanding Old Spanish Days Fiesta has been sponsoring days on end of flamenco dancing and music all around town every August for many decades.
Venezuelan native Siudy Garrido goes many steps beyond those traditional approaches, daring to modernize the style with her own innovative contemporary approach that have made her one of the world's most popular flamenco dancers today, one who has collaborated with Gustavo Dudamel and the Los Angeles Philharmonic for Falla & Flamenco as well as flamenco stars Farruquito and Antonio Canales.
But like the Andalusians, flamenco is in Garrido's blood – her mother ran one of the first and biggest schools for the genre in Venezuela and Siudy started taking the stage almost as soon as she could walk.
"I grew up on the stage, and I was like the company mascot for my mother," Garrido recalled over the phone last week. Her Siudy Garrido Flamenco Company will be bringing her Flamenco Intimo show that features music by Spanish guitarist José Luis de la Paz to the Lobero on June 4. Garrido formed her own company at 19 and brought it to Disney's Epcot in Orlando back in 2000. She began to expand her horizons in flamenco when she spent four months studying contemporary dance in New York a year later. "I think it was the first time I took off my flamenco shoes," she said, and she hasn't looked back since.
"I really love and respect the traditional flamenco, but in a way I'm a traditionalist too, but my vision is more contemporary," she said. "I love the modern aesthetics, the clean dresses, without polka dots or flowers and where you can see the body of the woman, the lighting and moving the dancers around the stage. The dance is traditional, and maintaining the roots is very important but I work in the evolution of the dance."
Flamenco Intimo is the company's most traditional show with typical flamenco elements, Garrido said, but even so it features plenty of contemporary touches, including the opening number, a bulería that reflects her reactions to the isolation of the pandemic.
"I felt for the first time how my body became fragile, which gave me a totally different perspective of my life and my form of dance. So coming back to the stage is like the first insight, being born again, coming from the smallest expression. Then the interior transitions into opening up into the joy of life with more vivid colors and collaboration with the audience."
The company – a total of 11 artists including Garrido and five other dancers, plus composer Juan Parrilla on flute and Adolfo Herrera on percussion, vocalists Manuel Gago, David El Galli, and Ismael Fernandez – will perform works that span seguirilla and alegrías, Cuban-influenced guajira, and musical solos before the show closes with Garrido's emotion-fueled original called "No Fear" that finds the dancer wearing a bullfighter's coat.
"It's about the empowerment of a woman in a world that is dominated by men, and expresses how a female warrior can fight her battle with her heart and the art form as her only weapons," Garrido said.
The piece also incorporates a snippet of Dave Brubeck's famed "Take 5," a conscious choice, Garrido said, to show that "flamenco is a very open art form and you can bring other styles because it's strong enough that can surround them and hug other styles together."
But you don't need to understand the art form or traditional flamenco vs. contemporary approaches to enjoy the show, she said. "You can feel the passion coming from the stage, and we need that passion right now because we live in a world where people think too much. We need to hear our heart."
You might also be interested in...