A Deliberate Approach to Making Wine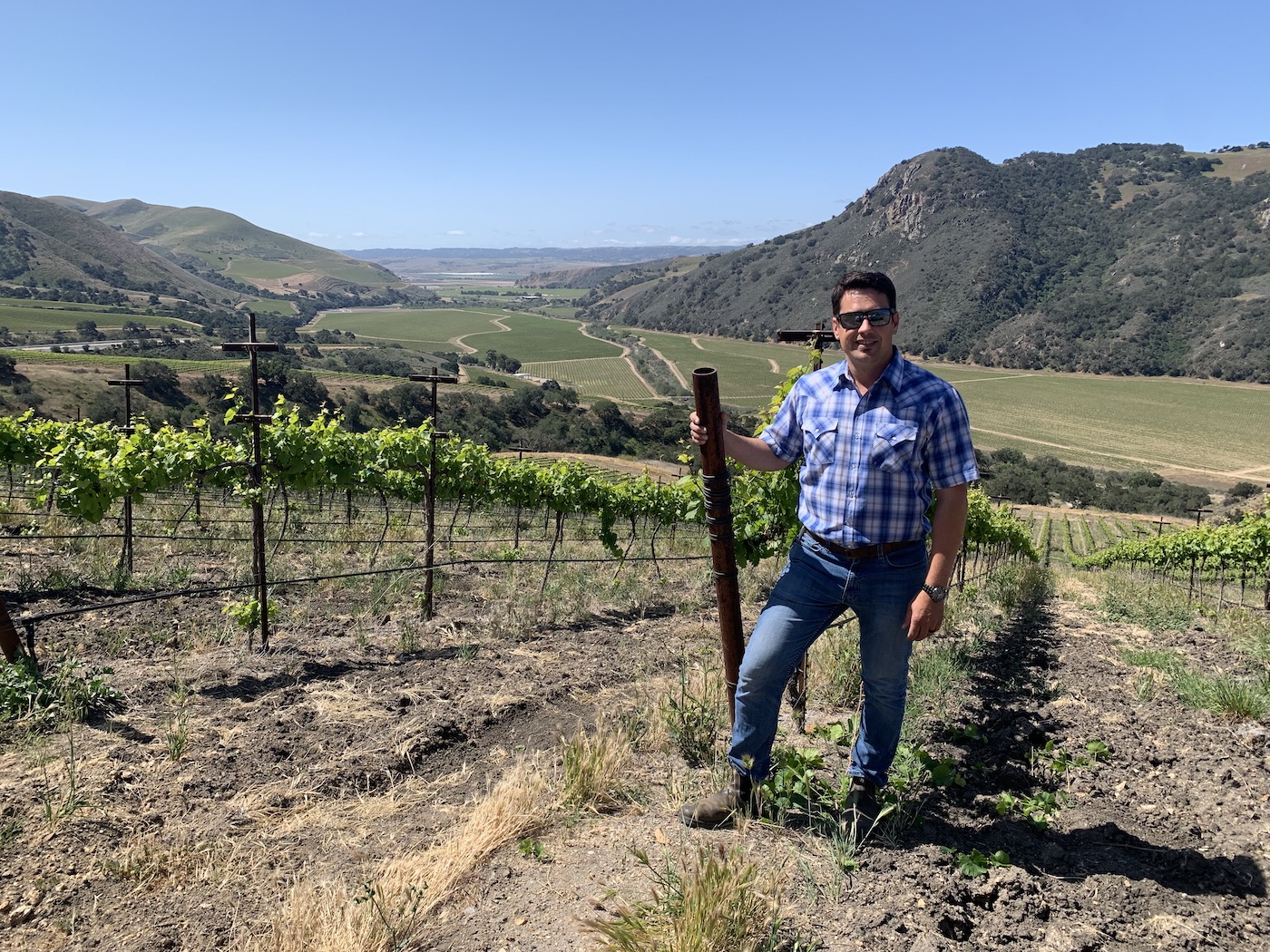 Michael Brughelli's 2019 wines – out just last week – are more than just the second release of his eponymous label. They feel a lot like a rousing encore performance.
The Brughelli wines received critical acclaim early. His inaugural launch, a 2018 pinot noir and a 2018 chardonnay, saw scores high in the 90+ stratosphere – scores that generated retail ops as far away as the U.K. and Sweden. And some pundits even earmarked the wines as the best in their class to come out of Santa Barbara County. These are big league wines to be sure – they sell in $800 four-packs, and they are only available through a very hotly sought-after allocation.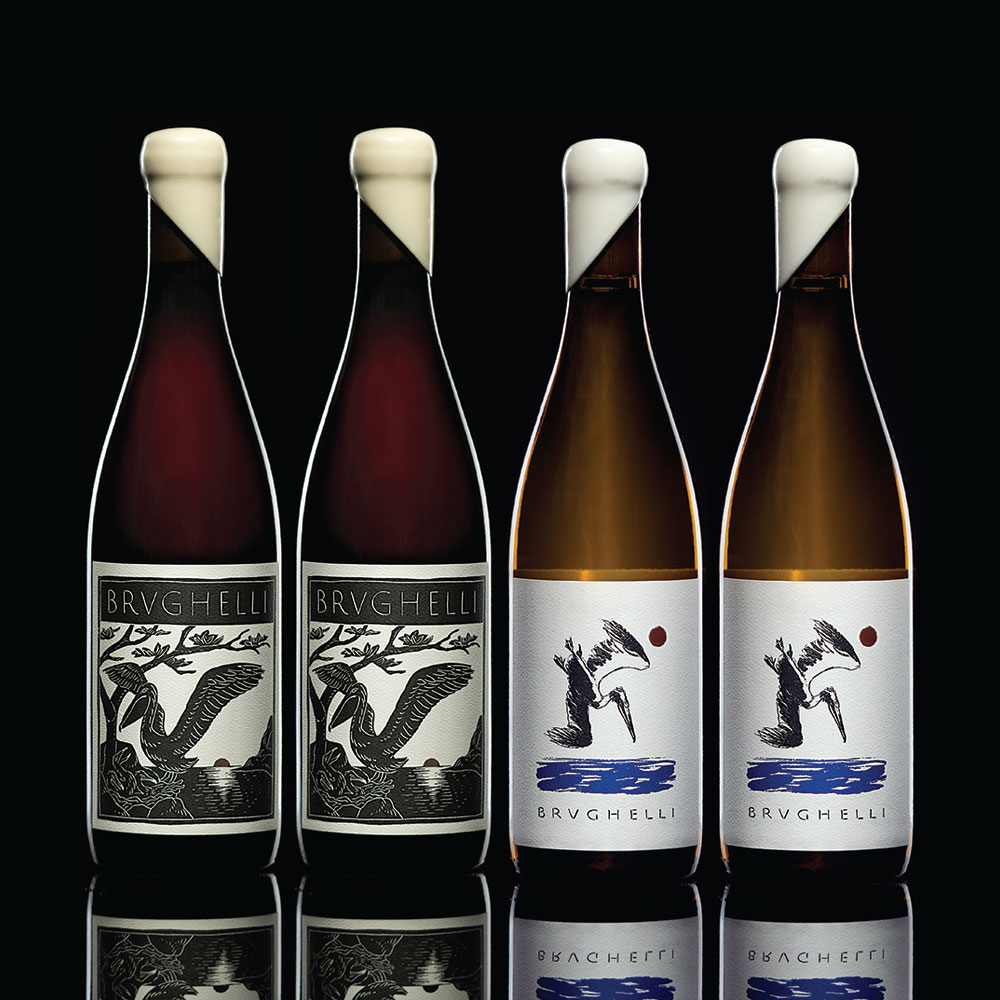 The price tag may raise a few eyebrows, true, but it's Brughelli's very deliberate approach to growing grapes and making wines that really impresses.
"I love finding phenomenal sites," he tells me, illustrating the precedence he gives the vineyards he taps for his wines. We're walking across one of his favorite sites as we chat – North Canyon Ranch, a sweeping plot in the Santa Maria Valley with shifting degrees of steepness and well-drained soils of loam, granite, and even a little quartz. Mostly pinot noir with some chardonnay – 900 acres planted in all. And now, about six weeks after bud break – early in the growing season – Brughelli is focusing on "aggressive thinning" of leaves to boost "light penetration" to the nascent grape clusters. Brughelli is helping to manage this growing site under his side business, Vignerons Consultancy, though he's spotted a few rows already with "phenomenal potential" that he's interested in securing for his own label in a few years.
Brughelli's launch of his namesake label comes at a heaving moment in his career. Until his departure in 2019, he spent seven years manning grape sales at Bien Nacido, a coveted gig that saw him working intimately with top-tier winemakers who hold long-term contracts for some of the most sought-after wine grapes in the state. A critical learning lesson in diverse vineyard practices. It was during this stint that Brughelli, with business partner Mikey Giugni, launched a wine and hard cider project called Scar of the Sea, which enjoyed almost immediate success; Brughelli would sell off his portion of the business to Giugni in 2020 to launch Brughelli Wines. Today, Brughelli is two years into his position as winemaker for Folded Hills with its wine-and-polo ranch in Gaviota and a destination tasting room along Coast Village Road in Montecito.
"The timing for both projects works really well, actually," he says. We're in the nearby Au Bon Climat winery now, where various smaller labels produce and age their wines. Brughelli barrels are stacked next to their Folded Hills counterparts: the focus on pinot and chardonnay for Brughelli means fruit is picked and barrelled to age earlier, giving the winemaker time to switch gears and focus on the later-ripening Rhône wines – syrah, grenache, and Marsanne – for Folded Hills.
Training the Vineyard
Brughelli's very personal stamp on his eponymous wines hinges almost exclusively on his relationship with the grapes, and from a very early stage. That aforementioned thinning of the vines – intense, if not impassioned, which can reduce the number of clusters on a vine from 80 to 30 – is a testament to his very deliberate approach to "training" a vineyard, as he puts it – almost coaxing it over time "to do what you want it to do" so that it reaches "its optimum level." This focused farming can echo through various vintages since "it takes time to give the vineyard memory."
Throughout the growing season, Brughelli will walk the rows of vines many times a week. Dropping fruit that's not up to par happens on a grape-by-grape basis. And he prefers to farm his plants dry, depending on natural rainfall only from fruit-set onwards, resorting to managed irrigation only when he deems it absolutely necessary.
While Brughelli admits to using multiple vineyards as a way to showcase a region versus a single site – "Blending fruit from different ranches allows me to extract the nuances of a certain place," he says – he keeps those locales close to his chest. His sources, like his techniques, are proprietary. The ultimate proof, of course, is in the glass, and that proof – as we reach a vineyard crest with sweeping views of neighbor vineyards, like Bien Nacido, and Brughelli begins to pour – is phenomenal.
The inaugural 2018 Brughelli Chardonnay is layered and brilliant, almost electric. "The goal is to coax out concentration and depth, but without weight," he tells me. The intensity of fruit is remarkable, with a supple and splashy mouthfeel – an elegant fleshiness – and a flavorful finish.
I'm jotting down a slew of first-impression descriptors for the 2019 Brughelli Pinot Noir: clean, fresh, bouncy, intense, elegant. The one that rings most true, though – "alive." The vibrancy is extraordinary, the body is curvy and limber, the flavors rich and stylish. A beautiful wine.
The Brughelli labels feature a pelican, an animal found on the heraldry crest of his family's hometown of Lavertezzo in Switzerland. "It's a symbol of self-sacrifice and charity," he says, qualities that certainly ring true for a man whose resumé also includes work as a first responder following the 9/11 attacks. It turns out, giving his all also defines his approach to making wine – crafting vintages that are as intentional as they are meaningful.
With the 2019 Brughellis just out, the 2020 wines will go into bottle next month and the 2021 wines, currently in barrel, will head into bottle in about a year. The 2022 vintage, still on the vine, "looks great so far," he says. "Set looks consistent and somewhat fruitful. I'll be in the blocks this weekend making a few adjustments."
Membership into what the winemaker calls the Brughelli Society is free – it's a way to access his reflections on wine, vintage, harvest, and more. It also gives consumers first dibs on that desirable allocation of the Brughelli wines.
Find out more at brughelli.wine
You might also be interested in...