A Dip into Joy: Chidlaw's 'Pool Show' at Sullivan Goss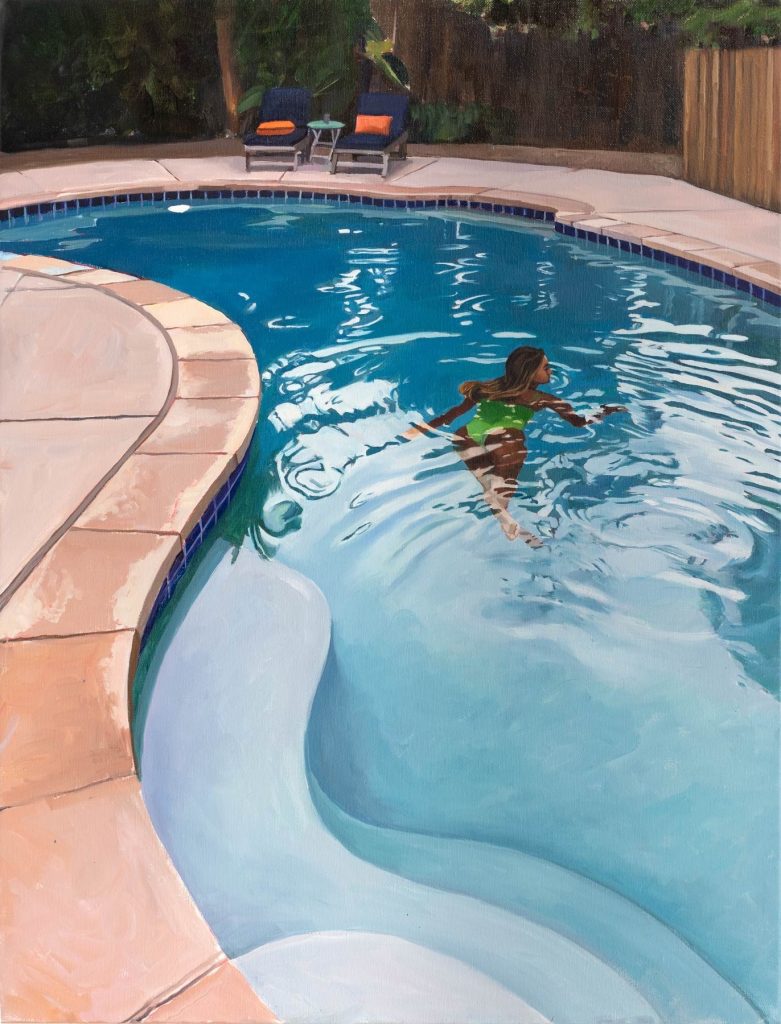 Veteran Santa Barbara painter Patricia Chidlaw's upcoming exhibition at Sullivan Goss isn't her first solo show at the gallery during the pandemic. Elsewhere, Paradise was on display at the downtown space in mid-summer 2020, most of the pieces containing her usually sparsely populated scenes that favor urban and suburban landscapes, architectural spaces with a history real or inferred. Chidlaw's work has long depicted train and bus stations, diners, motels, movie theaters, restaurants, street views, parking lots, and the ilk – often even more unpeopled than might be expected, perhaps even abandoned, prescient in some ways of our stay-at-home or socially-distanced times.
Similar to the paintings of Edward Hopper, an influence, Chidlaw's art evokes emotions of loneliness or at least longing, maybe even just the hint of wistfulness – a sense of moving through moments of time although the scenes themselves are usually static.
"It probably ultimately has something to do with my very lonely childhood," Chidlaw said candidly, referring to her upbringing in a military family that moved from town to town, with many of her first visual memories formed from the backseat of the family station wagon. Chidlaw wound up in Santa Barbara through attending UCSB in the early 1970s, furthering her education at SBCC to combat the university's bias toward modernism. Then, after an early stint in the nature-oriented Oak Group, she settled into a groove as a painter more intrigued by semi-urban scenes than landscapes.
"It (loneliness) has been much better in recent times, though," Chidlaw said, with a laugh. That's pretty evident in The Pool Show, her new exhibition opening at Sullivan Goss on Friday, May 27, a 15-works study of swimming pools that arrives just in time for summer.
Not empty ones – she's captured starkly drained pools before in earlier works. These are paintings of pools full of color and bright lights, and, often, a person or two, including several that feature one or both twin teenage girls, friends who posed in their backyard pool in Goleta. The theme was partly a matter of convenience, Chidlaw said. "There are a lot of pools in Santa Barbara, and during the pandemic I wasn't taking any road trips or spending time inside buildings," she said. "The girls were very gracious and lovely to model for me."
Indeed, beyond the Goleta locale, the other pools in the paintings are located elsewhere in town, plus the Cliff House in Ventura, the San Fernando Valley and Desert Hot Springs. But picking personal bodies of water also had something to do with mood, the painter said about her first exhibition to feature an organizing theme rather than a random assortment of recent work.
"Pools – they're pleasantly comforting," she said. "I think it's my most cheerful body of work so far. Maybe I just needed something cheerful to paint." Chidlaw is one of the area's most popular painters, and gallery owner Nathan Vonk noted that the show will be largely sold through preview appointments even before the grand opening. "I am deeply and profoundly grateful for that," Chidlaw said. "I know that so many artists work so hard and get so little attention."
You might also be interested in...