Santa Barbara Gay Men's Chorus in Concert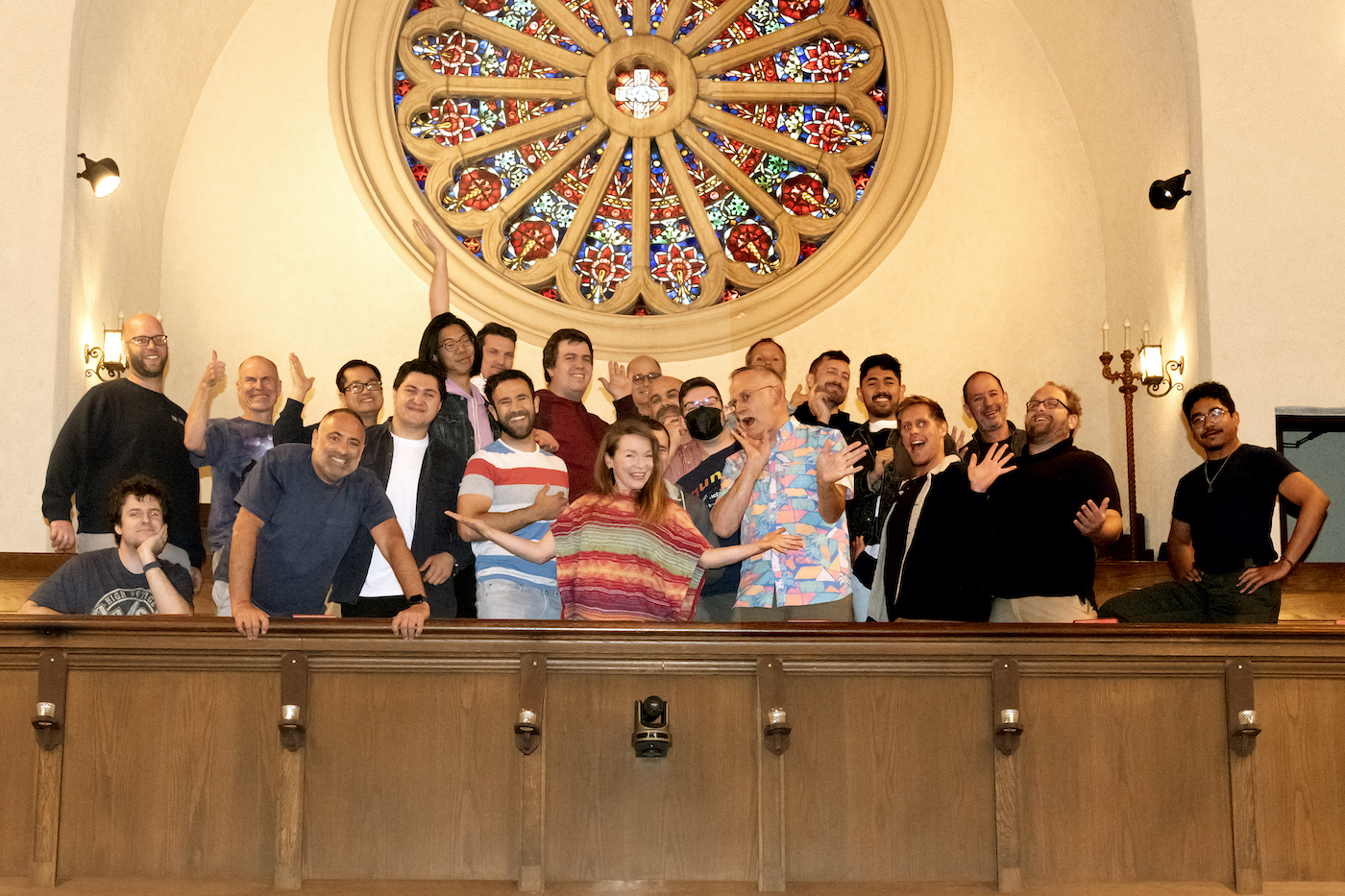 The Santa Barbara Gay Men's Chorus (SBGMC) will give our town its second concert on Monday, May 23, at 7:30 pm at the First United Methodist Church, 305 East Anapamu Street. Tickets are on sale now and at the door.
The concert titled "Tomorrows: Songs For a Brighter Future!" is a one-hour, no intermission program featuring pop songs, traditional choral pieces, spirituals, and a tribute to the Ukrainian people, led by its Artistic Director Nicole Lamartine. She is the Sorensen Director of Choral Music at UC Santa Barbara, conducts the UCSB Chamber Choir, contributes to the graduate choral studies at the Master and Doctorate Music programs for 21st century conductors, and teaches studio conducting and voice. This is her passion project outside of UCSB, and one that she is not new to the scene on, with over 12 years of experience conducting and arranging all-men choruses.
When I arrived to take photos at their rehearsal space, Lamartine was at the piano rehearsing a song with a member of the chorus, and if his voice (without any production or microphone!) is any indication of the group, attending the May 23 concert is a must! Our interview highlights include how to join, its mission, and concert spoilers:
Q. Let's talk about the concert theme.
A. A lot of the music is centered around the concept of time, and what we do with our time. We wanted to bring that inspiration to our listeners, to have each of us ask: How are you using your time in the moment? And how and what we are doing today will influence the future in a positive way? What would you tell the next generation of LGBTQI? Some of the chorus members wrote down their thoughts, like this one, "The path paved for me was by a lost generation. I hope the path we pave for you is full of love, life, and exuberance." We began rehearsals February 14 and look forward to this concert before our summer off.
Any spoiler alerts on the program?
Yes! Phill Conrad, our board president, received permission to arrange Sondheim's "Out Time" from Merrily We Roll Along. And we are singing in solidarity with Ukraine with two songs, "The Ukrainian National Anthem" and the 2014 published arrangement of the Ukrainian Folk song, "Plyve Kacha," which interpreted now, is a lament about a young recruit going off to fight in foreign wars and him having a dialogue with his mother saying, "My dear mother, what will happen to me if I die in a foreign land?"
How did the SBGMC come about?
During the 12 years before I moved to Santa Barbara, I led all-male university choruses in Wyoming, Minnesota, and Colorado, mostly tenor bass choruses (TB). An interesting feat as a female conductor at the collegiate level. Currently there are only six to 10 female conductors of all-male collegiate choruses in the U.S. I was leading an all-male university chorus in Wyoming at the time of Matthew Shepard's murder, which opened a lot of rights for gay men. Allies like myself can help to bring voice to equality, which is very important to me.
My passion is making music with inexperienced singers and introducing them to singing and making excellent music that has an impact. At UCSB, I lead the Singing Gauchos. A grad student, Sami Alsalloom, mentioned to me about Fratelli, a Santa Barbara Men's Chorus, of gay men and their allies, which was performing up to 2019. He put me in touch with them and we all met informally during the summer of 2021. We decided to do it formally as a group and started rehearsals with 20 members on September 13, 2021. Currently we have 25 to 30 members, with an open limit to membership.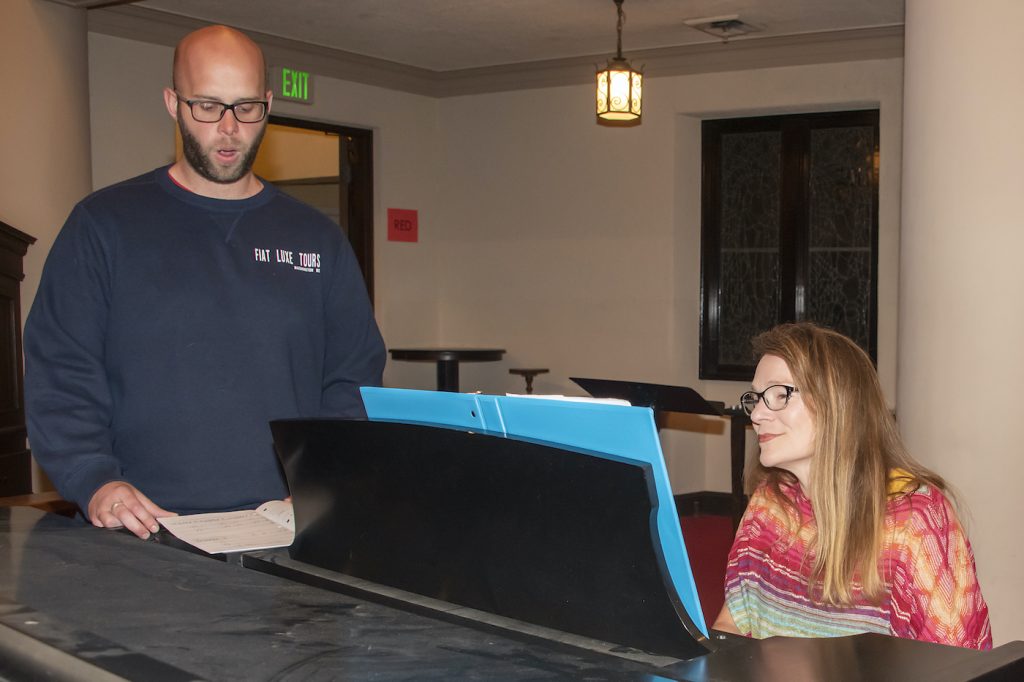 Who can join the SBGMC?
Totally open. We take anyone who can sing, all ages welcome! We are a non-auditioned chorus. I will ask new members to sing for me to help determine the best placement into Tenor, Baritone, or Bass. Anyone that sings TB is welcome to sing with us. You do not have to be gay or identify as a man, as long as you are comfortable joining a group known as the "Santa Barbara Gay Men's Chorus." We hope to provide a safe place for all and hope to increase diversity. We will welcome new members starting September 2022. Rehearsals are weekly at the First United Methodist Church, at 305 East Anapamu Street, on Mondays from 7-9 pm. Join by signing up online.
What do you do to make people feel safe and welcome?
For me it's, how do I create a space where everyone feels welcome who walks in the door? It takes great bravery to walk into that situation. The chorus and I help to make new members feel welcome. We break into micro groups for sharing, where people can tell a story about their name, or what they are doing over the weekend coming up. We did notice that once it was cleared for the masks to come off, the members are more open to each other and interacting with each other.
How successful do you think the SBGMC is at the moment?
It's been a huge success. At our first concert we had over 200 attendees and lots of support from the community. We expect close to 300 for our May concert. Musically, we weren't great, but we were working and rehearsing, and we are getting better, and singers are taking it seriously and we sound really good! Come join us on May 23.
SBGMC Mission: To promote TB ensemble singing in the state and region. To cultivate community through outreach and collaboration. To foster growth of every member's musical skill and to sing with purpose. To serve the community and represent the pride of the LGBTQI+ community. To conduct ourselves with integrity, respect, dedication, professionalism, honor, and pride; to represent the inspiration, diversity, camaraderie, and responsibility of the ensemble at all times.
411: sbgmc.org
You might also be interested in...