Latest Match at the Field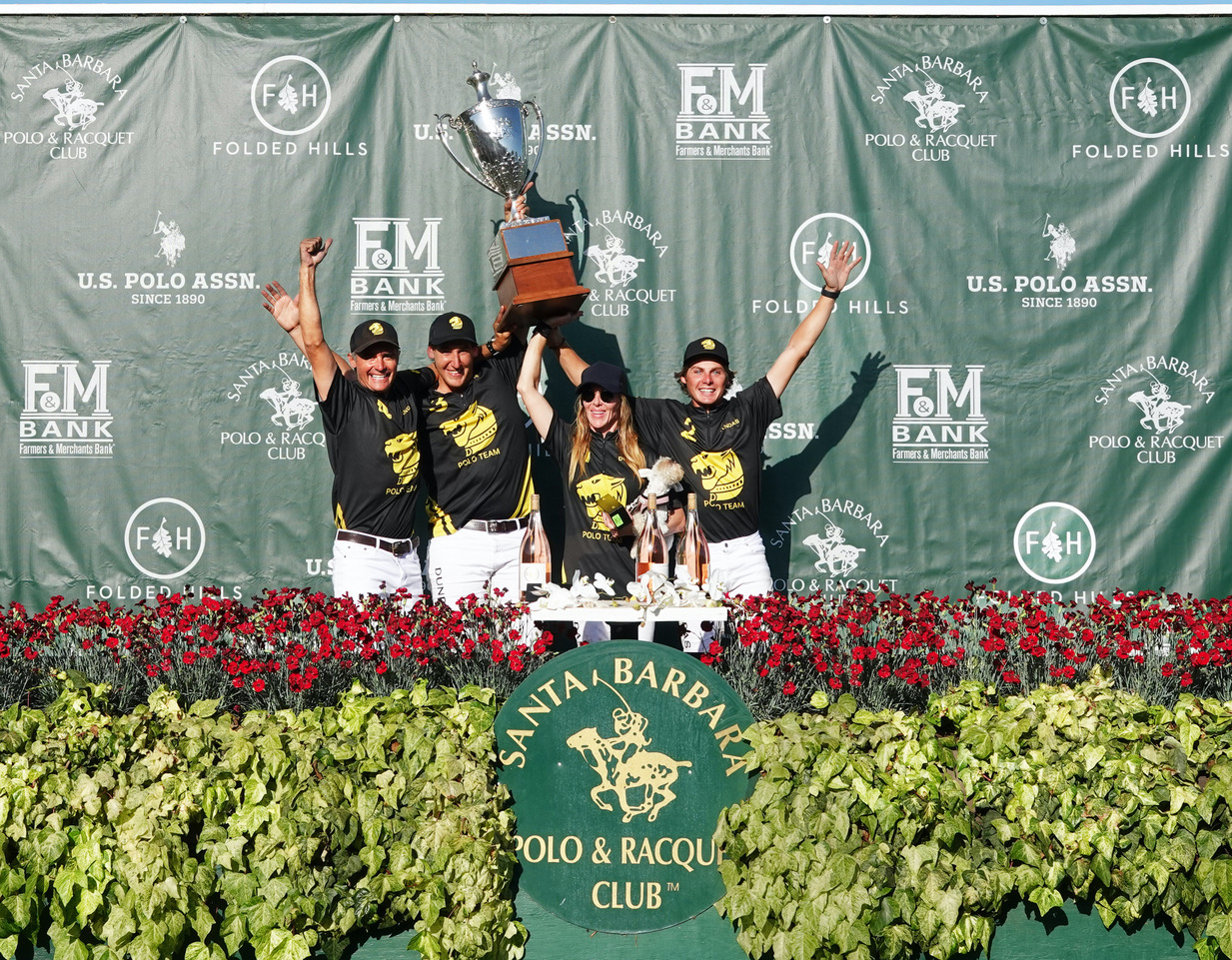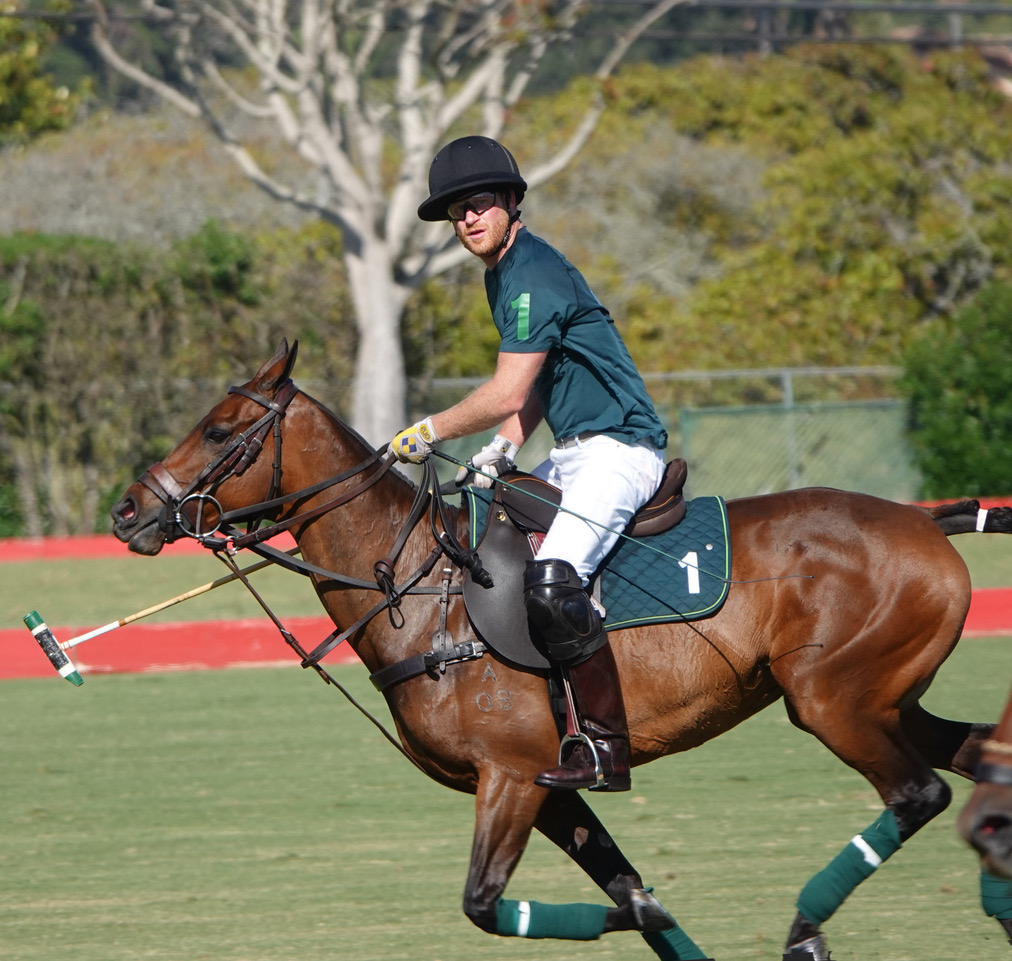 Prince Harry may not be appearing on the balcony of Buckingham Palace with his actress wife Meghan Markle after the Trooping of the Color ceremony next month, but he was definitely front and center at the Santa Barbara Polo Club playing in the final of the Folded Hills Pope Challenge final on Sunday.
The closely fought match between Argentinian Ralph Lauren Polo model Nacho Figueras' Los Padres team, with the Duke of Sussex playing as Harry Wales, and Beverly Hills-based movie producer Sarah Magness' Dundas team was all square at 13-13 when Queen Elizabeth's grandson scored three minutes before the final horn of the six chukker game. But Dundas fought back with a vengeance in the final 180 seconds lifting the trophy 15-13 in front of a sold-out crowd.
Newly Weds
Kourtney Kardashian and Travis Barker are married. The Kardashians reality TV show star and Blink-182 rocker tied the knot – for real this time – in our Eden by the Beach's historic courthouse with Kourtney's grandmother, Mary Jo Campbell, and Barker's father, Randy, by their sides. The bride, 43, and groom, 46, drove off in a classic black low-ride convertible with a sign strapped to the grill that read: "JUST MARRIED."
Donelan on Board
at A&L
My congratulations to an old friend, Charles Donelan, longtime arts writer for The Independent, who recently retired as a teacher at Laguna Blanca School after 17 years. Charles, who holds a degree from Yale University and a PhD from Columbia, is the new senior writer-publicist for UCSB Arts & Lectures. He will apply his extensive experience with arts and entertainment writing and media relations to continue to elevate the popular program's profile locally and nationally. "As a journalist, Charles has been one of our strongest allies," says Celesta Billeci, Miller McCune executive director. "His familiarity with our program and the local art scene is unparalleled, and we look forward to working with him more closely than ever to shine a light on our events and impact in the community."
New Homes
Google billionaire Eric Schmidt, who purchased a $31 million estate, Solana, in our rarefied enclave in September, 2020 with a seven-bedroom, 20-bathroom, 22,729 square foot main house from Bill and Sandi Nicholson, and Enchanted Hill, a 120-acre hilltop parcel in Beverly Hills for $65 million from the late Microsoft tycoon Paul Allen's estate, is still on a major spending spree. Schmidt, 67, also snapped up hotel legend Barron Hilton's Bel-Air estate for $62 million and an adjacent property for $5.2 million. He has now bought a Malibu Colony beach house for $22.6 million. All this on top of his $27.5 million penthouse in Manhattan's NoHo neighborhood. The Malibu residence, built in 1969, has three bedrooms with 3,495 square feet of living space. Schmidt's estimated worth is $20 billion, according to Forbes.
House Moves
Rocker Adam Levine, who bought actor Rob Lowe's former 3.5-acre Montecito estate for $52 million, has sold his sprawling Pacific Palisades home for a hefty $51 million. The sale by the 43-year-old Maroon 5 front man and his Namibian model wife Behati Prinsloo, 33, becomes the third priciest sale in Southern California this year, according to the L.A. Times. The dynamic duo purchased it from actor Ben Affleck and his ex-wife Jennifer Garner in 2018 for $31.95 million, meaning a substantial $20 million profit. The 10-bedroom, 14-bath three-acre estate, with a 9,000 square foot main house, was also the home of Oscar winner Gregory Peck, as well as producer Brian Grazer, best known for his collaborations with Ron Howard.
Platinum Jubilee Celebrations
Buckingham Palace staff are making plans to block Prince Harry and Meghan Markle's Netflix cameras when they return to the U.K. next month for Queen Elizabeth's Platinum Jubilee celebrations. The Duke and Duchess of Sussex are winging to London to join the monarch, 96, as she celebrates 70 years on the British throne, although they have reportedly been banned from the ceremonial Trooping of the Color ceremony.
However, the tony twosome are still expected to play a significant role and some royal aides are concerned about their Netflix project and tension within the family, if a film crew also appears to record their every move as they did at the Invictus Games in Holland in April.
It comes as Netflix chiefs are said to be exasperated by the couple's decision to give bombshell interviews to rival TV networks like NBC despite their multi-million deal with the streaming giant. There was "a real sense of arrogance" when Harry revealed details of a meeting with his grandmother at Windsor Castle during the interview, according to London's Mail on Sunday.
Summer Home
The longtime 42-acre Gaviota Coast home of Bruce Brown, director of the iconic 1960s surf film The Endless Summer, is on the market for $4.75 million. Adjacent to a beach known for its prime surf breaks, the 4,000 square foot, four-bedroom main house, with a 4,000 square foot, four-bay garage, is being sold by Brown's family. Bruce died in 2017 aged 80. His wife Patricia pre-deceased him in 2006. The ranch also has access to the beach and is close to Hollister Ranch, an exclusive gated community where residents have included film director James Cameron, Patagonia founder Yvon Chouinard, and musician Jackson Browne.
Oprah's Advice
Former TV talk show titan Oprah Winfrey is not happy courts have lifted mask mandates on public transportation, saying it's "too soon" and she will continue to wear a mask on planes. Oprah, 68, says she was so fearful of becoming infected that she spent 332 days without leaving her East Valley Road estate during the peak of the pandemic. She told the L.A. Times she is not quite ready to let go of precautions. "I personally think it too soon to be removing masks from planes. But that's what people choose to do. And if I were on a commercial plane, I would still be the one wearing my mask!"
Katy's Melody
Montecito warbler Katy Perry has joined the cast of the forthcoming animated musical feature Melody. The former Dos Pueblos High student, 37, will also serve as one of the producers, as well as voicing the movie's lead. Melody is centered on a kindhearted singer of the same name who lives in New York and possesses several magical musical notes that also guide her moral compass. Katy will also write and perform songs on the project's original soundtrack.
Sightings
Singer Nick Jonas and wife Priyanka Chopra checking out the Rosewood Miramar… TV producer Christopher Lloyd at Lucky's… Former TV anchor Jane Pauley filming at the Santa Barbara Mission for CBS Sunday Morning.
Pip! Pip! Be safe, wear a mask when required, and get vaccinated.
You might also be interested in...