Aqua: Turning on the Waterworks at UCSB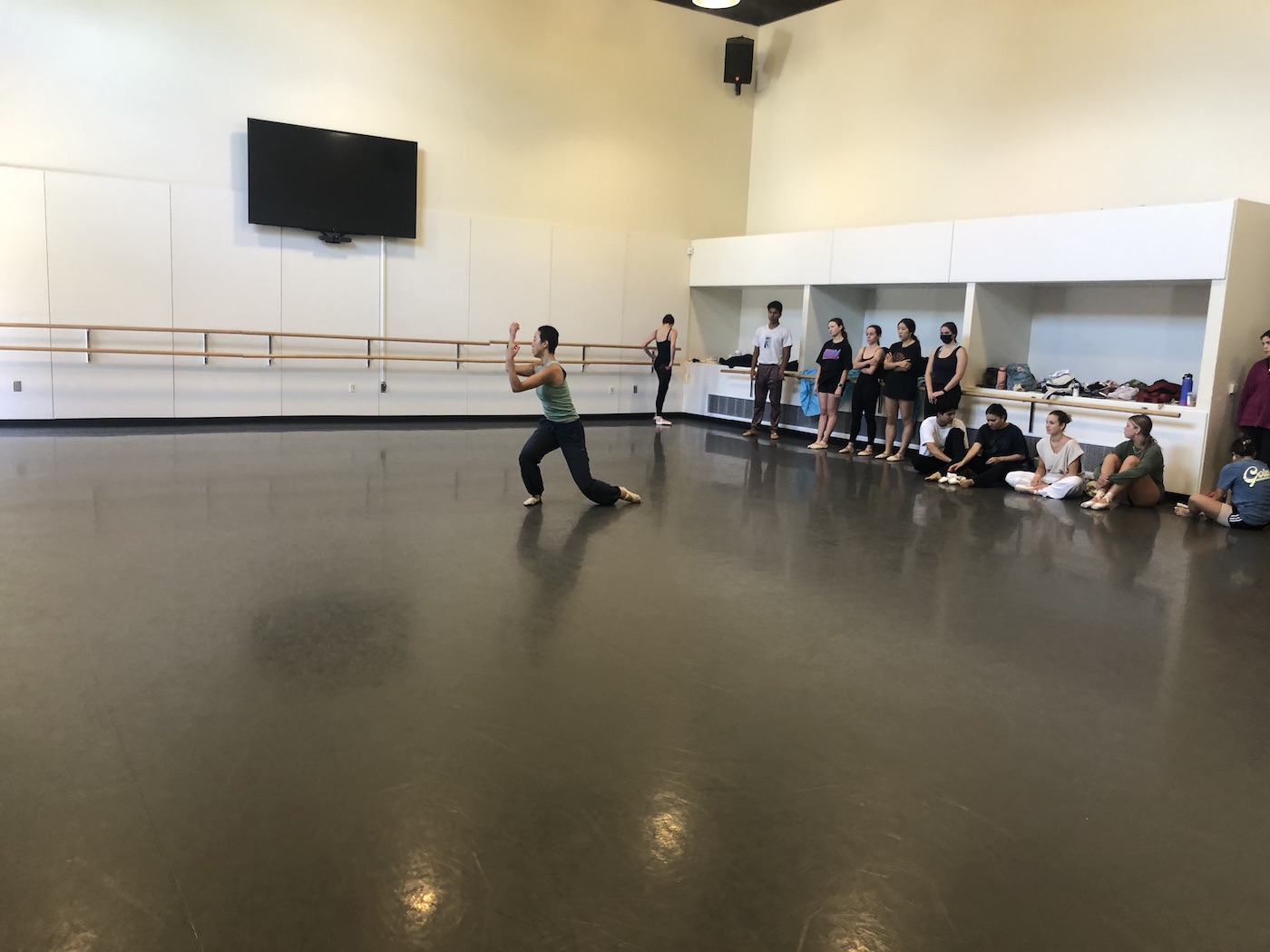 Back in 2019, veteran UCSB dance professor Valerie Huston and Arizona State University's dance faculty member Carley Conder teamed up to create Avian for UCSB's dance students. This casual piece was inspired by Huston overhearing two students talking about a class they were taking called The Mathematics of Origami and featured nine-foot origami birds above the dance studio stage.
This time around with Aqua their ambitions are even loftier. "We've created more than an hour of material based on our emotional reaction to water," said Huston, mentioning that these are vastly different experiences for the choreographer, as Huston sees the ocean every day while Conder is confined in her home state to endless miles of desert.
"So much of my identity is wrapped up in being a desert dweller and that sense of survival and economy when it comes to anything having to do with water," explained Conder, who recalls trips to Baja Mexico where she swam with 200 manta rays. "Val and I started with stories just going back and forth, our memories of water as children, what we see now as adults, and what's happening with the environment and climate change. We both have attachment to these water experiences all throughout our life."
The threat posed by climate change is chief among the reasons Huston was drawn to the subject, she said. "People see Santa Barbara as paradise, but they don't know that the underpinning has really weakened. Maybe if you have money, you can buy yourself out of it. So it's also an issue of social justice."
All of those elements and other issues of water will be explored through movement choreographed and directed by Huston and Conder and performed by 25 students from UCSB Dance and members of the campus Opus 1 contemporary ballet company in Aqua. "I didn't want to preach about it, because seeing something with emotion, motion, and beauty might just wake you up a little bit," Huston said. "It's great for the students, too, because it's not abstract, it's dancing about something real."
Conder concurred: "As artists, this is the way that we can contribute and hopefully open up something inside of the audience."
But the performances May 20 – 21 at UCSB's Hatlen Theater, which will feature melting ice sculptures on either side of the stage, are just the opening salvo in the life of Aqua. Huston and Conder next plan to present the piece poised over actual water via dancing on steel decking spanning the UCSB lagoon in 2023, before expanding the scope further to include international artists. This would be part of an aspirational center for artists to create works about the environment alongside lectures and symposia designed to raise awareness and action. "This is the perfect place to do it," Huston said. 
Sounds Around Town
Gypsy swing sure has become a thing again, at least over at SOhO, which has presented at least half a dozen purveyors of the traditional swing genre pioneered by Django Reinhardt in the 1930s-1950s. Santa Barbara's own Django Cats, who add original songs, acoustic jazz, Latin music, and Western Swing into the mix, play the club May 25, one night after the Houston-based eight-piece band The Suffers bring their infectious Gulf Coast Soul to SOhO… On May 26, The Kollection seeks out the best of the latest crop of rising talent in Isla Vista – the college town that gave us ALO, Rebelution, and Iration, to name just a few – with four bands competing in a Battle of the Bands contest for a grand prize that includes studio time in the Funk Zone's Studio Sound Room and bragging rights as the Best Band in IV.
Tufawon, the Puerto Rican and Dakota hip hop artist, singer, and producer from Minneapolis, draws on elements of both cultures to influence his music. Hear how his style embodies intricate lyricism with complex vocabulary balanced by a clear and concise delivery at UCSB's MultiCultural Center theater on May 19. The following night, Tufawon also serves as the MC at Biko Garage for the center's final event of the academic year, the quarterly open mic where all are invited to artistically express themselves using any creative outlet including spoken word, poetry, music, and dance. 
Dance Dimensions
Elsewhere, the performers are even younger than the college-aged dancers premiering Aqua at UCSB, as four of the area's organizations training children are producing showcases over the next 10 days.
Ballet in Bloom is the title for the pair of spring shows from Santa Barbara Festival Ballet (SBFB), the company that produces The Nutcracker at the Arlington every December. Works featuring its students are sandwiched around performances by UCSB Dance Company, withthe senior Festival Ballet company performing a new work, The 10th Slinky, choreographed by UCSB's Valerie Huston. The classic "Pas de Quatre" set by SBFB Artistic Director Denise Rinaldi surrounds UCSB's revival of José Limón's Suite from Mazurkas (1958) and a solo excerpt from Nancy Colahan's Pandemic Suite called "OLA,"with dancer Ana Ko Glass. Post intermission, the SBFB Youth Ensemble get closing credits performing The Toy Shoppe with choreography and costumes by Rinaldi. Show times are 6 pm May 21 and 2 pm May 22 at Center Stage. Visit centerstagetheater.org.
Santa Barbara Dance Arts presents their annual spring Inspire Recital, this year boasting three distinct fully produced and professional shows at the Marjorie Luke in reverse order of experience levels as the senior show, junior show, and youth show take place May 19 to 21 respectively. The performances serve to exemplify the accomplishments and progression gained throughout the year of dance study. Visit sbdancearts.com or call (805) 966-5299.
Santa Barbara Dance Institute teams up with Santa Barbara Unified School District's Afterschool Opportunities for Kids (AOK) to provide educational dance programs to local elementary schools. A program that culminates on May 25 when 115 young performers from Cleveland, Franklin, Adelante, Monroe, Adams, Harding, and McKinley elementary schools and Santa Barbara Community Academy will take to the stage in AOK's Performing Arts Showcase at La Cumbre Junior High School Theater. The students will come together as an ensemble for the first time since the pandemic shut down schools and performing arts events. Showcasing their work since February, the students will dance to a variety of music from such artists as Elvis, Pitbull, Shakira, and Roberto Jr. y su Bandeño. Visit sbdi.org.
Finally, Inspire Dance Santa Barbara (not to be confused with the Inspire Recital above) offers its annual spring show with four performances at Center Stage on May 28 and June 4 of Alice in Wonderland, IDSB's favorite storybook ballet to date. Special guests for the seventh annual spring performance are IDSB's very own student teachers. Visit centerstagetheater.org.
You might also be interested in...