Jazz Trio & Orchestra: Roberts' Outrageous Range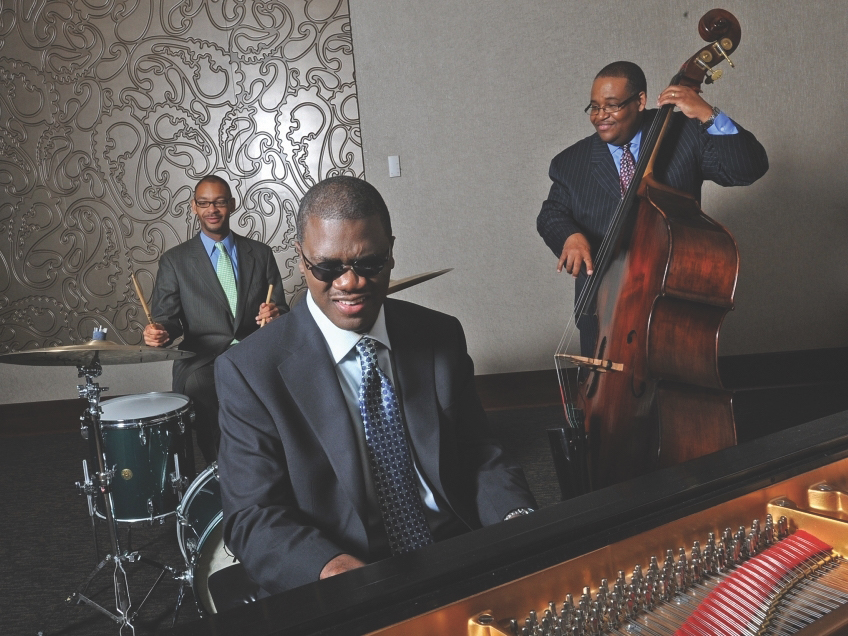 Jazz is about a lot of things, not the least of which is the ability to improvise in connection with both the music and the other instrumentalists. That's a Marcus Roberts Trio specialty, as the long-term partnership featuring pianist Roberts, drummer Jason Marsalis, and bassist Rodney Jordan share equally in shaping performances via changes in tempo, form, harmonic or rhythmic contrast, or energy. It's a process that comes from expertise and experience."We improvise in the moment based on many forces of music that are happening and that we can't really predict," he said. "But you have to have some understanding of history as well as virtuosity in your instrument." The trust also comes from respect for each other.
"Those guys are geniuses, and in order to keep them engaged and interested in playing together, they have to be able to do things that are of actual interest based on their own agendas. And for me, playing what I love is fine, but I gain inspiration from welcoming and listening to others, even if what they want to do might come from an opposing view. Invariably, when the piano, bass, and drums are really sharing in forming the direction of the music with vision and respect, it always sounds bigger than just three instruments." When the trio returns to the Lobero on May 18, they'll be focusing on selections from a forthcoming CD called Rhythm in Blue, which showcases the trio's varied rhythmic approaches to jazz standards, Roberts said. That includes pieces from Gershwin, Cole Porter, and Coltrane – songs that deserve to be venerated as classics, not degraded because they're old.
"When you open your mind, you're always discovering new things in the familiar," he said. "That's how it's exciting for the audiences to listen to and thrilling for us to play."
Gershwin is also the composer of the work the Marcus Roberts Trio will perform with the Santa Barbara Symphony in its season-ending concert the following weekend (May 21-22) at the Granada. The trio will offer Roberts' arrangement of the "Piano Concerto in F" for jazz trio and orchestra, that actually includes improvisation by the three instruments in the orchestral setting."We had to figure out some authentic way to bring the different genres and styles together where each is still true to itself," he explained. "So, we took it apart and figured out what would work. Now it's really to the point where when we perform, it's almost like the way we would play a standard with true, authentic jazz improvisation going on while the orchestra is playing their parts. Both genres are seamlessly interacting with each other to produce this brand-new thing."
Choral Concert Offers Harmonies for Healing
Programming Duruflé's Requiem and Vaughan Williams' Five Mystical Songs for the Santa Barbara Choral Society's spring concert, and second since a two-year pandemic-driven hiatus, was a no-brainer for artistic director JoAnne Wasserman. As the flyer notes, the two composers capture eternal longings in an imperfect world, which surely describes our current situation full of fears of war and political strife, not to mention the continuing threat of a lethal virus. "What we really need right now is inspirational music, music that is full of hope and peace and of love," she said, with the latter representing the English translation of the concerts' Latin title of Pax + Amare. "With all we're going through, these are so appropriate for our times."
Latvian baritone Valdis Jansons – who has sung more than 55 major roles in more than 70 theaters worldwide since 2004 and is now based at UCSB – will serve as soloist for Duruflé's Requiem, which expresses serenity from the perspective of the chaos of post-war Paris, with the program also featuring four of Vaughan Williams' timeless poetic meditations including "Love Bade Me Welcome" and the joyful call to "Let All the World in Ev'ry Corner Sing."The 70-strong choir, accompanied by a 35-member orchestra, will surely deliver a joyous sound to every corner of First Presbyterian Church in the pair of performances on May 14-15. Visit sbchoral.org for details and tickets.
Downtown Art & Wine Tour Returns
With COVID-19 in apparent springtime retreat, the Downtown Santa Barbara Live Art and Wine Tour is finally back for its 20th anniversary next Thursday, May 19. An amped-up but more compact version of the monthly 1st Thursday events, the curated culinary/art tour takes place in eight venues on State Street north of Carrillo, where each location will offer libations, delicious delicacies from area restaurants, live entertainment, and paintings or other artwork for patrons to ponder while they sip and nosh. The Arlington Theatre plaza is the hub, where participants pick up a wine glass and plate, plus a wristband and map to guide your tour to the various venues. After making the circuit, it's back to the Arlington for the official Final Party with even more food, specialty drinks, a silent auction, music by Mezcal Martini and La Bohème Professional Dance Group. The tour is the Downtown Organization's biggest fundraiser of the year, with proceeds supporting such public art and events programs such as Pianos on State, State Street Promenade Market Concerts, and more. Visit downtownsb.org/events/art-and-wine-tour for info and tickets.
You might also be interested in...