David Mitchell: Blue Ridge Honey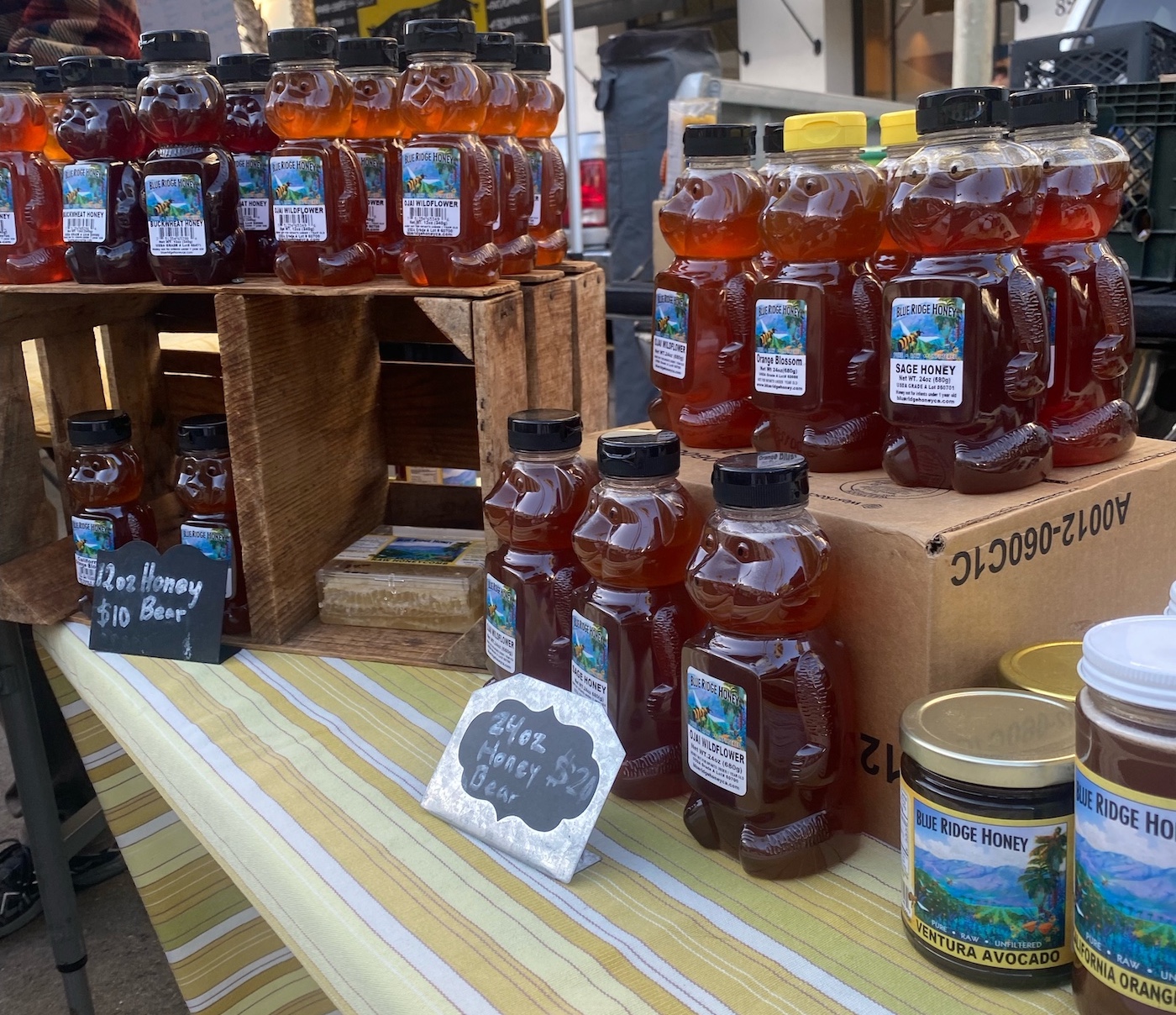 Hot tea or golden toast topped with a drizzle of locally crafted honey in the morning is therapeutic… and delicious. Crafted locally in Ventura, each drop of the delicate, sweet molten gold of Blue Ridge Honey is 100% pure, raw, and unfiltered.
Beginning as a family hobby in the late 1970s, Blue Ridge Honey has grown to about 1,600 bee colonies, pollinating flowers throughout Ventura County and beyond. In the '80s, David Mitchell took a leap and transformed the family hobby into a business.
Today, Blue Ridge Honey has grown to almost 2,000 colonies, pollinating different varieties of flowers, yielding different kinds of the sweet syrup that blesses our community. These varieties include Orange Blossom, Avocado Blossom, Sage, Wildflower, Buckwheat, and Raspberry Blossom.
Blue Ridge Honey is "a small family business working hard to bring you honest, pure, local honey." Their booth can be found at the farmers market in Santa Barbara on Tuesdays from 3 to 7 pm and in Montecito on Fridays from 8 to 11 am.
"Filled with raw, pure honey from our own bees in Ventura County, our honey is unpasteurized and unfiltered, keeping all of the natural nutrients and health benefits in the honey," said Blue Ridge employee and family member Greg Mitchell.
"The honey varietals vary in color, sweetness, and flavor due to where our bees are located and what they are pollinating," said Greg.
Natural, unpasteurized honey has many health benefits, as it still contains bee pollen and nutrients that come from the nectar the bees collect. As Blue Ridge Honey produces locally-made raw honey, the bees that are pollinating our local plants help reduce seasonal allergies.
After a three-year scorching dry season in Santa Barbara, the weather has slashed honey production, reducing the yield of sweet syrup in our area. Getting stung by the dry climate, Blue Ridge Honey has seen a decrease in the amount of honey that the bees are producing. That means fewer bees can thrive, which leads to even less honey.
Without a full recovery from the drought, honey production is faltering. Cutting off retail, Blue Ridge Honey is leaving the shelves of the supermarkets and sticking almost exclusively to farmers markets. Buying locally has become crucial during the turbulence we have all endured the past few years.
Quality honey with a long medicinal history can be found right in our backyard. And thankfully with Blue Ridge, you can enjoy this local golden elixir that was in the hive just a couple of days earlier.
You might also be interested in...