CEC in Chrysalis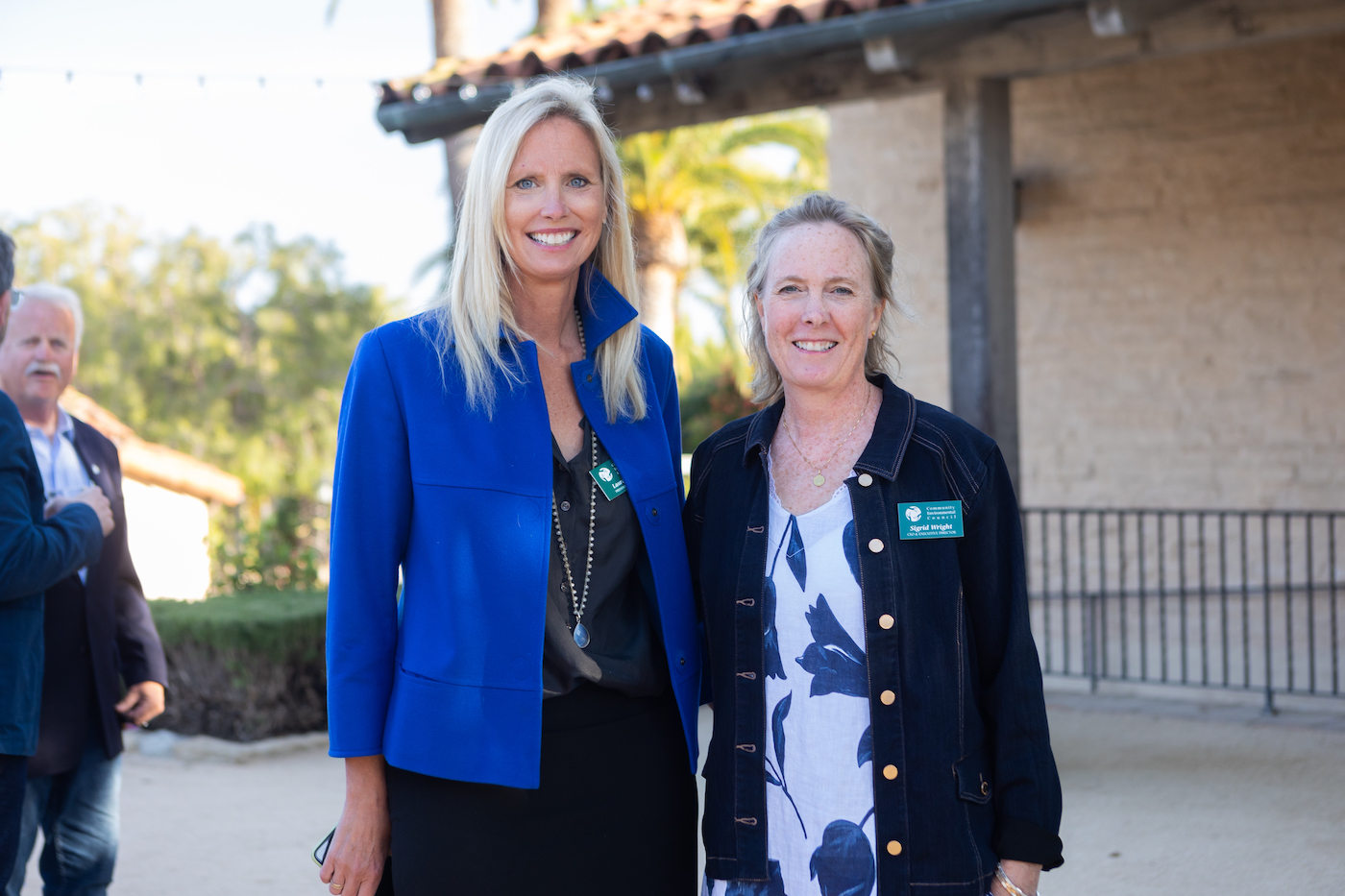 Santa Barbara Historical Museum's courtyard suffered major social gridlock when the Community Environmental Council hosted its spring fundraiser Metamorphosis: An Emergence with 250 guests raising more than $60,000. The boffo bash, a smaller affair than the organization's annual Green Gala at The Lark, was co-chaired by board member Carolyn Fitzgerald and executive director Sigrid Wright with Washington Post Pulitzer Prize-winning journalist Scott Wilson as keynote speaker.
As attendees noshed on plant-based food from Satellite SB and quaffed cocktails from Good Lion Hospitality, Del Maguey Mezcal, and Kunin Wines, the ubiquitous Geoff Green from the City College Foundation and a new council board member sold off a host of packages, including a luxury resort global getaway, a hand-painted surfboard from local artist Katherine Hedrick, a dinner party for 24 at the Simple Feast restaurant, and a Carpinteria Valley cannabis farm tour experience for ten.
Supporters included Michael and Nati Smith, Mayor Randy Rowse, Das Williams, Belle Hahn, Jennifer Hale, Randy Solakian, Craig McCaw, Pat McElroy, Karl Hutterer, David Jackson, Laura Capps, and Nicole Eads.
Off to the Races
Horseflesh of a very different kind was on display at the Santa Barbara Polo Club when a colorful Kentucky Derby bash was thrown by the tony twosome of Teresa Kuskey Nowak, founder of the La Bohème dance troupe, and city gadabout Rick Oshay in a fieldside marquee by Holden Field.
More than 175 glamorously garbed guests, many of them wearing a mélange of magnificent millinery, turned out to quaff the fountains of Champagne and snaffle the eclectic canapés, as they watched the 148th Running of the Roses from Churchill Downs, Louisville, Kentucky, with Rich Strike, an 80-to-1 outsider, winning the first race of the Triple Crown and a hefty $1.86 million check.
As a regular judge for the club's annual hat contest in July, yours truly was asked to pick the best tête toppers on display, with Santa Barbara resident Jaye Taylor winning for best hat, and Shanny Stark for the best handmade millinery. Rick, wearing a top hat and tails more befitting the Royal Ascot next month, won in the men's category, while the most stylish couple award went to Angela Ireland and Roxy Bina.
Among the derby denizens turning out were Nigel Gallimore, David Bolton, Gretchen Lieff and Miles Hartfeld, Chris and Mindy Denson, Kathryn Martin, Richard Auhll, Stephanie Petlow, and Thomas Markle. Acrobatic aerialist Angela Brandan provided entertainment.
You might also be interested in...