Joffrey Juxtaposes Past, Present, and Future of Dance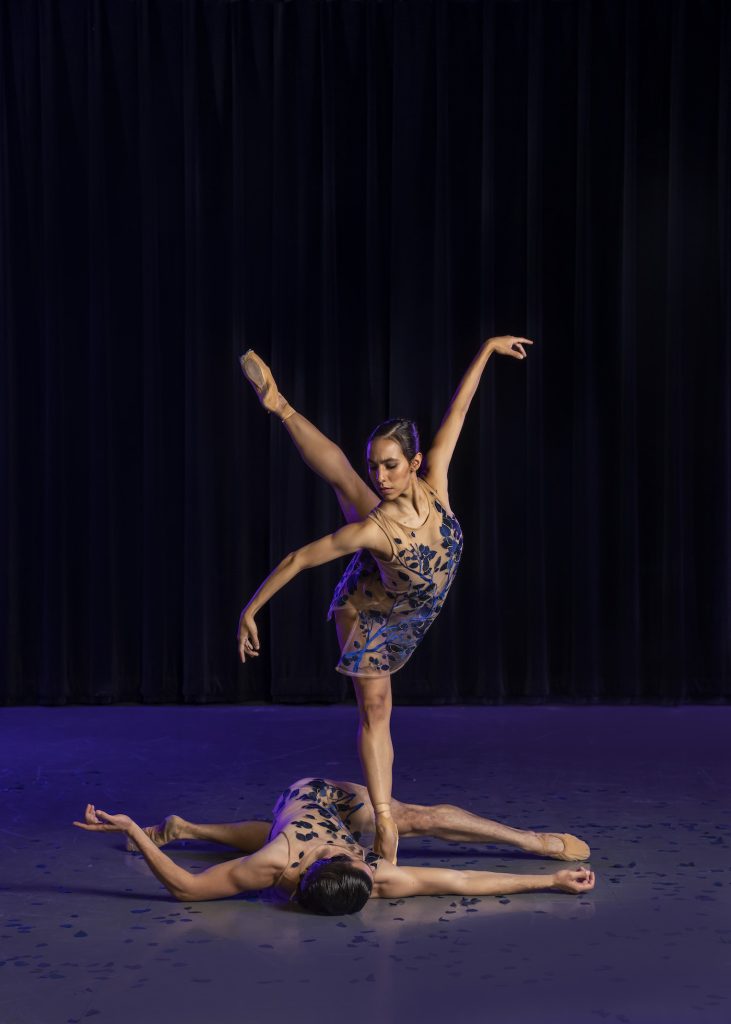 Choreographer Gerald Arpino, the co-founder of the Joffrey Ballet who succeeded Robert Joffrey as its artistic director from 1988 to 2007 and composed nearly 50 ballets for the company, would have turned 100 next January. So, it's fitting that Arpino's 1986 work Birthday Variations forms the centerpiece of the Joffrey's two-day, eight-work pair of performances at the Granada May 11-12.
But as historic as the company might be – Joffrey Ballet was the first dance company to perform at the White House, and the first to appear on American television, the first to use multimedia, the first to create a ballet set to rock music, and the first to have had a major motion picture based on it, Robert Altman's The Company – looking backward, other than the revive major works, isn't really its oeuvre.
Especially since former dancer and non-choreographer Ashley Wheater took over artistic duties from Arpino in 2007 after its 50th anniversary celebration. Rather than mark his own milestone, Wheater has had the classically trained company forge forward with both commissioning and creating new cutting-edge works to pair with its repertory pieces. Such is the case in Santa Barbara, where the new works include two by company dancer Yoshihisa Arai. Élégie Pas and Bolero, the latter a 15-dancer epic that premiered virtually as part of Joffrey's Studio Series. Also on the program is Swing Low from Joffrey's 2020 Winning Works choreographer Chanel DaSilva, whose pandemic-inspired piece evinces a deep connection to the transformative power of the arts and the indelible joy of movement. Likewise, Under the Trees' Voices, from Joffrey Rehearsal Director Nicolas Blanc, examines the concept of community in the age of social distancing.
"I'm really proud that during the pandemic when we had no outside guests coming into the building, we were still able to be really creative," Wheater said. "A lot of the works are created by young, up-and-coming or mid-career artists who are the expression of where we are today for this generation in the dance world. You see the breadth of dance from classicism and neoclassicism to quite contemporary dance in all manner of form. All of the pieces are very compelling. It's a beautiful program, very expressive in its structure and in the way the company performs."
Wheater reiterated that the Joffrey is still guided by its founder's vision to be a quintessential American company that would take the risks to explore the borders of dance. "We're not trying to be a 19th century classical European company," he said. "As Robert said, classical ballet is the core of where we are, but it is not the circumference of where we can go."
Focus on Film: YETI Fest, 'Mincemeat' 
The 2022 YETI Film Tour, comprising seven new short films focusing on the wild outdoors, kicks off its 12-stop coast-to-coast trek at the Lobero Theatre on Friday, May 6. Sponsored by the premium outdoor brand, the fest covers such subjects as fly fishing in Bhutan, Gordon Eastman's grandson tracing the rugged mountain life of that made his grandfather an outdoors filming/big game hunter pioneer, a 270-mile riverways race through Texas, storm chasing and tornado watching, and more. The one-night-only event also boasts guest appearances, raffles for YETI gear, and a gift of a free piece of customized YETI Drinkware fueled by TINCUP Whiskey.
SBIFF's Cinema Society preview screenings are back in action at the Riviera Theatre, with a sneak peek of Operation Mincemeat on Sunday, May 8, three days before the true story of two British intelligence officers hatching an outlandish scheme to trick the Nazis and alter the course of World War II starts streaming on Netflix. The film stars Colin Firth and was directed by John Madden; writer Michelle Ashford will be on hand for a post-screening Q&A.
Book 'em: Chiang Link
Acclaimed science fiction and fantasy short story writer Ted Chiang has won four Hugo, four Nebula, and four Locus awards. His debut collection, Stories of Your Life and Others, is a bestseller that has been translated into 21 languages, and the 2016 film Arrival was adapted from the compilation's title story about communicating with tentacular alien visitors whose language changes one's experience of time. Chiang will discuss his latest story collection, Exhalation, which was named one of the best books of 2020 by The New York Times, The Washington Post, Time Magazine, NPR, and The Guardian, among others, at Campbell Hall on Tuesday, May 10, moderated by UCSB's Melody Jue. In an ancillary event on May 5, Pollock Theatre will screen Arrival followed by a discussion between English professors Jennifer Rhee of Virginia Commonwealth University and UCSB's Jue.
Chaucer's Choices
May 5 is also when Julia Morse, an assistant professor of political science at UCSB who previously worked at the U.S. State Department and at the FBI, talks about her new book The Banker's Blacklist. Morse's book demonstrates how the Financial Action Task Force (FATF) has enlisted global banks in the effort to keep criminal and terrorist money out of the financial system, in the process drastically altering the domestic policy landscape and transforming banking worldwide.
Also at Chaucer's this week: Local author Connard Hogan talks about Once Upon a Kentucky Farm, his memoir about the trauma of his early exposure to the harshness of alcoholism and spousal abuse and the healing effect of summers spent on his grandparents' farm (May 9)…. Former longtime Independent writer/editor D.J. Palladino, who co-owns The Mesa Bookstore, checks into Chaucer's to sign and share his second novel, Werewolf, Texas, his gripping and vividly dark story of a blood-thirsty dynasty set on preserving their power (May 11).
You might also be interested in...