Have You Heard the Buzz?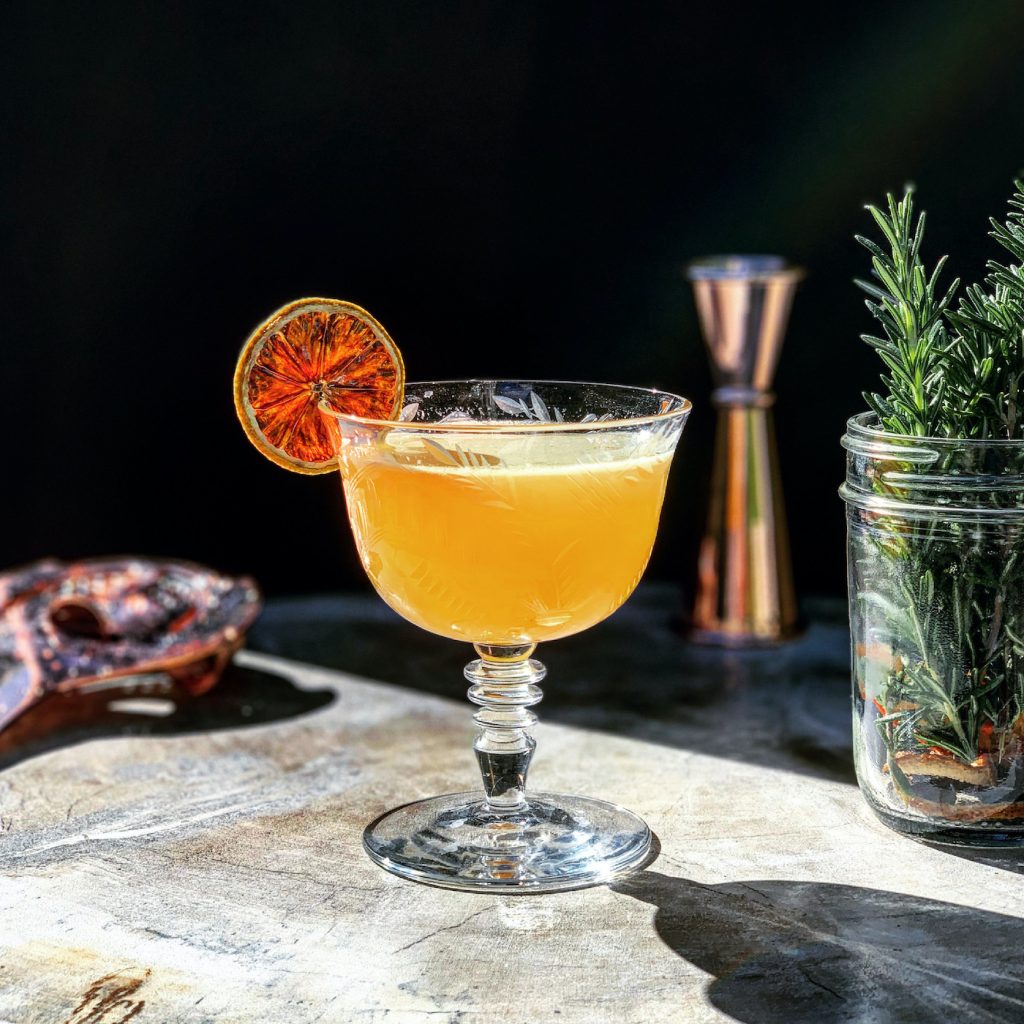 The temperature is starting to rise, beautiful garden gatherings are ramping up, and humming bees collecting pollen can be heard any time you step outside. It is music to my ears for so many reasons, and it instantly brings to mind one of my favorite spring cocktails: The Bee's Knees. Let's take a look at this garden delight.
The History
Even though the precise origin is unclear, the Bee's Knees is a classic cocktail that has been enjoyed for nearly a century. It is thought to have originated during prohibition when the mix of lemon juice and honey was used to mask the unsavory flavors in bathtub gin. At the same time, the meaning of the phrase, the bee's knees, changed from its original definition, something insignificant, to meaning something outstanding. The combination of ingredients, catchy name, and prohibition cocktail verve has stood the test of time. It is a perfect cocktail to enjoy outside in the garden with your friends while the spring blooms are bursting forth and the bees are dancing from one flower to another.
The Details
For its part, the Bee's Knees is a derivation of the broader category of sour cocktails. A sour is a style of cocktail that contains a base spirit, citrus, and sugar. It encompasses all manner of cocktails from a daiquiri to a whiskey sour. With such a broad range of examples, there are endless variations to try.
A classic ratio for a sour is 2 ounces of spirit to 3/4-ounce citrus juice and 3/4-ounce sweetener. This ratio is intended to let you taste the spirit while maintaining a good balance of sweet and sour. That being said, this is highly dependent upon the ingredients you are working with. Citrus juice can vary in its tartness, each different sweetener has different levels of sugars, and of course, each spirit has unique characteristics that make it play differently with different ingredients. I highly encourage you to experiment with this template and explore the wide world of sours.
An additional note for sours, sometimes egg white or other foaming agents are included to create that unique foam and texture but are not required. This is another style of sour that is worth sampling, the silky-smooth mouthfeel from the egg white makes a sultry sip!
Back to the Bee's Knees: today we no longer need to cover up any unsavory flavors from bad gin; it's quite the opposite. There are so many fantastic gins on the market. Whether you prefer the classic London dry style, or more modern styles, there are endless expressions to try.
With gin at its core, the combination of honey and lemon is a classic sweet/sour pair seen in numerous drinks. There are so many different varieties of honey to try, and it is a delight to taste the range of flavors available. The delicate floral notes in the honey are accentuated with the use of lemon. I recommend using local, high-quality honey if possible and experimenting with the template and style of gin from there.
Of note, you might think you could easily swap out the lemon juice, but if we were to use lime juice, for example, that flavor would overwhelm the delicate honey flavors with its tart astringency. Sometimes there are easy substitutions, but sometimes they just don't work the same way. If you're looking for a classic cocktail using gin and lime, try a gimlet that pairs gin, lime juice, and a standard simple syrup in the same sour template.
The Cocktail Inspiration
As I've mentioned before, I'm not sure what it is but spring always brings me back to gin drinks, such lovely botanicals that pair with the fresh herbs coming out of my garden. The classic Bee's Knees is no exception. It is citrus-forward, has a solid gin backbone, and layers of herbal notes. I wanted to double down on the garden botanicals in season and add a lovely floral note woven throughout. The result is something outstanding to sip this season and I think it's high time we turned the 2020s into a modern Roaring '20s, one cocktail at a time!
Lavender Rosemary Bee's Knees
2 oz gin
1 oz fresh lemon juice
3/4 oz honey rosemary simple syrup (recipe below)
1 dash lavender bitters (Scrappy's Bitters)
1 sprig Rosemary
Garnish: Dehydrated lemon wheel or a sprig of fresh rosemary
Directions
Add all ingredients to a shaking tin and muddle thoroughly. Add ice, shake for about 15 seconds, and double strain into a chilled coupe. Garnish with a dehydrated lemon wheel or some fresh rosemary.
Simple Syrup Directions: In a small pan combine one part honey with one part water. Over medium-low heat stir until honey is dissolved and the liquid is almost to a boil. Remove from heat and add 3 to 4 sprigs of rosemary that you have gently bruised in your hand. Stir and let steep for about one hour or until flavored to your taste. Strain into a clean mason jar, close the lid, and refrigerate for up to a week.
You might also be interested in...