Finally, Pinot: New Releases Take Tercero Wines in New Direction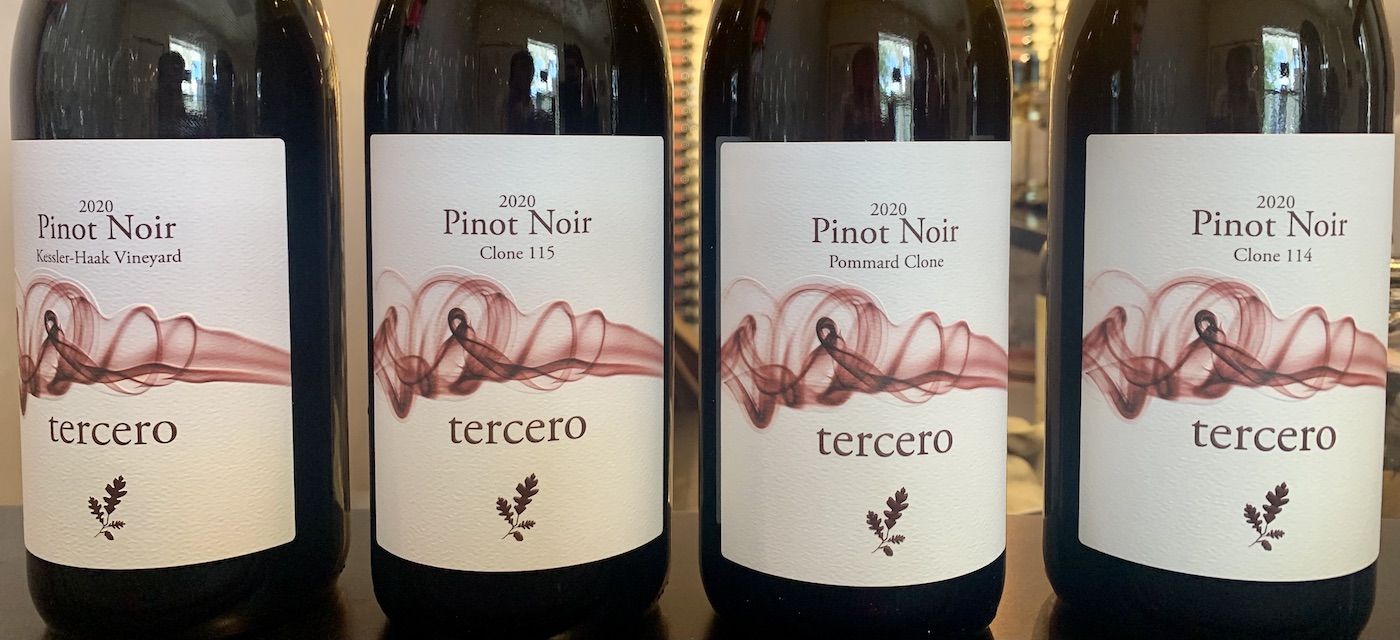 "People do tell me – 'Wait, I thought you said you'd never do pinot!'" jokes winemaker Larry Schaffer. We're chatting inside his sleek Tercero tasting room in downtown Los Olivos. And he's pouring me his latest release: pinot noir.
Schaffer's Tercero label has always been a bastion for imaginative, thoughtful Rhône wines. And his approach has always been intriguing – single vineyard manifestations of grenache and syrah, single bottlings of rarer grapes, like carignane and cinsault, and creative blends, like the 2019 Aberration ($33), a fruity but layered 60-40 cinsault-grenache mix that's delicious and best enjoyed chilled.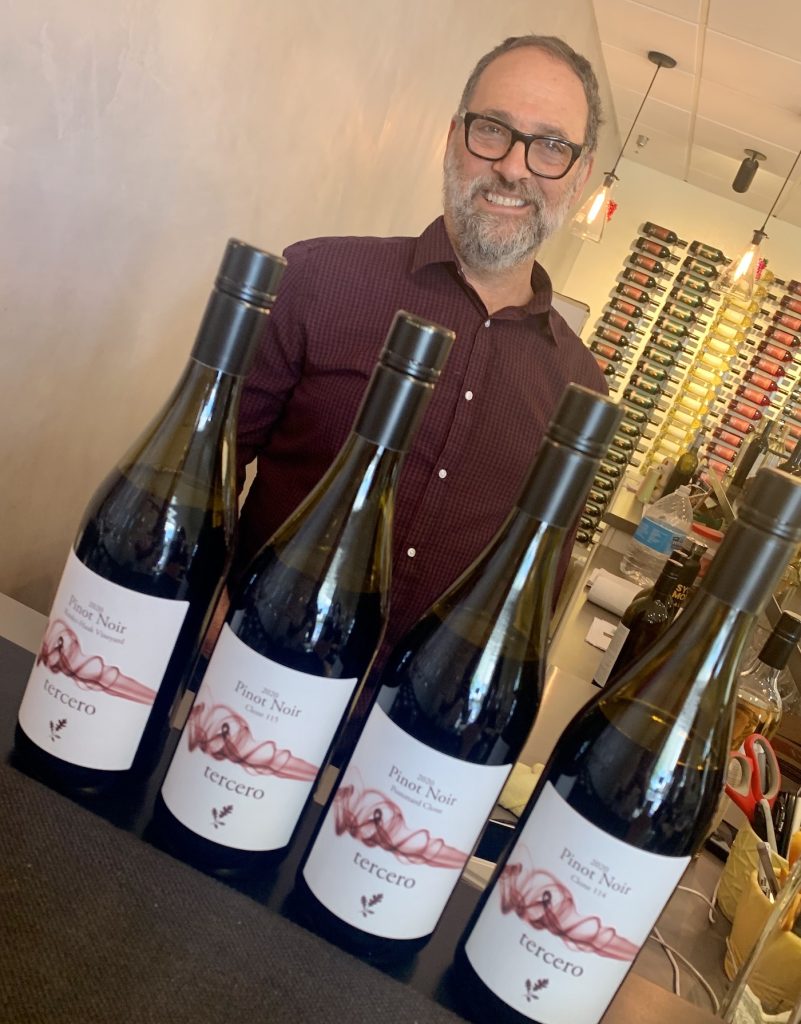 The commitment to Rhône wines kept pinot noir, Burgundy's darling, off Schaffer's radar. "It wasn't my intent to ever do pinot," he admits. The fact it's flooded the marketplace in recent years made it even less enticing for a man who thrives on "challenging perceptions" and who touts innate curiosity as the impetus behind crafting wine. "I don't have answers," he tells me as he pours, "I have questions."
Schaffer changed his tune, though, with the 2020 vintage marking his first foray into making wine from pinot noir grapes. It is, in some ways, a love story. "Jill, my wife, loves the variety, and she really, really, really wanted me to make [it]!" The pair dated for seven years before marrying in December, and they're expecting a daughter in June.
Schaffer's pinot venture was not without some trepidation. "It's something I'd never done before, and expectations would be high," he says. The financial risk is higher, too – pinot per ton costs a lot more than most other grapes.
The approach to how he'd make pinot, though, was familiar. It's driven, for one, with "a passion for staying true to the vineyard," he says. The best wines, he believes, are the ones that showcase a vineyard's distinctive nuances. He's always tapped celebrated sources for his Rhône wines, like Larner Vineyard in Ballard Canyon and Thompson Vineyard in Los Alamos. For the Tercero pinots, Schaffer sourced from Kessler-Haak, a 30-acre, family-owned, organically-farmed vineyard in the celebrated Sta. Rita Hills AVA.
Like with so many other wines, Schaffer crushed his pinot noir grapes the old-fashioned way – he stomped them by foot. They were also whole-cluster fermented – stems included. And he aged them for 16 months in barrels that were at least five years old, to allow the wood to enhance texture but without imparting aggressive notes of oak.
The Tercero pinot project is also a study in clones. Schaffer plucked three pinot noir clones off the Kessler-Haak vineyard – Pommard, 115, and 114 – cuttings that are genetically identical but that possess unique traits around things like color or disease resistance. By sourcing different grape clones from the same vineyard, "you can really taste the differences that each clone brings to the glass," says the winemaker. We sipped through them a couple of weeks ago, just two months after they'd been put in bottle.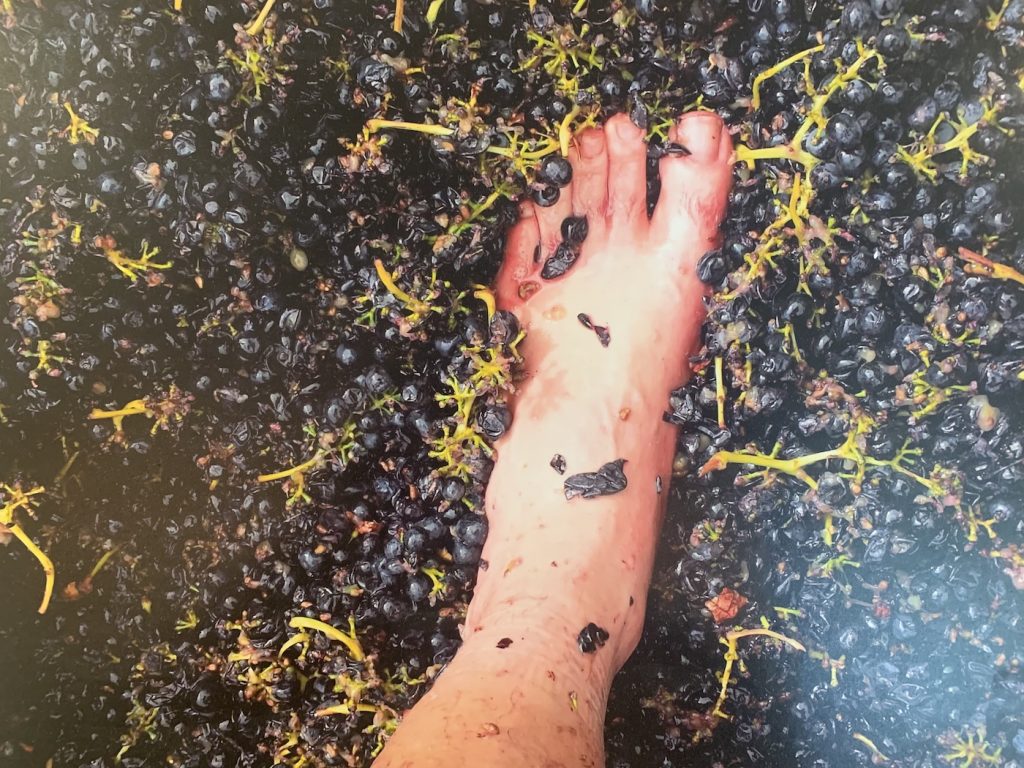 Tercero's 2020 Clone 115 Pinot Noir ($55) is perhaps the most classic of the bunch, a poster child for the Sta. Rita Hills region: bright red fruit, bracing acidity and a splashy mouth feel. Over time, this wine will be fleshier, more aromatic, and more elegant.
The 2020 Pommard Clone Pinot Noir ($55) showcases similar fruit and palate feel, but it's a bit more brooding, the acidity a bit less intense. Darker berry notes prevail, along with a tea quality on the taste buds, a subtle biproduct of the stems included in the fermentation.
"Pinot geeks are most excited about this one," Schaffer says of the 2020 Clone 114 Pinot Noir ($55). This one delivers on texture – more earth, more tannin, more chew. It exhibits an elegant, almost lacquered, mouth feel and a darker, more austere flavor profile.
Schaffer's fourth pinot is a bottling that blends all three clones, though about 60% of it is Clone 115. The 2020 Kessler-Haak Pinot Noir ($45) has awesome structure and showcases both fruit and herbal characteristics, with graceful spice notes. This is a fantastic food wine.
Fewer than 50 cases of each clone-specific bottling were made, and the Tercero wine club has already had dibs – so get yours now! Schaffer plans on keeping his new venture going, with twice the production of 2021 vintage pinots already in barrel. Find out more at tercerowines.com.
And One More Thing…
Tercero wines were a big hit at the latest meetup by WineMusicLA, the wine-and-music pairing venture I'm spearheading with my musician sister that I wrote about in the MJ a few weeks ago. The intimate concert earlier this month spotlighted Meriette Saglie performing piano pieces by French composer Erik Satie, each of which I got to pair with a different Tercero wine. The idea? That the deliberate matchups would enhance the experience and appreciation of both the music and the wine. Schaffer's 2016 Marsanne, an aromatic and complex white wine, was a big hit. Per the winemaker's recommendation, we served it at room temperature, not chilled. That accentuated its rich texture and tropical flavors, matching Satie's Gnossiennes, a trio of short pieces that are both brooding and exotic, really well. I paired the 2020 Kessler-Haak Pinot with Satie's "Je Te Veux," a waltz that's believed to be the inspiration for the Grammy winning "Married Life" track in Pixar's animated film, Up. Both this wine and this music, in fact, are classically French, vivacious, and memorable. The next @winemusic_LA event is slated for May 7 – dances for piano and violin – with wines TBD!
You might also be interested in...