Don't Cancel This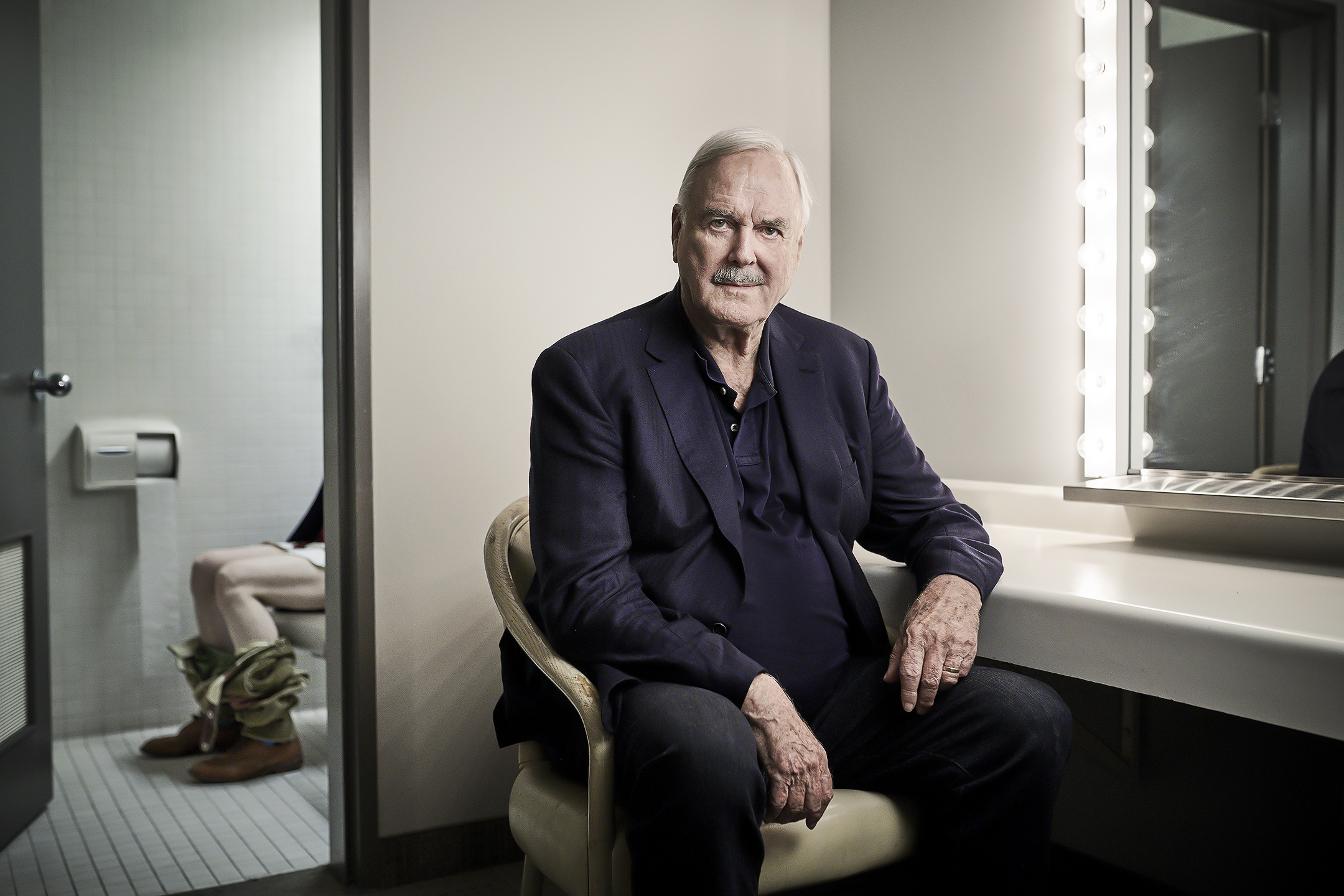 John Cleese Presents "An Evening of Exceptional Silliness" on May 25 at the Granada Theatre.
John Cleese has revealed his upcoming tour stop in Santa Barbara, May 25, at the Granada Theatre. In our exclusive interview, he gives an affectionate nod to Montecito, his former home for himself and his daughter Camilla, along with a special invitation to our noted residents: "Tell Orlando, Meghan, and Harry that if they want free tickets, I'll see if I can find them one!"
Cleese's new tour is titled "Exceptional Silliness" and features an opening monologue by Camilla, followed by Cleese doing stand-up "sitting down" comfortably in a large armchair. Taking notes is recommended, as he will get into creativity, as "creativity gets educated out of you!" and how being "woke" is anti-creativity. "Woke culture and cancel culture are the same thing, that you shouldn't hear anything that you disagree with. America right now is a highly polarized society. You realize people aren't really listening to each other at all." So compelled by this, he is in the midst of creating a TV series to explore cancel culture, called John Cleese: Cancel Me, for Channel 4 UK. He plans to ask if it is possible to make good comedy without someone taking offense, saying there is no such thing as a "woke joke."
On Twitter last November, he cancelled himself from speaking at Cambridge University, where he is an alumnus, saying, "I was looking forward to talking to students at the Cambridge Union this Friday, but I hear that someone there has been blacklisted for doing an impersonation of Hitler. I regret that I did the same on a Monty Python show, so I am blacklisting myself before someone else does. I apologize to anyone at Cambridge who was hoping to talk with me, but perhaps some of you can find a venue where woke rules do not apply."
Here is our unedited telephone interview when he was working in Los Angeles:
[Phone rings…]
Cleese: [very upbeat] Joanne! How are you? And how is Montecito? Did you recover from the mudslides; are you all back about 50% or so?
Joanne: Happy to report we are back 100%. And we miss you! Any chance of you returning to be Mayor of Montecito?
[laughs] Yes! Really that is great. I loved it there. I'm looking forward to seeing all my old friends. I've already made arrangements to meet my friends, you know the Bennett family who owns the great fish restaurant Brophy Brothers, my friend Terry Hughes, who's a director [Monty Python Live at the Hollywood Bowl, 1982], and all my dear friends there. I can arrive on May the 24th and stay through the 26th, and spend some time there. I moved there for my daughter. And I left because I moved back to England and fell in love with a British woman – and thought after two American wives, why not!?
Do you recall I covered your talk with Dr. Brian Bates on the psychology of creativity [Lobero Theatre, 2003]?
Yes. You know that's right, creativity always interested me because it was never introduced into my life – except by accident when I got to Cambridge University. But none of my teachers ever spotted a spark of creativity.
It's extraordinary now that a lot of people and writers in advertising are loving the little book I wrote, Creativity: A Short and Cheerful Guide [published in 2020]. The reason it's little is because I wanted people to be able to read it in an hour to become more creative.
I didn't want to tell them a lot of the psychologists' stuff like, "If you travel a lot in your youth, you're likely to be more creative." I mean that is interesting, but it really doesn't help you become more creative, unless you can go backwards in time.
I really think it's very strange how little the educational establishments are interested in it, and this is a mystery. If someone asks, I will go to a school for an hour and talk to that school about creativity, because it's so important! Any time people are having ideas about how to do something better, that's creative!
Will you be talking about creativity and cancel culture on your tour?
Well, I certainly will! What I do, you see, is my daughter Camilla, who is well-known in Santa Barbara, she's very funny, she'll do the first 15 minutes, she'll open for me. I'll do about 45 minutes, and then we do questions with the audience. Ask about it, and I'd be delighted to talk about it!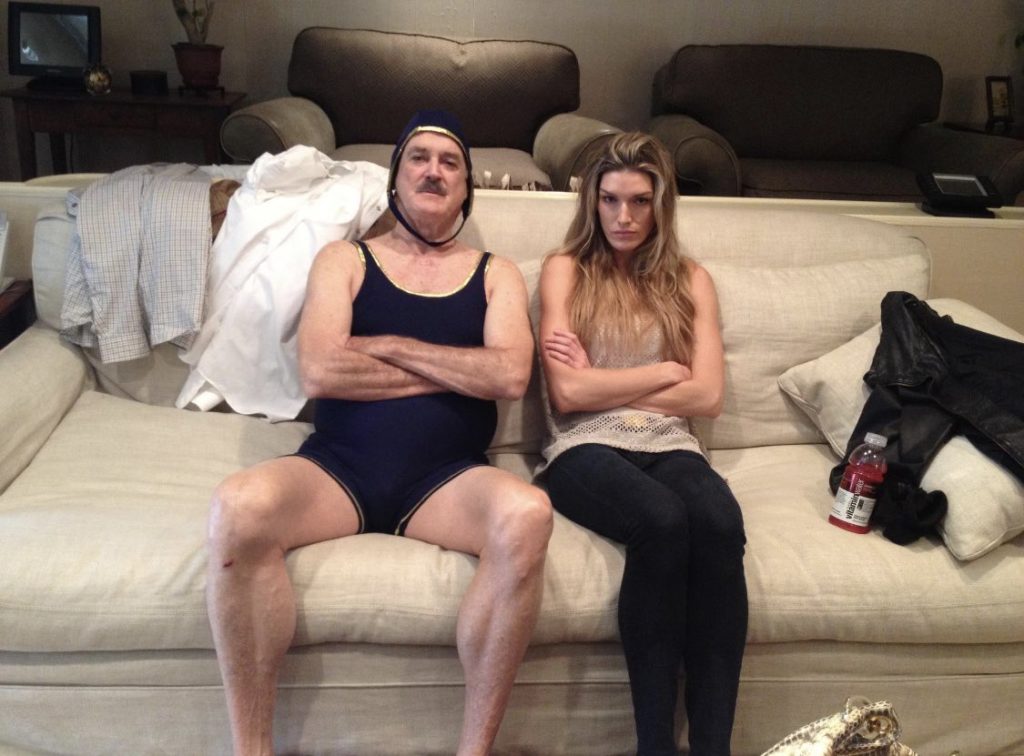 The operative question is, do you have any advice for Prince Harry and Meghan Markle, and Orlando Bloom, who live here?
WHAT! They live there?! I knew they were in California, but I didn't know they were in Montecito! I rather like Prince Harry and Meghan Markle. I mean I think they've managed quite well after the circumstances. 
And of course, I hate the British press, we have the nastiest press in the world, and I'm ashamed of it. You never hear about this because they are in a kind of conspiracy with the conservatives, and the conservatives like the right-wing press for obvious reasons. The right-wing press resolutely refuse to… what's the word…? To change the rules about the process to improve our press and the newspapers. If they say something that is untrue, they should print a correction of that with as much providence as the original story, and that seems to be a reasonable thing to ask, and they refused to do it. So that's why I dislike the press.
I don't know what the press is like in Santa Barbara… [he pauses] the other local paper [I forgot its name] advocated Trump, didn't they? [laughing]
Do you mean the Santa Barbara News-Press…?
Yes, yes, they were the first ones to endorse Trump!
Back to Meghan and Harry…
They are very nice people; I think they're very nice people! I'm afraid I'm not a big fan of the Royal Family. I mean I think Queen Elizabeth II has been a very, very good queen, a wonderful queen as it is, you know, the word duty really captures the essential decency of people like the Queen. At the same time, Prince Andrew Duke of York was a tyrant you know, makes you laugh.
And dear old Prince Philip, he used to screw around, he had lots of girlfriends, and the Queen was perfectly happy with that, so was everyone else until the press became so intrusive, and then all of a sudden it was just horrible. And they hated Meghan and Harry – at least they sued them successfully. And they gave Andrew a much easier time because although he was doing something much, much worse, he never threatened to sue [the press].
England is in a very considerable moral mess at the moment. Montecito is much better. I think we got to be careful in case the Santa Barbara News-Press endorses Putin in the next election! [more laughter] You never know, very rich people love authoritarian politicians, don't they.
[Cleese's PR interrupts, interview time up!]
Wait, Joanne because it's you, I'm going to give you an extra question!
Great, thank you… How do you view your role in comedy at the moment?
Well, I'm very lucky because when I do shows like this, if people don't like me, if they detest me and regard me as a horrible old Nazi – then don't buy tickets! So as far as I'm concerned, I'm unaware of their existence! The people who like me, buy tickets and therefore when I walk on stage there is a feeling of affection, because you do feel affection of course for people who make you laugh, and I know the kind of material I do. 
Is this your George Carlin period?
Well, you can't live in the present world, you know, as you get older, you do tend to take a more realistic, I don't really want to say "cynical," attitude to life. You realize how many people have a great deal of power, in order to empower themselves, and that their greatest fear is not using the power badly, it's losing it.
Great! Thank you so much and we look forward to you coming here soon!
Yes! Why don't you come backstage after the show and tell Orlando, Meghan, and Harry, if they want free tickets – I'll see if I can find them one! Nice talking with you!
411: At 82 years of age, John Cleese is still the "World's Funniest Man." A member of the legendary Monty Python troupe in the 1960s, he writes, produces, directs, and stars in some of the greatest comedic hits of the last 50 years, and has an Oscar nomination for the best screenplay for A Fish Called Wanda. If you're in the mood for a good laugh (and who isn't these days?), this is the show for you.
Visit granadasb.org for tickets and more information.
You might also be interested in...