Chaucer's Choices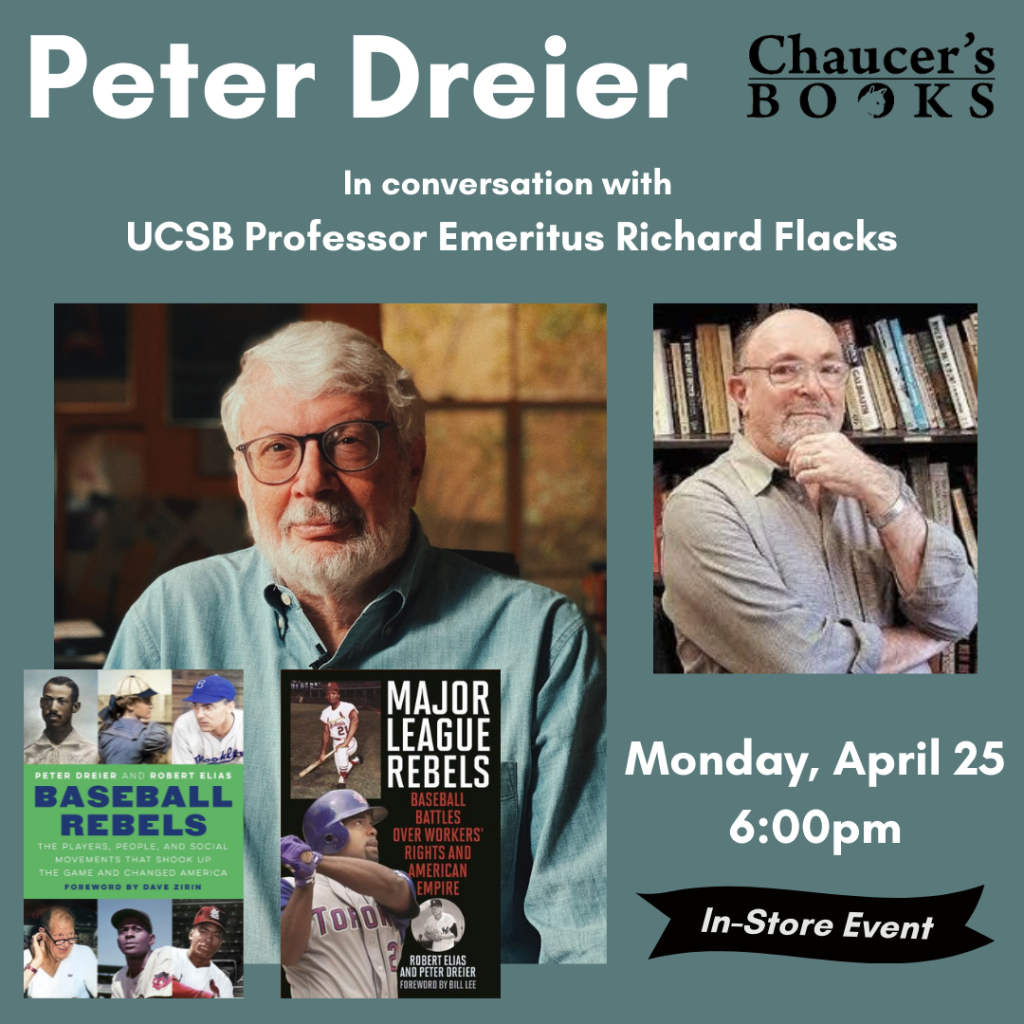 This week, Chaucer's Books' event schedule includes a rare paid event, an outdoor one at that, featuring Max Brallier, the multiple New York Times bestselling author and Netflix series creator. Ever so clever, Chaucer's is calling the event "Last Kids on Earth, Day" in honor, not only of Brallier's epic, eight-book adventure series that was turned into an Emmy-winning Netflix show, but also its timing on Earth Day, Friday, April 22. The event is based on the latest book, The Last Kids on Earth: Quint and Dirk's Hero Quest, and features photo ops, games, trivia, prizes, fan-club giveaways, and an appearance by L.A.-based author/show producer Max Brallier himself. Tickets for the 4 pm event taking place in the plaza in front of the store admit one adult and one child and include a signed copy of the new book.
It's "Banter Up" time at Chaucer's on Monday, April 25, when Occidental urban policy professor Peter Dreier – co-author of the just-published companion books Baseball Rebels: The Players, People, and Social Movements That Shook Up the Game and Changed America and Major League Rebels: Baseball Battles over Workers' Rights and American Empire – teams up with fellow baseball fan Richard "Dick" Flacks, the UCSB Sociology Professor Emeritus whose life work is focused on understanding and promoting responsible social change aimed at enhancing democracy and social equality. The books examine the key social challenges in racism, sexism, and homophobia that shaped society and worked their way into baseball's culture, taking a look at how a century of baseball activists have challenged the status quo and contributed to the kind of dissent that creates a more humane society. Expect the pair of pundits to engage in a lively discussion with more hits than swings and misses.
Literary Libations
Santa Barbara Poetry Month – which brings all of the living and available poet laureates in the city's history to Chaucer's on Thursday, April 21 – marks its most immersive yearly event, with the eighth annual "Spirits in the Air: Potent Potable Poetry" reading, back live at The Good Lion, following two years of virtual verses. Gudrun Bortman, Mary Brown, Susan Chiavelli, Michelle Detorie, Rebecca Horrigan, Amy Michelson, Linda Saccoccio, Jace Turner, and former Santa Barbara Poet Laureate Chryss Yost will read their work, and the work of others, all about or alluding to alcohol. George Yatchisin, "Drinkable Landscape" columnist for Edible Santa Barbara, hosts the evening that "attests to the multi-faceted ways poets have found inspiration, solace, and, yes, sometimes sickness in the bottle." At The Good Lion, listeners can sip or slurp cocktails while savoring the wise (or wobbly?) words. Visit chaucersbooks.com.
You might also be interested in...