Walk Montecito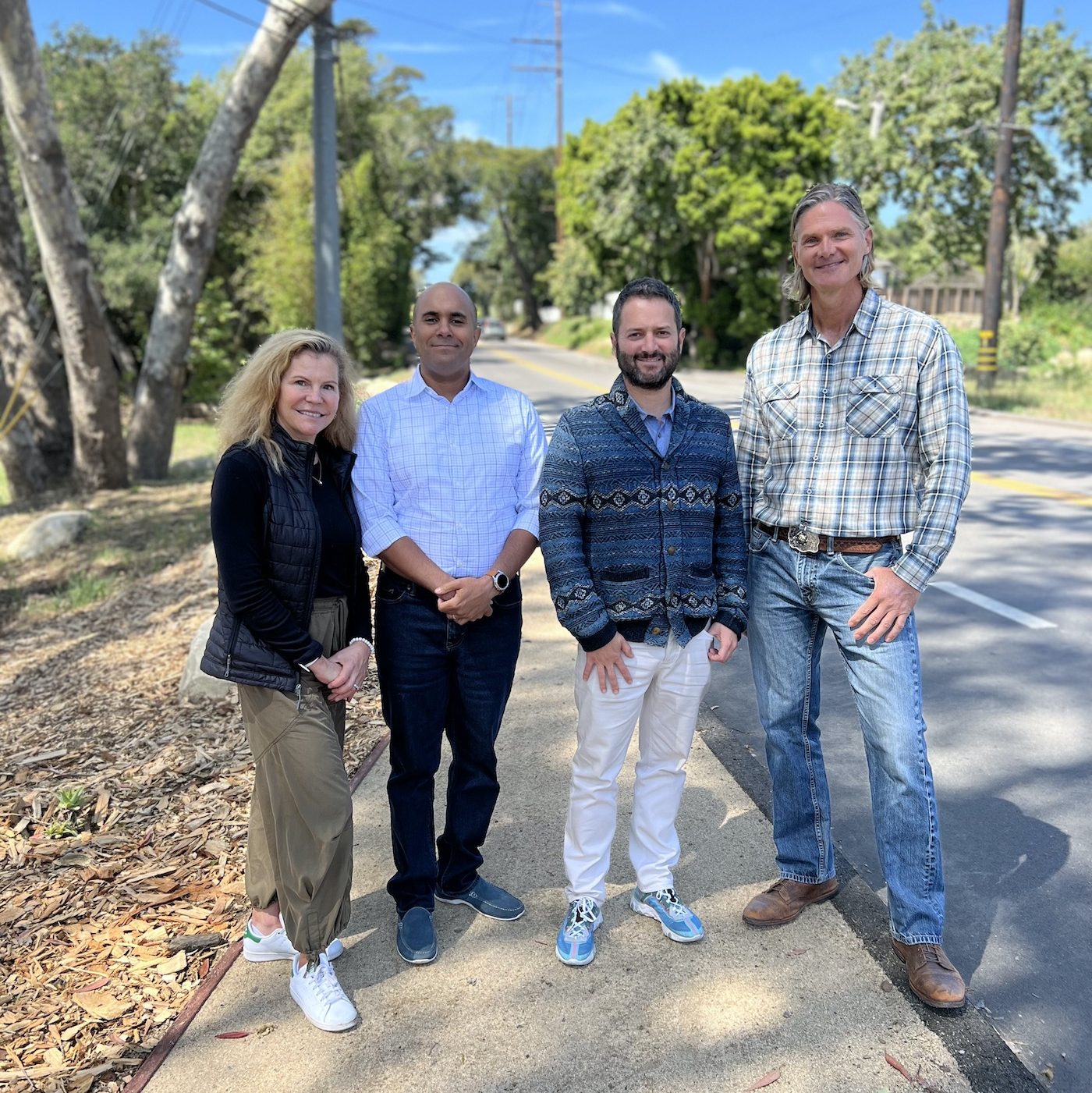 The Santa Barbara Bucket Brigade is launching a new campaign this week, aimed at raising funds for Walk Montecito, a project that will ultimately create eight miles of roadside walking trails throughout Montecito. "The project reflects our commitment to long-term recovery from the Thomas Fire and Debris Flow, and our mission to build both community connection and resilience in the county," said Bucket Brigade founder Abe Powell, who met with us earlier this week on the recently-built trail on the corner of Hot Springs and Olive Mill, across from the entrance of Casa Dorinda.
"How long do we all want to wait to be able to walk safely in Montecito?" Powell asked as he stepped into the bike lane to demonstrate where pedestrians are expected to walk in most areas of Montecito. "I've been waiting 46 years to be able to walk safely in this community, and in that time, I have seen walking space along the roadside disappear. Traffic has increased, and distracted driving has become the norm in Montecito, putting pedestrians at risk. We're all expected to share the road with cars and bikes, and it's just not safe."
Powell and his team – with the blessing of Santa Barbara County Public Works – have already built two miles of walking trails in the public right-of-way along North Jameson Lane, Olive Mill, and Hot Springs Road thus far, and are seeking to raise a total of $2.54M for trail construction and ongoing trail maintenance to build the remaining six miles. "We want to start this next phase now, so we can ultimately build a neighborhood network of trails that connects schools, churches, parks, open spaces, beaches, and businesses," Powell said.
The grassroots initiative calls for pedestrian improvements that are in alignment with the semi-rural ambiance of Montecito, prohibiting paved, concrete sidewalks that are not compatible with the Montecito Community Plan. The mix of formal and non-formal trails are and will be ADA friendly in most areas, and are or will be made from both decomposed granite in main thoroughfares, and informal compacted shale alongside roads, connecting to nature trails through public open spaces and parks.
With a goal of building six more miles of trail in the next three years, Powell has built an active executive committee for this campaign, co-chaired by Michael Smith and Geoffrey Slaff. The first phase of the project will be what Powell calls "The Hot Springs Gap," which is the area between Casa Dorinda and Middle Road on Hot Springs Road; just last month the corner at Olive Mill and Hot Springs roads was completed, with a previous section from Montecito Country Mart to Middle Road completed in 2021. Future streets earmarked for trails include Barker Pass, Camino Viejo, Eucalyptus Hill, San Leandro (Ennisbrook to Santa Rosa), Santa Rosa, Sinaloa, South Jameson, and Sycamore Canyon Road. "Other neighborhoods that want to connect in with this trail system just have to let us know, and we'll see if it's feasible," Powell said. To build the trails in most areas, the vehicle and bike lanes will be reduced in size yet still to regulation, and a new curb will be built out to accommodate the walking path. In other areas where space is prohibitive, there will not be curbs.
Co-chair Michael Smith said he got involved with the project when he saw the Bucket Brigade building a section of the walking path right outside his house. "What a dream to have a more walkable and inter-connected Montecito. My wife and I use the trails nearly every day and my kids are now avid walkers with us. The trails have beautified Hot Springs, made our neighborhood safer, more connected and friendly. I can't wait for the next sections to open up so my kids can safely walk to school, we can leave our house and go hike into the mountains or down to the beach," he said. "The ultimate reason I stepped up to help lead the capital campaign is I wanted to help Montecito become a more interconnected community." So far $1,143,000 has already been raised, with the Zegar Family Foundation the lead sponsor thus far. Committee member David Jackson, who works with the Zegar Family Foundation, called the trail project "completely inclusive, and beneficial to kids walking to school as well as seniors no longer able to drive, and everyone in between."
"Community-funded trails are the most cost-effective solution to make a community walkable," Powell said, explaining that the path built on San Ysidro Road by Public Works took over four years to build, and cost $500,000. "Building informal trails like these aligns specifically with the Montecito Community Plan and the trail construction guidelines that were established by the Montecito Association and Santa Barbara County, and it's a whole lot less expensive," he said.
Volunteers, sponsorship, and financial support is needed to make this project happen. For more information, visit sbbucketbrigade.org.
You might also be interested in...