The Essence of Paradise: Paradise Revisited Exhibit Opens April 2 with Artist Sandy Ostrau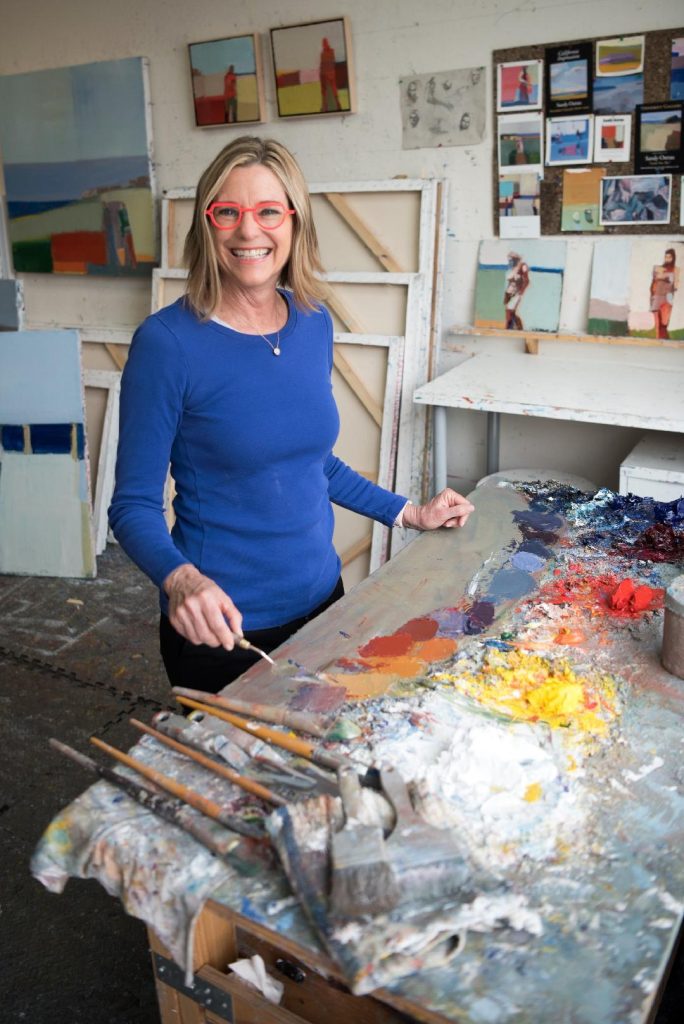 April 2 is the opening of an exhibit titled Paradise Revisited, by artist Sandy Ostrau, at the Thomas Reynolds Gallery on State Street downtown Santa Barbara. Ostrau, an abstract artist of 40 years and exhibiting for 15 years, graduated UCSB in 1982 with a Liberal Studies Degree comprised of art history, sociology, and economics. She writes that her time at UCSB, along with a summer abroad via the American Institute of Foreign Studies, strongly led her to be an artist, and she is looking forward to coming to town for her new gallery show.
We Zoomed on Saturday while she was moving her art studio back to Mountain View, from her house garage in Palo Alto, where she spent the last two years due to the lockdowns. She was upbeat, sharing openly about her art journey, love of painting daily, and reading and collecting art books. "I really respond to work produced by theSociety of Six," said Ostrau. "They painted outside, very fast and fluidly. I like Nicolas de Staël, a Russian painter who lived in France, and his dynamic thick paint application in simple compositions that contain a lot of information, and Bay Area abstract expressionists Richard Diebenkorn and Elmer Nelson Bischoff, and San Francisco artist Joan Brown."
Reviewing Ostrau's art, one finds similar characteristics found in ancient Egyptian art – the use of dynamic lines, block shaped background areas, and simple figures. The works appear very barren. Colors are as broad and strong as the paint strokes with a deep textural component. Themes of humanity in her figurative work stylistically imply solace, as the placement of the figure is on a singular path in the midst of rectangular color-boxed landscapes, viewed from behind or from the side, and usually alone or counter placed to another, as seen in Ebb Tide, Surf Watch and Sifting Sands. Even figures "glued" at the hip read apart, as in, Hip Synch. The work Intimate shows two people from behind sitting on bright red chairs facing large rectangular areas painted in beige tones – Where are they? What are they talking about? – you get to decide, she says. Here is what else she answered:
Q.What period are you in as an artist at the moment?
A. I have the great fortune to live on the Sonoma coast, and the view changes daily. I find inspiration in my environment – and every day is different! My path has not really changed. I don't have a desire to change from abstract work. I am challenged and inspired to take the figurative into a landscape setting, both interior and exterior. I get bored with local colors, so really, does the tree have to be green, and the sky blue? My palette shifts seasonally, and recently I am obsessed with yellow.
What are your preferred mediums, colors, and techniques?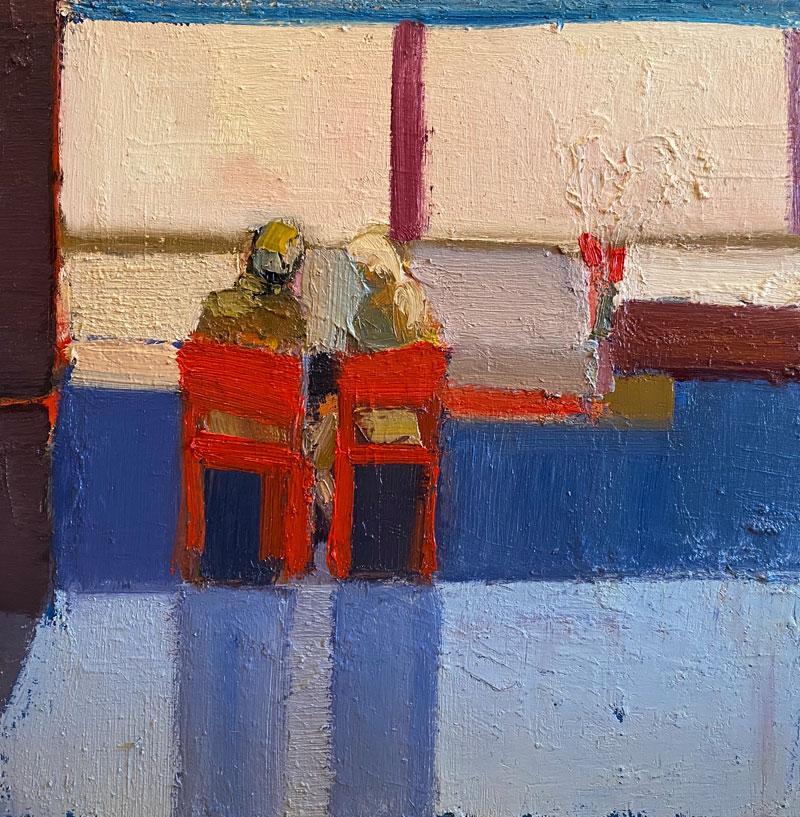 I prefer wood panel in custom made sizes. In large scale work, they are heavy, so I paint on stretch canvas. I like wood panel as I'm tough when I paint. I scrape, work in many layers, and am hard on it. And wood requires a lot of layers.
I use a limited palette I mix myself; there's a little bit of every color in your palette that way. The choices are cool and warm with values from dark to light. I work exclusively in oils, occasionally in acrylics and gouache.
For my technique, I am classically trained. I do not work off of photographs. I go out with a sketch pad, map it out, and paint it. I paint relatively quickly and think of the whole painting while I'm working. I start by laying out a composition, do a monochromatic painting that lays out the values of the scene and composition. This technique allows you to add color, value, temperature and texture to get to the essence of what you want to say as an artist.
My style is very known. A lot of my work is reducing elements to help tell my story. The message I want to be very clear. I take as much stuff out to keep it as simple as possible and still have the message. It is actually harder this way, like how many tree branches can be taken away and still be a tree? I make very educated choices so it's not cartoonish. My figures are general and not descriptive, so the viewer will put themselves in the piece. Gesture is important in the work, and I don't want to tell the viewer what the figure is doing. Often the figures are in the landscape and architecture.
Your advice for artists as we are getting out of lockdown?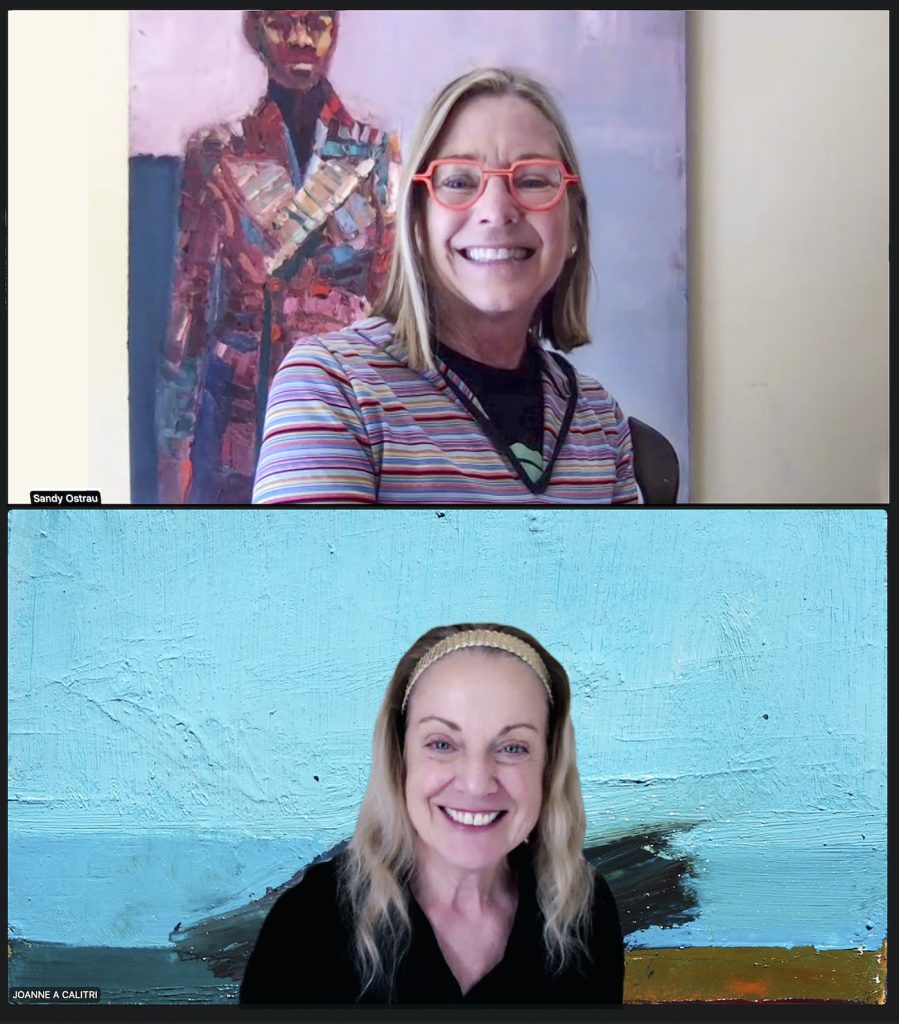 I paint every day. During lockdown I had to move my studio from Mountain View to back home into our garage. I worked really hard there; it was not my usual space and much smaller, and I had a show to produce of large-scale pieces. During that time, I found that when I was painting, it was the one time during the day that things felt normal. When I paint, I put my full attention there, I lose track of time, it's a Zen experience of total focus. That was very therapeutic and beneficial for me. And that is a key thing for your mental health during this time. I say, "Make yourself do it! Eke out a little space in your house to do you work." You want to keep moving forward, it's a challenge and motivating and exciting.
Who are your art teachers?
Master figurative artist Jim Smyth – faculty at the College of San Mateo, and Brigitte Curt, a plein air landscape artist from the South of France. Smyth and Curt founded the California Academy of Painters in Redding, California. We would paint a few times a week for years. From them, I dove more into oils and learned the classical constructs of art – from sketching the work to mixing a palette of colors that in themselves represent all the colors available, materials management, using sketches of a model, and plein air work.
Do you teach art classes?
I teach as a guest lecturer at the University of Santa Clara, and I teach three to four workshops a year, and do private tutoring in my studio weekly. The classes are for painters who want to move their work forward in a way, express what they want to, be clear about their message. There are a lot of things you can teach people to enhance their visionary expression. There are a lot of people flailing around without training. Making art is a process, there are steps, a visual language people can learn. I enjoy teaching because you really need to disseminate your process to teach it, it gives you a lot better understanding of yourself. I was scheduled to give a talk at UCSB about my recommendations for students on being a professional artist, but it was cancelled due to the lockdown. I hope to do it.
You might also be interested in...