Franken-sense: Ex-'SNL' and former Senator returns to comedy roots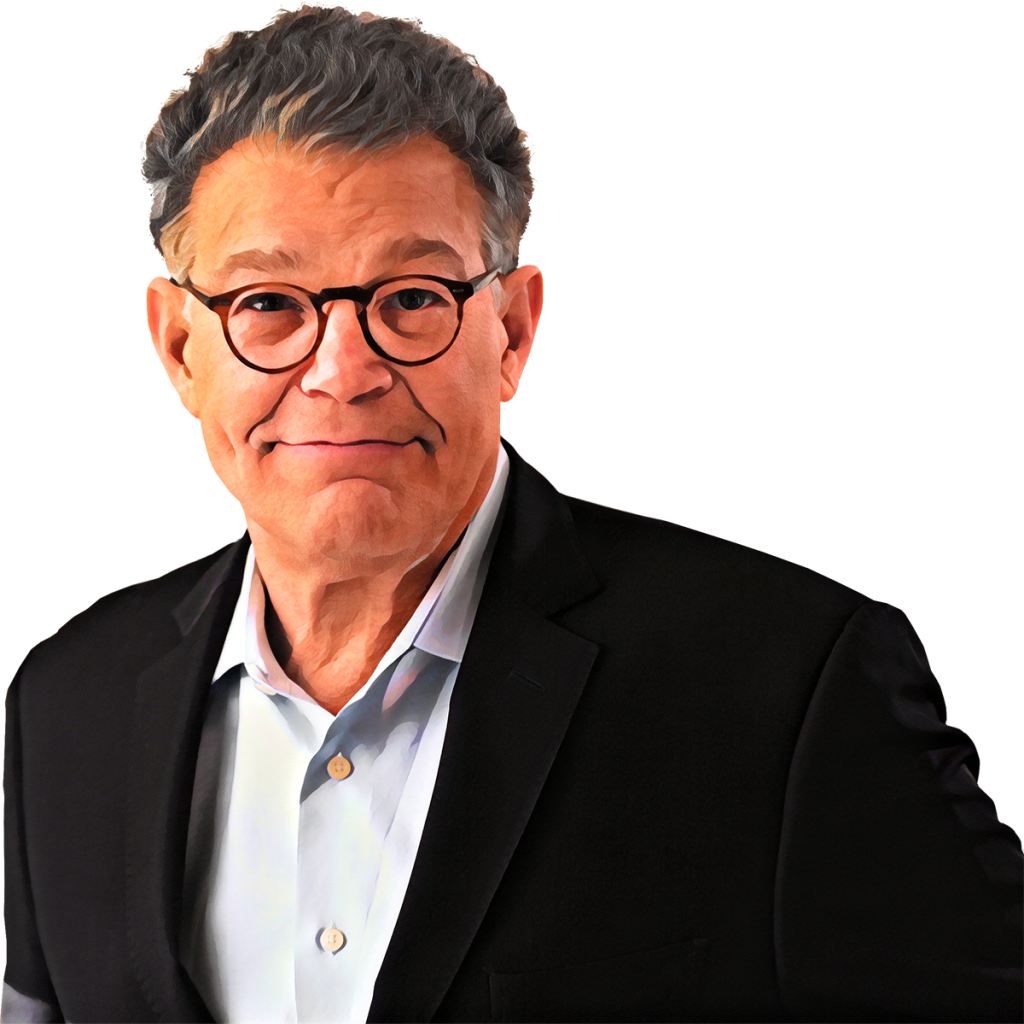 You can count on one finger the people who have shifted from a soaring career in comedy to a pinnacle of political power, and somehow, shockingly, back again. Maybe Ukrainian president Zelenskyy, although the former comic is a bit busy fending off the Russian invasion to find anything funny these days – So that leaves Al Franken. 
Franken was one of the original writers, and later performer, on Saturday Night Live and won five Emmys during his 15 seasons with the seminal sketch show. He was also the author of three No. 1 New York Times satiricalbestsellers (including Rush Limbaugh is a Big Fat Idiot and Other Observations and Lies and the Lying Liars Who Tell Them: A Fair and Balanced Look at the Right) before he served Minnesota in the Senate from 2009 to 2018, the first winning election by just 312 votes.
But Franken was forced to step down in 2018 amid allegations of sexual misconduct when many of his Democratic colleagues called for his resignation before any investigation could take place. Now, nearly four years later, Franken has a self-named Top-10 politics and public affairs podcast, and has headed out on the road for his first-ever series of solo stand-up satirical comedy appearances, appropriately titled The Only Former U.S. Senator Currently on Tour Tour. Franken talked politics, purpose, and humor in advance of his serving up the funny and skewering the Senate at the Lobero on Friday, April 1.
Q. You had a hand in so many memorable moments on Saturday Night Live, from the Stuart Smalley self-help character to several hilarious "Weekend Update" segments, to co-writing the famous sketch where Dan Aykroyd portrayed Julia Child in a kitchen accident. What still resonates from that time?
A. Just how much fun it was. My fondest memories are those Tuesday nights writing the show with other writers or cast members, and you're just falling on the floor laughing at three in the morning. When you're doing live TV, you never know exactly how the thing's going to work. So when something clicked on all gears, like the Julia Child piece, that's pretty thrilling, too.
When you got to the Senate after never having served in any other elective office, how tough was the transition to such a serious place where it wasn't about being funny? Did the comedy leak in?
I actually talk about that quite a bit in the show. I knew why I was there, which was to get things done. My team said to let everyone know that you're putting your head down, do your work, and don't be funny. So that's what I did, but it was a real challenge at first. Because if you're someone who has been doing comedy for your career, it's second nature. I mean, you can't just turn it off. I would see stuff happening and I'd have a sketch in my head. But I didn't have anywhere to go with it, so I'd just think to myself "If I were doing SNL now, this is what I would do."
You were considered one of the toughest interrogators at committee hearings, willing to speak pointedly but also on point in a way most senators don't. You're credited with pinning down Jeff Sessions, so he had to recuse himself from the Russian investigation. What are you most proud of in your time in the Senate?
The piece of legislation I think of first is about setting up a study to determine the cost-benefit analysis of pairing vets with PTSD with service dogs. It was supposed to last for three years but it took 10 because the VA kept screwing it up one way or another. So I was gone when it finally finished. But the conclusion was that it was remarkably effective in combating the suicide epidemic in veterans and I cried when they finally passed the PAWS Act to make it possible for a vet who wants a service dog to get one.
Speaking of being gone, I want to ask you about the resignation, not the substance or details of the controversy, but whether you regret your decision. How is it for you now?
It was traumatic at the time, and I do confess that it was very hard. The comedy does very much help, and I do enjoy doing what I'm doing now. But I do miss it. Especially this past week during the [Supreme Court confirmation] hearings. That was an opportunity for [Democrats] to really draw a contrast with the Republicans and talk about the importance of us winning the midterms to hold the Senate and in case another vacancy comes open, so we don't get another Merrick Garland situation. I would have wanted to talk about what's going to drop in June, when the court is going to get rid of Roe v. Wade, expand Heller, which means more guns, and cripple the EPA. We didn't talk about any of that. So I was kind of going nuts watching the thing. Those times are painful.
But I do have time to spend with my grandchildren, I'm out on the road doing comedy, and I have the podcast so I do enjoy what I'm doing now. But, yes, I miss having the platform.
What about the other way around: Did you miss doing comedy when you were in the Senate?
Not really. But every once in a while, I would have an idea that fit into both categories. My team had put me through the de-humorizer. But after I won reelection very handily (more than 200,000 votes) I thought I could loosen up. One time I wanted to write my own press release, because I had a good joke I wanted to use. But my staff read it and said, "No, no, no, no. You can't say that. You're still a Senator."
Has having a career in politics affected your perspective on performing political satire?
Well, I know a lot more about how things actually work there, so I do bring a level of insight and knowledge that comedians who haven't served in the United States Senate don't have – which is everybody else. It's a valuable perspective.
Do you think people are overly sensitive and perhaps too politically correct when it comes to comedy in that you can so easily offend someone – meaning are we taking comedy too seriously? And on the other hand, are we also not taking politics seriously enough, given the events of the last couple of years?
Both. There is a very serious threat to democracy right now, and it's frightening. And there was once a role for people like George Carlin and Richard Pryor and Lenny Bruce doing political satire but maybe it's not even about sensitivity.
Do you think it's easier to reach people doing what you're doing now because they're there to laugh rather than in politics where it's always a fight?
The thing is that the people who come see me are my fans, so I don't know if I'm really convincing anyone. I try to do that in other ways, but everyone is in their own corner right now and it's really hard to talk to people who need to literally hear the truth. I mean, two-thirds of Republicans think that Biden stole the election. So it's a rough time.
So will you try to fix things by coming back to the Senate?
Let's just say I'm keeping my options open.
You might also be interested in...