Festival Finale
Just three days are left in Santa Barbara International Film Festival (SBIFF) '22, but that's still plenty of time to partake of a plethora of movies in virtually every genre as a significant percentage of the films are either premiering or having second screenings March 10-12, while others might enjoy a third showing to fill up the TBA slots. The cavalcade of Academy Award nominees continued with a final star tribute with SBIFF's highest honor, the Maltin Modern Master Award, going to Javier Bardem and Nicole Kidman on March 10. While Oscar-nominated female filmmakers covering everything from directing, producing, and editing to costuming, casting, and production design come together to discuss their unique experiences in the industry in one of SBIFF's signature panels on Saturday, March 12. 
Also still to come: free Filmmaker Seminars Outdoors at Casa de la Guerra on Documentary Activism on March 10, and How to Make a Great Short on March 11, plus the annual 10-10-10 Student Shorts free screening at the Arlington on March 12.
Watch this space next week for a SBIFF wrap-up and my annual SBIFF-Oscar quotes segment. Meanwhile, we spoke with two documentarians – and one of the subjects – behind two movies still to play.
'Hell' of a Ride for Peter Case 
There's a beautiful symmetry about the world premiere of Peter Case: A Million Miles Away taking place in Santa Barbara. Pop promoter Peggy Jones named her locally legendary Lobero singer-songwriter series, Sings Like Hell,after Case's 1993 album to represent the under-heard, or on-their-way-up, artists she booked into the Lobero for 21 years through spring 2018. The album was an artistic breakthrough record that heralded his break from a record company that didn't know what to do with him. And the film A Million Miles Away – named after the hit single Case enjoyed in the '80s with his power pop band The Plimsouls – serves to address something similar. 
"We were searching for a musician to make a movie about when I found my copy of Peter's fantastic second solo album," explained director Fred Parnes. "I realized I had lost the sense of his career, hadn't bought any of his later albums, which are also fantastic. It was like a mystery story I wanted to follow."
Not that Case himself cared about unraveling that riddle or even delving into his past – "I'm 67 years old, and I made it this far without a movie," he said in the joint Zoom meeting. "My vision is in my songs and my songs are my films. I'm focused on the present and living in the now. But it felt right and if it might carry my music out to a bigger audience, why not?"
Still, charting the progression of his career and revisiting rock shows with his former bands The Nerves and The Plimsouls, his duo with fellow singer-songwriter and ex-wife Victoria Williams, and his decades as an acoustic blues-based solo artist provided Case with some warm moments.
"When I see some of those things I did that transcend time, I think, well, that's pretty good," Case said. "That's the whole point of this art, even something temporal. When you sing something and it stays sung, that's a special moment. There's a few of those in the movie that captured what I was trying to get at."
What also comes clear in the film is how Case's songs are both timeless but also of his time, as Parnes documents the singer-songwriter's struggles, both personal and universal, and his vitality on stage. Indeed, we witness the passion of his audiences at gigs in a wide variety of venues who find some level of solace in his music.
"I write about people in desperate and difficult situations, and I guess that makes my music more relevant than ever, you know," he said. Still, that question of why Case isn't a big star, or at least a household name like the late Warren Zevon, interests journalists and filmmakers more than Case himself.
"I've survived and lived as a performing songwriter my whole life," he said. "I stayed on the road. I've been able to create my vision of the world and bring it to people, and anybody who can do that is a success story, man." Case doesn't regret shelving rock music for a solo sojourn at the height of the 1980s. But given America's obsession with stardom, he did make one allowance. "Only reason I might wish I was more famous is because it would make my fans feel better," he said. "People find that very validating."
3Qs: A Beautiful Life for Foodie and Filmmaker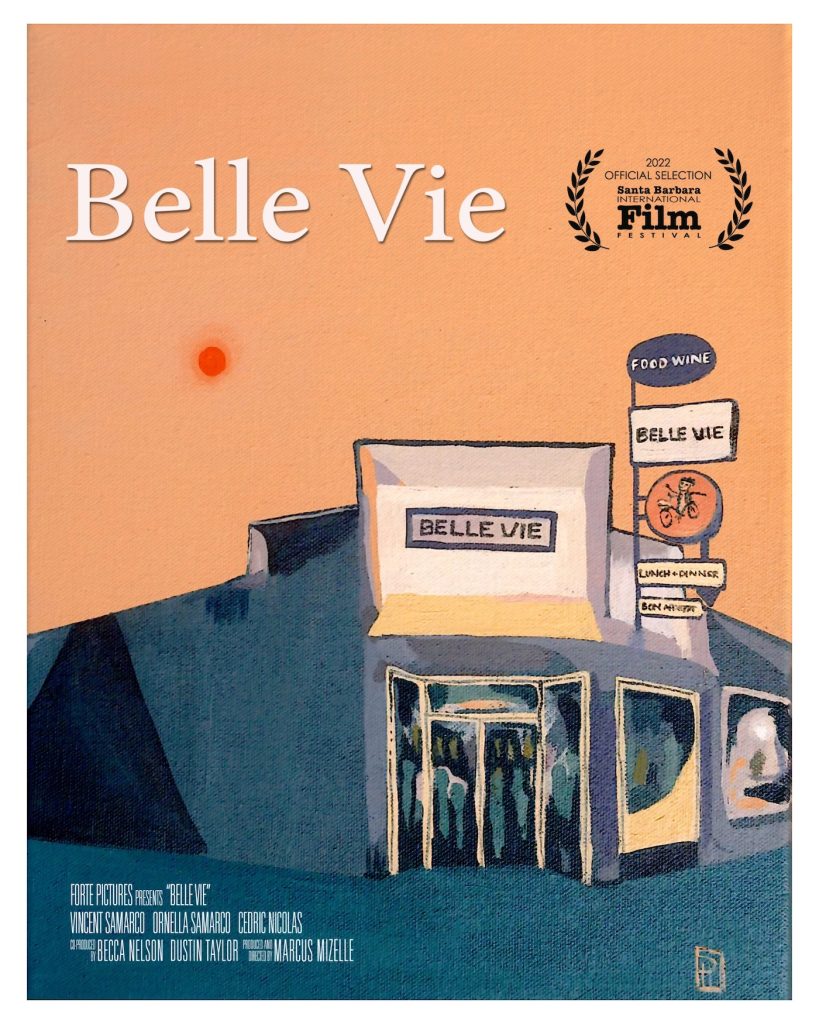 The COVID crisis might be coming to a close, but not soon enough for Belle Vie, a Parisian-style bistro between two fast food joints in Los Angeles that charmed diners before shuttering for good due to pandemic problems. Fortunately, Belle Vie lives on through filmmaker Marcus Mizelle's immersive documentary of owner Vincent Samarco's attempts to adapt and survive. Mizelle answered a few questions via email in advance of the film's world premiere on March 9 and 12. Belle Vie also airs in an edited version on KCET on March 15 and will be released on VOD April 4.
Q. Lots of restaurants shuttered during the pandemic. What makes Belle Vie's story unique?
Marcus Mizelle: It's not just a pandemic story about a restaurant trying to survive – it's also an immigrant story, and a love story (of Vincent and Ornella but also of Los Angeles). Also, the attitude Vincent brings to it as a reaction to the extreme hardships is a firm reminder that it's not what you're dealing with but how you choose to react that creates your path forward.
Did you know right away that Vincent would work as your protagonist?
Absolutely. He's a colorful, likable human from the first day I walked into the restaurant, and every night after that as well. He has a natural, happy go-lucky attitude that just made him a no brainer for a character audiences could easily root for and get behind. Once the camera started rolling, the sound bites just flowed even more. He's an absolute natural made to be in front of the camera. I always had the overall structure of a Hero's Journey in mind and sensed his story would likely fit nicely into that mold. When we started filming, he was already preparing to adapt to the situation, and as we went along it was clear there would be plenty of conflict – a big element that always drives a story forward.
You documented a lot of the behind-the-scenes, hands-on work and then became personally involved yourself. I understand that the two of you are close friends now. How did you maintain a filmmaker's objectivity/distance?
From the beginning I was clear that I'm going to be a fly on the wall, albeit a fly with a big camera on his shoulder, and to try his best to just do whatever he's going to do whether I was there or not. My goal is to capture candid moments as organically as possible. When he addresses the camera or I speak from behind it, those occasions work to push the audience more into the moment.
You might also be interested in...