Dotard Tamale Duet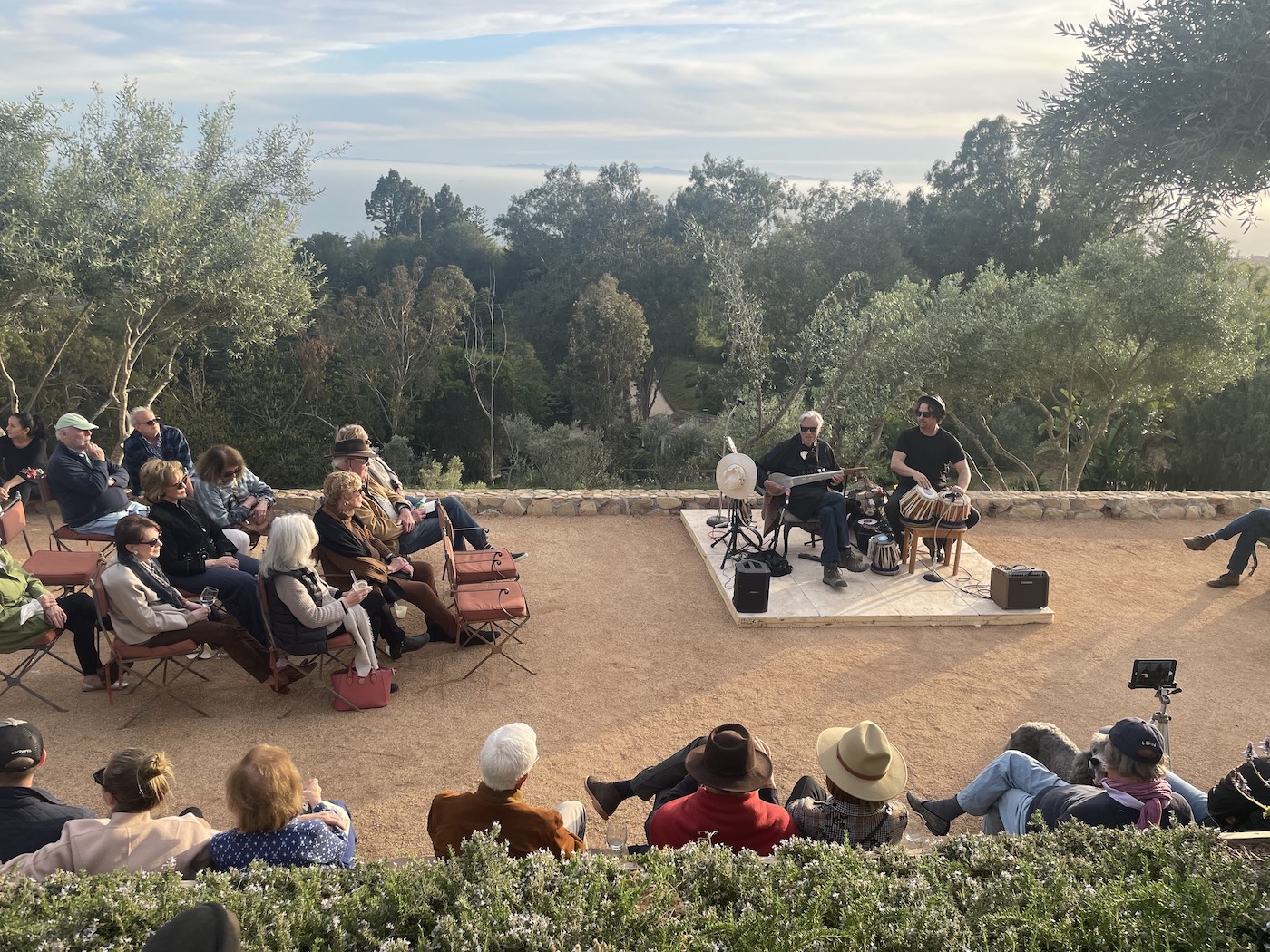 Tunisian artist Gerald Incandela celebrated the 20th anniversary of his half century in exotic style at the Summerland aerie he shares with his longtime companion George Schoellkopf.
More than 50 guests attended the sunset soiree on the new terrace of their estate with Montino Bourbon playing a dotard (an Indian stringed instrument) with Joss Jaffe on bongos.
Among those quaffing the champagne and noshing on tamales were Allan Glaser, Larry Feinberg and Starr Siegele, Robyn Geddes, Barbara Woods, Kendall Conrad and David Cameron, Peter Frankfurt, Anne and Nick Fuchs, and Sharon and David Bradford.
Royal Hideaways & Parisian Soirées
Prince Harry has renewed his lease on Frogmore Cottage, just a short drive from his grandmother, Queen Elizabeth, at Windsor Castle.
The lease on the 221-year-old property, next to the impressive mausoleum where Queen Victoria and her husband, Prince Albert, rest in magnificence for eternity, was due to run out on March 31.
Prince Andrew's daughter, Princess Eugenie – who recently attended the Super Bowl with Prince Charles' son in L.A. – has lived in the property just yards from the Long Walk with her husband, Jack Brooksbank, and their son, August, since the Sussexi bought their nine-acre estate in Riven Rock 18 months ago.
The tony twosome paid back the $3 million-plus it cost to renovate the property, which was the home of Victoria's Indian manservant, Abdul Karim, known as the Munshi, in 1877 for the last 24 years of her long reign. Five years ago, director Stephen Frears made the charming film Victoria & Abdul about their unusual relationship, with Dame Judi Dench reprising her role as the monarch.
Rocker John Mellencamp's Santa Barbara hideaway has been snapped up for $3.6 million. The rustic aerie was originally listed for $4.5 million but was reduced to $3.8 million in January. The 1980-built 1,800 square foot home has three bedrooms and two bathrooms within its white adobe walls.
One of the most charming homes in Paris, the Hotel Lambert on Ile Saint-Louis, has just been bought by telecommunications billionaire Xavier Niel for $227 million from Prince Abdullah bin Khalifa al-Thani of Qatar. The Arabian royal spent $147 million restoring the 43,000 square foot property to its former magnificence.
I attended a couple of very opulent soirées there in the '80s when an apartment on the ground floor was owned by Alexis, Baron de Redé, a prominent banker, aristocrat, aesthete and collector, who I had met through the late German Prince Johannes von Thurn und Taxis.
He renovated the historic 17th century property in the city's fourth arrondissement and became known for the opulent costume balls he used to host, including the legendary Oriental Ball in December, 1969, for 400 guests. Many of his lavish bashes featured costumes by famous designers, including Nina Ricci and a young Yves St. Laurent, with the Duchess of Windsor as a judge. De Rede, who died in 2004 aged 82, became known as "the best host in Europe," running a home akin to a small 18th century court.
Al-Thani bought the magnificent home from banker Baron Guy de Rothschild for $90 million in 2007. It dates back to 1640 and was designed by one of King Louis XIV's most beloved architects, Louis Le Vau, a brainchild of Versailles. The baron persuaded Rothschild to purchase the Hotel Lambert with his effervescent wife Marie-Helene, who died in 1996. He kept his apartment and shared the house for the rest of his very glamorous life.
A regular member on the International Best Dressed list, he is buried at Père Lachaise, fittingly enough near Jacob Epstein's tomb for Irish playwright Oscar Wilde, which since 2011 has been surrounded by a glass barrier to prevent ardent fans kissing it and eroding the marble.
Fond memories…
Charlie Huiner on Board
Charlie Huiner, an accomplished medical technology entrepreneur, and executive with almost two decades of leadership experience in the healthcare sector, has joined the board of directors of the Scholarship Foundation of Santa Barbara.
Huiner currently serves as president and CEO of Modulim, a medical imaging company headquartered in Irvine. Previously, he held leadership roles at three Santa Barbara-based companies – Chief Operating Officer at Sientra, Vice President of Marketing and Business Development at InTouch Health, and Director of Corporate Development and Strategy at Inamed Corp. Huiner earned his bachelor's degree at Williams College and an MBA in finance and marketing at Northwestern University's Kellogg School of Management.
Sightings
Warbler Katy Perry with her daughter, Daisy Dove, at the Santa Barbara Botanic Garden… Prince Harry and Meghan Markle at the NAACP Awards in L.A… Oprah Winfrey's beau, Stedman Graham, back from vacation in Maui, picking up his Montecito Journal at Pierre Lafond
Pip! Pip! Be safe, wear a mask when required, and get vaccinated.
You might also be interested in...