Bisset en Rose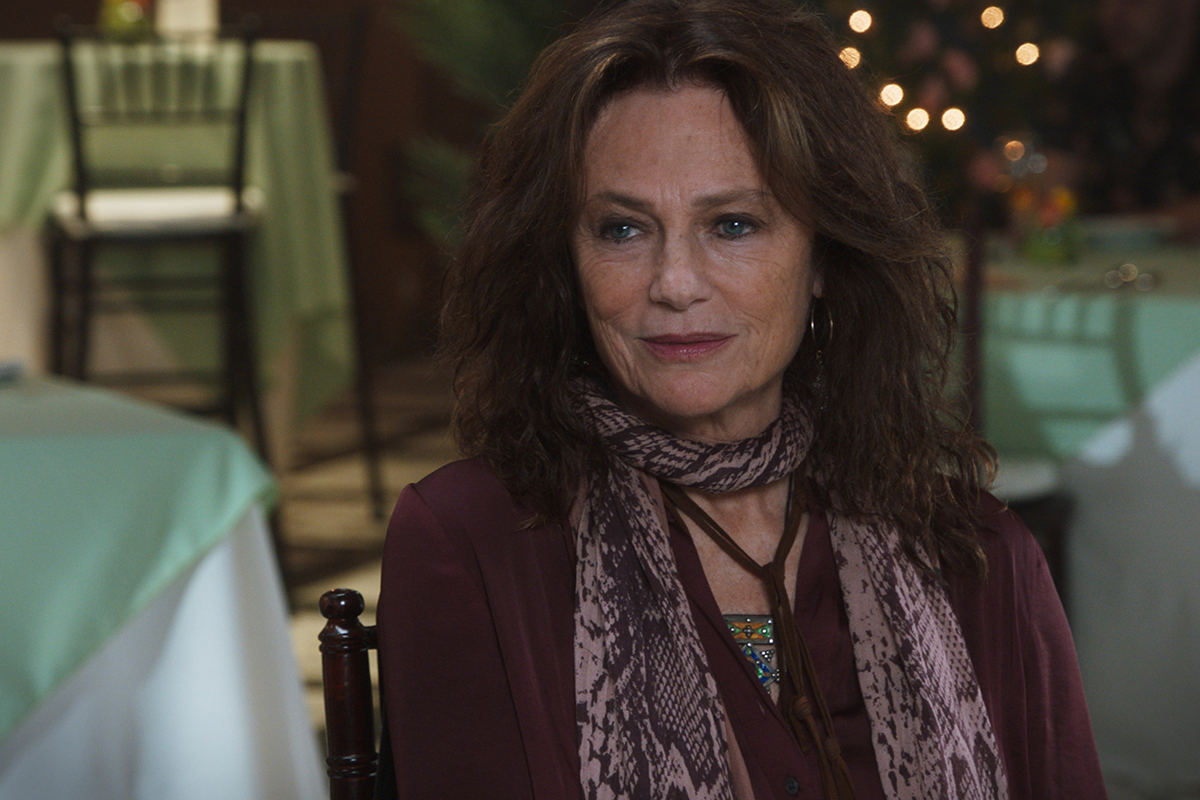 There's something appealing about seeing an aging actress playing an aging actress discussing acting, movies, and life in a movie. Not in the least because it's still exceedingly difficult for actresses "of a certain age" – even in our era of more awareness – to find meaty roles.
That's partly why the veteran British star Jacqueline Bisset jumped at the chance to portray Rose in Loren and Rose, an indie film written and directed by Russell Brown (The Blue Tooth Virgin, Search Engines) that will have its world premiere at the Santa Barbara International Film Festival on March 3 and 5. Rose, an iconic actress who has had her share of challenges, bonds over a series of lunches with a promising young filmmaker (played by Kelly Blatz), forming a type of mentoring relationship over the course of a year.
"When I read the script, I was really stunned how much it had of the experience of … going through this long-winded journey of life in this business, with all the ups and downs, the humiliations and ultimately the tenderness one has towards this business," Bisset said in a three-way Zoom chat with Brown. "One doesn't get an opportunity to do scripts like this very often. [It's] so well written and it's such a joy to say those words. It's an intimate story [that] reflects so much of what I've felt and thought about being in this business."
For writer-director Brown, the story grew out of his own experiences in the movie world, which is a bit further along than the character of Loren's.
"I have had so many amazing mentors over the course of my career, actors, other directors who've taken me under their wing," he said. "One of the great pleasures of being around people like that is that they tell you their stories. I wanted to capture what it felt like to be in those conversations. It's a special thing, when you're a young filmmaker starting off, to have the opportunity to sit with someone like Jacqueline and talk about their life and experiences and watch them weave these stories and get their wisdom. Showing that relationship was the jumping off point.
"I'm not really sure where the autobiography [ends] and when the fantasy begins."
For Bisset, taking on the character wasn't a large creative leap, either, at least not from the original mentoring position.
"As an actress, I've felt that I've got so much to give," she said. "So much knowledge from over the years, [working] with some of the greats. I started with Polanski, which is already a trip in itself. Of course, you don't know what it is until you look at it years later. But occasionally, even at the time, I'd meet somebody in my own work life and I'd think, they've got talent and should be encouraged. But they have no real sense of it. They just have that urge towards life in the business. So you can pass it on… And Russell was very intuitive and [his words] also mixed with my life and with the disappointments. So very interesting."
That's strong praise from Bisset, who started her film career in 1965, enjoyed early roles in The Detective opposite Frank Sinatra, Bullitt with Steve McQueen, and The Sweet Ride within three years, and appeared in François Truffaut's 1973 masterpiece Day for Night in 1973. That was four years before she became a star on her own via 1977's The Deep aided by exploitive-ly sexist promotional posters featuring Bisset in a clinging wet white T-shirt that set off a craze.
"I was very embarrassed and very, very angry," she said. "It wasn't a cinematic moment, just out of left field rubbish and it ended up in Playboy of all places. I never wanted to do any of that, but it was thrust upon me anyway. But in retrospect, the adventure and the fear that I went through made me grow."
Indeed, Bisset hasn't stopped acting in more than 55 years, appearing in well over 80 movies and TV shows, most recently in 2021 in the Amazon Prime film Birds of Paradise.
Still, Loren and Rose finds Bisset with more screen time in a single project than she's enjoyed in many years.
"I'm really proud of the movie," Brown said. "And I think people are gonna go crazy over her performance. I can't wait to see that happen [in Santa Barbara]. I'm excited to watch it unfold."
For complete screening schedules, film descriptions, panel and tribute information, and tickets, visit www.sbiff.org
You might also be interested in...