Colors of Love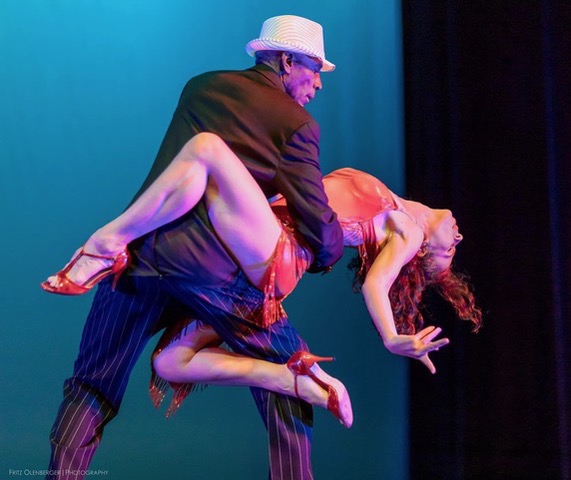 Transform Through Arts Theater's annual Colors of Love dance show at Center Stage Theater returns to its usual Valentine's Day weekend performance slot for 2022 after moving to August due to the pandemic last year, and the local collective's approach to the concept of love has expanded in the interim.
"It's evolved into more diversity and embracing of different cultures and showing cooperation, with a message that goes beyond personal love," explained Yulia Maluta, the show's creator and director. "There are still a lot of numbers like that, but it's also about embracing differences in one another, combating divisiveness and hatred with togetherness and a celebratory spirit and a message of unity."
To that end, the single performance on February 12 casts a wide umbrella, with the 20 pieces encompassing Russian and Egyptian Folkloric styles, Chinese traditional dance, and Brazilian Capoeira, in addition to its usual array of Swing, Belly Dance, Pole Art, Argentine Tango, Samba, Rumba and other Latin dance styles from local choreographers, dancers, and companies.
"Colors of Love has so many meanings, from individual expression because every soul has its own color to collective human experiences that go beyond what we normally think of as love to include sadness, loneliness, or other emotions that aren't very pretty, but also acceptance and respect," Maluta said. "It can even be loving yourself. The dance performances are about embracing all aspects of love. Expressing yourself is love."
Dance in Advance
Center Stage Theater is also hosting two more frequent fliers encompassing adults and youth on its pre-COVID series of regular dance presentations. Arthur Murray Dance Studios in Santa Barbara teams up with its sister studio in Beverly Hills on Friday, February 18, to present its students and professional dancers performing a variety of theatrical routines and partner dancing from salsa, rumba, and other ballroom numbers. Newer students will perform alongside accomplished competitive dancers who are part of Murray, the biggest private dance organization in the world with more than 260 studios in 20-plus countries…
Santa Barbara Dance Arts, considered one of Santa Barbara's premier youth dance companies, presents its annual Configuration showcase that features high-energy hip hop, contemporary and jazz numbers by Los Angeles choreographers Savannah Wozny and Richard Elszy, plus work from local favorites Sunny Reichert, Chloe Roberts, Emily McKinney, Alana Tillim, and others. The March 5-12 production features students sharing the stage with professional choreographers/mentors in competing for a $250 cash prize. Info at (805) 963-0408 or www.centerstagetheater.org. 
Judy, Judy, Judy
As Spotify has noted, of the artists who enjoyed success during the folk music boom of the early 1960s, very few have had a career as long and varied as Judy Collins. You can count on one hand those that are still active and continuing to make new records as well as tour. That tiny number includes Collins, who at 82 is returning to the Lobero Theatre on February 15 to once again enchant and entertain with her stunning vocals, warm stage presence, and commitment to humanity through music.
Known largely as an inspired interpreter of other writers' work – most famously from Joni Mitchell's "Both Sides Now" and Stephen Sondheim's "Send in the Clowns" – Collins has also sporadically composed songs of her own. But now, more than six decades into her career, Collins has just announced the late-February release of Spellbound, which astoundingly will be the first album in her storied career to feature solely her own self-penned songs.
Credit the COVID crisis.
"Things happen when something shifts in your life… The pandemic gave me a chance to actually sit with things that were cooking and get them cooked so they were well enough to go into the studio and record them," Collins told Billboard magazine. To Pitchfork she said: "Now felt like the perfect time to make this record because, after all that's happened in the world, we need something beautiful and inspirational to lift us up."
The pandemic gave Collins time to flesh out a five-year-old project of writing a poem every day for 90 days, turning some into songs or writing new words for others. The singer-songwriter is dedicating the new album to early folksinger influences Pete Seeger and Woody Guthrie, so we're imagining that in addition to offering the first chance to hear Collins' new compositions, the concert might be one of the most decades-spanning evenings of music around these parts this year.
UCSB A&L's Speakers all the Rage 
Highly decorated writers and activists abound on campus and online this week as Arts & Lectures offers four speakers over three evenings covering a wide span of timely topics. Korean-American poet, essayist, and professor Cathy Park Hong, whose recent memoir Minor Feelings integrates personal stories, historical context, and cultural criticism into a radically honest meditation on the Asian-American experience, will discuss race and identity, utilizing poetry for social change, and the power of creating art that is influenced by politics, culture, and the current societal moment at Campbell Hall on February 10…
2019 Nobel Peace Prize nominee Amanda Nguyen, the CEO and founder of Rise, a social movement accelerator that teaches grassroots organizing, helped draft the Sexual Assault Survivors' Bill of Rights while her 2021 viral video ignited worldwide coverage on anti-Asian hate crimes. Her free February 16 talk "Hopeanomics" is subtitled "How Social Entrepreneurs are Transforming Grassroots Activism" and, like Hong's presentation, is part of UCSB A&L's Justice for All series…
Hope is also at the heart of the February 17 program featuring husband-and-wife Pulitzer Prize-winning journalists and authors Nicholas Kristof and Sheryl WuDunn, who have co-written the bestselling books Half the Sky, A Path Appears, China Wakes, Thunder From the East, and Tightrope. Kristof left The New York Times late last year to launch a campaign for governor of Oregon to address pragmatic problems including the homelessness and addiction that afflict his hometown. The writers will discuss what they learned while researching Tightrope and their reflections on the political landscape in Oregon and America today.
Tickets for each of the three programs include a one-time simultaneous livestream viewing option. Call (805) 893-3535 or visit https://artsandlectures.ucsb.edu. 
SBIFF Scores with Oscar
The Santa Barbara International Film Festival found favor when the announcement for nominees for the Academy Awards were announced on Tuesday morning. In one of its best (most predictive) years yet, SBIFF has secured appearances by a full 50 percent of the 20 acting hopefuls: Ariana DeBose (West Side Story), Judi Dench and Ciaran Hinds (Belfast), Aunjanue Ellis and Will Smith (King Richard), Javier Bardem and Nicole Kidman (Being the Ricardos), Troy Kotsur (CODA), Benedict Cumberbatch(The Power of the Dog) and Kristen Stewart (Spencer). That total will surely rise exponentially once the participants in the directors' evening and writers, producers, crafts, and women's panels are finalized. With the 2022 slate of films and other events due to be announced as this issue hits newsstands, excitement in the March 2-12 fest continues to build. Visit www.sbiff.org.
You might also be interested in...