Love is in the Air: Local Dining Establishments Offer Outdoor Dining and Romantic Vibes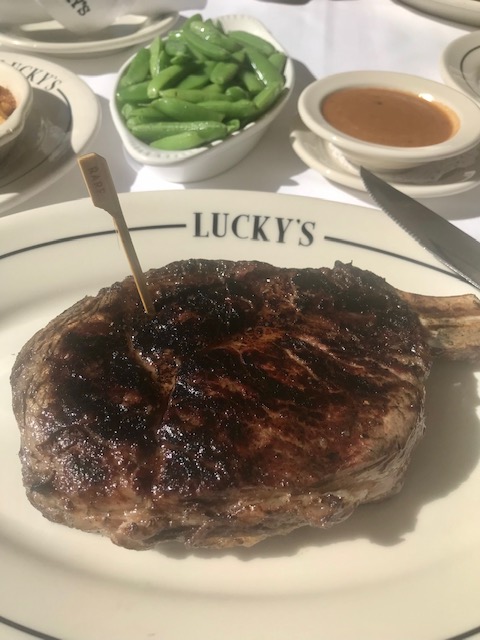 Picnic benches, orange blossoms, and warm soft breezes. These days, dining is an outside affair as restaurants continue to exercise safety precautions and give diners a chance to indulge in one of the most celebrated days of the year.
Although restaurant owners and chefs are focusing on both patio dining and takeout options this Valentine's Day, because the holiday falls on a Monday, some eateries are also offering a long, romantic weekend with brunch, lunch, or dinner. Fortunately, it's still not too late to make your reservations now.
"Valentine's Day falls on one of the slowest days of the week, but diners still want some celebration," explained Andreza Holt, Regional Food and Beverage Director at Best Beverage Catering, which manages Fieldside Grill at Santa Barbara Polo & Racquet Club, whose Sunday brunch menu features cage-free eggs benedict with sauteed spinach, avocado, and hollandaise sauce, apple French toast and chile verde chilaquiles with poblano crema, pickled onion, and avocado. Executive Chef Philip Stein's dinner menu for the occasion is equally tempting: Seared Duck Breast served with truffle duchess potato; crispy skin cod basquaise and Grand Marnier Soufflé (three courses for $79 per person). With its upscale yet relaxed California coastal-inspired menu, the restaurant is expecting a healthy turnout of couples and families celebrating on the outdoor patio. "It will be a rare occasion to see someone playing fetch with their dog, families and kids running on our spacious polo field during the day or enjoying Chef's three-course menu after sundown," Holt added. 
Whether you want to dine in the intimacy of your own home or reserve an outdoor table out on the town, here's a look at some of the city's most romantic (and sensuous!) meal options on February 14.
The Savory Romantics: Lucky's Steakhouse serves some of the best steaks and seafood in town. For a lovers' holiday, Executive Chef Leonard Schwartz comprised a menu of house favorites including half dozen Beausoleil oysters ($26), USDA Prime Bone-In Rib for sharing ($120), cheddar and gruyere macaroni ($15), farmers market sugar snap peas ($16), and the famous Salty Turtle Sundae topped with house-made caramel and chocolate sauces and butter toasted and salted pecans ($13). For more information, visit: Luckys-Steakhouse.com.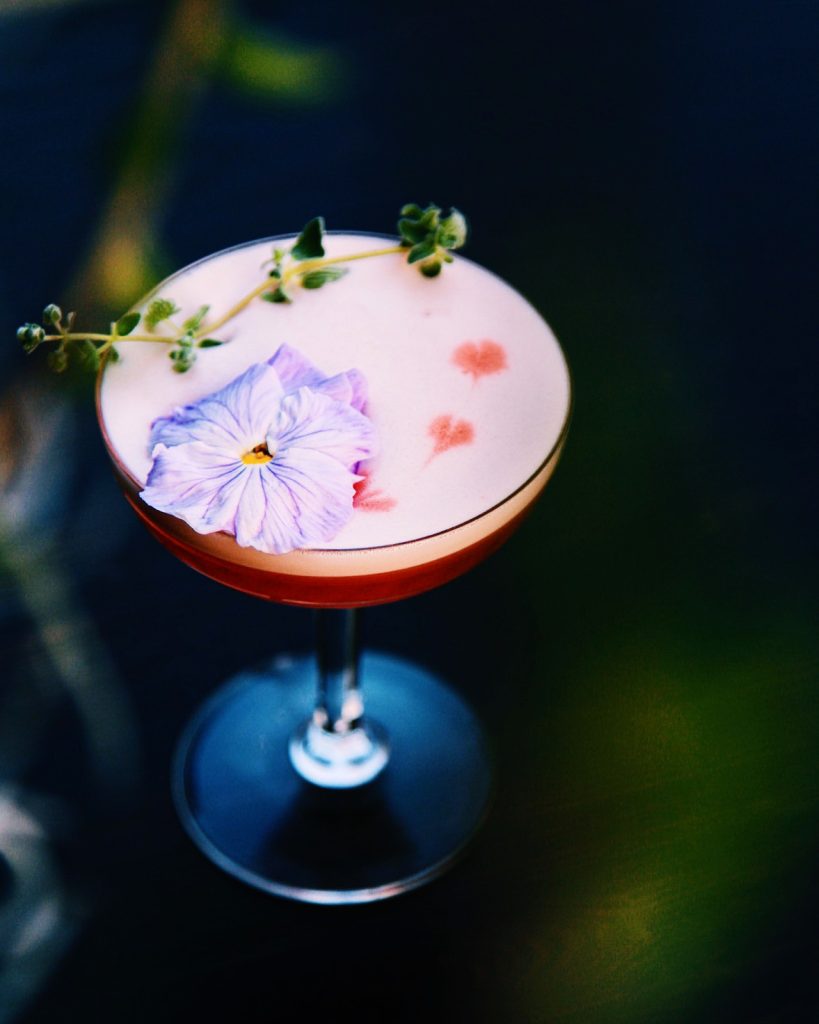 Toasty Buns: Milk & Honey chef/owner Alvaro Castellanos Rojas positions some Hawaiian rolls on a wood carving board where he delicately places his grilled lamb sliders in between the toasted buns. The dish, Lamborghinis, uses sustainable lamb mixed with golden raisins and mint for the patties, which are grilled and then dressed in a silky basil pesto ($17). For more information, visit: Milknhoneytapas.com.
Rojas has been satisfying food lovers with seductive, handcrafted dishes and noteworthy cocktails since 2000, with the opening of his first eatery, Alcazar, on the Mesa. Both eateries will host a candlelit dinner for two for $149 per couple. Montecito Journal recently caught up with him to discuss all things romantic cuisine.
Q. How do you find romance in being a chef?
A. I'm not sure how to address romance and professional cooking, but I can tell you that it's an extremely passionate craft if you are captivated by it; you have to love it or you will have a perilous time in a professional kitchen. And, honestly, the last thing I want to do is romanticize commercial cooking. I think it's more of a love it or leave it craft, or maybe it's like true romance where the love for it has to weather the test of time.
What ingredients do you find sensuous and how do you like to serve them?
Sensuous ingredients: I think saffron falls into this category if you consider the etymology of "sensuous" or pertaining to the senses. It has a very distinct aroma and from what I understand the fresh saffron crocus flower fields give off an absolutely breathtakingly beautiful scent. The color is also magical and truly beautiful in any of its hues. Saffron tastes like nothing I have ever tried. Its unique flavor is mysterious and full of depth from such a tiny delicate source which is likely why it's one of the most expensive goods on the planet. I use it in paella, of course, cream (iced and fresh), also I experimented with it in grits, which we still serve on the menu with a pulled pork confit in black mole.
A Regal Affair: San Ysidro Ranch's Executive Chef Matt Johnson and his team will be serving up a sumptuous four-course menu and optional wine flight. You can bet house favorites will be the Wagyu striploin with sweet Maui onion confit and Maine lobster bisque served with a dollop of American sturgeon caviar and crème fraîche, garnished with tarragon and topped with brioche croutons. Besides the intimate and regal atmosphere, diners will delight in a selection of sweets: Budino (Italian custard) tart with Valrhona Alpaco chocolate and raspberry and rose sweet jam or Crème Brûlée flambéed tableside with passionfruit, pineapple marmalade, and rum. The cost is $230 per person or a four-course meal with wine flight, $330. For more information, visit: stonehouserestaurant.com.
The Romantic Chef: Rosewood Miramar's Executive Chef Massimo Falsini's special menu for Caruso's channels the seductive glamour and romance of the Italian Riviera with gourmet fare, fine wine, candlelight and captivating views. Notable dishes include Crudo of Hokkaido featuring scallop, radish salad, yuzu and colatura di Alici and local snapper in hoja santa, black trumpets, sunchoke, and caldo verde. $325 per person. For more information, visit rosewoodhotels.com.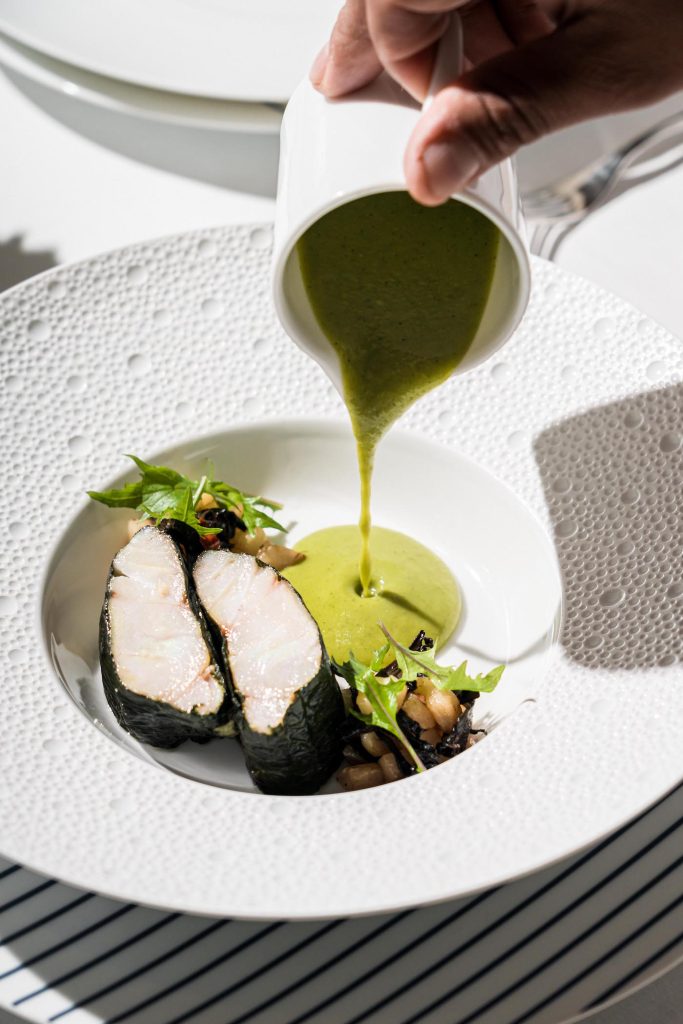 P.S. I Love You, Santa Barbara: Belmond El Encanto's Valentine's Day menu is a love letter to coastal cuisine, shared Executive Chef Bruno Lopez, who crafted a four-course menu made up of local seafare, prime beef, seasonal black truffles, and gourmet desserts. Highlights include grilled tomahawk steak served with a wild mushroom casserole and sea scallops cooked in saffron and dressed with carrot mousseline (a light mousse). The cost is $222 per person. For more information, visit: belmond.com.
Sushi With Heart: Santa Barbara Fish Market offers all of the fixings needed to prepare a sushi heart-shaped roll, filled with tuna tartare, avocado, and topped with Uni and Ikura, or caviar. Another option would be to incorporate oysters, uni, and caviar, since oysters are undeniably one of the best known aphrodisiac foods! For more information, visit SBFish.com.
Public Affection: Santa Barbara Public Market has a plethora of Valentine's Day dining options available for outdoor seating, order out, or delivery through Restaurant Connection. For more information, visit sbpublicmarket.com. Here are some of the standout dishes under one roof:
That's Amore: Ca'Dario Pizzeria Veloce's El Gringo Pizza with its billowy soft crust and crispy bottom, seasoned sausage, plump juicy tomatoes, subtly spicy serrano chile, red onions, and creamy luscious mozzarella is a pizza fit for any date night ($13).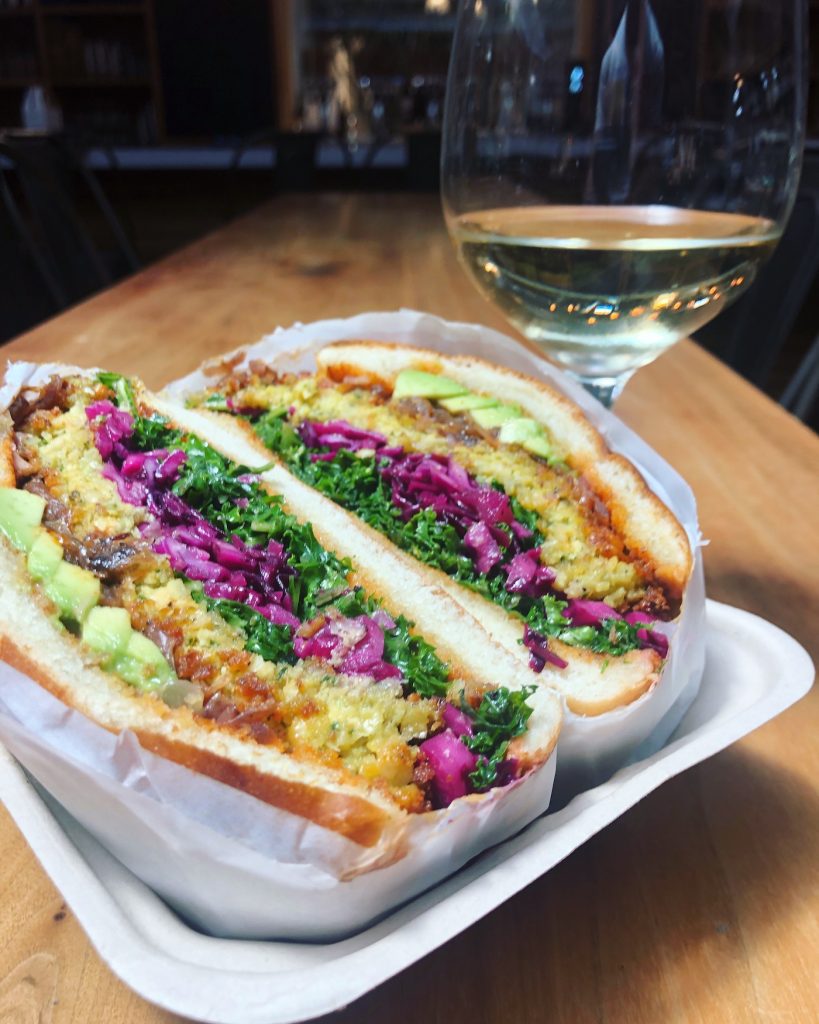 Double the Pleasure: Rori's has two sumptuous flavors available throughout February at its scoop shops – John Martin (AKA Toasted Coconut with Chocolate), a coconut ice cream made with half cream and half coconut milk, featuring toasted coconut flakes and dark chocolate shards. (Who's John Martin? He's a regular customer who asked Rori for this special flavor.) And Vegan Roasted Wild Berry Sherbet, which is made with roasted raspberries, blueberries, and strawberries in sugar with vanilla beans and blended together with oat milk for a simple and flavorful treat. Top it off with a crunchy vegan raspberry truffle granola ($6.75 per scoop).
Give It Up for the Green: Fala Bar's Kale Burger is a delicious kale falafel patty served with creamy Thousand Island dressing, crisp lemony kale, purple cabbage, and silky avocado all on a homemade bun ($17).
Some Like It Hot: Corazon Cocina's Sal de Mar Ceviche offers tender morsels of California Albacore, juicy chunks of watermelon, silky avocado, and crunchy cucumbers, all spiked with spicy Fresno chiles and hibiscus aguachile ($18.95).
Make It a Threesome: Wabi Sabi's Three Musketeers Salad offers succulent morsels of tuna, salmon, and yellowtail nestled on a bed of crisp spring mix, topped with a luscious yuzu vinaigrette dressing, juicy cherry tomatoes, cucumber, plump masago that burst in your mouth with the flavor of the sea, and egg noodles with a delightful crunch ($21.97).
Down the Hatch: Broad Street Oyster Company has come ashore with a new eatery at 418 State Street. Founder Christopher Tompkins (who has an eerie resemblance to King Neptune) expanded his Malibu seafood concept with a sea shack-style outpost that churns out gourmet lobster rolls and other tasty seafood items, such as raw oysters served with house-made mignonette and lemon ($19 for 1/2 dozen and $37 per dozen), and a selection of chef's seafood treasures from the deep – shrimp, uni, oysters, and crab claws – served raw over ice with lemon wedges, housemade mignonette, and hot sauce ($150 to $340). The lobster rolls are made warm with butter or chilled with mayo, each garnished with chives and lemon wedge, and inside a toasted brioche bun. Customers have the option to add caviar and/or sea urchin to their roll ($22; with uni add $12; with caviar add $15).
What are some sensuous ways to serve noodles?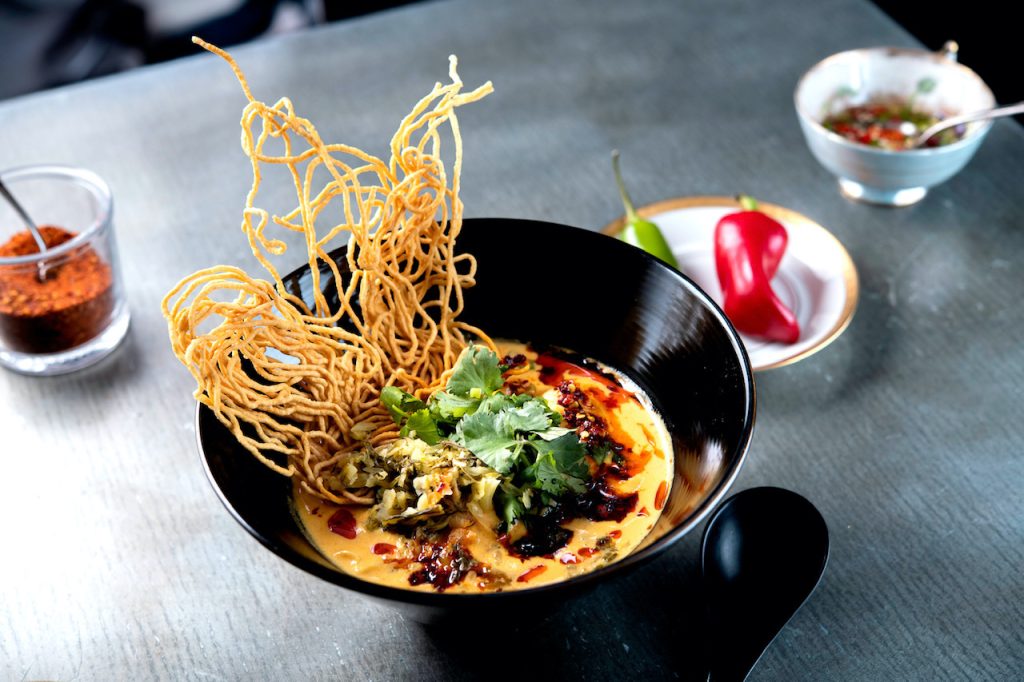 Empty Bowl Gourmet Noodle's Jerry Lee: 'Khao Soi' is a Burmese-influenced curry noodle soup made in Northern Thailand. Here we serve it with flat egg noodles, stewed Shelton Farm chicken in a curry base broth, coconut milk and fish sauce. It's rich bold flavors of yellow curry paste made with shallots, garlic turmeric, spices and herbs and the creaminess of coconut milk makes a great pairing with flat al dente egg noodles. It's garnished with pickled mustard greens, cilantro green onions and housemade chili oil. ($17.50).
You might also be interested in...