Lights Up on Luke's 'Rotten' Musical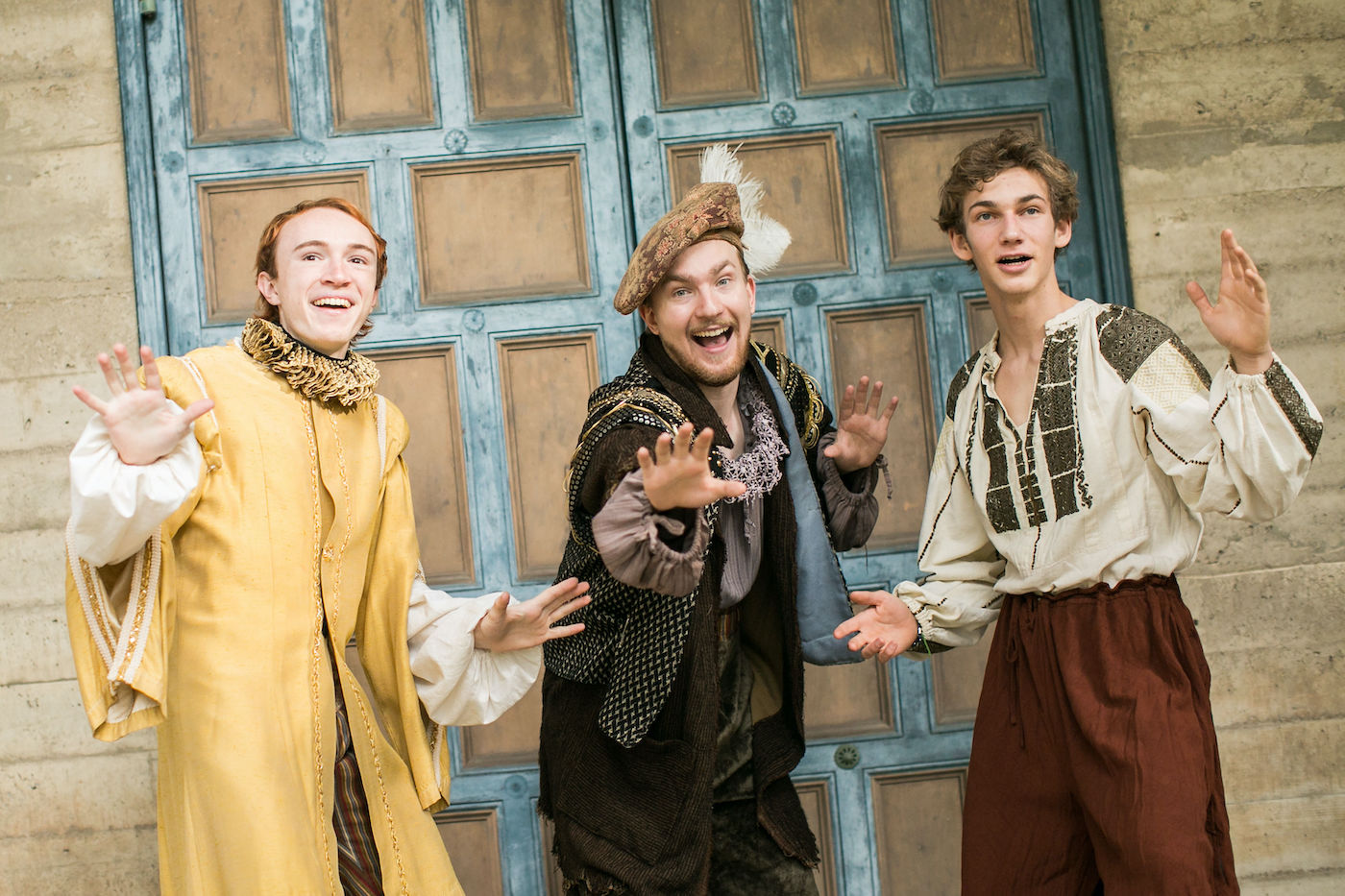 Something rotten happened to Lights Up!, the teen theater conservatory/company, which opened for business back in 2018. That would be the COVID-19 pandemic, which of course has been pretty rotten for all of us. But the pandemic really put Lights Up! through its paces as the company has been operating under the restrictions for more than half of its existence.
Lights Up! had barely found its footing after opening with a studio showcase turned small production of Charles Dickens' A Christmas Carol in December, 2018; wowing audiences with Big Fish, its first full-scale musical, at the Marjorie Luke in April, 2019; and sneaking in a marvelous The Music Man at the Luke the weekend before COVID closed everything down in March, 2020. But rather than buckle under the pressure of the pandemic's protocols, Lights Up! found a way to adapt and keep the momentum going.
"We were still on a high from the absolutely wonderful experience with Music Man," said Amy Love, the program's director, who has taught and directed in local schools since 2007 and counts directing Storybook Theater productions and acting in Ensemble plays among her earlier local theatrical credits. "I just couldn't see letting my actors down because the company is so important to them. We had to keep going in some way."
So the audition-based acting company for teens ages 12-19 met weekly on Zoom over spring and summer, then rehearsed with the cast and crew masked before performing Man of La Mancha for the cameras in the fall. By last spring, Lights Up! moved its musical outdoors, performing The Sound of Music over a May weekend at Garden Street Academy.
"Just being able to do something that was creative and enlightening, and wasn't about hiding or being afraid of other people, was kind of a lifesaver for a lot of the teens," Love said.
Now, Lights Up! is heading back to the Luke for what is surely its most massive undertaking yet: the area debut of Something Rotten!, the Broadway smash that was playing in New York barely five years ago. The musical, which was nominated for 10 Tony Awards, sets the action in the 1590s when two brothers who have been upstaged by contemporary William Shakespeare come up with the world's first musical to compete. What ensues is a lot of slapstick, puns, plays-on-words and other assorted silliness along with anachronistic send ups of a parade of favorites from Fiddler on the Roof, A Chorus Line, and The Lion King to Rent, Pippin, Les Misérables, and many, many more – not to mention allusions to famous lines by the Bard himself.
If they hadn't already by acting for film and in the open air beyond the theater stage, the kids comprising the company have had to grow up fast to get acquainted with 500 years of theater, not to mention the frenetic routines and difficult forms of dancing that pepper the show.
"As part of rehearsals, I've been educating the actors on the reference and encouraging them to look them up themselves if they didn't know the history of what they were saying," Love said. "It is very challenging because the subject matter is intellectual and heady. But it's also accessible to everyone because of its slapstick nature and a whole lot of fun."
But don't worry – the folks in the seats at the Luke over the four performances February 3-5 don't need to brush up on Shakespeare or Broadway to enjoy Something Rotten!
"I don't want to give my audience any homework," Love said with a laugh. "If you love looking for Easter eggs, there's plenty of them to find throughout the show. If you're a Shakespeare fan, you'll be pleased with yourself because you'll definitely pick up on a lot of references. But you don't have to even like Shakespeare to love this musical. Even if you don't get any of the references at all, you'll have a great time."
Going 'Rotten' Down South
Lights Up! snapped up the rights to Something Rotten! as soon as they became available and had planned to produce the musical in mid-January before COVID concerns led to the delay. Which means they now have their opening only one day before the one from 5-Star Theatricals, the Ovation Award-winning resident musical company at the Thousand Oaks Civic Arts Plaza. 5-Star's version of the hot musical runs February 4-13 at the 1,800-seat Kavli Theatre. But wait, there's more: SBCC Theatre Group has also chosen Something Rotten! for its big comeback summer musical at the Garvin in July. Theater buffs wanting to sort out the sendups can easily attend all three, which brings to mind the overlap a few years ago when Noises Off first went regional, resulting in four different local productions (PCPA, SBCC, Ventura's Rubicon, and the late Circle Bar B Dinner Theatre) in 14 months. Meanwhile, Lights Up! returns to the Luke March 10-12 for Matilda the Musical, starring the teen theater conservatory younger actors, reprising the show that made its area debut at Santa Barbara in 2019.
On the other end of the staging spectacle spectrum, Matt Talbott debuts Reptile, his stark, intimate one-man show, at Center Stage Theater February 4-6. The piece is a timely personal journey of a white male struggling with the image of the country he loves through personal stories, the history he was taught in school, and the sins of the past that have shaped him and the country. Writer and actor Talbott is an adjunct instructor at SBCC who serves as a vocal coach for the Theatre Arts Department productions and directed SBCC's Laughing With Durang at the Jurkowitz Theatre in November; Larry Campbell (of TV's According to Jim) directs.
Steven has covered a plethora of topics for the Journal since 1997, a now leads our extensive arts and entertainment coverage
You might also be interested in...