Turning Love of Westmont into a Field of Dreams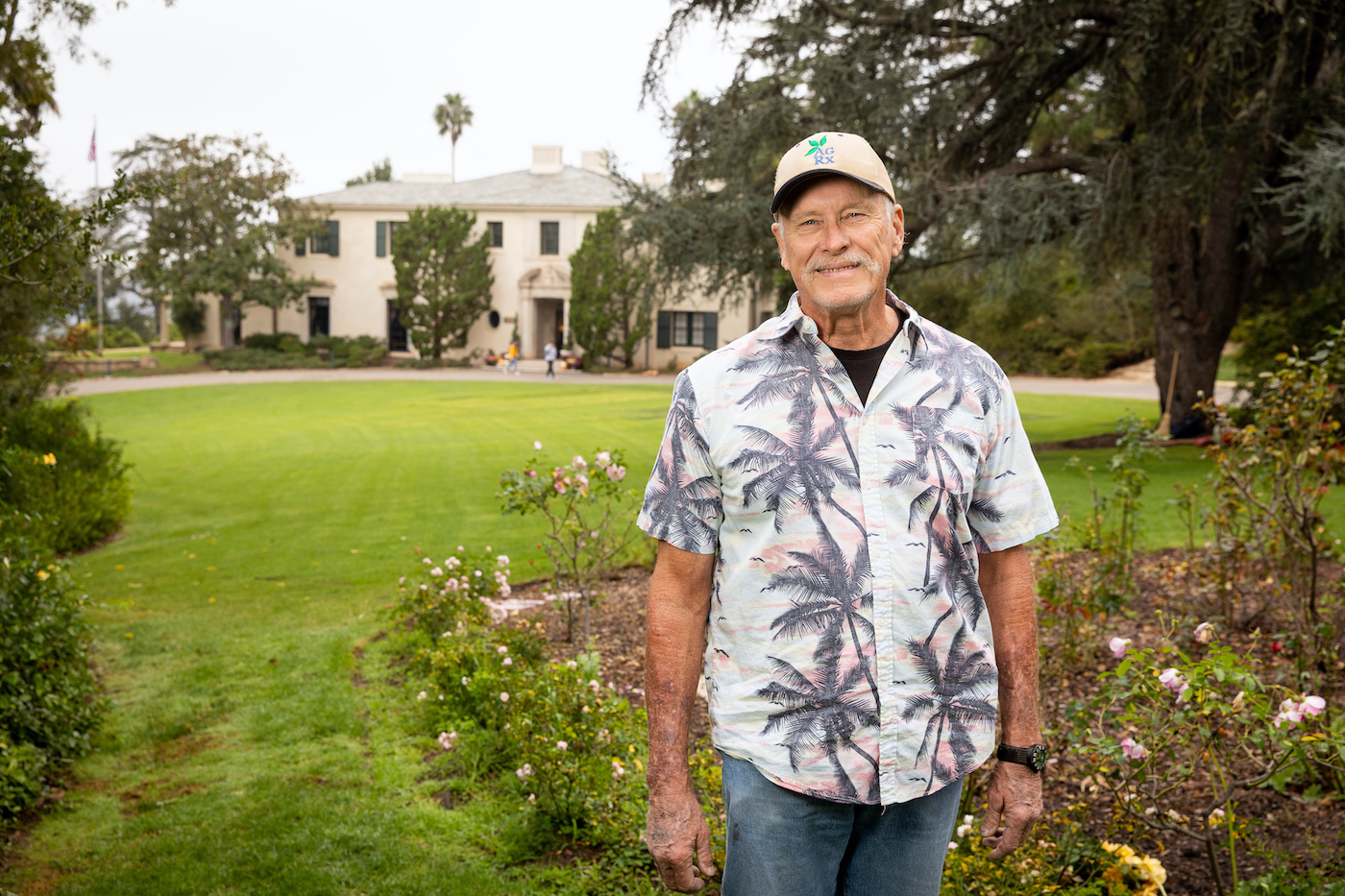 For more than half a century, the hulking figure of Phil Baker '71 has traversed Westmont's campus. As the longtime grounds manager with a familiar goatee and wide mustache, he has created breathtaking gardens and stunning athletic fields. He quietly retired last summer, preferring a tri-tip luncheon with a few dozen co-workers and family at Westmont's Physical Plant to a formal dinner.
"His faithful attention to detail and desire for quality make our athletic fields unrivaled for a small college — frankly, even a large one with more resources," says Dave Odell '89, Westmont's athletic director.
In fact, several professional sports teams and recognizable athletes have trained on these fields. "Phil's passion arises from a desire to provide all student-athletes with an experience rivaling any in the country," says Elijah Ontiveros, assistant baseball coach. "He dedicated his career to maintaining this standard of excellence."
"Westmont boasts one of the most beautiful campuses around," Phil says. "Ruth Kerr's vision that became Westmont was spectacular. I had the honor to work with wonderful groundskeepers who cared as much as I did in maintaining and developing what Westmont has become."
"Phil loves Westmont, so he was committed to working as hard and long as it took to make the campus beautiful," says Randy Jones, director of campus planning. "He was always open to new ideas to improve the landscape."
Phil played basketball at Pasadena High School under the coaching of George Terzian '58, a two-time Westmont MVP basketball player. "He was influential in my development during high school after my father died of cancer when I was 15," Phil says. "He was a very strong Christian man and had the most positive attitude when coaching high school athletes. He convinced me to work hard and to be stronger than my opponent."
After playing a season at Pasadena City College for Jerry Tarkanian, now a member of the Naismith Memorial Basketball Hall of Fame, Phil got a scholarship to play at Westmont with help from Coach Terzian. He transferred to Westmont in 1968 and became a standout on the basketball team his final two seasons, winning co-MVP in 1969-70 and averaging a double-double of 15.7 points and 10.7 rebounds per game his senior season.
"Westmont's influence on my life came from the relationships I built," Phil says. "Students were free to share their Christian life with one another and reached out to those of us who struggled. I was not a good student, and studying was hard for me. I was not born into a Christian family, so much of what I experienced was foreign to me. God blessed me with a solid core of Christians on the basketball teams, the professors who taught my classes, and my many friends who influenced me throughout my life."
After graduating, he remained involved at Westmont, working out in the weight room and spending time with professors and athletes who stopped by. He worked for a local landscaper and an avocado orchard company before applying to the grounds manager position at Westmont. He started June 12, 1975. "I didn't bring any special talent with me," he says. "I just worked with men who worked hard like I do and went for a 46-year ride. We got to develop many new buildings and new gardens. New ideas, newer equipment, new influences from different people all contributed to the beautiful campus that surrounds us today."
"With his profound and passionate love for his work, for excellence, for the students — and particularly for student-athletes — Phil has shown up and applied every fiber of his being every day to his calling," says Tom Beveridge, director of physical plant.
Phil inspired Odell when he was a student-athlete who played in just eight games his first basketball season. "I was pretty introverted and struggled to figure out life away from home," Odell says. "I would go into the weight room to work out, and Phil would be in there squatting 1,000 lbs. — that's only a small exaggeration. He was pretty introverted too, so there wasn't a lot of conversation. But I learned the importance of adult interactions for new students. My limited relationship with Phil helped me transition to independence."
Phil met his wife, Becky Stockin Baker '83, when she worked for him one summer as a student. They've been married for nearly 37 years. All three of Phil's children, Cameron '03, Elizabeth '08 and Dusty '11, graduated from Westmont.
"All my work was for the college and for the Lord," he says. "I love Westmont. I loved all that I was part of for the 51 years I was affiliated with the college. I love the people who work there."
You might also be interested in...