Hawaiian Roots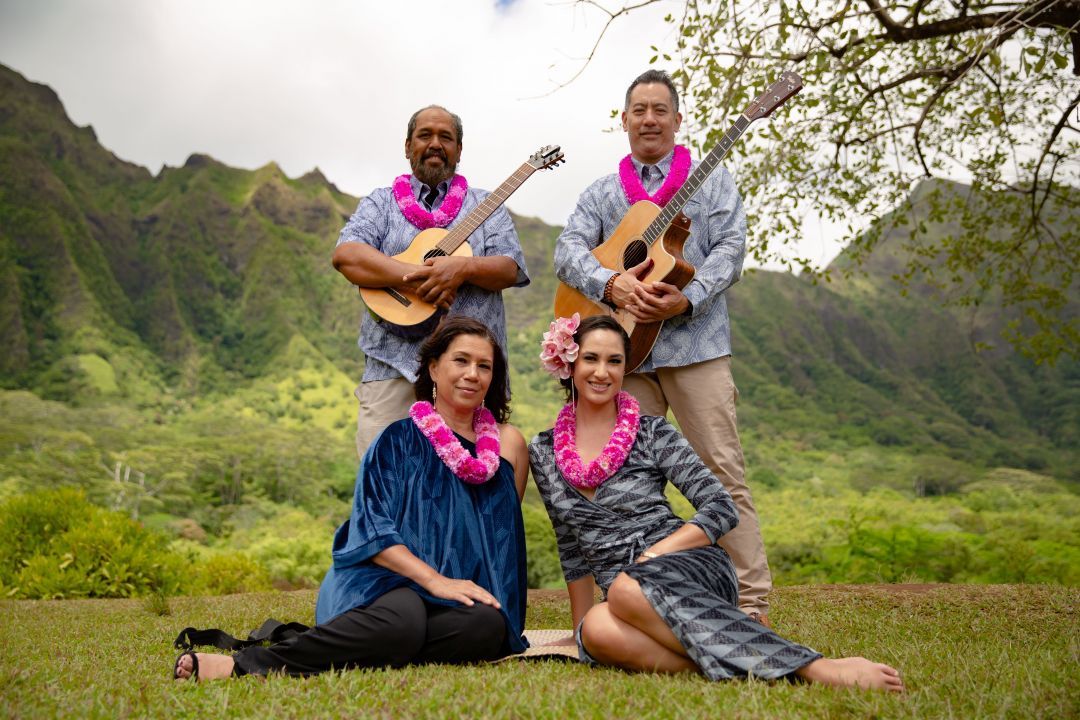 Kulāiwi has only been together for less than two years, but the three Hawaiian musicians that make up the group – Lehua Kalima, Shawn Pimental, and Kawika Kahiapo – have been making music of the islands for decades. Between them they have claimed dozens of Na Hoku Hanohano Awards, which is considered Hawaii's equivalent of a Grammy, and earned actual Grammy nominations and awards. Kulāiwi means "land of my ancestors," and the trio of singer-songwriter-guitarists joined forces to share the music that springs from their collective native Hawaiian roots.
"We've all been friends for years, but hadn't all shared the stage together," said Kalima, who is also a founding member of the renowned trio Na Leo Pilimehana. "But once we actually sat in for a show together, it was a lot of fun and we realized there was a very good synergy together."
The bandmates each boast strong vocals and abilities to harmonize as well as a folk-pop approach, easy-going attitude and an affinity for stage banter. And Kalima said that while they come from different backgrounds, the members give each other lots of room, but come together in that "We all love Hawaii and Hawaiian music and feel motivated to spread the word about what's happening culturally as well as musically on the islands. We have a commitment to our people and to keeping Hawaii as Hawaiian as possible, and our music kind of is a reflection of that."
The stories also emerge through hula dancer Pono Fernandez, who will perform interpretations for more than half a dozen of Kulāiwi's songs when the group plays SOhO on January 25.
"Music is a very good conduit for sharing culture and history, but the hula gives a lot of visual impact," Kalima said. "It's not just sit back, close your eyes, and pretend you're somewhere else. We want people to engage with us. We want people to learn something, and we want them to come away feeling like they know Hawaii a bit better."
Focus on Film
The 33rd annual Palm Springs International Film Festival that would have wound up its star-studded week last Sunday was completely canceled by concerns about COVID. The 2022 Sundance Film Festival, slated to be a hybrid in-person/online event, has gone all virtual for its January 20-30 screenings and events. Individual screenings afford a chance to likely see several of next year's potential sleeper hits and even potential Oscar nominees from the comfort of home. Meanwhile, the 63rd annual Grammy Awards, which were set to be presented on January 31 in Los Angeles, will now be held on March 14.
But fortunately the Santa Barbara International Film Festival ties its timing to run about three weeks before the Academy Awards in order for its crowd-pleasing tributes to serve as an important destination for Oscar hopefuls, so its March 2-12 dates are not yet being threatened as yet. In fact, SBIFF just announced its slate of eight emerging actors who will receive its Virtuoso Award on March 5 at the Arlington Theatre, with two actors each from Belfast (Caitriona Balfe and Jamie Dornan) and CODA (Emilia Jones and Troy Kotsur) joining Ariana DeBose (West Side Story), Alana Haim (Licorice Pizza), Simon Rex (Red Rocket), and Saniyya Sidney (King Richard) in the evening that has become a fan favorite for its efficiency and fast pace.
Several of the actors and most of the directors of those films and many other award-hopeful movies have already participated in Q&A sessions following screenings for SBIFF's Cinema Society, including King Richard and CODA. They are accessible on SBIFF's YouTube at www.youtube.com/c/officialSBIFF. 
Meanwhile, SBIFF has indeed announced the most stringent protocols in the arts world for the March festival, requiring not only vaccinations and booster shots for those who are eligible but also proof of a negative COVID-19 test taken no more than 48 hours prior to picking up festival passes, while some of the events will also require another negative test for admission. Masks will be required not only inside theaters but also while in line for all festival events and screenings while the theaters will operate at reduced capacity. Visit www.sbiff.org for details. 
Continued Coping with COVID-19
UCSB Arts & Lectures has canceled or postponed all of its events through the end of the month, with the rescheduled shows encompassing the Punch Brothers concert (moved to April 5), Andrea Elliott's lecture (March 9) and Ballet Hispánico's performance of "Noche de Oro: A Celebration of 50 Years" (April 29). Tickets for the postponed performances are valid for the new dates. "Yamato: The Drummers of Japan" canceled its entire current American tour in the wake of Japan strongly discouraging its citizens from traveling to the U.S. at this time, with the Omicron variant obliterating the schedule. 
A&L is also adopting updated policies requiring that all performance attendees ages five and up be fully vaccinated to the maximum extent for which they are eligible, including boosters, and strongly recommending the wearing of high-grade masks or doubling up. That leaves a gap between February 1-4 for the old policies – which only require "full" vaccination or a negative test within 72 hours – a span that includes Emmy and Tony Award winner John Leguizamo's event on February 2 at Campbell Hall on campus, and the recital featuring violinist Joshua Bell and pianist Peter Dugan at the Granada on February 3. But for those who are particularly cautious, tickets for both events also include an at-home live stream viewing option. Visit https://artsandlectures.ucsb.edu for details, viewing, and refund options or other questions…
Tony winner Anaïs Mitchell + Bonny Light Horseman has also postponed their North American tour that included a January 27 date at the Lobero Theatre, with no announcement yet regarding rescheduling. So far, no other artists have adjusted appearances at the venue, including Karla Bonoff, the 1970s and '80s hitmaking singer-songwriter who is a longtime resident of Montecito, who will play the Lobero on February 4.
After previously suspending ticket sales for its February production of Carmen Jones, the Ensemble Theatre Company has decided to postpone the musical adaption of Bizet's opera that was slated to run February 3-20 at the New Vic Theatre. No new dates have been announced…
Meanwhile, we're told that SOhO, which hosted more than 40 dancers grooving to Area 51 all sporting no face coverings at all as recently as mid-December, actually gave rapid COVID-19 tests to everyone before admission to the SANGRE NUEVA show last Saturday night.
Elsewhere, other than the Santa Barbara Symphony rescheduling last weekend's Fandango Picante performances to May 1 and 5, marking its first-ever Thursday night concert, it seems the Granada is also going forward with its schedule intact. But its new rules also vary from the norm since June 15: guests must be vaccinated (although not boosted) or supply a professionally administered negative COVID-19 test result taken within one day for antigen tests and two days for PCR tests. Given all that variance and with the Covid remaining remarkably – pardon the play on words – fluid, it's wise to check with venues right up through show time for updates.
Steven has covered a plethora of topics for the Journal since 1998, and now leads our extensive arts and entertainment coverage
You might also be interested in...