Punched-Up Tribute to Tony Rice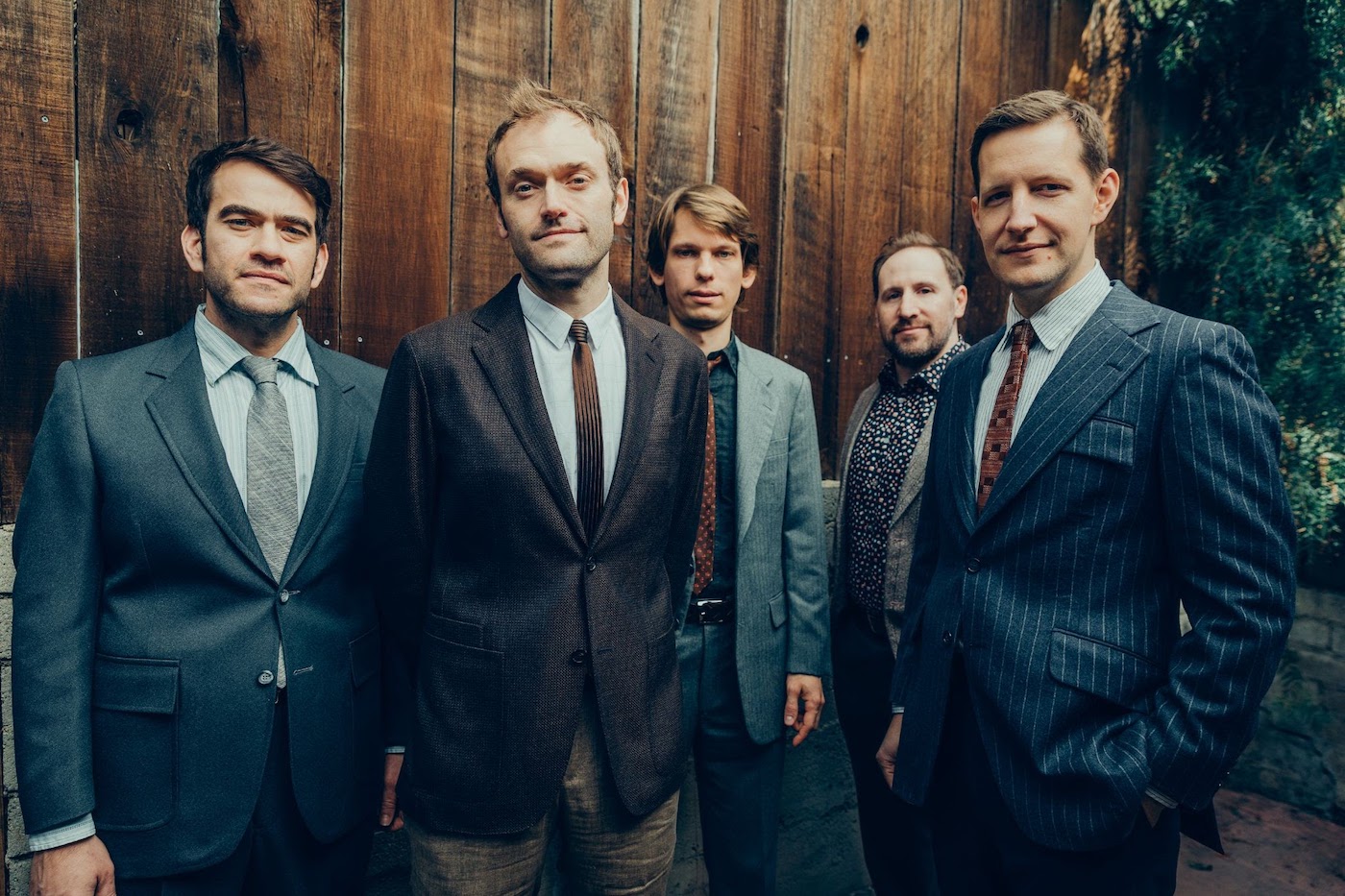 All of the five virtuoso string musicians who comprise the Grammy-winning folk-grass band Punch Brothers were fervent fans of Tony Rice. The Brothers – who are led by the MacArthur "Genius Grant' Award fellow Chris Thile on mandolin and includes bassist Paul Kowert, guitarist Chris Eldridge, banjoist Noam Pikelny, and violinist Gabe Witcher – have been stretching not only the boundaries of their instruments but also approaches to acoustic music for more than a decade. But Rice's guitar work – whether in stripped-down solo acoustic performances and recordings, as a member of David Grisman's band during the dawning of Dawg Music or in collaborations with Norman Blake, J.D. Crowe, or Jerry Garcia – has had an outside influence on the Punch players individually and collectively.
Perhaps none more than Eldridge.
The youngest son of Ben Eldridge, the banjoist and co-founder of legendary East Coast bluegrass band The Seldom Scene, Chris grew up not only listening to Rice's records, but also frequently in his company as the guitarist would crash on the family's couch whenever he was in town.
"Tony was always around, but I was really young so it didn't mean that much to me until I got to be a little older and started playing guitar a little more seriously," Eldridge recalled last week. "But his music was a real constant in my life, the soundtrack of my childhood. And I was pretty gobsmacked later when I opened my ears a little bit and just listened to how he played and the powerful sound and incredible impact he would make."
Later, in his college years at Oberlin, Eldridge, by then "obsessed with bluegrass and string band music," designed an independent study that involved spending a couple of weeks with Rice in North Carolina studying at the master's knee.
"Mostly I just hung out with him and we talked about music, listened to music, and discussed music and philosophy," Eldridge said. "It wasn't very hands on, almost no guitar playing, which turned out to be really great. I grew a lot… I came down there wanting to be an amazing guitar player and blow people's minds. But he instilled the idea that the highest calling is to just make music that allows people to step outside the normal and be touched with the moment of transcendence or beauty. There's nothing greater that you could aim for as a musician."
Indeed, that approach of having chops enough to appreciate zooming out for the overview of music and its expression fairly typifies Punch Brothers' oeuvre that involves organically expanding bluegrass and folk music often via deconstruction and improvisation that exhibits skill, connection, and humanity.
"We love the technical aspects of music, and some of the headier things appealed to all of us when we were kids," Eldridge said. "But at the end of the day, we are a band of serious music lovers with a goal to come together as an ensemble, be imaginative and fill a space with music we're not hearing anywhere else."
So the idea of making a tribute album to Rice for Punch Brothers' next release, while admittedly borne out of restriction on gathering together due to the pandemic, also fulfilled a desire to pay respects to the guitar great by recording a track-by-track reimagining of Church Street Blues, Rice's seminal 1983 record that itself is comprised of covers of folk and bluegrass songs. Punch Brothers' Hell on Church Street comes out on January 14, just four days before the band is set to play at UCSB's Campbell Hall.
"Tony took all of those songs and made them his own even in a really skeletal form, just him and his guitar," Eldridge said. "We saw it as a great opportunity to interact with this music, flex a different creative muscle, focus on core ideas that seemed ripe for exploration, and reimagine how it could go through our perspective, using a spirit of creativity and imagination to come up with something interesting."
Mission accomplished. Hell on Church Street ranges from fairly straightforward bluegrass arrangements to quirky, eerie, and ethereal soundscapes for such familiar songs as Ralph McTell's "Streets of London" and Tom Paxton's "Last Thing on My Mind," lending fascinating and soul-stirring new perspectives on the chestnuts.
"We just love playing this music," said Eldridge. "There would be no Punch Brothers without Tony Rice, so this is just our small way of giving back." 
SBDT: Whited Projects a New Approach to Dance
Santa Barbara Dance Theatre's new artistic director Brandon Whited only officially took over the professional dance company in residence at UCSB late last spring, but he's wasting no time moving the 45-year-old organization in a new direction with SBDT's first public performances in two years this weekend. Whited's work has previously been seen in town as a guest dancer and choreographer for the company under the previous AD Christopher Pilafian as well as via his curation of the four-day Re-Emerge Dance Festival at Center Stage Theater last June.
Now he'll be both presenting two new pieces and his project-based approach to the company at the same venue over four shows Thursday to Sunday. Partially due to COVID concerns, the company is down to just four core dancers – Nicole Powell, Paige Amicon, Miche Wong, and Calder White – plus undergraduate dance major apprentice/understudy Riley Haley, each of whom will get a chance to shine in both solo and ensemble pieces.
"It's a new chapter for the company where the season dictates who the dancers are, which mirrors what's happening in the professional world of dance," Whited explained. "It allows me to work in a more concentrated period of time to develop material."
For the upcoming concert, Whited had oodles of time, as the pandemic forced postponement and reimagining of the evening's longest piece, "to Harbor…", which he called "an abstraction of an aesthetic and atmospheric mood-based ideas" with inspiration and intentions that were altered by the extended delay. "With so many things shifting in my own life it definitely evolved. But it's still based on an image of a rocky cliff in a stormy New England harbor setting with the notion of coming to a new place, exploring the undiscovered and unfamiliar and then finding community and grounding. I'm examining the connection between the dancers as a group. For me there are a lot of connotations, but I like for people to soak in it and find what it is for them."
The title of Whited's other new work, "ARENA, or 1 of 4 & 4 of 1," is also meant to evoke extra meanings, although some of its choreography had to undergo a quick change when UCSB delayed the start of the winter term, necessitating a move downtown where a planned in-the-round staging for a four-sided theater had to be quickly adapted to CST typical proscenium.
"It's a much more playful piece with connotations of arena being a place for joyful but energetic competition," he said.
The SBDT show also features two solos by Nancy Colahan excerpted from the Pandemic Suite, which was created via Zoom last year, and a re-staging of a duet called "I Don't Exist Anymore," by local choreographer Weslie Ching.
"These smaller format works not only create range in the program and showcase different aesthetic voices, but also introduce the dancers as artists on their own," said Whited.
Performances are 7:30 pm January 13-15, and 2 pm January 16, followed by a complimentary reception with the audience. The January 14 and 16 performances will also be livestreamed, and a video will be available to view on demand starting January 24. Visit https://centerstagetheater.org, or www.sbdancetheater.org.
You might also be interested in...