Vivacious Vocals in Vogue with Baker's Dozen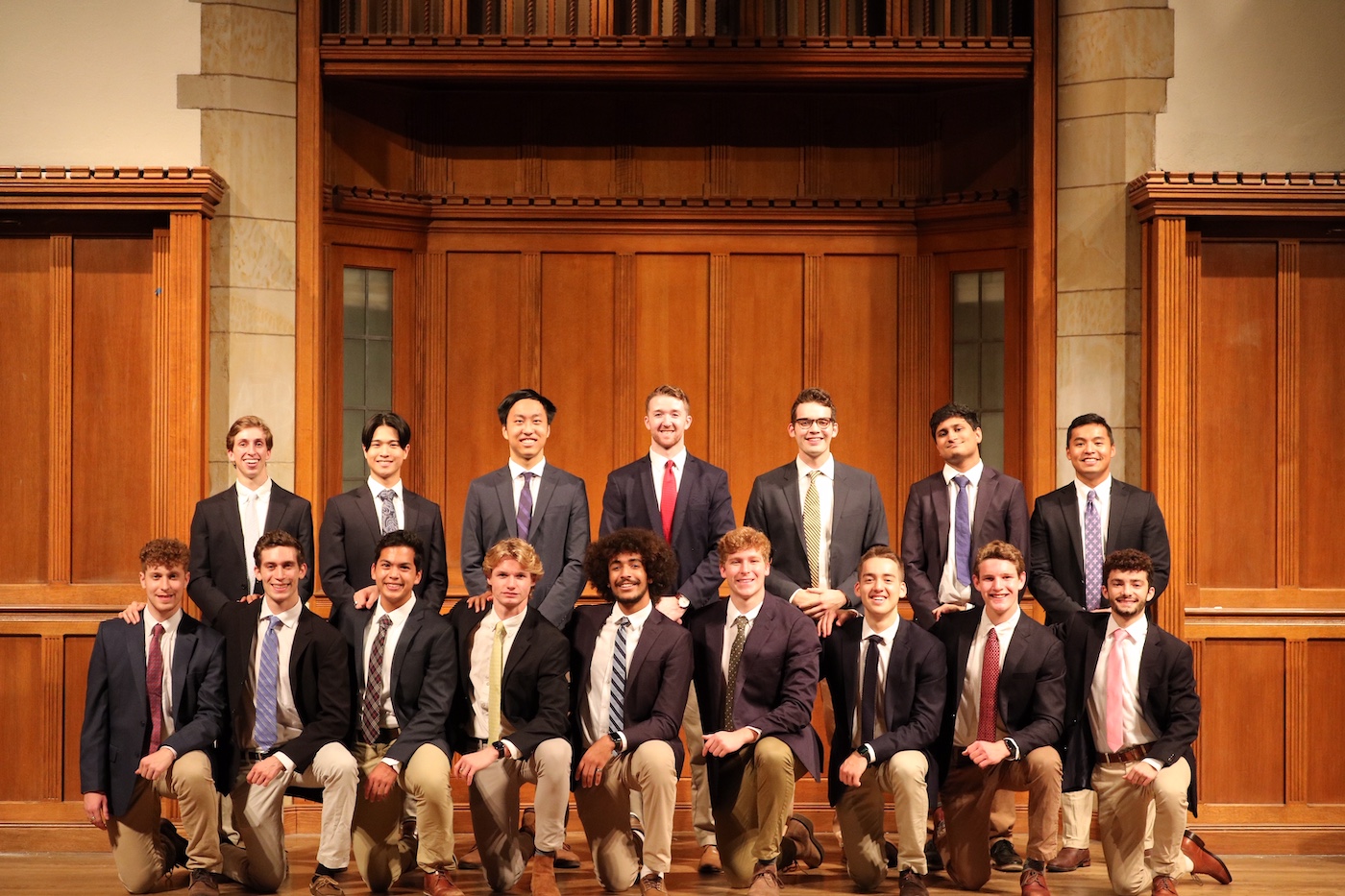 There's a plethora of a cappella singing groups at Yale, the Ivy League School known for theater and music as much as the liberal arts. "I think there's 16, including four all-male," said Jacob Wu, the current tour manager and a bass singer for Baker's Dozen (BD), which despite its name actually boasts 16 singers. Baker's Dozen is one of the few that tours, though, which was part of the appeal for the junior.
"The BDs are the most vivacious, the most lively, and the most fun group of guys just to be around," he said. Which is a good thing, because the BDs don't just perform together, they also rehearse several times a week, and enjoy a house just for socializing while on campus.
"First and foremost, though, we're about the singing," Wu said, adding that the group is excited to be back to full complement after dwindling to just eight members due to being unable to replace graduating members due to the pandemic. They're headed back out on the road for winter break for the first time in two years with a tour that stops at SOhO on January 12. "We just love sharing the music and the joy and bringing a smile to other people's faces."
The audience can expect to hear a wide variety of pop songs spanning the '40s to present day, from the Temptations' "Just My Imagination" to Dobie Gray's "Drift Away," Toto's "Africa," John Mayer's "Gravity" to One Direction's "Night Changes."
Each number is arranged by the group to feature a soloist plus parts for bass, baritone, and tenor, with the voices providing the beat and rhythm as well as lead singing and harmonies. The roles are constantly in flux, Wu said.
"The group is really molded by its members. So, it's different every time out."
Coping with COVID
The Omicron variant, which has probably at least doubled the COVID case count since this writing, seems intent on wreaking havoc within the entertainment environs just as the arts were enjoying something of a return to normalcy. Artists, promoters, and venues are reacting in a wide variety of ways.
In the classical music corner, Camerata Pacifica has taken the more cautious route on its own, choosing to cancel its series of January performances that was to include January 14 at Hahn Hall. Artistic Director Adrian Spence made the announcement via an email video, noting that with "Omicron sweeping across the country, there is so much uncertainty and such are the risks that we don't feel we can offer you the appropriate assurances for your safety when you are in our concert halls. So, we think it's best just to sit this one out until the Omicron surge passes." After advising its patrons to get booster vaccines, Spence also announced CamPac is planning on putting together four more episodes of its Concerts at Home videos that proved popular during the darkest days of the lockdown.
On the other hand, CAMA on Monday reiterated its plans to present London's Royal Philharmonic Orchestra with its new Music Director Vasily Petrenko and piano soloist Olga Kern at the Granada on January 11, and tickets remain on sale for the Los Angeles Philharmonic's annual CAMA concert — its first since the big 100th Anniversary concert in March 2020 and featuring guest conductor Elim Chan and pianist Igor Levit — on January 28. Meanwhile the Santa Barbara Symphony, despite needing to substitute Opera Santa Barbara artistic director Kostis Protopapas for Bob Bernhardt as conductor on New Year's Eve, is so far still promoting its January 14-15 Fandango Picante program featuring violinist Anne Akiko Meyers at the same venue.
Rock Our World
In pop music matters, SOhO also had a last-minute replacement on New Year's Eve, with the local faves Area 51 taking over for the Bay Area's Con Brio and has had two acts cancel upcoming concerts. But so far, the club is continuing with its schedule, with 23 shows booked over the month's final 29 days. Among the highlights just this week are a set from singer-songwriter Mason Jennings on January 8, and a Jazz Society show on January 9 with the Frishberg-meets-Gershwin jazz drummer Dave Tull, who has toured for years with Barbra Streisand and appeared on Pixar's Forky Asks a Question shorts series. His trio features twice Grammy-nominated pianist Otmaro Ruiz and bassist Kevin Axt, known locally for his many appearances with Tierney Sutton.
There's no word yet of any cancellations or postponements from other clubs that sporadically book touring acts nor from the Lobero. The latter is still selling tickets to KT Tunstall — whose January 21 date represented a third try in the last two years, although the pop star did present one of the theater's audience-free virtual concerts — as well as a January 29 concert from Anaïs Mitchell, whose appearance as part of Sings Like Hell years ago was a precursor to her Broadway smash folk-opera Hadestown that later won eight Tony awards including Best Musical in 2019, and Ty Segall and the Freedom Band on January 31.
Exit Stage Left?
On the dramatic stage, Ensemble Theatre has responded to Omicron by pausing ticket sales for its February 3-20 production of Carmen Jones, the Oscar Hammerstein-adapted version of Bizet's timeless classic that turns the opera into an African American Broadway musical set at a parachute factory. Meanwhile, the Granada's Broadway in Santa Barbara Series engagement with the musical adaptation of Waitress is still slated for January 18-20. UCSB Arts & Lectures has postponed Amanda Nguyen's January 12 lecture due to an "unforeseen scheduling conflict" although plans are still in place for the bluegrass-plus Punch Brothers and Pulitzer Prize-winning investigative journalist Andrea Elliott at Campbell Hall on January 18 and 20, respectively, and the dance series debut with Ballet Hispánico at the Granada on January 21.
SBIFF has announced its intention to proceed with a full in-person festival March 2-12 albeit with updated and enhanced safety protocols that not only will require all attendees, staff, and volunteers to be fully vaccinated and boosted according to CDC recommendation but also boast a requirement to show a negative COVID-19 PCR test taken no more than 48 hours prior to picking up your festival pass.
Finally, Chaucer's Books is putting a pause on its in-store events that returned just last month, instead reverting to a virtual-only world with authors although the store itself remains open.
Of course, with Omicron and the COVID-19 changing faster than it took the Ramones to play one of its patented punk songs, it's wise to check with each venue before heading out.
Steven has covered a plethora of topics for the Journal since 1998, and now leads our extensive arts and entertainment coverage
You might also be interested in...