Quite the Quintet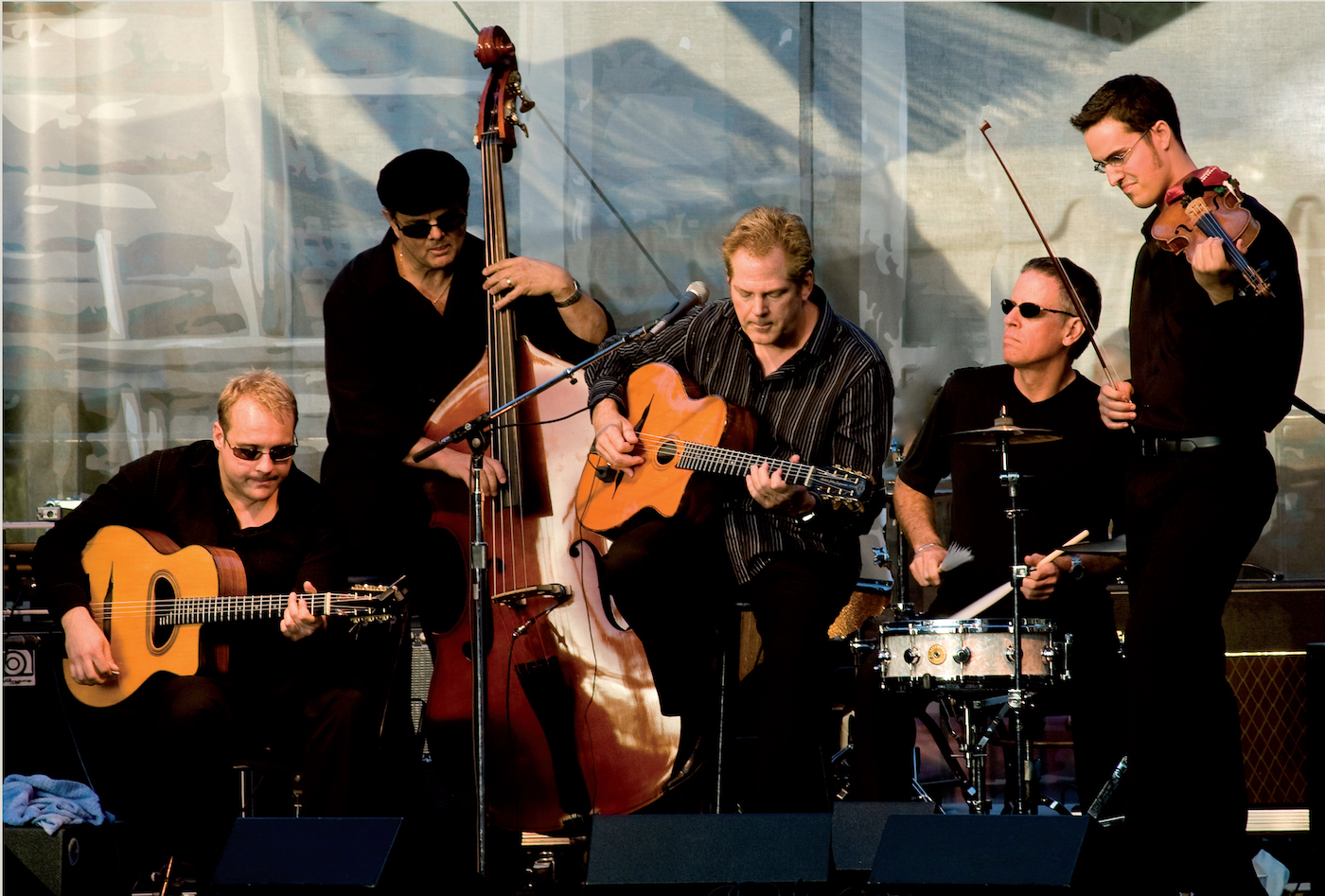 Prior to November, you'd be hard-pressed to recall the last time John Jorgenson played in town. Best known for his inventive guitar work in Desert Rose, the mid-1980s California country-rock band he co-founded with former Byrd/Flying Burrito Brother Chris Hillman and country-bluegrass stalwart Herb Pedersen, Jorgenson also played in the guitar trio Hellecasters, toured for years with Elton John, and has recorded or performed with Sting, Billy Joel, Barbra Streisand, and Bonnie Raitt, among many others.
In November, J2B2, Jorgenson's bluegrass band that also features Pedersen, showed up at SOhO to close out the fall season from SBAcoustic, a comeback series from the nonprofit Santa Barbara Acoustic Music Association. The show was such a smashing success, the series is bringing him back to launch its winter season in January, only this time in another guise as The John Jorgenson Gypsy Jazz Quintet.
The five-some that features Casey Driscoll on violin, Simon Planting on bass, Rick Reed on percussion, and Rory Hoffman on guitar, piano, and accordion play that style of string-driven swing originally created by "Django" Reinhardt and Stéphane Grappelli in 1930s. Still, gypsy jazz might be an even more esoteric genre than bluegrass, but the guitarist has found the format completely compelling for more than 40 years. Credit the internet for making it possible for him to pursue that path in public.
"I've loved gypsy jazz ever since I first discovered Django back in 1980, but it was too under the radar and there were no festivals or any chance to tour back then," he said when we talked in November. "So, I just kept playing it for my own enjoyment. But the internet has allowed people that love these sub genres to find each other and now there's a whole circuit for people to perform that music I have loved for such a long time."
Fast forward 20 years and the quintet reigns as the only American act to ever headline the Django Reinhardt Memorial Festival in France, and has been featured at Djangofests in the U.S., UK, Germany, and Canada. Jorgenson even portrayed Reinhardt in the 2004 film Head in the Clouds.
But Jorgenson's compositions for his quintet expand upon the formula founded by Reinhardt and Grapelli to draw on elements on Latin, Romanian, Classical, Rock, and Greek music.
"Honestly, I would have been plenty happy to just be a Django Reinhardt tribute act and do exactly what he did," the guitarist said. "But when I would play shows, it was hard to do a whole set of that. And when I started putting in the original compositions, they resonated better with the audience because they were unexpected. Maybe it's because sometimes I don't have a genre in mind when I start writing, so there's one I wrote as a techno dance song then became a more Romanian flavored piece, and another that I thought I'd do with the Hellecasters that became two of our most popular songs with the quintet. It's cool with me to be where the genres cross."
The John Jorgenson Gypsy Jazz Quintet performs at SOhO at 7:30 pm on January 5. Tickets cost $45-$77. Call (805) 962-7776 or visit www.sohosb.com.
You might also be interested in...