Folk Heroes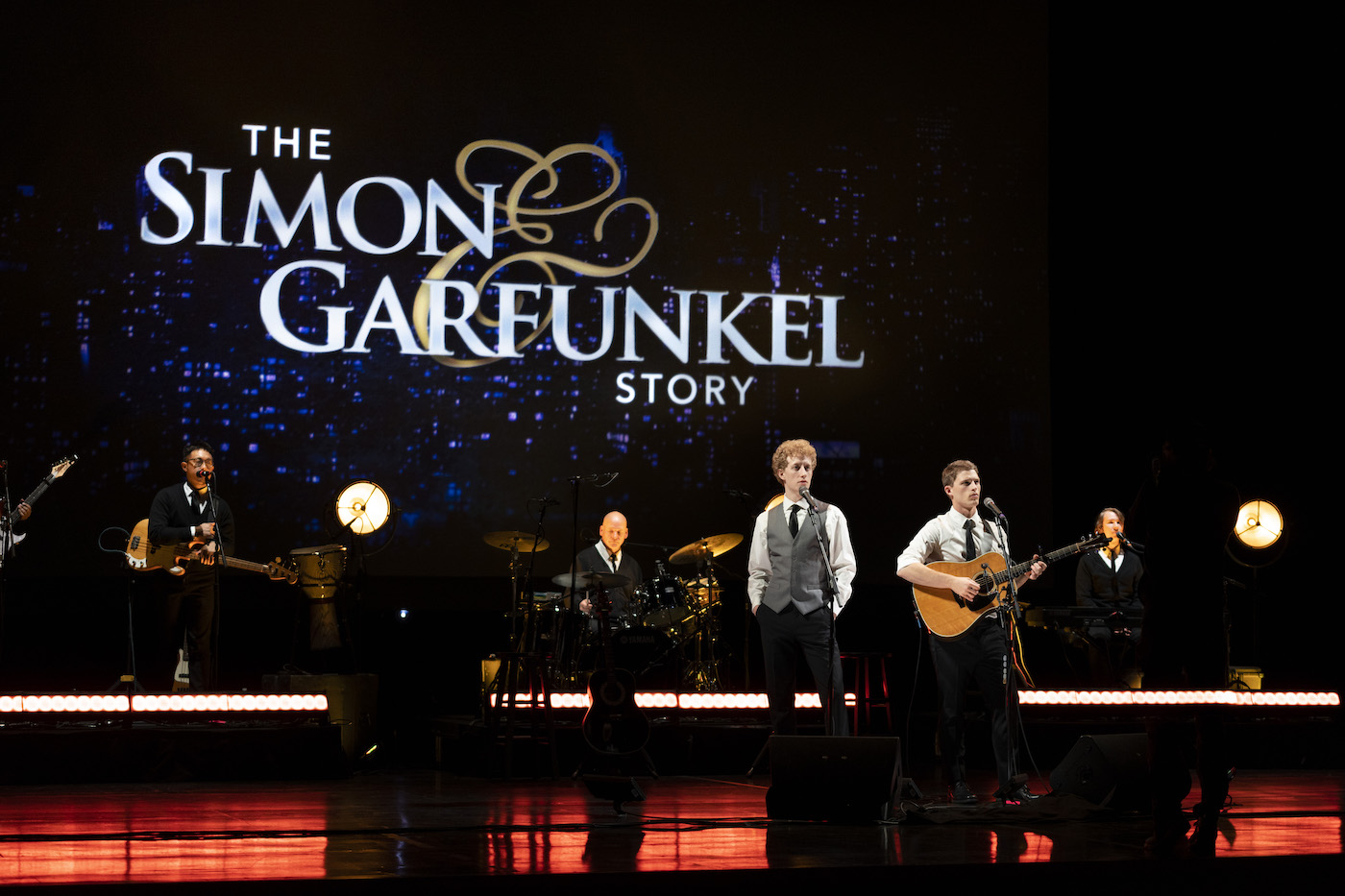 The popularity of Simon & Garfunkel, the most famous duo in folk music history, remains unabated more than a half-century since the pair first broke up over artistic differences and personal issues following the release of the groundbreaking album Bridge Over Troubled Water. Problems persisted each time Paul Simon and Art Garfunkel contemplated reuniting after their first comeback show that drew 500,000 people to Central Park in New York, where the two first started out as childhood friends before creating a duo that has sold upwards of 100 million albums. The last effort lasted just one show back in 2010, and with Simon and Garfunkel both marking their 80th birthdays earlier this year, and still reportedly not on speaking terms, it seems that ship has sailed.
But with the Santa Barbara debut of The Simon & Garfunkel Story set for the Granada Theatre on January 5, locals will have a chance to cruise down memory lane via the song-filled internationally acclaimed hit theater show. The immersive concert-style show chronicles the folk-rock duo's journey, from their teenage beginnings under the pseudonyms Tom & Jerry to their astonishing success as one of the best-selling artists of the 1960s through their dramatic split in 1970 before culminating with "The Concert in Central Park" reunion in 1981.
The show was created in 2014 by Dean Elliott, an actor who had performed big roles on big stages, including portraying the bespectacled rocker Buddy Holly in the West End version of the Broadway musical. He wrote the show thinking it might do well enough to justify a limited six-week run in the UK, never expecting that he was launching a juggernaut of a show that has toured nonstop ever since, with several troupes on the road simultaneously. Elliott played Simon for 18 months, then stepped aside for young actors, moving into the executive producer and director role, supervising each cast, and keeping his hand firmly on the throttle.
Elliott talked about the genesis of The Simon & Garfunkel Story — which features more than a dozen cuts including a full live band performing "Mrs. Robinson," "Cecilia," "Homeward Bound," "America," and "The Boxer" — over the phone from London in advance of heading stateside for the musical's winter run.
Q. You were finding a lot of success starring in The Buddy Holly Story and elsewhere. What made you want to write a musical about Simon & Garfunkel?
A. I thought I could come up with another biopic-type musical. Going through my CD collection, I realized that even though they have a huge body of really great material. It also seemed like their musical story had a natural theatrical arc, going from a simple folk duo to doing more complicated material and the last of their five studio albums being the biggest seller, the way a show might build to a climax. I couldn't think of another act that has had that trajectory. There's natural drama in how despite getting more successful their conflicts drove them apart. And I figured that just like with Buddy Holly, there was no way to see them live anymore, so people might really like it. It turned out to be one of those shows that just sparked the imagination of the public, and people come back over and over again.
How do you cover all that on the stage?
One reviewer hit the nail on the head when he called it a "tribute documentary." It doesn't have scenes, but it's also not a pure tribute act where the actors are pretending to be them. But the idea is to take people back in time, so we rely quite heavily on video technology, footage of what was happening in the '60s, commercials and newsreels to provide setting for the songs, while the actors who play Paul and Art also provide the narration. They're in their early twenties and with the lighting and video and sound design, you can almost feel like you're there. For example, there are scenes from a documentary about the Summer of Love in San Francisco and then they sing Simon & Garfunkel's psychedelic song "Parsley, Sage, Rosemary & Thyme." It's because Simon was really a storyteller who wasn't just writing songs about love but also talking about what was happening in the world. The show poetically weaves that all together.
So, you wrote it as a vehicle for you to star in?
No, not at all. In fact, I wasn't going to be in it at all. I was going to just serve as musical director at first so I could work out all Simon's guitar parts which are really very complicated and often tricky on the fingers. My voice is also somewhat similar to his, a bit of a sweet tenor. But because I was really too old even then, we wanted to cast someone else. But back then it was hard to find someone who could tick off all those boxes in terms of acting, singing, playing the guitar. The original director then said, it's only a few weeks. Why don't you just do it?
Why do you think that Simon & Garfunkel have remained popular for so long?
No. 1 is Paul Simon songwriting, which was phenomenal and timeless right away. Think about "The Sound of Silence" and lines like "People talking without speaking / People hearing without listening" that could have been written yesterday. But it's also their harmony singing. The sound of those two voices together is so iconic and so pleasing to hear. We're just hard-wired to be drawn in. We open the show with "The Sound of Silence," and everyone starts applauding the moment they hear "Hello darkness my old friend" with those two voices blending. Being able to recreate that sound faithfully is our job and we love doing it. And for anybody who was around back then, there are a lot of personal attachments to their music as well. It's not a bad thing to say it's very nostalgic.
Do you know if either Simon or Garfunkel has ever seen the show or commented on it?
I know Art's family, so I know he's aware of it, but I don't think either of them has seen it. We'd love it if they want to get in touch and are open to having them talk to us about the show and how we could make it more accurate. But I'm not holding my breath.
The American Theatre Guild presents The Simon & Garfunkel Story as part of Broadway in Santa Barbara at the Granada Theatre for a single show at 7:30 pm on January 5. Only balcony seats, which cost $56-$81, remain on sale. Call (805) 899-2222 or visit www.granadasb.org.
You might also be interested in...