Revels Redux: Original Show Comes Back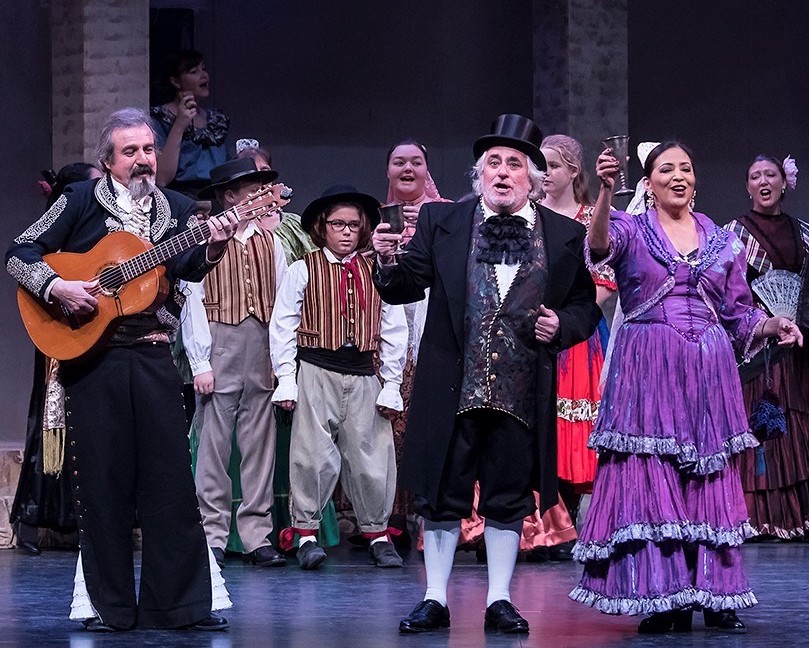 More than a dozen community companies around the country present Christmas Revels performances this December, including such places as Lebanon, New Hampshire; Boulder, Colorado; and Oakland, each of which reworks shows created by the flagship company in Cambridge, Massachusetts. The shows bring together people of all ages and backgrounds — both on stage and in the audience — to enjoy musical and theatrical presentations of our world's cultural and seasonal traditions.
But none of them will come close to the local connection of the story being shared this weekend by Santa Barbara's own Revels, which is bringing back The Christmas Revels: An Early California Celebration of the Winter Solstice. That's because the original show was created to celebrate the company's 10th anniversary in 2017, bringing to life a slide of Santa Barbara's own history from nearly two centuries ago, when Yankee sailors met Spanish Rancheros at Casa de la Guerra.
The Early California Christmas Revels is based on actual events from the 1830s that form the backbone of a traditional Revels winter show, that features the company of more than 60 singers, actors, dancers, and instrumentalists decked in costumes in the fully staged production that this year boasts segments of sea shanties, Spanish dances, Christmas carols, the Mexican religious festival Las Posadas, plus Chumash storytelling along with the standard Revels fare.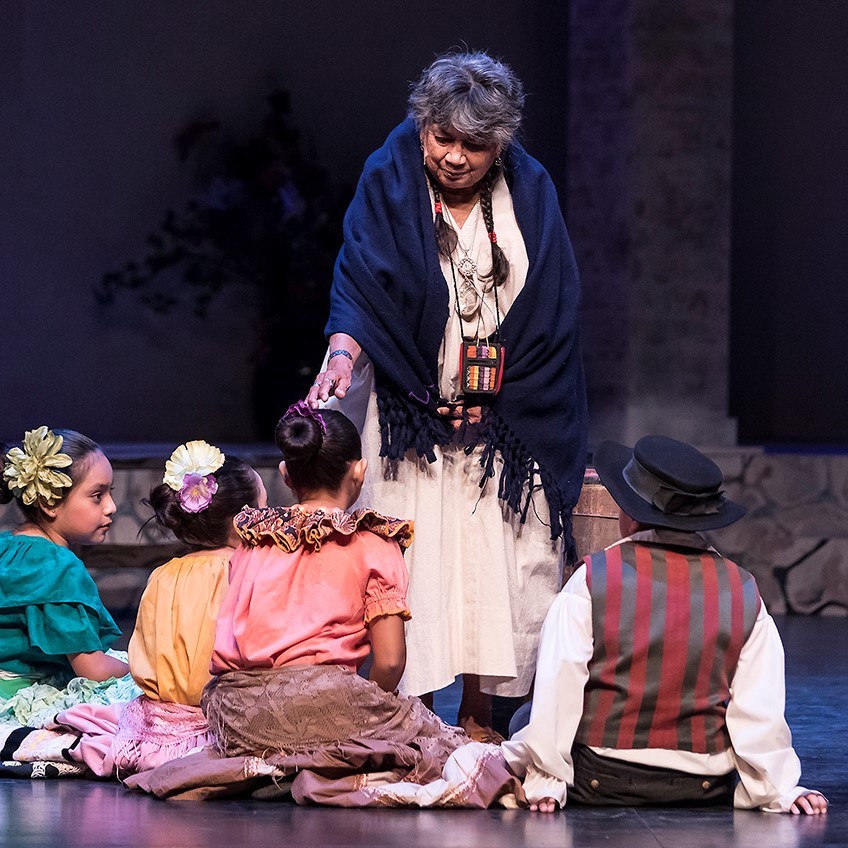 The action takes place at a celebration for the upcoming wedding of Anita de la Guerra, daughter of the Presidio's comandante Jose, to Alfred Robinson, local representative for a Boston-based hide and tallow trading company. Richard Henry Dana — a young Harvard student spending a year at sea with the sailor/tradesman — recorded the events in his classic book Two Years Before the Mast. The Thomas Fire forced half of the 2017 performances to be canceled and in bringing the show back Revels Santa Barbara founder Susan Keller also took the opportunity to refine the script that she originally co-wrote with local author and historian Erin Graffy.
"We've gotten more sensitive to some cultural issues since then," Keller explained. "But the main thing was taking the exposition of the mouth of the characters and using a narrator instead."
Played by Joseph Velasco, one of the founders of Boxtales Theatre Company, the Narrator provides the historical setting, describing how the Chumash have been on the land for 7,000 years, tracing the transition to the missions and Spanish and Mexican influence of the time period. "You get a sense of this being an area that has changed hands and it was important to pay tribute to the indigenous people and that this was Chumash land before it was anybody else's, and their influence still remains and is still very important. In fact, there are parallels between their traditions and some of these solstice traditions that we currently celebrate."
It's that latter part that makes it a Revels show, as Keller also created a Mummers play for the piece with a Davy Jones locker theme surrounding a young sailor who is kidnapped, lured by the Sirens, and then rescued by mermaids, signifying the solstice tradition of death and rebirth or the loss and return of light.
Indeed, one could make a case that COVID itself represents a version of that theme, and the fact that Revels has emerged to put on a full-scale show becomes a heartening resurrection on its own. The annual show has become such a lure that nearly all the cast returned to reprise their roles, including a couple of actors who had moved away in the interim.
And the touchstones that are de rigueur in every Revels production are also returning, including the audience singalong to "The Twelve Days of Christmas" and the "Lord of the Dance" song and procession that concludes Act 1 with full audience involvement, the Abbots Bromley Horn Dance, recitation of the poem "The Shortest Day" — which was written for Revels back in 1977 — and the Sussex Mummers' Carol that concludes the show.
It's all part of the process that gave rise to Keller's long-ago-created catchphrase for Revels: "Join us and be joyous."
"I see the wonderful change that comes over audiences when they're invited to participate, an immediate connection between people and performers," she said. "You can't get that from the big screen at home. You have to be there."
Santa Barbara Revels performs The Christmas Revels: An Early California Celebration of the Winter Solstice, at 7:30 pm December 18 and 2:30 pm December 19 at the Lobero Theatre. Visit www.santabarbararevels.org.
Christmas Gets Folked Up, Orchestra Style
Folk Orchestra of Santa Barbara founder Adam Phillips was Revels' music director before he launched the 30-piece ensemble comprised of local musicians covering everything from violins, violas, cellos, and double basses to guitars and mandolins to harp, Scottish small pipes and other bagpipes and even the hurdy gurdy. So, it's no surprise that FOSB has been dedicated to playing an amalgam of folk and classical music drawn from traditions around the world. Now, five years into the project, the orchestra is offering its first-ever holiday shows, blending traditional music of Christmas, Hanukkah, the Winter Solstice, and the New Year on a globe-traveling program.
"People kept asking me when we were going to do a holiday concert, which I wasn't in a hurry to do," Phillips said. "But I figured with the [COVID-caused] 'Change of All Things,' why not give it a shot and see what happens. It's a lot of music that I've been playing or singing my whole life and I thought it would be really fun to do it with the orchestra."
Phillips – who has sung with Quire of Voyces, Opera Santa Barbara, and the Adelfos Ensemble, served as a cantor at the Santa Barbara Mission and a worship leader at El Montecito Presbyterian Church, and currently is the Director of Music and Worship at Good Shepherd Lutheran Church of Goleta – pulled together a program that intersperses such favorite carols as "Silent Night," "O Holy Night," "Jolly Old St. Nick," and "O Christmas Tree" with the Ladino Hanukkah song "Ocho Kandelikas" (Eight Little Candles) and "Hanerot Halalu," plus several surprises.
"I try to pick tunes that I love and would be fun to play with the orchestra," he explained. "A good mix of the familiar songs that give you warm, happy holiday feelings along with our normal groove of great music that's out here that you've probably never heard before. And I also have to mix in the different instruments that we have access to, find pieces that work well with harp, Uilleann pipes, and mandolins. It's about finding that good balance."
The wide-ranging repertoire meant Phillips had to double down on creating arrangements for the ensemble, he said. "There's no repertoire for us to pull from, so I had to write all new arrangements for almost 10 pieces, new orchestrations just for this show."
That includes "Hanerot Halalu," which Phillips said has "a traditional Hebrew Hanukkah melody, and then I gave it this very tribal Nordic solstice vibe with a lot of drumming. It's a pretty powerful piece now."
The audience — which will be invited to sing along on a couple of choruses — is likely to include a lot of Folk Orchestra first-timers as the ensemble is playing Saturday afternoon at its usual digs of the Presidio Chapel before stepping up to the Marjorie Luke Theatre, with a seating capacity of five times the chapel's.
"We're so happy to be back at our home after more than two years, but it's also great to be in a larger theater for the first time playing on a proscenium stage. That will be a very different feel for us. It's exciting."
Visit folkorchestrasb.com.
You might also be interested in...