Michael DeVorzon Stars in Upcoming Film Alongside Bruce Willis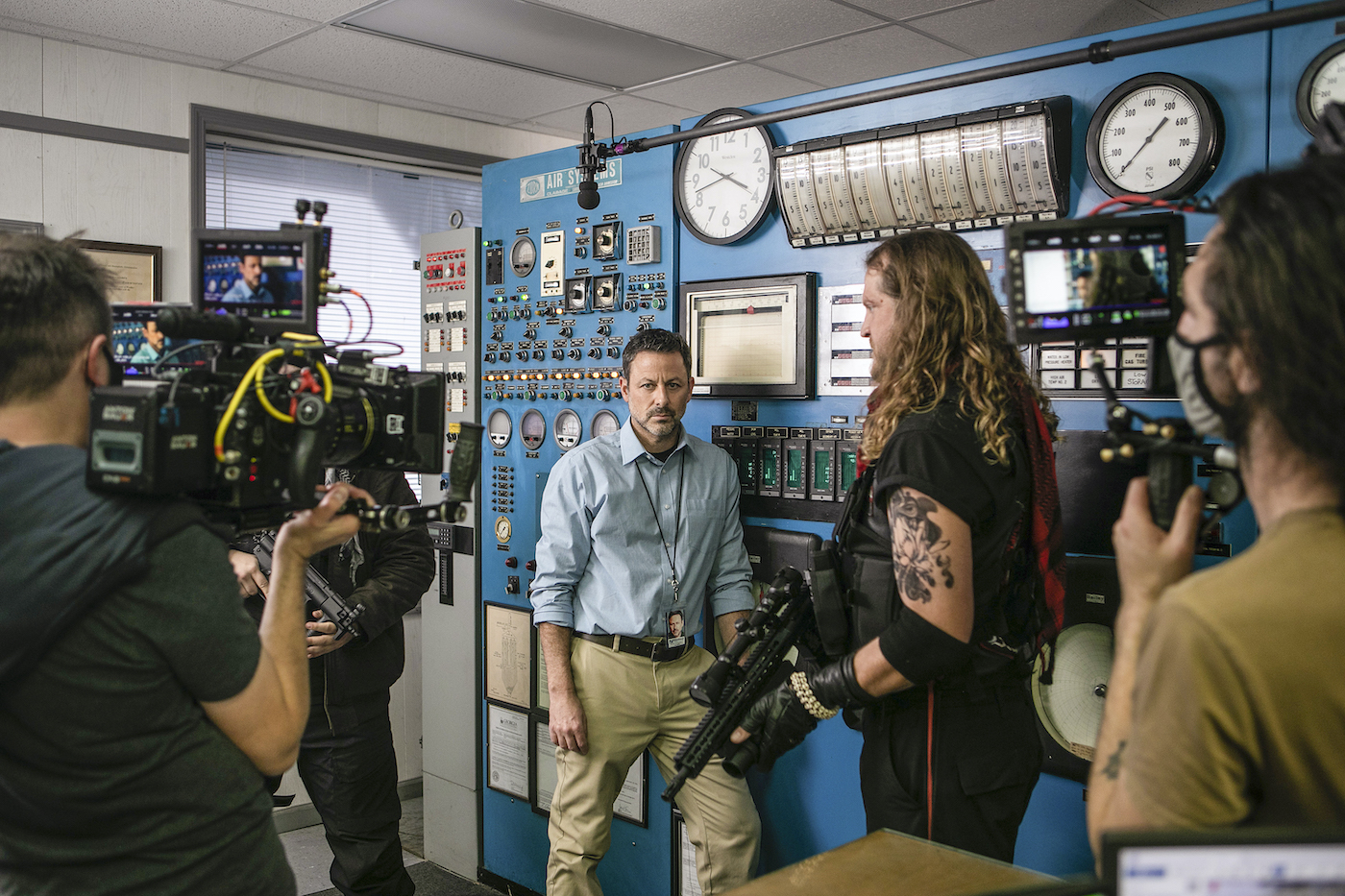 The hot film news of the week is our own super talented actor-writer Michael DeVorzon in his latest role as Smith opposite Bruce Willis as Ron Whitlock, in Jared Cohn's new action thriller Deadlock, which opens in theaters, on digital, and On Demand on December 3, 2021.
DeVorzon and I talked Monday this week about working with Willis, his role in the film, and sharing some of his behind-the-scenes photographs. Without spoiling anything, the film features Willis as the villain and his mercenaries face off against lead actor Patrick Muldoon as a retired elite army ranger at a hydro-electric power plant, where DeVorzon's character is in charge. Filming took place at double-warp speed with full cast and crew in their bubble on location in Cordele, Georgia, in February 2021, and went straight to post-production to meet the release date.
Here is our exclusive interview:
Q: How was it working with Bruce Willis?
A: It was an honor to work with Bruce Willis, to work opposite him as opposing characters. He is a legendary and iconic movie star. He was incredibly humble and grounded and it was a dream come true to be able to work with him. We had fun doing our scenes, sometimes riffing, and improvising. We were working at a furious pace, which forces you to stay in the moment, be flexible, and adapt to what may happen next. It is definitely a career milestone, and I am incredibly grateful for the opportunity.
Any "oh-my" moments on set?
Yes, I happened to be the first actor called to set to do a scene with Bruce! I was kind of hoping some other actors would get called first, but that was not the case. They called my name, and as I walked to set I was a bit nervous anticipating the moment, but once I got there, Bruce was very down to earth and made me feel comfortable and we got to work.
You have worked with Patrick Muldoon in the past, right?
It was surreal. In the '90s, I worked in production on Melrose Place where Patrick played the role of Richard Hart. I hadn't seen him in 16 years; it was great to reunite with him and I was thrilled he was playing the lead role in Deadlock. He's super talented, very charming, and likeable, and a lot of fun to watch on screen.
What was it like working with writer/director Jared Cohn?
I've been lucky enough to do several movies with him and we have a wonderful working relationship. I really admire how talented he is in so many areas of filmmaking; he really knows how to execute and be efficient. Jared is so humble, grounded, and has an open mind, so collaborating with him is always a pleasure. He's got a great eye; we have fun working together and it feels very much like a collaboration. Filming took place over two intense weeks with a full crew, and he held the timeline in check seamlessly.
Anything you want to share with the readers and your fans?
The last two years have been an incredible run career wise. I've done eight movies, and this film is definitely a career highlight. Thirteen years ago, I made a decision to get my life back on track, to get off of one path and get on another. To come from where I was to where I am today is just a miracle in so many ways. I believe that everything good in my life, including this film, is a direct result of being on the right path, working at becoming a better man, doing the right thing, and being a good person. Don't leave before the miracle happens, because you never know when things are going to fall into place for you.
411
Deadlock trailer: www.youtube/UoqRfsoa5c4
Michael DeVorzon: www.imdb.com/name/nm1010984/
You might also be interested in...