Danger Dan? Montecitan Will Race Baja 1000 for 19th Time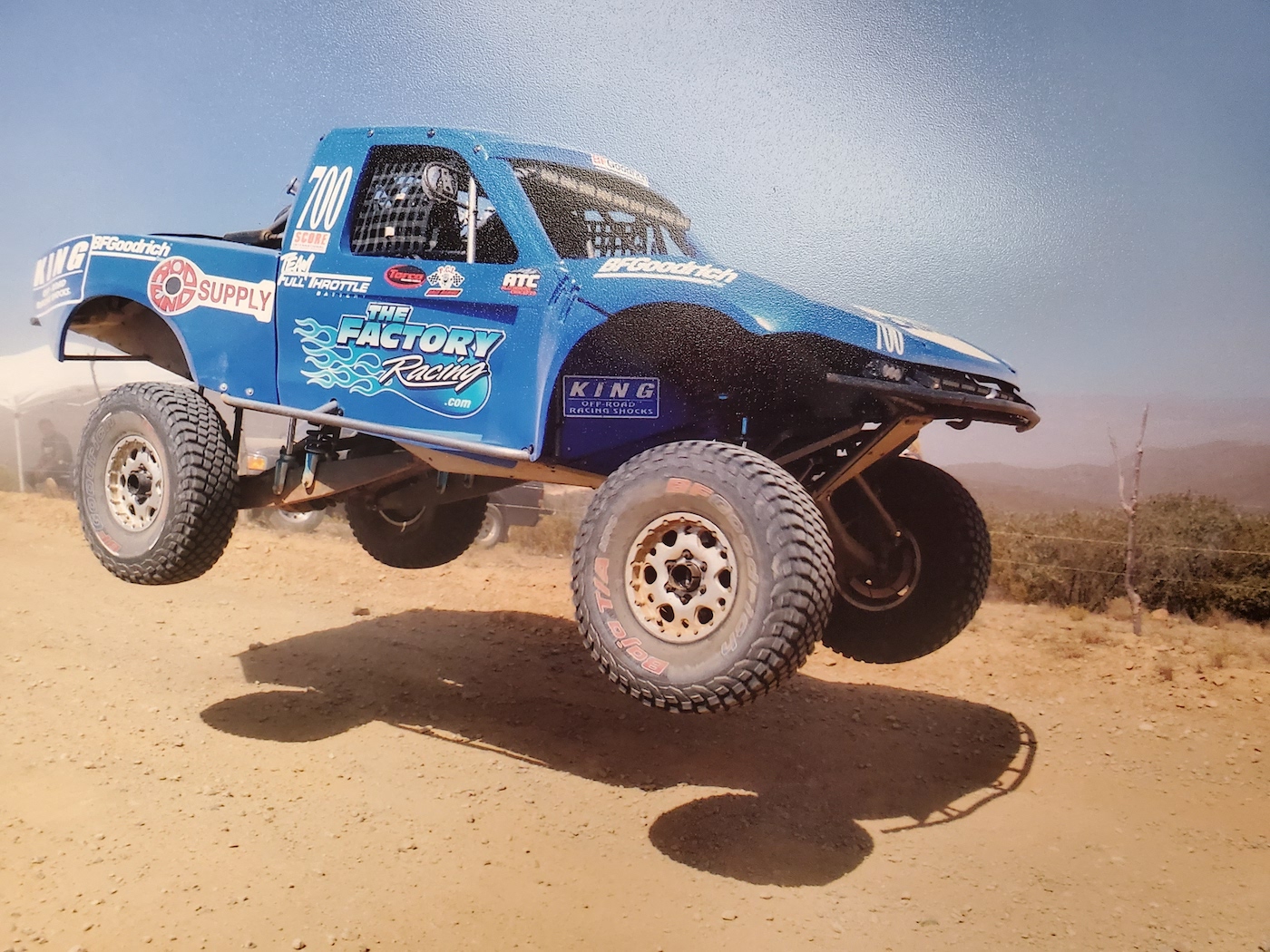 SCORE International (Southern California Off Road Enthusiasts) is the sanctioning body for desert racing, featuring four Baja races annually, most noted is the Baja 1000, slated for November 18, 2021. More than 300 registered Pro and Sportsman class racers of all ages worldwide participate with cars, trucks, UTVs, motorcycles, and quads. 
Our town's top racers are 16-time Championship Class Seven Truck winner Dan Chamlee, The Factory Racing;racing legend Jimmy O'Neal with Jon Ortner Pro Moto 60; Derek Ausserbaurer Pro Moto Unlimited; and brothers Travis and Nathan Frohlich, Chris Gil, Jacob Hanberg, and Shon Hepler in the Pro Moto Limited all on Honda CRF450X motorcycles.
Racers are required to protect and preserve the Baja ecological environment along the technically challenging 1,227-mile route. There are three physical and 236 virtual mandatory check points, and 23 speed zones monitored by GPS. Driver safety, control, and navigation is required via the Anube Stella III system using GPS data and satellite communication. Moto and Quads start at 2 am and a 9 am start for cars, trucks, and quads by class with 30- to 60-second paced starts. Maximum allotted finish time is 50 hours.
You can watch it on ESPN's World of X Games with legend racer Cameron Steele.
I sat down with Chamlee on the eve of his big race in Mexico:
Q. How did you get into it?
A. This will be my 19th year doing the Baja 1000. Although I'm the first in my family to race trucks, my grandpa, Tom Newton, was the world champion in the California Outboard Motorboat Racing Series in the 1950s for 20 years and had his own outboard motor shop. He worked for the Montecito Water District since 1920 and was the caretaker for the Doulton Tunnels Water Treatment Plant till 1974. My mom went to Montecito Union School. Both parents went to Santa Barbara High School. My dad worked at my great grandpa's shop, CD Reilly Machine Works on Salsipuedes Street, from 1930 to 1980. My wife, Laurie, is from Carpinteria, and we have six kids who have each participated on our racing team, with grandchildren looking forward to it. My racing team, Factory Racing, is named after my business Factory Appliance, which my son is running now.
You build your own racing trucks?
Yes. My dad taught me how to weld when I was young, so I've been designing and fabricating cars for a long time. I design, engineer, and build the vehicle from scratch. It's fun because when I race, I have both an engineering contest to prove my design is the best and the race to prove I'm a better driver than someone else. The truck is not a modified production vehicle; it's built from scratch. Years ago, there was a frame requirement. Now we can do what we want in the design to make it better. I get to choose where to place the battery, fuel cell, spare tires, how far the engine is going to be moved forward or back, where the front suspension pivots, where the shock absorbers are and so on. It takes a good part of the year to build and test it. The vehicle I am using for this year's race I built about four years ago, and we are constantly making improvements.
What are your racing truck's specs?
The engine is a 3.5-liter twin turbo EcoBoost out of a 2019 Ford Raptor with a beefed up six-speed transmission, the vehicle weighs a little over 5,000 pounds, with 40-inch BFG Kevlar reinforced race tires, and 30 inches of vertical wheel travel that can go through a four-foot-deep ditch at 95 mph.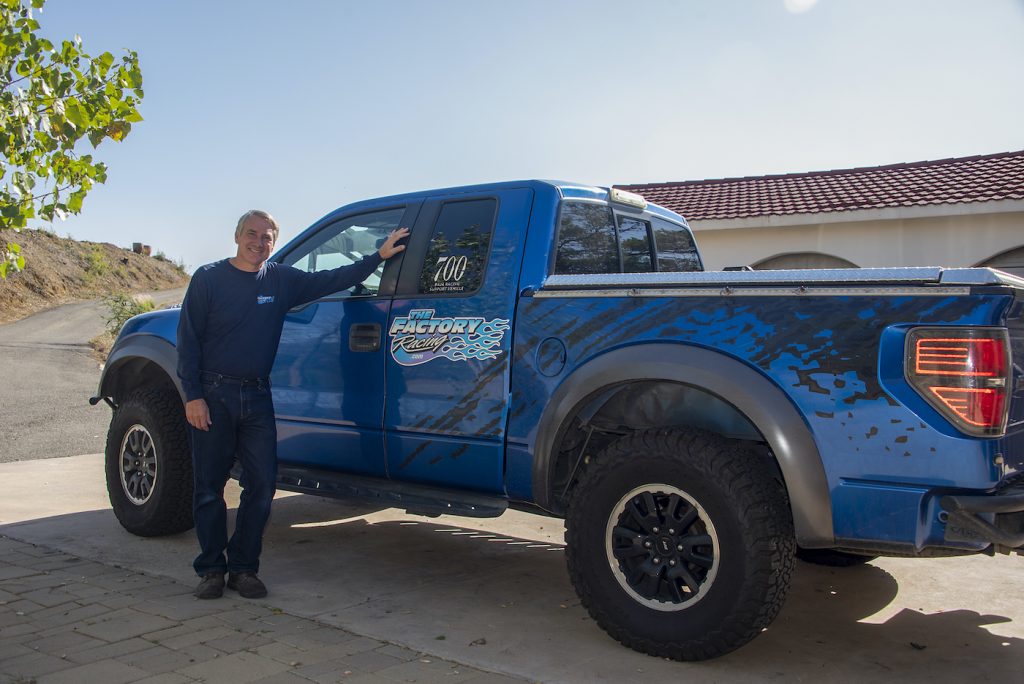 What are your driving techniques?
To finish first, first you must finish. A wise driver drives as slow as they can to win. I settle into a speed that gives me the miles per hour average speed to get a podium finish. My typical race speed is up to 100 mph, averaging 45 mph including stops and the slow technical sections.
If I drove my truck at the fastest speed the whole time over 1,200 miles in the roughest desert in the world, it is a recipe for breaking down. The first 50 miles of the race looks like a wrecking yard because people over-drive their vehicles.
I drive the entire race start to finish, switching navigators every few hundred miles. Our team follows on the highway sections in "chase" vehicles connected by radio and a GPS tracker to make necessary repairs with supplies and parts.
Who is on your team this year?
My wife Laurie; Kurt Kimball from Granny's Garage Santa Barbara; John Lund of Montecito; our daughter, Jamie, with husband, Jeremy; my nephew, Shawn, a U.S. Navy parachuter; Chava and Felipe Anguiano from Martin Roofing Santa Barbara; and Amy Tate. We share chase vehicles with fellow racer Scott Brady.
What safety gear do you have in the truck?
We have a high strength steel roll cage, driver fire suit, gloves, helmets, intercom, radio, and GPS tracking. We have filtered fresh air into our helmets which has a skirt into the driving suit. BF Goodrich Tires will set up nine full-service pit stops where they fill our fuel cell, check the vehicle, and can change the tires in seconds. They also have welders and mechanics on standby.
What is the most interesting thing on the route?
We can be driving at night and see a distant campfire. As we drive by, it's a little family cheering us on with their sombreros, who got to the middle of the desert on a burrow, which they tied to a nearby tree, or they might be driving a Honda Civic where most people would need a 4X4! The Mexican people support the racers, they love and appreciate us so much, and we love them back!
What about the "boobie traps"?
I've been doing this a lot of years, and I have a different perspective about boobie traps. There is a rare ditch or boulder boobie trap made where they want to see if they can make a driver crash. Most of the so-called boobie traps are built by locals who go on the racecourse, get out their shovels and try to build a harmless jump where they can see a driver fly off something. It ends up looking like a poorly built giant speed bump; however, motorcycles can get harmed.
What is your advice for new racers?
Find a good team and volunteer to help.
Who are your sponsors?
BFGoodrich Tires, King Off-Road Racing Shocks, Rod End Supply, Torco Race Fuels Full Throttle Battery, 4X4 sPod, and All Terrain Concepts. We are currently looking for some local sponsors as well for our race team, and we are happy to work with them on advertising and maybe being on our support team for a race.
411:
Contact the Chamlee racing team at laurie@thefactoryracing.com
You might also be interested in...