Christmas Festival Makes Its Granada Premiere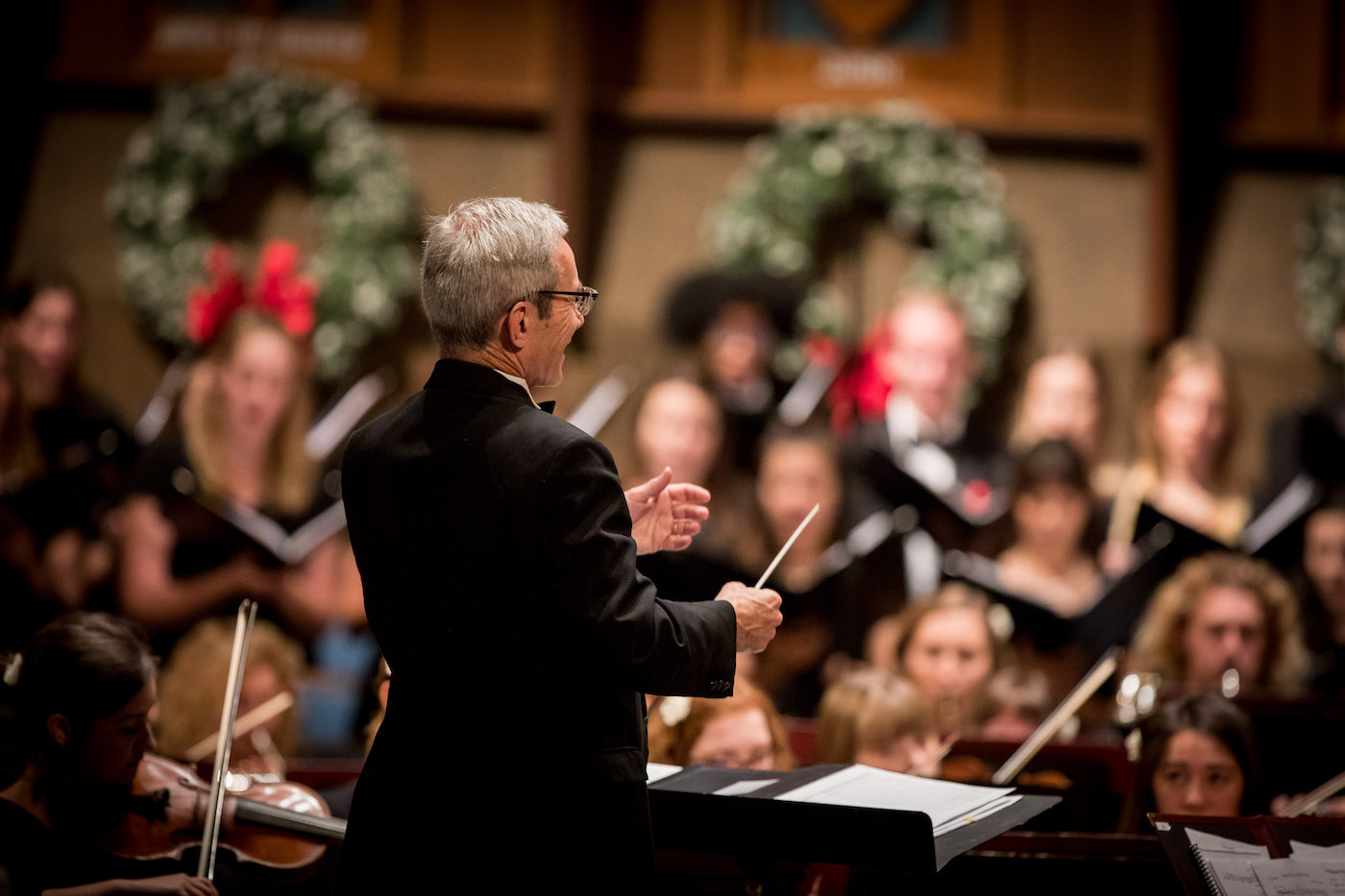 The 17th Annual Westmont Christmas Festival appears for the first time at Santa Barbara's famed Granada Theatre on Saturday, December 4, at 7 pm and Sunday, December 5, at 3 pm. Tickets, which cost $20 each, go on sale Tuesday, November 23, at 5 pm at westmont.edu/festival.
Each year, the festival celebrates the birth of Jesus Christ through an inspiring presentation with a theme, a narrative, and Christmas music from around the world and throughout the centuries, deepening our understanding of this holy season. This year's theme is Titus 2:11: "For the grace of God has appeared, bringing salvation to all."
"It emphasizes the offer of God's saving grace to all people," says Michael Shasberger, Westmont's Adams professor of music and worship. "The theme recurs throughout the festival from the sonorous opening of Russian composer Pavel Chesnokov's 'Salvation is Created' to narrations for the season, and the thrilling concluding setting of 'O Holy Night.'"
The event features the Westmont Orchestra, conducted by Shasberger, the Westmont College Choir and Chamber Singers, conducted by Daniel Gee, and the Westmont Choral Union, conducted by Grey Brothers.
The performance will include stunning musical arrangements of favorite Christmas hymns and carols by Gary Fry, Tony Royse, J.A.C. Redford,and Robert Sterling, and Christmas classics from the music of J.S. Bach, Felix Mendelssohn, and G.F. Handel. The festival features beautiful settings for a cappella choir, orchestra, and combined forces, including world and Santa Barbara premieres. Familiar carols and audience favorites, such as "O Come All Ye Faithful" and "Joy to the World," will be performed as well as newly beloved "Joy Has Dawned" by Keith Getty and Stuart Townend.
Shasberger, who retires in May 2022 following a stunning career, joined the Westmont faculty in fall 2005 and has recruited outstanding student musicians from around the world, added significant scholarships, expanded the orchestra, strengthened the vocal programs, and taken the Christmas Festival to new heights.
Theatre Turns to Uplifting 'Hope Songs'
The Westmont Festival Theatre offers uplifting songs of joy and love in "You Will Be Found: Hope Songs" November 19-20 at 7:30 pm in Porter Theatre. "We all could use a little hope right now," says Mitchell Thomas, director of the event. Tickets to the all-ages fundraiser, which cost $15 for general admission, $10 for students, may be purchased at westmont.edu/boxoffice. All proceeds will equally fund the annual spring Fringe Festival and CALM, a Santa Barbara County nonprofit that prevents and treats childhood trauma.
"Our 2021-2022 season is eclectic, embracing a broad range of styles, genres, periods, and forms," Thomas says. "But we've leaned into plays and productions that embrace resilience, joy and transformation in choosing Kitty Hawk or Kill Devil as our mainstage play and 'You Will Be Found: Hope Songs' as a fall musical revue. The material comes from musical theater, praise music, original songs, covers of rock and folk hits, and classic music from the 1930s and '40s."
The event features 11 student performers and a special musical guest who will perform an original song. "'You Will Be Found: Hope Songs' was designed to be collaborative with performers bringing in ideas and pieces they were interested in, and we chose the program together," Thomas says.    
Masked audience members will be encouraged to sing along to the evening's finale. "We are in a fragile space right now as a community and country," Thomas says. "Audiences are longing to be together again and to be moved and uplifted by music, ritual, and story. We want to meet audiences in a safe place where we recognize the challenges we're all facing and intentionally make space and time for light, hope, and love. We hope audiences will be encouraged, entertained, and inspired by the performances."
The theater will require evidence of COVID-19 vaccination or a negative COVID-19 test within 72 hours of show date. All patrons will be required to wear masks at all times when inside campus buildings. All performers will be unmasked for the performance and are taking part in approved, county-mandated vaccination and testing protocols for the performance.
You might also be interested in...