A True People Person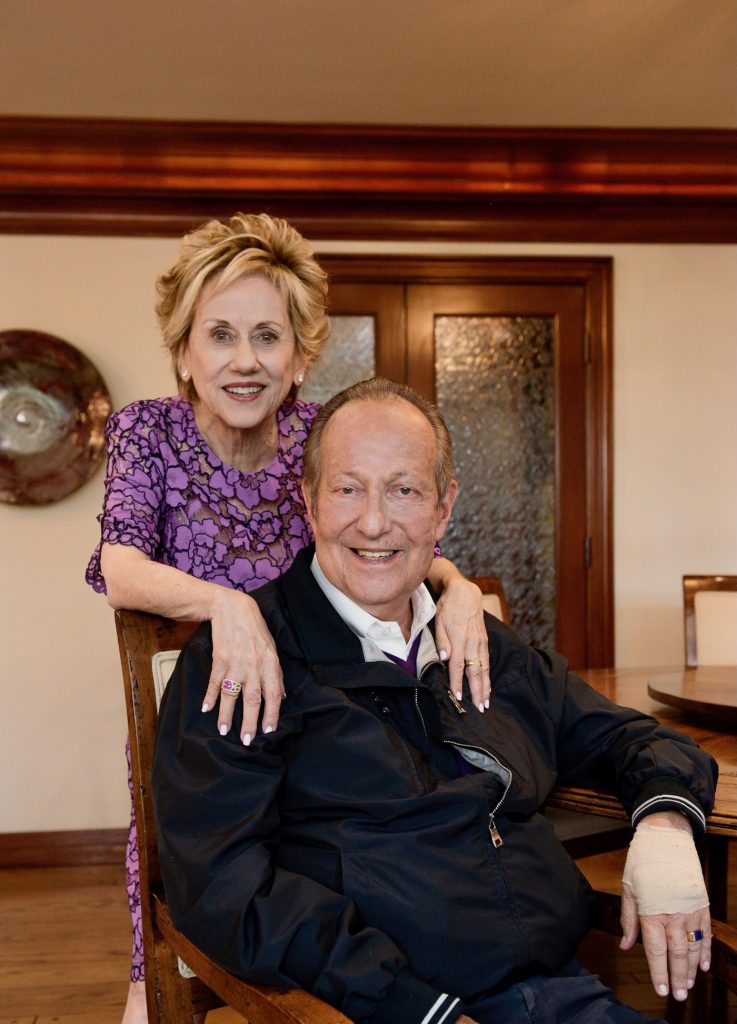 How would you feel if you lived with Multiple Sclerosis for more than half a century and, in an unrelated incident, suffered an organ failure that necessitated a new kidney donated by your son? If you were Bruce Corwin, you'd feel overwhelmingly grateful. Corwin was grateful to have survived everything life threw at him, grateful to have thrived, and was most of all grateful for the many opportunities he had in his life to help others.
His grandfather, Joseph H. Corwin, founded the first Metropolitan Theatre in downtown Los Angeles where, according to Bruce, giving was always core to their mission, which may be why for Bruce giving came so naturally.
"Helping was in our blood. It's just… what one did. We started with our own [Jewish] community and gave what we had," Corwin said in a recent interview with the Journal. "Since theatre was our business, for underfunded congregations that needed a physical place of worship, my folks would hold high holy day services in our theatres. My dad also donated pipe organs to congregations in need, because organs were both necessary and prohibitively expensive."
Later in life Corwin would be on the receiving end of a different kind of organ, the aforementioned kidney, from his son. "I definitely believe in karma," Corwin said with a wry smile.
Though the Corwin family began their philanthropic journey by helping Jewish people in need, their mission expanded significantly over time. Corwin's family synagogue (Temple Israel in Hollywood) was an early booster of Martin Luther King, Jr. In fact, they sponsored an important speech of King's, and as a result a 25-year-old Corwin met Dr. King when the reverend spoke at Temple Israel.
And that was just the beginning of what Corwin referred to as his own lifelong Optimism Tour, which sadly came to an end last Thursday, just as the sun rose over the Santa Monica mountains.
When my phone rang that afternoon and I saw the name Rick Tuttle, my college mentor, and former Associate Dean of UCLA, I feared the worst. I knew Bruce had been ill, and it was through Rick that I'd met Bruce 38 short years ago. Bruce had passed away that morning, leaving behind his beloved wife and partner in crime, Toni, his two sons whom he adored David, President of Metropolitan Theatres, and Danny, five beautiful grandchildren that lit up his world, and a giant hole in the lives of all those who knew him.
What can you say about a human being who embodied all the qualities for which there seems to be such a dearth these days – humanity, humility, grace, generosity, goodness, loyalty, optimism? A man who left every room he entered better than he found it; who always did more than his share, in everything and with everyone. A man who showed up for any good cause, often lending the use of one of his theatres (the Arlington or a Metropolitan Theatre). Bruce loved supporting good causes and he did so early, often, and generously. He lent his time, his wisdom, and his resources at a moment's notice for anyone he called a friend. Bruce had a lot of friends. And when he decided he believed in someone or something, he was all in.
Bruce was born in Los Angeles in 1940. After graduating from L.A. High School where he served as student body president, Bruce attended Wesleyan University in Connecticut where he majored in political science, played squash, and continued to build his close network of friends that was still strong and growing after 81 years. Wesleyan University was one of those good causes Bruce supported tirelessly which included advocating for talented young people he hoped would be future Wesleyan students. Today, I'm told, there are flowers placed around the goal posts at Wesleyan's Corwin Stadium.
After graduating from Wesleyan, Bruce became the third generation to operate Metropolitan Theatres, a privately held company owned by the Corwin family since 1923. It is through his theatre business that Bruce became deeply entrenched in the Santa Barbara community, which he touched in both public and private ways. In fact, at UCSB there are Corwin Awards for screen writing, play writing, dance and music composition.
On a personal note, I'll never forget when I began to raise money to buy the Montecito Journal. Standing outside the Goat Tree Cafe at the Hotel Californian, my family's home away from home during the weeks and months that followed our 2018 debris flow, Bruce was my first call. And my first yes. I paced back and forth on lower State Street in the rain, buoyed by Bruce's enthusiasm. He believed in Montecito and Santa Barbara; he believed in community; he believed in this vision of where I wanted to take the Journal; and he believed in me. That alone gave me the courage to move forward.
Bruce moved in the circles of Major League Baseball players. Movie stars. Presidents. And yet he made mere mortals like me feel special. He imbued us with a sense of possibility.
Bruce was always a force for good and wrote a leadership playbook that put people first. I think his greatest joy was boosting leadership skills in others. He used that playbook to help his close friend Tom Bradley get elected, the first African American mayor of a major U.S. city, building theatres in Watts after the riots, building the Discovery Cube Science Museum and the Martin Luther King Community Hospital in Los Angeles. Perhaps nowhere was Bruce's playbook more evident than when he created Coro, a leadership training program that prepared hundreds of leaders, including Sen. Alex Padilla, for a life in public service. Bruce also took a leadership position to build The Los Angeles Children's Museum, in his work to support the California Community Foundation, and when he led the fight to desegregate the Los Angeles Fire Department. I tell you all of this about Bruce because he would likely not have told you himself. To Bruce, credit was not something to be claimed.
Bruce could talk with ease and fluency and passion about everything from politics to baseball to current events to movies. But nothing lit him up more than family. Bruce loved family. He loved his family. He loved my family. He loved the families of all his friends.
I never met a person who didn't like Bruce Corwin. He was too kind. But as Bruce would have told you himself, "never mistake kindness for weakness."
Bruce was all about people. So, it was only fitting that he had a license plate that said, simply, "PEOPLE." It was the first thing you saw when he drove up. And the last image he wanted you to have of him as he went on to the next place.
In lieu of flowers or food, please consider performing an extra act of human kindness in Bruce's honor. If you want to send a tribute to Bruce Corwin, please do so at Tribute4Bruce@gmail.com. •MJ
You might also be interested in...