'Carrie' on My Wayward Daughter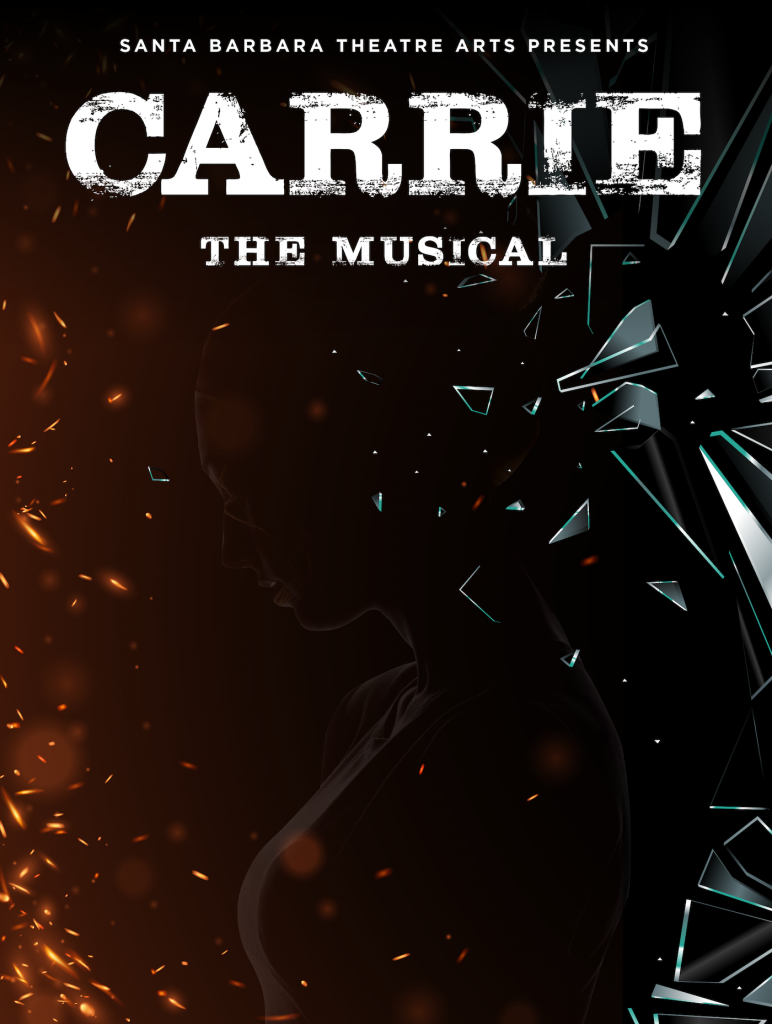 Thirty-three years in, Carrie, the Musical — adapted from Stephen King's best-selling 1974 novel by a team including Montecito's own Dean Pitchford, who wrote the lyrics — still stands as one of the most notorious failures in Broadway history. Indeed, the production that closed after just five non-preview performances in 1988 even inspired the title of a 1992 book: Not Since Carrie: Forty Years of Broadway Musical Flops.
But the song-filled tale of the bullied teenage girl from an abusive religious household who eventually uses her telekinetic powers to obliterate those in her path after being humiliated by her classmates at the high school prom has since enjoyed success off-Broadway, and in regional and touring theater, including a memorable staging by Out of the Box here in town. From November 5-14, Carrie will also carry the honor of welcoming audiences back into the building for the first public performances of SBHS Theatre's Justin Baldridge (aka post-pandemic, post-Otto Layman) era. The squeamish might want to sit toward the back, while all of us better hope the high school students don't take inspiration from the script. Visit www.sbhstheatre.com.
Perfect Preparation
A Grey's Anatomy character spent more than a season berating her fellow surgeon partner and bemoaning her fate when she lost her leg to an infection following a plane crash several seasons ago. If veteran Santa Barbara dancer/producer Derrick Curtis harbored any such negative emotions when the diabetic suffered a similar experience earlier this year after an ingrown toenail led to further infections shortly after he moved his family to Utah, he sure kept them to himself.
"I was just so tired of being in pain all the time, and I figured it would be better to just function with a prosthetic," explained Curtis, who added he had spent a week living in a wheelchair as an experiment back in college. "I've been a dancer all my life, so it would have been easy to get depressed. But I was mentally and emotionally prepared, and I knew that life would go on."
Support from folks back at home here in town helped him get through the experience, and now Curtis has returned to Santa Barbara to not only produce the 20th anniversary of BASSH — which showcases a wide variety of social dance genres theatrically choreographed by local professionals — but also emcee and even dance one of the pieces in the production he created.
"I'm starting to move and do all the things that I used to do again," he said. "So, I'm doing a Latin fusion deal to a Pitbull number with a group of men we're calling the OGs for Old Guys. It's great to get back out on stage."
The same goes for the two dozen other acts ranging from aerial to belly dancing, hula, flamenco, Brazilian capoeira, folk dance, Persian, and much more — a far cry from the original boundaries of ballroom, Argentine tango, swing, salsa, and hip-hop that gave the event its acronym name back at the turn of the century. The wildly divergent show that performs November 5-6 at the Marjorie Luke Theatre is a nod not only to the expansion in the local dance scene, but also to the changing cultural landscape.
But what hasn't changed is the reasoning behind the show, Curtis said.
"I figured I would give it up when I moved," but so many people told me they wanted it to continue because of how much it means to the community. It brings all the dancers together, and it shows youngsters in the audience that they can be on stage too. It's thrilling when people who grew up watching the show when they were kids now get that opportunity to perform."
You might also be interested in...