Dancing Through Manhattan With Nebula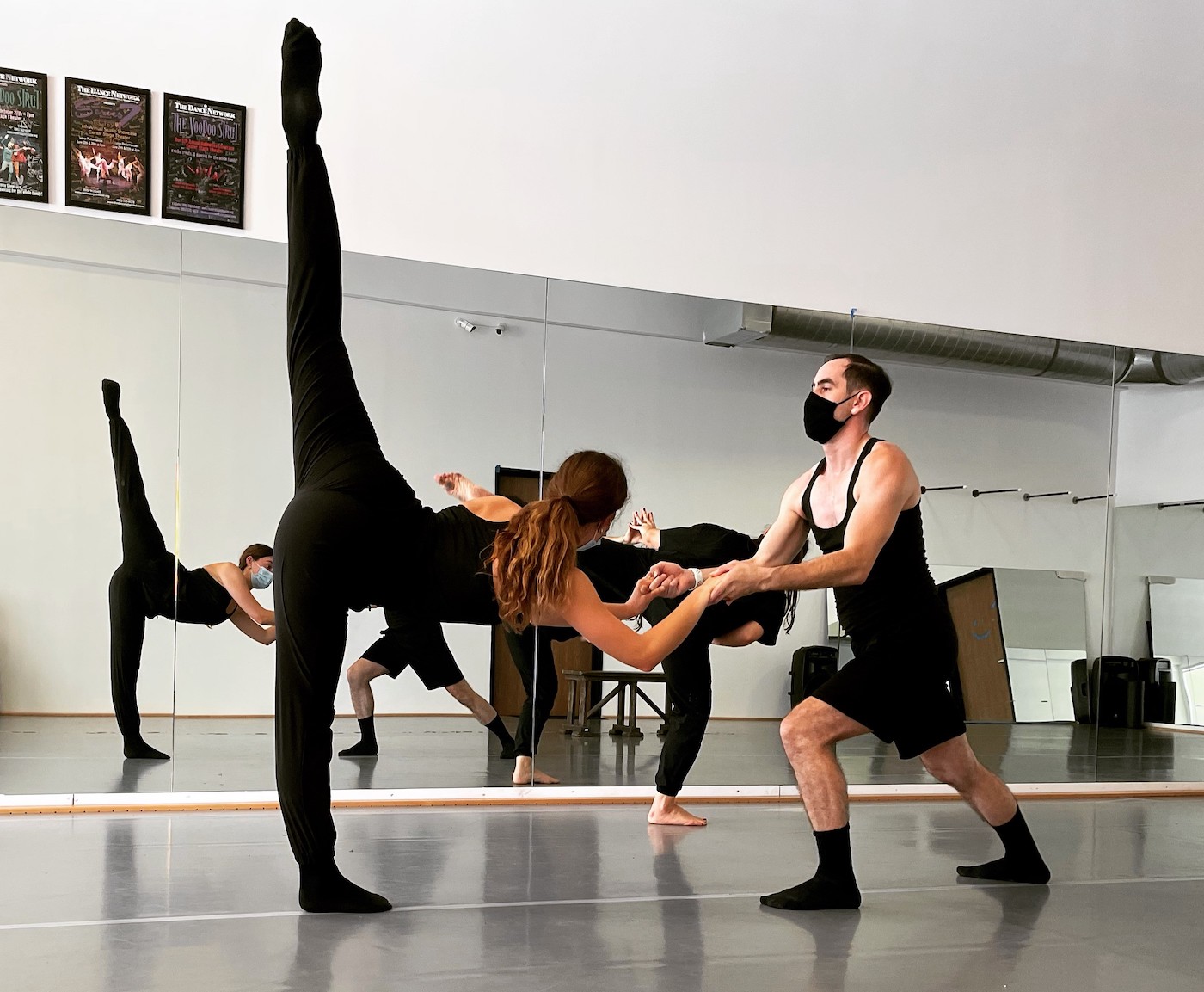 Back in early 2020, Nebula Dance Lab had planned to produce a ballet version of Island of the Blue Dolphins to celebrate the local story's 60th anniversary since the publication of the novel. But a decision to delve deeper in diversity issues revolving around Dolphin produced a pandemic pivot to adapt another tale of a youth experiencing changing worlds in Charles Dickens' short story "The Child's Story." The loose Dickens' time traveling tale has morphed into Nebula's "Humanity," a metaphorical journey of a main character through the thematic neighborhoods of New York City, each of which are illustrated through movement, music, and multimedia projections.
"We wanted to present something that would entertain you, inspire you, and not be too challenging to think about but more of a really fun experience as you're stepping back into the theater," explained Devyn Duex, Nebula's founder and artistic director. "We did our own modern take on it, changing the character to a female who rather than traveling through time encounters these neighborhoods that have their own vibe and culture, all of which are expressed through the different styles of dance. And as in the Dickens' story, our character becomes present in that moment."
The styles range from contemporary ballet, which Duex called Nebula's "company language," to tap, aerial, and even a Bob Fosse-style Broadway musical. "There's a lot of intricacies, and it's really challenged the company to tackle them all in one piece."
The financial district, Greenwich Village, Central Park, Little Italy, and Grand Central Station are among the neighborhoods represented in the piece, which was choreographed by Chloe Roberts, a veteran dancer and creator who has a Broadway background and is currently on hiatus in Paris from her position as a resident teacher and choreographer at Santa Barbara Dance Arts. Each is accessed via a subway stop, adding more realism to the piece.
The theme of Humanity is meant to be somewhat subtle, Duex said, as the dance styles and music illustrate the cultural differences of each neighborhood. "New York City is just so iconic and the differences in those neighborhoods are very clear. But we're not hitting you over the head about [diversity]."
The 50-minute work is preceded by a premiere of a new piece by Meredith Cabaniss called "Quantum," drawing its inspiration from a quote by Nobel-decorated theoretical physicist Max Planck: "An experiment is a question which science poses to nature, and a measurement is the recording of nature's answer." In her program note, the choreographer said the 10-minute work "explores the minutiae of energy and labor through expanding ideas of temporality and scale… It relies on precision, motif, and moments of light-hearted connection to construct a world where every detail matters."
Duex praised Cabaniss' "unique way of using dance language."
"It's a beautiful piece and a really nice way to open the show."
(Nebula performs at the Lobero Theatre at 8 pm next Thursday, November 4. Visit www.lobero.org.)
Haunting Halloween Twofer from OSB
State Street Ballet's new season has yet to open under its own banner. But the company is being represented all over town. SBB's co-artistic director William Soleau choreographed the big dance numbers and solos, duos, and trios that energized Kismet at the Granada last weekend; a couple of its dancers are part of Nebula's show; and Cecily MacDougall, the founder and director of SSB's Library Dances, choreographed the haunting ballet sequences in Opera Santa Barbara's new production of El amor brujo, with three more of its members dancing in the De Falla work that serves as the chilling appetizer to Puccini's Il tabarro, OSB's harrowing double-bill on Halloween weekend at the Lobero.
In the flamenco opera ballet Brujo, Candelas is haunted by her late husband's ghost as her past is getting in the way of a new romance. And while Brujo is far more frequently produced in its symphonic version, OSB is presenting the piece in its original form as a ballet with soprano soloist.
"It's incredible that we get to create something from scratch," said Layna Chianakas, who is making her OSB directorial debut. "Cecily and I worked with the synopsis that was in the score, listened to the music, and then decided where the story best followed the character of the music… We wanted to illustrate how Candelas needs to get rid of the specter to be able to love again, which becomes such a metaphor for confronting your own demons to move on with your life."
Chianakas said that Puccini's Il tabarro is likewise an unusual opportunity to see the first work of the composer's trilogy performed on its own, but that Halloween offered the perfect avenue to present the piece about a "love triangle that goes wrong — as they always do," incorporating a murder onboard a barge.
"It's very dark and very sad, but the music is just incredibly beautiful, maybe Puccini's best work."
The director said she employed some tactics to bridge the creative challenge of linking between the two pieces, including employing the same set and having no intermission to create separation. And she's using the cloak in the title of Puccini's Il tabarro as its own character in Brujo. "It's a symbol of hiding something, her insecurities, just as it covers the corpse in tabarro. Both of the [works] are very dark and very magical. It's going to be a very exciting night. I think people will love it."
(Opera Santa Barbara performs Il tabarro and El amor brujo atthe Lobero Theatre at 7:30 pm on October 29 and 2:30 pm on October 31. Visit www.lobero.org.)
Halloween Happenings
There are so many Halloween events scheduled for this weekend beyond opera that it's almost as if promoters are banking on folks following the concept that if you survived the COVID crisis and the seemingly neverending lockdowns, there's little to fear of imaginary ghosts and goblins. Whatever the reason, costumed revelers have a lot of choices from Carpinteria to Goleta. Among the highlights are the Lobero's inaugural Mischief Masquerade, an outdoor dance party on the theater's esplanade from 8-12 on Saturday night. A costume contest with prizes for the scariest, funniest, and most original outfits will be judged by John Palminteri and others, while Lobero staff will be dressing up in classic Roaring '20s apparel partially in tribute to actor Joseph Greenwald who spoke his line "I waited for this moment all my life" during the West Coast premiere of Golden Boy, then collapsed from a heart attack and died onstage. OK, that's not creepy at all! Details at www.lobero.org.
Elsewhere downtown, the La Boheme dancers, who have been performing their "Thriller" routine and sexy/witchy broom dance at public places all over town, reprise the act at 5 pm on October 30 in the 500 block of State Street, with Palminteri also emceeing the event… The folks behind the Lucidity Festival, whose free Haunted Pumpkin Patch theatrical event continues through October 29 at Estero Park in Isla Vista, also venture to lower State for "Magical Creatures" taking place 9 pm-2 am Halloween night at Backstage Kitchen & Baron. The creative concept bash boasts three floors of beats from David Starfire, Soohan, 9Lives, and Luna Jay; aerial arts and character-driven performances on stage and roaming; and the inimitable Lucidity community vibe where personal expression is proper etiquette… The Crafter's Library, the co-working space for crafters that just opened last May, hosts a Halloween Variety Show on October 30 with local performers with singer-songwriters, comedians, poets, storytellers, and more from 6-9 pm. Details at www.thecrafterslibrary.com.
In Carpinteria, the Alcazar Theatre has a double dose of events for the daring, beginning with its Alcazar Ensemble portraying ghosts of long-gone Carpinterians who tell their frightful, and sometimes hilarious, stories from the past at Carpinteria State Beach with three iterations each night October 28-30. And what would Halloween be without The Rocky Horror Picture Show? Good thing we won't have to find out as the Alcazar presents screenings at 7 pm and 12 midnight on October 30 complete with Prop Bags full of popcorn and other stuff to toss at the screen at the appropriate moments. Visit www.thealcazar.org. Boo-yah!
Focus on Film: Festival Frenzy
Some 75 short and full-length documentaries from filmmakers who are fervent in their focus on the Earth and the environment are still available for viewing in the virtual portion of the fourth annual NatureTrack Film Festival (NTFF). The goal of the cinema screenings is to connect people to places worldwide and hopefully inspire viewers to increase their care for the natural world and do more to get outdoors. The festival is an extension of and fundraiser for the 10-year-old nonprofit Santa Ynez Valley-based NatureTrack Foundation, which introduces schoolchildren to outdoor spaces from the seashore to the inland woodlands of Santa Barbara County by providing cost-free field trips. The virtual festival, which ends at the stroke of midnight on Halloween, also features several of the past three years of NTFF award-winning films. Visit www.naturetrackfilmfestival.org.
Four days after NTFF ends, Ojai's Film Festival, which has gone hybrid for its 22nd year, opens with five days of in-person screenings and events before transitioning to virtual film projections from November 9-14. Opening night on November 4 features a free screening of the animated classic Up, with actor Gregory Harrison discussing its star and his longtime friend, the late Ed Asner, at Libbey Bowl. In keeping with the times, this year's fest also introduces a "Diversity and Inclusion for Social Impact and Vision" section examining all aspects of diversity including personal aspects that may cause conflict yet create an opportunity for understanding marginalized communities. The mini-festival boasts 13 films sprinkled throughout the full fest plus a two-part panel Women in Filmmaking and LGBTQ+ Representation. Visit https://ojai filmfestival.com for details, screening schedule, and tickets.
Here in Santa Barbara, SBIFF's latest Cinema Society screening open to the public comes on Saturday morning when the Riviera hosts a screening of The Harder They Fall, Netflix's all-black Western that isn't a case of re-casting a genre but taking note that a large number of cowboys were black, although Hollywood generally casts white men in the leading roles. The Harder They Fall, which stars Idris Elba and Jonathan Majors, is already playing in local theaters before coming to the streaming service on November 3. Writer-director-composer Jeymes Samuel and producer James Lassiter will participate in a Q&A session following the Riviera screening at 9 am on Saturday, October 30. Register at https://sbiffriviera.com.
Elsewhere on the silver screen, UCSB's Campbell Hall hosts a viewing of Warrior Women, which chronicles the lifelong work of Madonna Thunder Hawk, the octogenarian Native American civil rights activist best known as a leader in the American Indian Movement (AIM) and as an organizer against the Dakota Access Pipeline, and her daughter, Marcella Gilbert, whose own fight for Indigenous rights has persevered for decades. The award-winning documentary explores balancing movement with motherhood and how activist legacies are passed from generation to generation. The hour-long film will be followed by a moderated conversation with the two principals and director-producer Dr. Elizabeth Castle, beginning at 7:30 pm Wednesday, November 3. Visit https://artsandlectures.ucsb.edu.
You might also be interested in...